Italian GP 2021
SEPTEMBER 13, 2021
Race Analysis - Super 8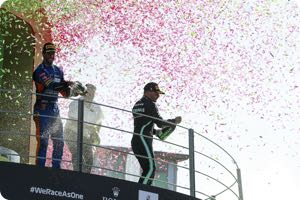 By Dan Knutson
Red Bull's Daniel Ricciardo scored a superb victory - the eighth F1 win of his career - in the Italian Grand Prix. This is how he did it.
SPRINT QUALIFYING
For the second time this season the Sprint Qualifying format on Saturday was used to set the grid for Sunday's race.
BACKWARDS
Valtteri Bottas (Mercedes) won the Sprint and should have started on pole. But an engine change meant that he had to go to the hack of the grid.
POLE
So Max Verstappen (Red Bull) got the pole while Ricciardo lined up second.
NEXT
Next in the line-up were: Lando Norris (McLaren), Lewis Hamilton (Mercedes) and Ferrari teammates Charles Leclerc and Carlos Sainz.
TOP
The top 16 drivers all started on Pirelli's medium compound tires. The lone exception was Hamilton who was on the hards.
OVER AND OUT
At the start of the 53-lap race Ricciardo managed to take the lead heading into the first chicane. He remained out front for the rest of the race except during the pitstop sequences when Verstappen, Norris, Hamilton and Leclerc all took a turn in first.
BIZARRE
There was a bizarre accident on lap 26. Verstappen was trying to pass Hamilton for third place when they collided in Turn 2. The Red Bull ended up on top of the Mercedes.
"After I came out of the pits, I saw Max coming and I made sure I left a car's width on the outside for him," Hamilton said. "I went into Turn 1 and I was ahead, and I was ahead going into Turn 2, and then all of a sudden, he was on top of me."
THREE PLACES
The stewards determined that it was mostly Verstappen's fault and handed him a three-place grid penalty at the next race.
SQUEEZING
"We were racing for position today but you need two people to work together to make the corner," Verstappen said, "and Lewis just kept squeezing until there wasn't room anymore for two cars and that's when we crashed. When he exited the pits, he started to squeeze me going into Turn 1 so I had to use the green part of the track.
"It was very tight but there was room for me to go around the outside and then I was pushed onto the orange sausage curb. I was there to try and race hard but fair. I don't fully agree with the penalty as I believe it was a racing incident. It's very unfortunate what happened today but we are both professionals and so we will move on."
SC
That brought out the safety car until the end of lap 30.
STAYED
Ricciardo stayed in the lead ahead of Norris, Sergio Perez (Red Bull) and Bottas who had charged up to fourth.
"I pitted and I think everyone else pitted as well," Ricciardo said, "so I think we were all struggling at the same moment. And it was then, when we came back out in the lead, then I was like 'alright, we've got this today', like unless something unfortunate happens we can really win this race."
STATION
McLaren told Norris to hold station behind Ricciardo.
SECOND BEST
Second was Norris' best F1 finish to date.
"As much as I would have loved to go for the win, just finishing first and second, I'm just as happy with," he said. "The feeling I get for the win is the priority over my own feeling in a way. I'm here for many years, I hope, especially with McLaren and with the whole team, so I feel like I still have an opportunity in the future to try and go for it but in this moment and instance, I was happy just staying where I was."
LINE
Perez crossed the finish line in third place, but a five second penalty for gaining an advantage by going off the track dropped him to fourth behind Bottas.
"A great recovery from me," Bottas said. "I don't think I've made up that many places in a race in my career. Starting from the back is never easy, and in the end, I am glad we got more points than Red Bull today, especially considering where we were before the race.
"It was enjoyable out there, some good overtakes and some good racing. The battle with Perez was a good one and I am very happy with my result."
2012
It was McLaren's first victory since Jenson Button won the 2012 Brazilian Grand Prix.