Italian GP 2021
SEPTEMBER 10, 2021
Friday Report - One, two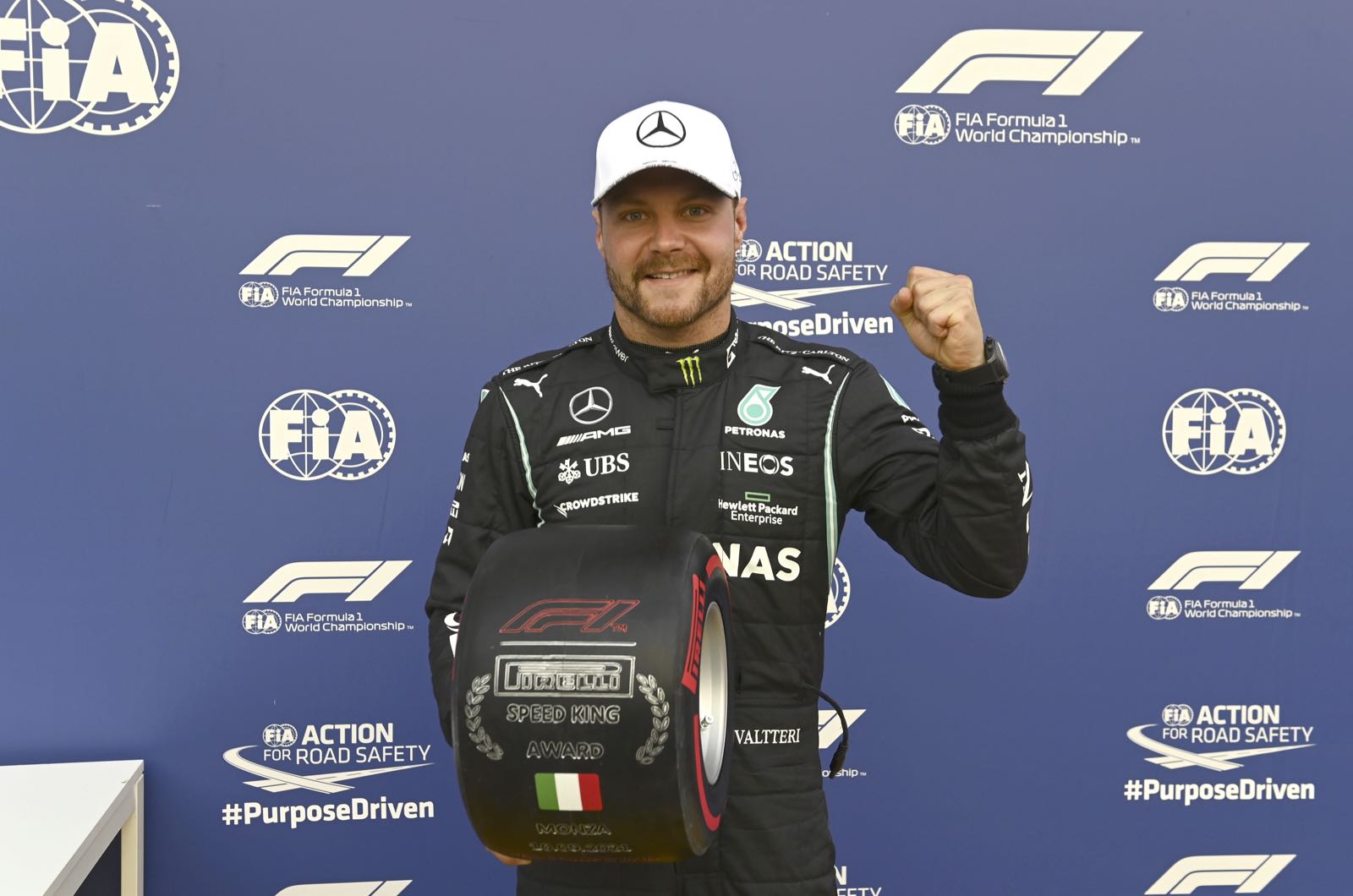 © Mercedes-Benz Grand Prix Ltd.
By Dan Knutson
Mercedes teammates Valtteri Bottas and Lewis Hamilton qualified one, two on Friday evening at Monza, in the session that set the grid for Saturday's Qualifying Sprint event.
The line-up for the weekend was: Mercedes – Lewis Hamilton and Valtteri Bottas; Red Bull Honda – Max Verstappen and Sergio Perez; McLaren Mercedes – Lando Norris and Daniel Ricciardo; Aston Martin Mercedes – Lance Stroll and Sebastian Vettel; Alpine Renault – Fernando Alonso and Esteban Ocon; Ferrari – Charles Leclerc and Carlos Sainz; AlphaTauri Honda – Yuki Tsunoda and Pierre Gasly; Alfa Romeo Ferrari – Robert Kubica and Antonio Giovinazzi; Haas Ferrari – Nakita Mazepin and Mick Schumacher; Williams Mercedes – George Russell and Nicolas Latifi.
Fastest in FP1 was Hamilton at 1:20.926.
QUALIFYING 1
Much to the delight of the tifosi, the Ferraris headed out early in the 18 minute session. And Sainz clocked a 1:22.495. But Verstappen beat that at 1:22.108, only to have Norris turn a 1:21.681.
But the track was ramping up, and Hamilton shot to the top at 1:20.543. Bottas was second ahead Ricciardo and Gasly with seven minutes to go.
There was plenty of bunching up of cars as the drivers tried to find a slipstreaming partner.
When there were three minutes remaining in Q1, Ocon was 15th and on the cutoff line. Vettel was 14th and Latifi was 16th.
After the final frantic moments, the five drivers who were eliminated at the end of Q1 were: Latifi, Tsunoda, Schumacher, Kubica and Mazepin.
The fastest 15 drivers who moved on to Q2 were: Hamilton, Bottas, Norris, Verstappen, Sainz, Giovinazzi, Leclerc, Ricciardo, Perez, Vettel, Stroll, Gasly, Alonso, Ocon and Russell.
QUALIFYING 2
Verstappen and Perez were the first out. But it was Bottas who was way up front at 1:20.032, which Hamilton beat at 1:19.936.
Norris notched into third ahead of Ricciardo, Gasly and Verstappen.
Tenth and on the bubble with six minutes to go was Perez, and Leclerc was ninth while Ocon was 11th. It was all quiet as the drivers stayed in the pits waiting for a last run.
And then the track got very busy indeed.
The five drivers who were eliminated at the end of Q2 were: Vettel, Stroll, Alonso, Ocon and Russell.
The fastest 10 drivers who moved on to Q3 were: Hamilton, Bottas, Norris, Verstappen, Ricciardo, Gasly, Giovinazzi, Sainz, Leclerc and Perez.
QUALIFYING 3
Q3 lasted 12 minutes.
Bottas, out front, set the first time – 1:20.388, but Hamilton turned a 1:19.949 while Verstappen clocked a 1:19.966.
Norris grabbed third ahead of Norris, Ricciardo, Bottas and Gasly. But there was still time for another run.
Everybody waited in the pits, waiting to get a slipstream from somebody else. Perez went out to give Verstappen a tow, and Bottas did the same for Hamilton.
And when it was over, Bottas was out front ahead of Hamilton, Verstappen, Norris, Ricciardo, Gasly, Sainz, Leclerc, Perez and Giovinazzi.