Italian GP 2020
SEPTEMBER 6, 2020
Race Notes - Gasly takes suprise Italian GP victory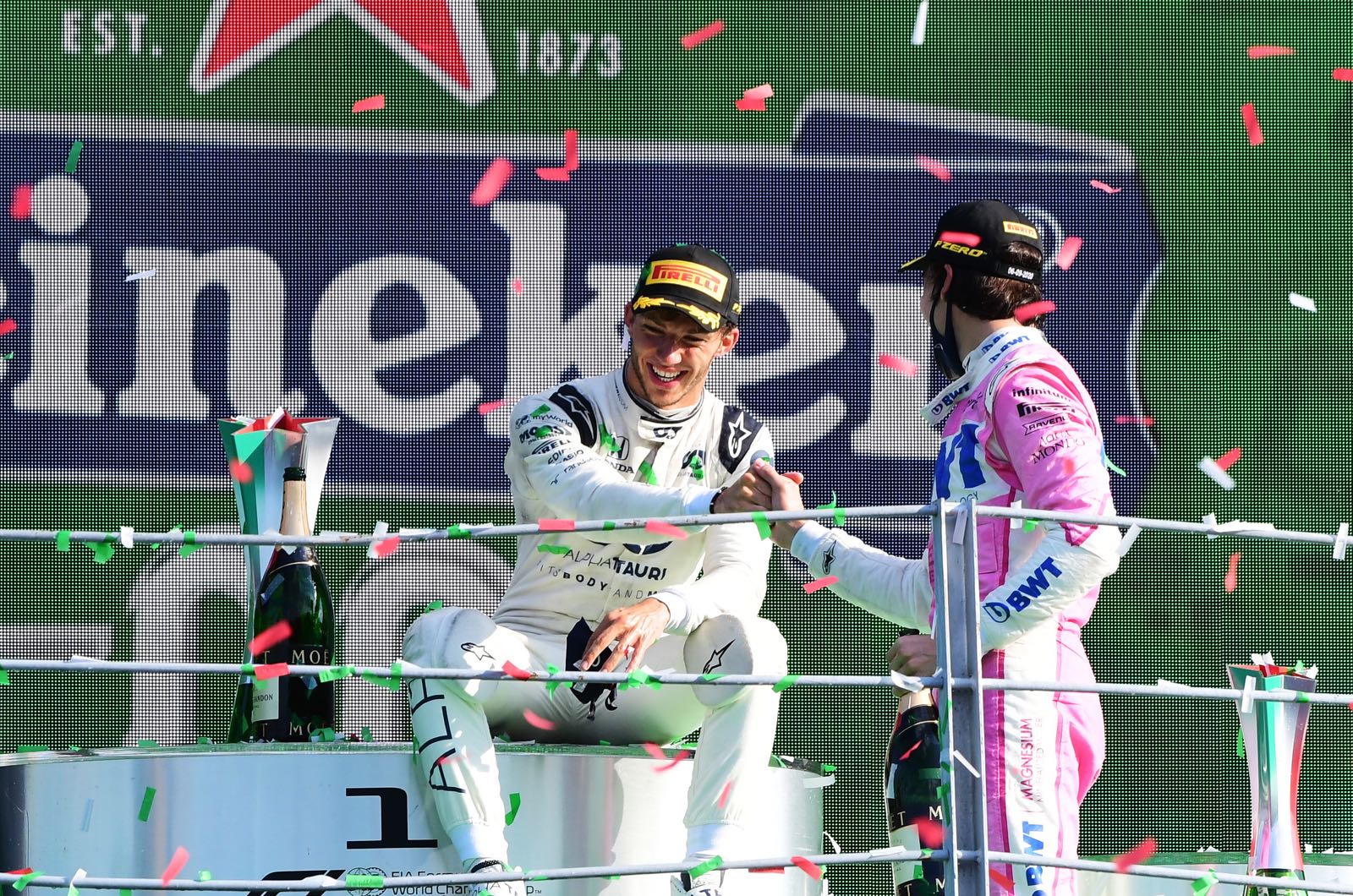 © Red Bull
By Mark Karp
Pierre Gasly won the Italian Grand Prix in the home race for the Alpha Tauri-Honda team, 0.415 seconds ahead of Carlos Sainz in the McLaren-Renault in second place. Lance Stroll in the Racing Point-Mercedes finished in third place, 3.358 seconds behind the winner.
The race was disrupted by a mid-race red flag, and became at free for all after the restart when Hamilton who was cruising out front in the first half, had to serve a 10-second penalty when the race restarted.
It is the first win for Alpha Tauri, and it's first since the single 2008 Italian GP win for Sebastian Vettel in the former incarnation as Toro Rosso.
Gasly becomes the 109th Grand Prix winner, the first for a French driver since Olivier Panis at Monaco in 1996.
Lando Norris (6.00s) in the second McLaren finished fourth, followed by Valtteri Bottas (7.108s) in the Mercedes GP was fifth, Daniel Ricciardo (8.391s) in the Renault was sixth, Lewis Hamilton (17.245s) in the Mercedes GP was seventh, Estebon Ocon (18.691s) in the second Renault was eighth, Daniil Kvyat (22.208s) in the second Alpha Tauri was ninth and Sergio Perez (23.224s) in the second Racing Point finished in the finall points paying position in tenth.
It was sunny before the start, with Hamiton and Bottas on the front row, Sainz and Perez on row two, Max Verstappen and Norris on row three, Ricciardo and Stroll on row four and Alex Albon and Gasly rounding out the top ten. The top ten on soft tyres, Kvyat in 11th starting on hard tyres, Leclerc starting 13th and Vettel in 17th in the Ferrari's.
At the appointed time the field came around, the lights went out and the race began with Hamilton on pole getting offinto the lead, Sainz taking seond into the first corner, Bottas dripping back, Norris in third, followed by Perez, Ricciardo, Bottas, Stroll, Verstappen, Ocon and Gasly in tenth. Gasly and Albon touching in the first corner, but continuing.
On lap 3 Verstappen passes Stroll into the first corner for seventh place.
On lap 6 Vettel suffers a brake failure and pits to retire.
Albon is handed a 5-second penalty for his first turn incident.
At lap 10 Hamilton leads Sainz by 6,1 seconds followed by Norris (10.4s), Perez (11.4), Ricciardo (12.6s), Bottas (13.0s), Verstappen (14.1s), Stroll (16.1s), Ocon (17.7s) and Gasly (18.9s) in tenth place.
On lap 11 Hamilton sets a new fast lap at 1m24.852s.
Mercedes reminds Bottas to manage his tyres.
On lap 16 Hamilton sets another fast lap at 1m24.626s.
Albon passes Charles Leclerc for 13th.
The next lap Leclerc pits for hard tyres and rejoins in 17th.
Verstappen complains that even with DRS he is not making any ground.
Raikkonen pits for hard tyres,
On lap 20 Kevin Magnussen stops on track in the Parabalica and retires. The safety car comes out.
Hamilton pits from the lead for medium tyres, Sainz takes over the lead, over Hamilton, Norris, Perez, Ricciardo, Botttas, Verstappen, Stroll, Ocon and Kvyat in tenth place.
On lap 22 most drivers pit, and the order is Hamilton over Stroll, Gasly, Antonio Giovinazzi, Raikkonen, Leclerc, Nicholas Latifi, Sainz, Norris and Bottas in tenth. At the end of lap 23 the safety car is in and the race resumes with Hamilton in the lead. Leclerc up to fourth.
On lap 25 Leclerc crashes at the Parabolica and the safety car comes out again.
Giovinazzi is handed a 10-second stop/go penalty for pitting while the pits was still closed under the previous safety car, and Hamilton fears they will get the same penalty.
The race is red flagged to fix the barriers at the Parabalic and all the cars stop in the pit lane with 26 laps completed.
Hamilton under the red flag receives a 10-second stop/go penalty as well, for having pitted too early under the first safety car period, and will have to serve it when the race resumes.
Hamilton goes to the race control to complain about his inpending penalty.
Under the red flag, Hamilton is ahead of Stroll, Gasly, Raikkonen, Giovinazzi, Sainz, Norris, Bottas, Latifi, Ricciardo in tenth, Verstappen, Ocon, Kvyat, Perez, George Russell, Albon and Romain Grosjean in 17th place.
The race will resume at 1620 local time.
The drviers allowed to change tyres.
The cars went back around and lined up on the grid for the second standing start to resume the race on lap 28.
The lights go off and Hamilton in the lead ahead of Gasly, Kimi Raikkonen, Stroll and Giovinazzi.
Around the lap Stroll locks up his brakes and runs wide and loses positions.
Hamilton at the end of the lap pits for his 10-second penalty.
Gasly leads Raikkonen, Giovinazzi, Sainz, Stroll, Norris, Bottas, Ricciardo, Ocon and Kvyat. Hamilton runs 17th, 23 seconds behind the leader.
On lap 31 Giovinazzi pits to serve his penalty. Verstappen pits and retires his Red Bull-Honda with an engine issue.
Hamilton is up to 15th.
On lap 32 Hamilton sets fast lap at 1m23,464s, and again the next lap at 1m22.901s.
On lap 34 Sainz passes Ricciardo into the first corner to take second place - he runs 4.2 seconds behind Gasly in the lead.
Stroll passes Raikkonen at the second chicane for third place.
Later in the lap Norris passes Raikkonen for fourth place.
At lap 35 Gasly leads Sainz by 4.0 seconds, followed by Stroll (6.2s), Norris (8.3s), Raikkonen (9.2s), Bottas (9.8s), Ricciardo (10.5s), Ocon (11.2s), Kvyat (11.5s) and Perez (13.1s). Hamilton runs 15th, 22s behind the leader.
On lap 37 Bottas passes Raikkonen for fifth place. The next lap Ricciardo passes Raikkonen for sixth place.
Sainz is slowly closing on Gasly.
The top six running on medium tyres.
On lap 40 Hamilton passes Albon for 14th place, trailling the leader by 24 seconds.
Hamilton passes Russell for 13th place. Hamilton tells the team, "I've got nothing."
Hamilton passes Grosjean for 12th place.
Ocon passes Raikkonen for seventh place.
At lap 43 Gasly leads Sainz by 2.6 seconds, followed by Stroll (4.8s), Norris (9.2s), Bottas 9.6s), Ricciardo (11.6s), Ocon (17.4s), Kvyat (19.4s), Raikkonen (20.6s) and Perez (21,6s) in tenth and Hamilton (22.7s) in 11th.
On lap 46 Hamilton passes Raikkonen for tenth place, and is back in the points.
Gasly leads Sainz by 1.6 seconds.
On lap 49 Hamilton passes Perez for ninth place.
At lap 52 Gasly leads Sainz by 0.8 seconds, followed by Stroll (3.8s), Norris (7.1s), Bottas (7.5s), Ricciardo (8.7s) in sixth.
Sainz chasses Gasly the final lap, but Gasly takes his maiden Grand Prix victory.