Italian GP 2020
SEPTEMBER 7, 2020
Race Analysis - Crazy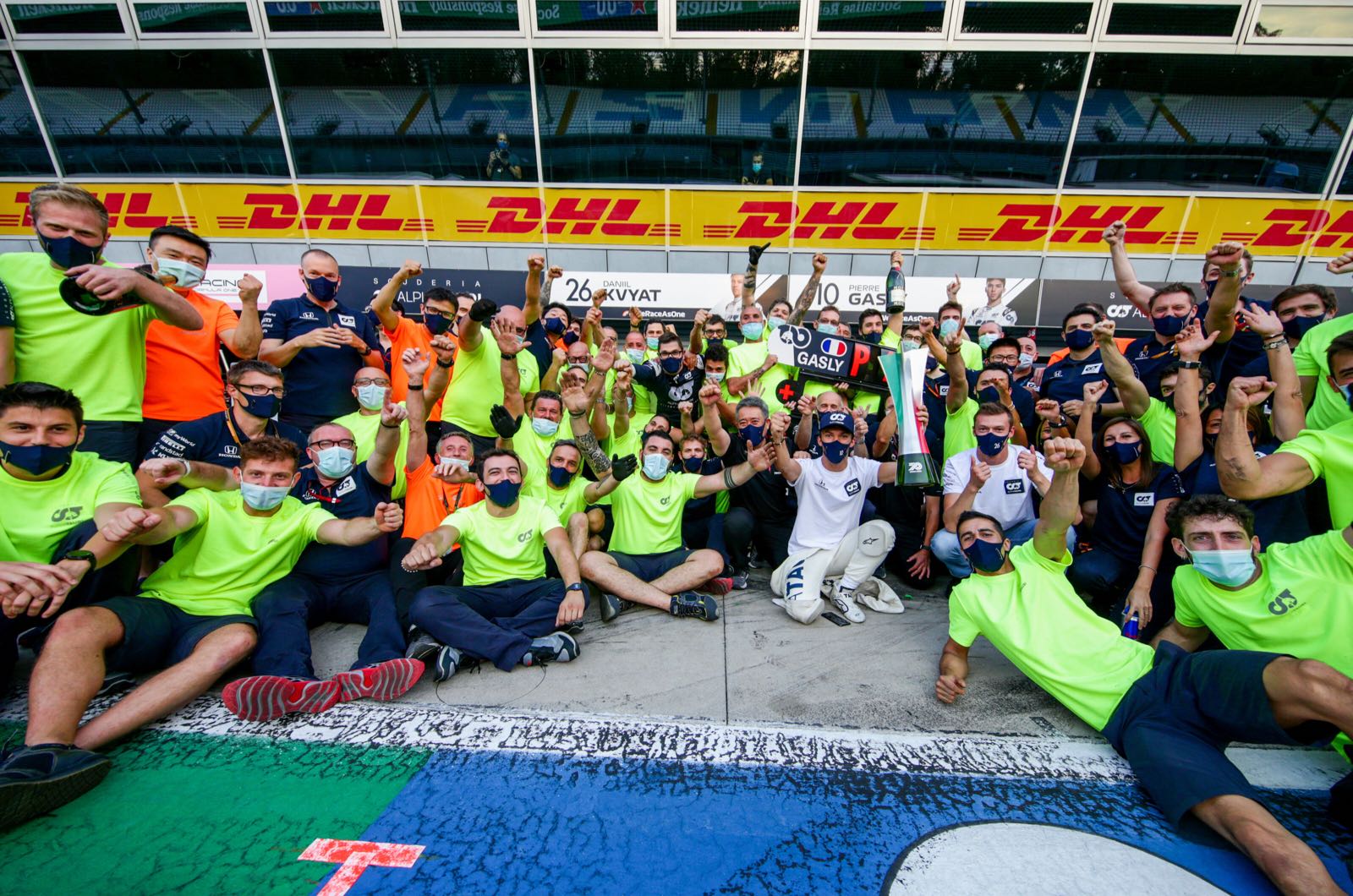 © Red Bull
By Dan Knutson
"It's crazy, honestly, it's just crazy," Pierre Gasly said after scoring his maiden Formula 1 victory.
This is how that craziness unfolded.
93
This was Lewis Hamilton's 93rd pole in Formula 1 and his fifth out of six races this year. His teammate Valtteri Bottas qualified second.
WHO'S ON THIRD?
Max Verstappen did not qualify his Red Bull in the usual third slot. Instead it was Carlos Sainz (McLaren). Next on the grid were Sergio Perez (Racing Point), Verstappen, and Lando Norris (McLaren).
1984
Ferrari drivers Charles Leclerc and Sebastian Vettel lined up 13th and 17th – which was Ferrari's worst qualifying performance at its home track of Monza since 1984.
POOR START
Bottas made a poor start and dropped back to seventh place.
GREAT START
Hamilton made a great start to take the lead.
LAP 1
At the end of lap 1 Hamilton already had a 1.7 second lead over Sainz. Next came Norris, Perez, Verstappen and Lance Stroll (Racing Point).
CONSECUTIVE
Mercedes had now equaled the record held by Williams of leading at least one lap in 31 consecutive races.
19
Gasly pitted for tires at the end of lap 19.
GO WRONG
It all started to go wrong for Hamilton on lap 20. The safety car had been deployed so that the corner workers could push Kevin Magnussen's stranded Haas into the pit lane. Hamilton dived for the pits as did Antonio Giovinazzi.
CLOSED
But the pit lane was closed.
FAILED
Hamilton had failed to see the two big screens on the edge of the track that were lit up with a big red X.
"I didn't see the boards saying the pit lane was closed because I was following the safety car delta on my dash," he explained, "so I take responsibility for that and it's something that we'll investigate and learn from."
WEIRD
"It was a weird sequence of events," said Mercedes team boss Toto Wolff. "We should have spotted earlier that the pit lane was closed, by the time that we did, the car was entering the pit lane. It's a tough result to take but we must take it on the chin."
PENALTIES
Officials handed down 10 second stop-and-go penalties to Hamilton and Giovinazzi.
OPENED
Most of the drivers pitted at the end of lap 22 now that the pitlane was open.
MOVED UP
As he had already pitted, Gasly passed by them and was now third behind Hamilton and the yet to pit Stroll.
RESTART
The race was restarted at the end of lap 23.
CRASH
Leclerc crashed heavily in the Parabolica turn on lap 25 after losing control of his Ferrari. He was unhurt.
RED FLAG
The race was red flagged at the end of lap 26 so the accident mess could be cleaned up.
STANDING START
After 26 minutes the drivers did a formation lap and lined up for a standing start.
NOT FOR LONG
Hamilton jumped into the lead but then had to serve his penalty. That dropped him to 17th and last.
LEADING
Gasly was now leading the Italian Grand Prix.
"After the restart I think we had 28 laps to go," he said. "I managed to pass Lance (Stroll) into Turn 1. This really helped me for the rest of the race. Lewis pitted, I think on lap one, and then after that I was on my own. It reminded me of my Formula 2 days when you are leading the race and just focusing on your own driving, corner by corner. I pushed so hard at the start because I wanted to break the tow from the guys behind."
CHASING
Sainz worked his way to second and was now chasing after Gasly.
"Our car doesn't work very well on the tow, we are very affected by the dirty air," Sainz said. "So, as soon as I got to within 1.5 seconds I started feeling that dirty air; I started feeling the car a lot more loose, a lot more difficult to get the lap time and the grip in the corners. So, I was trying to maximize the tow, maximize everything I could but the car was starting to struggle a bit behind Pierre."
MISTAKES
"Then suddenly in the last lap and a half I saw him start doing the small mistakes that allowed me to get into the DRS," Sainz said of Gasly. "And then I crossed the start/finish four-tenths of a second behind, which would have given me a good run into Turn One if it was one lap more. But, unfortunately it wasn't one lap more and it is what it is. He did a tremendous job defending and I'm not going to say anything. I know I left nothing on the table. I think those four-tenths reflect very well what we both did and I think it's a good finish to the race."
So Sainz ended up second.
STUMBLED
Stroll stumbled.
"It's a bit of a bummer for me, because I think it was our race to win," he said after finishing third. "I had no grip at the restart and had too much wheelspin, so I lost a few places and fell back to P6."
FOUGHT
Hamilton fought back to finish seventh.
"I just kept pushing, tried to be patient," he said. "I didn't make any mistakes, and seventh was the best that I could do. I think considering that I was 30 seconds behind the last car."
CRAZY
First time winner Gasly was ecstatic.
"This team have done so much for me," he said. "They gave me my first opportunity in F1. They gave me my first podium and now they are giving me my first win. It's crazy, honestly, it's just crazy and I'm so happy, I can't thank them enough. Everyone from AlphaTauri, to Honda. I mean, it's a power sensitive track and we won the race ahead of all the Mercedes, Ferrari and Renault cars, so just an amazing day."