Italian GP 2020
SEPTEMBER 5, 2020
Qualifying Report - No party mode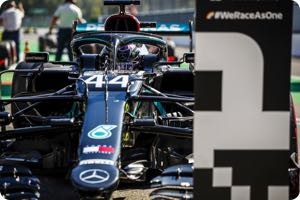 By Dan Knutson
Qualifying for the Italian Grand Prix marked the first time that that new "no party mode" rule was imposed. The teams were not allowed to turn up their engine settings for qualifying because they are now required to use the same settings for both qualifying and the race.
But Mercedes did not need any party mode to top qualifying as usual as Lewis Hamilton earned yet another pole and his teammate Valtteri Bottas lined up second.
The line-up for the weekend was: Mercedes – Hamilton and Bottas; Ferrari – Sebastian Vettel and Charles Leclerc; Red Bull Honda – Max Verstappen and Alexander Albon; McLaren Renault – Carlos Sainz and Lando Norris; Renault – Daniel Ricciardo and Esteban Ocon; AlphaTauri Honda – Daniil Kvyat and Pierre Gasly; Racing Point Mercedes – Sergio Perez and Lance Stroll; Alfa Romeo Ferrari – Kimi Raikkonen and Antonio Giovinazzi; Haas Ferrari – Romain Grosjean and Kevin Magnussen; Williams Mercedes – George Russell and Nicolas Latifi.
QUALIFYING 1
The ambient temperature at the start of the session was 82 degrees Fahrenheit (28 degrees Centigrade) and the track temperature was 113 degrees Fahrenheit (45 degrees Centigrade).
The name of the game throughout qualifying was for a driver to get a tow in the slipstream of another driver. But to prevent drivers from going too slowly as they waited for another car to give them said tow, the stewards warned the drivers about going too slow.
But, as usual, the Mercedes drivers were out in front. Hamilton posted a 1:19.539 and Bottas did a 1:19.786. Both had used the medium compound tires.
Perez was next, followed by Sainz, Verstappen, Norris, Stroll and Gasly.
When there were four minutes remaining in Q1, Albon was 15th and on the cutoff line. Raikkonen was 14th and Grosjean was 16th. And Vettel was down in 17th.
And with just over three minutes to go, most of the drivers headed back out for one more run.
And after those runs the five drivers who were eliminated at the end of Q1 were: Grosjean, Vettel, Giovinazzi, Russell and Latifi.
The fastest 15 drivers who moved on to Q2 were: Hamilton, Bottas, Perez, Sainz, Gasly, Verstappen, Kvyat, Norris, Stroll, Leclerc, Ricciardo, Ocon, Magnussen, Raikkonen and Albon.
QUALIFYING 2
Bottas, Hamilton (on soft tires now) and Verstappen were first out. Bottas clocked a 1:19.417. But Hamilton used the slipstream to set a 1:19.092.
Perez grabbed third ahead of Sainz, Verstappen, Gasly, Stroll, Norris, Ricciardo and Albon.
Tenth and on the bubble with seven minutes to go was Albon, and Ricciardo was ninth while Kvyat was 11th. Everybody was in the pits now and getting ready for their final runs.
With just over three minutes to go, the Renault and Mercedes drivers headed out, and everybody else headed out after them.
Bottas set a new track record at 1:18.952.
Both Ferraris failed to make it into Q1.
The five drivers who were eliminated at the end of Q2 were: Kvyat, Ocon, Leclerc, Raikkonen and Magnussen.
The fastest 10 drivers who moved on to Q3 were: Bottas, Hamilton, Sainz, Perez, Verstappen, Gasly, Stroll, Norris, Ricciardo and Albon.
QUALIFYING 3
Q3 lasted 12 minutes. Bottas was out first, ahead of Hamilton and the rest of pack of 10.
Bottas turned a 1:19.121, but then Hamilton crossed the line with a 1:19.068.
Perez took third ahead of Verstappen, Sainz, Norris, Ricciardo, Gasly, Stroll and Albon.
All 10 drivers pitted to prepare for their last runs in Q3.
Bottas and Hamilton were the first to go back out. Albon and Verstappen followed them.
Bottas took the provisional pole at 1:18.956, but Hamilton beat that with a 1:18.887.
Sainz, Perez, Verstappen, Norris, Ricciardo, Stroll, Albon and Gasly rounded out the top 10.