Italian GP 2020
SEPTEMBER 4, 2020
Friday Report - As usual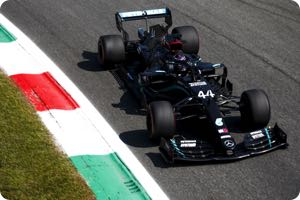 By Dan Knutson
It was business as usual during Friday afternoon's practice for the Italian Grand Prix with Mercedes teammates Lewis Hamilton and Valtteri Bottas at the top of the time sheets.
The line-up for the weekend was: Mercedes – Hamilton and Bottas; Ferrari – Sebastian Vettel and Charles Leclerc; Red Bull Honda – Max Verstappen and Alexander Albon; McLaren Renault – Carlos Sainz and Lando Norris; Renault – Daniel Ricciardo and Esteban Ocon; AlphaTauri Honda – Daniil Kvyat and Pierre Gasly; Racing Point Mercedes – Sergio Perez and Lance Stroll; Alfa Romeo Ferrari – Kimi Raikkonen and Antonio Giovinazzi; Haas Ferrari – Grosjean and Kevin Magnussen; Williams Mercedes – George Russell and Nicolas Latifi.
Bottas was fastest in the morning session with a time of 1:20.703.
The ambient temperature at the start of the 90-minute session was 79 degrees Fahrenheit (26 degrees Centigrade) and the track temperature was 108 degrees Fahrenheit (42 degrees Centigrade).
Raikkonen and Grosjean were the first out. But it was Gasly who set the early pace with his time of 1:22.034 and then a 1:21.578 on the medium compound Pirelli tires.
Twenty minutes into the session the order was Gasly, Sainz, Leclerc, Stroll, Ricciardo and Giovinazzi.
Verstappen, Bottas and Hamilton had yet to set a lap time.
When Hamilton finally got going he posted a 1:21.085 on the medium tires.
Just past the 30 minute mark all the drivers were in the pits as they prepared for their qualifying simulations and the top 10 were: Hamilton, Bottas, Verstappen, Gasly, Ocon, Sainz, Stroll, Albon, Ricciardo and Giovinazzi.
And at the midpoint of the session all the drivers headed out for their qualifying sims om the soft compound Pirelli slicks.
It was Bottas who took the lead with a 1:20.454, but Hamilton beat that with his 1:20.192. Verstappen slotted into third ahead of Sainz, Kvyat, Leclerc, Stroll and Gasly.
But then Gasly popped up to third place.
And so, with 35 minutes remaining, the order was Hamilton, Bottas, Gasly, Verstappen, Sainz and Kvyat. For the rest of the session the teams and drivers now began to do their race simulations on worn tires and high fuel loads.
But someone forgot to tell Norris as he popped up to third in the final minutes.
The top 10 at the end of FP2 were: Hamilton, Bottas, Norris, Gasly, Verstappen, Sainz, Kvyat, Stroll, Leclerc and Perez.