Italian GP 2019
SEPTEMBER 8, 2019
Race Analysis - Ferrari Fan Favorite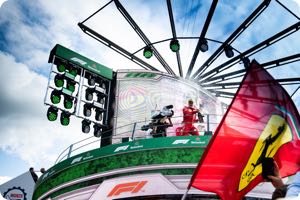 By Dan Knutson in Monza
Ferrari's Charles Leclerc withstood challenges from Mercedes drivers Lewis Hamilton and Valtteri Bottas and went on to win the Italian Grand Prix much to the delight of the thousands of tifosi who cheered him on to victory at Monza. It was his second win in eight days. Here is how it unfolded.
THE FARCE IF NINE
Nine drivers drove around slowly and jockeyed for position in the final two minutes of qualifying. They were all trying to get into position to get the slipstream off the car in front while not being the car in front. The result was that all of them except Carlos Sainz failed to make it to the start/finish line before the checkered flag, and therefore they could not do their final fast laps.
MESS
Leclerc's Leclerc called that last lap farce "a mess" but he didn't really mind as his previous fast lap put him on pole for the fourth time this season.
TWO TO THREE
Hamilton and Bottas were in the second and third grid spots.
ROUNDING OUT
Rounding out the top six qualifiers were Sebastian Vettel (Ferrari) and Renault teammates Daniel Ricciardo and Nico Hulkenberg.
RED ROCKET
Leclerc rocketed into the lead at the start of the 53-lap race. Hamilton was second and Bottas third. Only these three would be in contention for the win.
SPINS
Vettel made sure he was not on contention by spinning on lap 6, running into Lance Stroll's car, pitting for a new wing, and getting a 10-second stop and go penalty for an unsafe return to the track. He finished 13th.
KEEPING CLOSE
Hamilton kept close to Leclerc, about a second back, until the first pit stops.
FIRST IN
Hamilton was the first to pit, coming in after 19 laps to switch from Pirelli's soft compound to the medium compound slicks.
HARD
Leclerc pitted a lap later, changing the softs for the hards.
WAITED
Bottas led from laps 20 to 27 before pitting for the mediums. So he had fresher tires than the other two.
LAP 23
Meanwhile, on lap 23, Hamilton tried to pass Leclerc who would not budge. Hamilton was forced to bounce across the runoff area at the chicane.
"I knew he was on the right," Leclerc said. "He braked a little bit early which I think was probably on purpose because he didn't' want to try around the outside. I thought I had left a car width. I haven't seen the images to be honest. But I was pretty sure there was a car width."
WARNING
Leclerc got a black and white warning flag for his robust defense.
OFF
Hamilton continued to put pressure on Leclerc, and the latter had to cut across the first chicane on lap 36. But Leclerc managed to keep his lead.
MISTAKE
Hamilton made a mistake at the same chicane on lap 42, and that allowed Bottas to take second place.
HUNT
"Hunt him down, there's 12 laps to go," Bottas' engineer told him.
CLOSING IN
Twice Bottas closed in on Leclerc, and twice Bottas made small mistakes and dropped back.
"I'm gutted," Bottas said. "I was trying everything I could to get him and there was no way past. Always when I was getting close enough, I started left-front locking, because of the lack of downforce and they are so quick in the straights as well. But I tried and I think it was the best I could do today."
NOT OUR DAY
"I did the best I could," Hamilton said after finishing third. "Obviously following so closely for such a long time the tires eventually just went off the cliff. Nonetheless, they were just quicker today - much quicker in a straight line, so even if we did get close, we couldn't pass. Not our day but still strong points for the team."
SAVOR
So Leclerc held on to win. He really savored the cooldown lap as the adoring tifosi cheered and cheered and cheered.
AMAZING
And Leclerc really enjoyed the podium celebrations.
"It felt amazing," he said. "I've never been on a podium with so many people underneath it. And to see that the whole straight was full of people - mostly red - 99 percent red - was great to see. Hearing them cheering, singing was just…a lot of emotions."
NINE YEARS
It had been nine years since Ferrari's last victory at Monza - Fernando Alonso in 2010.