Hungarian GP 2022
JULY 31, 2022
Sunday Team Quotes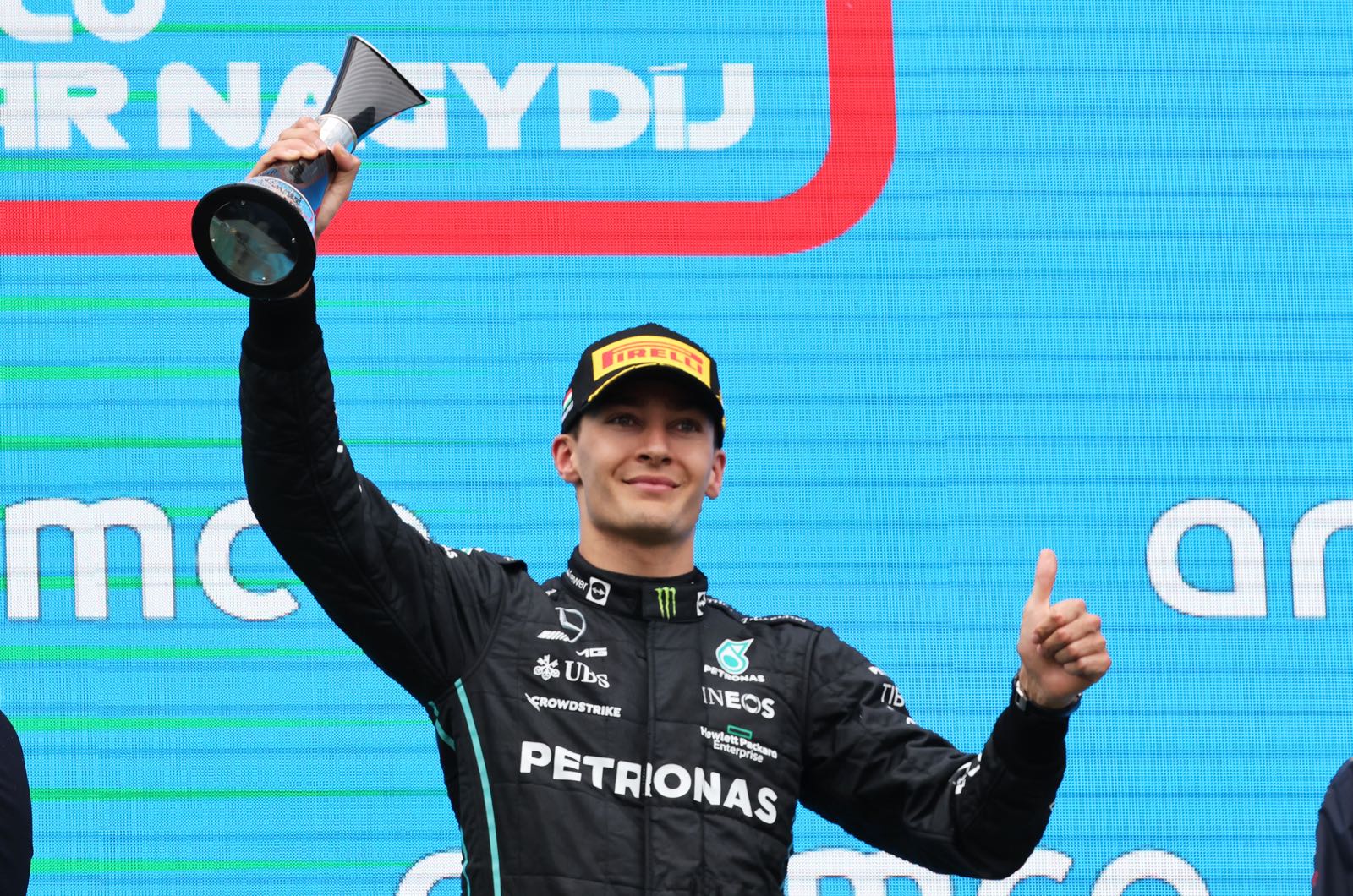 © Mercedes-Benz Grand Prix Ltd.
Mercedes-AMG Petronas F1 Team
Lewis Hamilton (2nd): "I was struggling at the beginning of the race and wasn't sure whether I'd be able to catch up so I'm happy I was able to recover from P7. I had a good start, which was crucial and, bit by bit, I felt more comfortable with the balance of the car. The cooler temperatures in qualifying and the race seemed to work well for us. We made a massive step from Friday and I'm very grateful for it. If the DRS had been working yesterday, we could have been in the run for the win. I want to acknowledge my team, who have continued to push and have never given up through this tough year that we've had so far. It's very special for us to have both cars on the podium today, although how the race unfolded was unlucky for George. It's an amazing way to go into the break, knowing we're clearly closing the gap and have more performance. Hopefully, we'll bring some more into the second part of the season and start fighting with the guys in the front."
George Russell (3rd): "I had a really strong start, and it was a first good stint. We pitted quite early on both stints and tried to keep the tyres out until the end, as well as pushing as fast as possible at the same time. Towards the end on the mediums when the rain started to come down, I struggled and lost temperature. It was challenging to manage the tyres, so there's lots to look into and see where we could've done better. Amazing job by the team, pole position yesterday and double podium today. We're making progress and I'm proud of the work everybody has put into it. We will come back to the second half of the season with a reset, refocussed and will try to fight for some victories."
Toto Wolff, Team Principal: "George had a great qualifying session with pole and drove a solid race. He was in the fight utilising the tyres but ran out of them in the second stint. Lewis' fight today was unbelievable, Budapest continues to be a success story for him. He came out of nowhere and was quicker than everyone else. I think we lost the race with him yesterday with the DRS failing. Otherwise, we would have been able to fight at the front for the victory today. P2 and P3 twice in a row is great but we want to fight for the win. We have a result we can work with, given we had a really bad Friday. It's very frustrating and not easy to pick yourself up and stay motivated, so it's a learning process. Today, we had good pace, but we need to stay humble and look at race weekend after race weekend so we can try to gain more learnings and experiment to put us in a situation where we can actually fight for wins at the end of the season."
Andrew Shovlin: "Well done to the whole team! The team and drivers can be really proud of the way we'd turned the weekend around after Friday. George's first pole and the team's first with the W13 was a nice achievement and another double podium is a great way to head into the break. We still need a little more to get that first win of the season but every week it feels like it's getting closer and closer and the team is determined to make it to the top step soon. It's been the hardest start to a season that we've had for a long time, but it's been hugely satisfying to see the team and drivers work so hard to get the car back to where we need it to be. Everyone is looking forward to the shutdown for some time to rest and recharge, but we'll be wanting to continue where we left off in Spa and hoping for a strong finish to the year."
Oracle Red Bull Racing
Max Verstappen (1st): "It feels crazy to have won the race today from P10, especially on a track like this where it's very hard to pass. We made all the right calls today, there were some good undercuts and overall we did a great job today as a Team. This was definitely one of my best races, despite the little 360-degree spin! I'm very happy with the lead that we have, but of course we have to keep pushing and win more races."
Sergio Perez (5th): "It is good to go into the summer break strongly. After qualifying it was looking like it could have been a poor weekend for us but we recovered some good points, and it was great fun to have the Mercedes and Ferraris racing up there with us. It was quite a tricky race, particularly towards the end, when the conditions changed and especially during the virtual safety car which meant everyone got cold tyres. Overall, we were a little unlucky with the VSC because we were potentially going to get Carlos and George and I felt we would have got a lot closer to them towards the end. I felt a lot stronger in the final stint and with a few more laps I think I could have been on the podium with Max. It was a great race though and very fun at times. It was a fantastic recovery for the Team today and it was great to see Max get the win."
Christian Horner, Sporting Director: "It was a fantastic race today. Everyone put in a top performance. Max was exceptional, even adding a little spin to his race as if coming back from 10th wasn't hard enough. Equally, Checo had a brilliant race and I believe if it hadn't been for the VSC he would have podiumed. Strategy played a big part in our victory. We were due to start on the hard tyre but switched things up as a result of the ambient conditions. This win gives us a healthy lead going into the break but there are still areas to improve on. Ferrari are still quick, Mercedes are coming back as you saw today. There is plenty more still to come."
Scuderia Ferrari
Carlos Sainz (4th): "Today was a tough day for the whole team. We expected to have a strong pace for the race, but it's clear that with these lower temperatures and track conditions we were simply not fast enough to fight. There are some things to look at and learn from today. We will regroup, analyse and come back stronger after the summer break."
Charles Leclerc (6th): "It's a shame we didn't bring home a better result, because the car felt good and we had a strong pace on Medium tyres today. Unfortunately, the Hards just did not work in these conditions. We now need to see what we could have done better, recharge our batteries over the break and be ready to fight in the second part of the season."
Mattia Binotto, Team Principal: "Today's result is unsatisfactory. In general, we did not perform well, with the car unable to reproduce Friday's pace and in terms of how we managed the strategy and pit stops. Analysing every aspect of this race is our top priority over the coming days, in order to prepare as well as possible for the remaining Grands Prix."
McLaren F1 Team
Lando Norris (7th): "P7, happy with that. After yesterday, of course we'd all wished for a bit more, but we just didn't have the pace today with the quicker cars behind. We just did an extremely good job yesterday. I'm happy with it, it's the maximum we could do today with the cars ahead. Tough in places but seventh was the best we could have done for the points today, and we were ahead of our rivals."
Daniel Ricciardo (15th): "Unfortunately, there were more lows than highs. The launch felt good but then I dropped a bit after that and I was almost middle braking into Turn One. I felt like I was in a decent spot but I remember an Alpine coming up high on the exit of Turn One and I ran out of room, so I had to get out of that, otherwise I was going to lose a wing. I lost momentum through Two and got done around the outside of Turn Two as well. So, it was a bit of a mess on the first lap. Then the Soft really fell apart and I didn't have anything on that tyre. The Medium, it was a little bit better. I was able to make a nice double-move on the Alpines, which was fun. I managed to hold off Stroll for a bit on the Medium and then, when we came out on the Hard, and he came out on a Soft, we simply had no grip. I tried to avoid contact but I couldn't and unfortunately hit him, spun him around and got a penalty and then that was it. The Hard didn't work for us, I could just never really get it working. I'm looking forward to the break, of course, and will try to come back with a little more speed in the second half of the year."
Andreas Seidl, Team Principal: "With all six cars from the top three teams finishing the race, P7 was the best we could achieve today – and we did it. The upgrade we introduced at Paul Ricard – and improved our understanding of here – put us into position to be the fourth fastest team, which is a great achievement. Lando executed a clean race today to take that seventh place but with the same strategy on Daniel's side, we struggled to generate grip in the final stint on the Hard tyre and he fell out of the points. This is something we will have to study in the final week before the summer shutdown. Big thank you to everyone at the track, back at the factory and our colleagues at Mercedes HPP for the immense effort so far this year. Everyone should go away and enjoy the break, recharge our batteries and come back stronger for what should be a thrilling battle in the Constructors' Championship. See you in Spa."
Zak Brown:
BWT Alpine F1 Team
Fernando Alonso (8th): "It was hard racing today and we are pleased to come away with a double points finish. We managed to avoid cars at a busy Turn 1 on lap one and we lost some positions. After that, we concentrated mostly on our race pace and we wanted to make the one-stop strategy work on the Hard tyres. We didn't have two Medium compounds to choose from for the race and instead we maximised our tyre choice for Saturday's Qualifying. Our pace yesterday made us feel quite optimistic for today and we were anticipating a better result. All in all, we are still ahead of McLaren heading into the summer break, so it's a strong team result. We just need to keep scoring points like we did today and hopefully this consistency will be our strength in the battle for fourth position in the Constructors."
Esteban Ocon (9th): "We can be happy to score points with both cars today and that's always a positive especially as we go into the season break. I don't think we quite maximised our potential during the race and we'll discuss as a team what we can do to improve. The one-stop was challenging today but we made it work to score points and I had to defend hard from Seb [Vettel] on the last lap. Overall, we're still heading into the break in fourth in the Constructors' Championship and we'll be hungry to extend our lead in a few weeks' time. I'm proud of the team for the improvements in performance over the last couple of months and we'll aim to continue this upwards trajectory when the season returns after the well-deserved rest."
Alan Permane, Sporting Director:
Otmar Szafnauer, Chief Operating Officer: "After scoring six points from today's Hungarian Grand Prix, the team remains in fourth place in the Constructors' Championship as we head into the summer break. That in itself is a great achievement and gives us a real focus to push on and attack the remainder of the year when we head to Belgium next month. It was a tricky race for us today with varying strategies in place across the field. We opted for a one-stop with both cars, which meant we had to be quite careful across both stints on the Medium and Hard tyres to ensure we could reach the chequered flag with sufficient pace in hand. We did a good job in the end to hold off some others behind on two-stops who were coming on strong with fresher tyres. As always, we'll review our race to see what we can improve for next time. We'll be ready to continue the enjoyable fight in the championship with our competitors when racing returns in late August. For now, after a busy season so far, the entire team deserves the break and we'll certainly recharge our energy ready for the season resumption."
Scuderia AlphaTauri
Pierre Gasly (12th): "I must say I'm happy with today. Starting from the pitlane is never easy and we managed to recover to 12th position. There were some changes made to the set-up of the car for the pitlane start, which showed a bit more pace and allowed us to make some good moves. The most important thing is that we use the upcoming three weeks to extract more from our package and finish inside the points consistently. I know the team and what we are capable of achieving, and with these new cars being difficult, we need time to understand how to get the best out of it."
Yuki Tsunoda (19th): "It's been a really difficult day, it didn't feel like I had much of a race. I struggled with the car throughout, as I had absolutely no grip at all out there. I was finding it so difficult to keep it on the track and made a small mistake which meant I spun. This weekend has not been an easy one, we need to go away and look at all the data to understand why the upgrades we have are not paying off in the way we thought they would. We'll have a reset now over the summer break and then look to come back stronger for the second half of the season."
Jody Egginton, Technical Director: "We had mixed fortunes as a team today. Pierre drove a very strong race, from a pitlane start, making good use of the soft and medium compounds to come home 12th. Unfortunately, Yuki had a far more difficult race, struggling with grip and balance in every stint and generally not being happy with his car. Although no issue was evident from the telemetry, we need to conduct an investigation to get to the bottom of this. Looking at the bigger picture, although we have not achieved the target of getting back to scoring points again here in Hungary, the race pace shown today is positive and with a better starting position we could have potentially delivered points with Pierre, which is a good sign. Equally as important though is the amount we have learned about the upgrade here which, when combined with the next updates, will hopefully move us forward another step. We now have a week back at base focused on analysis from this event and preparations for the next Grand Prix before everyone heads off for a well-earned break, ahead of the second half of the season, which we are all looking forward to."
Aston Martin Aramco Cognizant F1 Team
Sebastian Vettel (10th): "We had to fight hard for a point today and we came close to a second point when I was chasing down Esteban [Ocon] in the final laps. The team switched cars because I had a better opportunity to catch Esteban, but obviously the Virtual Safety Car hurt us and we ran out of time. I was very close on the final lap, but I needed just one more corner to make a move. Overall, it was a fun race with lots of fights and overtakes. The middle stint was a bit difficult, but the balance was better for the third stint on the Mediums. The race pace was competitive, once again, so improving our Saturday performance needs to be a focus for the second half of the year."
Lance Stroll (11th): "I think I drove a strong race today. Into the final stint, Sebastian was on the Medium and I was on the Soft – I did not have another Medium left, and he could make that tyre last a little bit longer. The Soft was the wrong tyre in the circumstances, sadly, but these things happen in racing. I had fun racing into the top 10. When I came up to pass Daniel [Ricciardo], I gave him room on the inside at Turn Two, but I think he was struggling for grip on the Hard tyre and went a bit too deep. That is how it goes sometimes. We seem to have better pace on Sundays than we do on Saturdays, so we need to look at that. But there are plenty of positives to take away from today."
Mike Krack, Chief Operating Officer: "This afternoon was anything but straightforward: we managed our tyre life throughout the entire race, judged the strategy very well, and managed both drivers to obtain a good result for the team. Lance drove a strong race – he managed his tyres well, pulled off some great overtaking moves when it really mattered, and did a great job to close on [Valtteri] Bottas and move into the points. From 10th, we instructed him to chase down Ocon; with a handful of laps remaining, and with Sebastian showing greater overall pace on the Medium tyre, we switched cars. Our intention was to switch the cars back if Sebastian could not snatch ninth position, but, in the end, it was too close to safely make the change – Sebastian crossed the line just 0.143s behind Ocon. I know Lance will be disappointed, but it was worth the roll of the dice to try and increase today's points tally. Taking home one world championship point is little reward for a job well done, but we showed today how hard we can fight – both drivers were relentless, our race pace was strong and our strategy allowed us to pick off the cars ahead of us. We will take those positives into the summer break and come back stronger for the second half of the season. For now, I want to wish our whole team a well-deserved break over the summer. Everyone has worked tirelessly and I am extremely proud of our entire organisation. We will come back with fresh focus and look forward to the Belgian Grand Prix at the end of August."
Williams Racing
Alexander Albon (17th): "The race was okay. We were a bit out of sequence with the early damage and there was a lot of tyre degradation and a lot of pitstops, which didn't make it easy. It's been a tricky weekend for us, but it has been a good learning weekend, continuing to understand the strengths and the weaknesses of the new package. Looking back at the season so far, personally I'm happy; it's gone well and better than I expected, and I go into the summer break pretty happy. Obviously, we're not where we want to be positioning on circuits, but we've got time to reset now and we'll come back stronger after the break."
Nicholas Latifi (18th): "Unfortunately, our race was compromised at the start through some front wing damage. It wasn't great as the damage set us back with much more tyre degradation than we were hoping for. The balance was very tricky with the wind, so we have to find a way to adjust that later in the season. Not the best way to go into the summer break, but we'll take the time to recharge and look to bounce back in Spa."
Dave Robson, Senior Race Engineer: "Unfortunately, the rain was never enough to affect the race and with both cars suffering damage on the 1st lap, we were forced into a difficult race. Alex had to box for a new front wing on lap 2 and although Nicky was able to continue, the damage to his wing did cost him performance for the rest of the race. All the tyre compounds were difficult today with many drivers unhappy about at least one of their choices. We opted to avoid the Hard tyre, which offered poor pace, and this required a very disciplined race from both drivers. It has been a challenging weekend and we are now looking forward to a break from the track. When the 2nd half of the season starts in a few weeks' time the races come quickly, starting in Belgium. Fortunately, Spa is a very different track to the Hungaroring and we are looking forward to being more competitive there."
Alfa Romeo F1 Team ORLEN
Guanyu Zhou (13th): "Conditions today weren't a threat per se, they were a bit mixed, especially a little more slippery on the last few laps, but overall okay. I think our plan today didn't really pay off, we struggled on lap one and on the first few laps losing ground to other cars, and as going for one stop didn't work out, we had to do an extra one which put me on the back of the field. It was quite frustrating, as it compromised my chances. Besides this, I think we had a strong pace today, and we deserved a little more, as in terms of performances we seemed to be back to where we were around Silverstone. I learned a lot so far this season, it's been both tough and enjoyable, and there's still much room for improvement. It feels good to have a little break now, and hopefully come back even stronger and push for better results."
Valtteri Bottas (20th, Fuel system): "It was tricky again today, a bit like in France, as the hard tires didn't build up as fast as I was hoping. We tried it, we thought that was going to be the best chance for us, but ultimately it wasn't. We committed to a one-stop strategy, and it was hard to back out of it. On top of that, a few laps before the end I had to stop the car because of a technical issue, which was a shame. I just lost power, we do not know the details yet: obviously it's unfortunate and we will investigate it with the team, but I still think points seemed quite unlikely. I am looking forward to enjoying the summer break now, to recharge and come back full of energy for the second half of the season."
Frédéric Vasseur, Team Principal: "A day that promised much at its beginning left us disappointed in the end. The start put us on the back foot, losing five places with both cars and setting up a tough afternoon to recover some points. Valtteri was able to break into the top ten and was there until the closing stages, but in the end a fuel system issue meant he had to retire with a couple of laps to go. Zhou's afternoon was also compromised at the start, he was able to recover to 13th in the end but, as a team, we hoped for a lot more. It is a shame after the good performance we delivered in qualifying yesterday, but we now have a summer break to understand what went wrong and come back into the points for the final three European races of the season at the end of summer."
Haas F1 Team
Mick Schumacher (14th): "It was again tougher than what we expected it to be. We hoped that the C2 compound would work and it didn't, so in terms of strategy we maybe gambled on the wrong tire. We had a good start, that's what we aim for, but unfortunately we couldn't make it stick so it was P14 at the end. I think we have a lot to look back at, analyze and understand, so that for Spa we know how the new package works, what we need in terms of set-up and what we need to be quick. I expect this package to work pretty well in Spa and if that's the case, we'll know then for sure."
Kevin Magnussen (16th): "Our race was compromised massively by having to pit for the black and orange flag. I had slight contact at the start with one of the McLaren's – I couldn't avoid it – and it wasn't that bad, so I was surprised to get the flag. Then later we couldn't really switch the hard tire on, so it was good to get off that and do some laps on the medium compound. It was positive from the perspective that we could put the car on track and immediately measure what we were hoping for. It's just going to be a lot of work to get the lap time out of it and that's going to come over the next few races – it's new potential to be unlocked."
Guenther Steiner, Team Principal: "It was a difficult race today for us. Kevin with apparent front wing damage which actually in our opinion was a mistake by the FIA to call us out on. The front wing was clearly safe to continue so we lost half a lap and that means our race was over and then obviously to get the tires to work was difficult once we ended up in all the blue flags. It was the same for Mick, the C2 just wasn't working, we didn't get it to work, and we ended up where we ended up. Unfortunately, that was the race before the summer break but I'm sure we'll regroup and come back in our old form not having issues like this."