Hungarian GP 2022
JULY 30, 2022
Saturday Team Quotes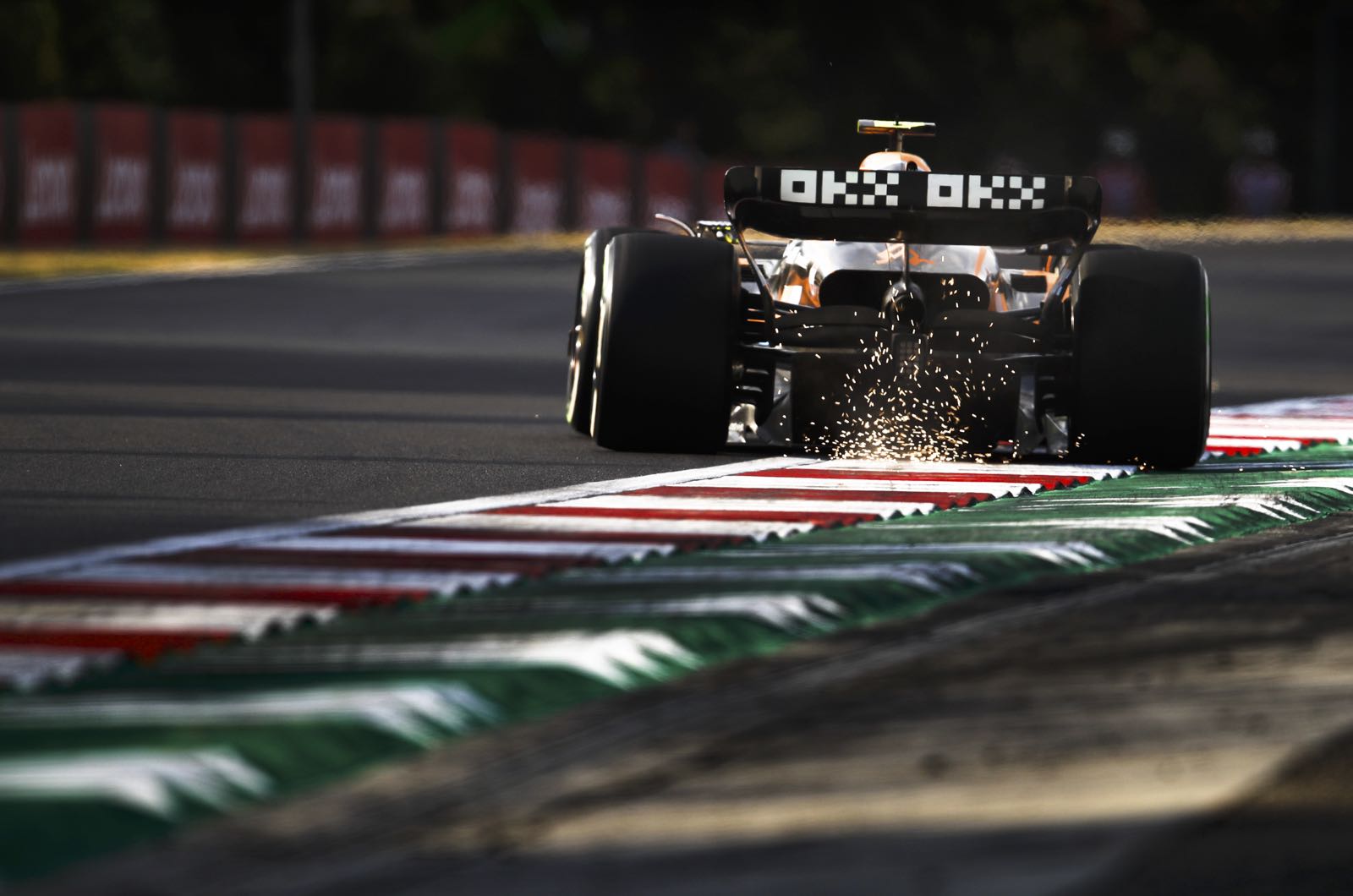 © McLaren
Mercedes-AMG Petronas F1 Team
George Russell (1st, 1:17.377): "I'm over the moon and absolutely buzzing. Yesterday was disastrous for us and probably the worst Friday of the season. The team was working so hard last night and we were able to make a big step forward. In Formula 1 there are so many fine margins and when you get in that perfect window, your car will just fly, which we managed to do in today's conditions. We didn't know what direction to go in but on the last lap I came across the line, looked at the screen and saw we went P1, which was such an incredible feeling. We need to look into our performance from today and understand where it came from. We have a few ideas, but don't fully understand it yet. Getting this result today is really huge for all of us. I'm so happy for the whole team and we will do our best to have a great day tomorrow and give it our all."
Lewis Hamilton (7th, 1:18.142): "My DRS stopped working, which was frustrating after all the struggle we had to finally have the chance to fight for front row but then not being able to, because of the issues with the DRS. We did a lot of work overnight at track and back at the factory. The car didn't feel good in FP3, but was strong in Qualifying. We didn't know how strong our pace was and where it came from so it's a very positive day for us. I will do what I can tomorrow to support and contribute to us in winning from P7 and I will try and work my way up. I don't know where our race pace is going to be tomorrow, but hopefully we will be in a position to attack. Huge congratulations to George, it's an amazing feeling to get your first pole position and it's also huge for us as a team."
Toto Wolff, Team Principal: "From the start of Q3 we had the tyres in the right window, the car was balanced, and everything came together well, with both George and Lewis getting more confident lap after lap. We haven't been in the hunt for a win this season and we know how strong our competitors are so being on pole is a solid result for us and if we have the right pace in the race tomorrow, I wouldn't rule out that we can be part of the front again and have a chance of winning. For Lewis, it was so tough - his DRS failed just at the crucial moment, otherwise he would have been fighting up there with George for pole position, no doubt."
Andrew Shovlin: "Well done to George on his first pole position and the team on their first pole with the W13. It was a strong session for both drivers. In the early stages it didn't look like we quite had the pace to fight for the top spot but as the session went on it seemed to be coming towards us and the times were just getting better and better. George put together an awesome lap at the end for pole position. Lewis on the other hand had a DRS issue at the worst possible time when he was starting his only new tyre lap, right now we don't know why we had the problem, but we'll investigate as soon as we get the car back. Prior to qualifying the weekend has been tough for us, we looked reasonable in first practice but struggled in second and third practice so the pace this afternoon was a bit of a surprise. We'll need to see how our single lap form translates into the race tomorrow. We've been getting closer but at recent races we've not quite had the pace over the stint to match RedBull or Ferrari. We're expecting it to be tough tomorrow but it's another encouraging sign that we are slowly but surely moving in the right direction and further motivation to the team to keep up the hard work."
Oracle Red Bull Racing
Max Verstappen (10th, 1:18.823): "I don't know exactly what happened, I drove out of the pits and there was no release and no power in the car, we couldn't fix it. We tried everything we could whilst out on the track, I'll have a chat with the Team and I hope that everything is fixable. It's frustrating to start in P10 tomorrow after such a positive qualifying, we looked competitive and we had good pace. Although we have a slight point advantage, you always want to start at the front, it's difficult to overtake here and get through the traffic so we'll have to be patient. Tomorrow is definitely going to be an interesting one."
Sergio Perez (11th, 1:18.516): "Qualification did not go as expected. I had to use a second set of tyres in Q2 because my first lap got deleted for track limits, then I got my time back but this already impacted our session. It was a bit of a strange situation. When I got going again Kevin (Magnussen) got in my way at turn 2, so I lost a few tenths as I had to go very big through the corner and couldn't recover for the rest of the lap. Unfortunately, I wasn't able to do much more. It wasn't a great qualifying for me. I don't have a great feeling in the car at the moment but tomorrow should be better, we should have better pace and hopefully we are able to recover to score some solid points."
Christian Horner, Sporting Director: "It was a disappointing qualification. Firstly losing Checo in Q2 after encountering some traffic and then unfortunately Max suffering technical issues. We felt Max had a chance at a pole, he seemed a lot happier than he was yesterday with the balance of the car, however a lock up on the first run of Q3 put him on the back foot and then a power related issue on the 2nd run prevented him from posting a representative lap time. Unfortunately we are out of position in 10th and 11th, we will push hard from there and look forward to the race tomorrow, but in the meantime, congratulations to George Russell on his first ever pole."
Scuderia Ferrari
Carlos Sainz (2nd, 1:17.421): "It wasn't a great session. The tyres were very tricky in these conditions and I struggled to get them in the right window, especially in Q3. The pace is there and we know we have some work to do. I'm confident we can come back stronger tomorrow. Congratulations to George for his first pole position, it's a special one!"
Charles Leclerc (3rd, 1:17.567): "I'm not very happy with the final result as I feel I could have done a better lap on the final attempt. However, I prefer to focus on the positives: we are in a good position for tomorrow, I've been comfortable in the car all weekend and we keep making steps in the right direction. I'm confident we can carry the good pace of Friday into the race, so we'll definitely go for it. Congrats to George on his first pole. He did a very good lap today and I look forward to the battle tomorrow."
Laurent Mekies, Sporting Director: "It was an unusual qualifying, because after this morning's rain, we found ourselves with a track that was no longer rubbered-in and the temperatures were much lower than yesterday's, so it was a case of starting over again. Carlos and Charles progressed well through the three phases and, as we expected, in the end it was a fight to the nearest thousandths of a second. We thought we'd be up against Max Verstappen and Sergio Perez, but in the end it was George Russell who took pole position, beating Carlos by a whisker. Congratulations to him and his team. Overall, we can be pleased with how we performed today, as we got a good team result, which puts us in a position from which we can aim to bring home the best possible result tomorrow. Here at the track and back in Maranello, we will now analyse all the data, as conditions for tomorrow's Grand Prix should be similar and we're not yet completely satisfied with where we are right now. I expect it will be a thrilling fight between three teams tomorrow and we want to be in the thick of it."
McLaren F1 Team
Lando Norris (4th, 1:17.769): "A very good position, I wouldn't have said we expected to be P4 but I'll take it! Very good job by the team, ahead of the guys we want to be ahead of. It was a good lap, so I'm happy with it. I don't think it could have been much better, position-wise, so happy with today and we'll try to keep it up for tomorrow."
Daniel Ricciardo (9th, 1:18.379): "I think we've been pretty quick this weekend, and that was confirmed by getting both cars into Q3. I went slower in Q3 though, so I'm not happy about that. I honestly felt a bit better in Q1 than I did towards the end of the session. I just picked up a bit more understeer on that last run and it got away from us. I knew the lap wasn't great, so I knew we weren't going to be that high up in the top 10. We'll look into it overnight and then focus on the race. Our pace on Friday looked encouraging so we'll see what we can do and be pushing hard tomorrow."
Andreas Seidl, Team Principal: "A well-executed qualifying performance for us here at the Hungaroring with two cars in the top 10. Lando put in a great lap at the end of Q3 to give us a spot on the second row. It was good to see that we could carry forward into qualifying the pace we saw on Friday. Thanks to the great work here at the track and back at the MTC, our understanding of the package we launched at Paul Ricard last weekend has been further optimised in the last few days, enabling us to extract even more performance from it. For tomorrow's race, we saw encouraging signs in the long runs on Friday, which should put us in a good position to score well. We'll be going for it!"
BWT Alpine F1 Team
Esteban Ocon (5th, 1:18.018): "I'm pleased with today's Qualifying as it's a very solid result, so thanks to the team for their hard work in making some really good improvements over the course of the weekend. We've equalled our best Qualifying result of the year, so we're definitely satisfied with our performance. We still have Lando [Norris] ahead who seemed marginally quicker than us today and we'll see how we fare against the McLarens tomorrow. It's all to play for in the race, the day where points are scored, as anything can happen as we experienced last year! It's a difficult track to overtake so if we can look after the tyres and manage our strategy well, we should be in a good position to head into the summer with more deserved points."
Fernando Alonso (6th, 1:18.078): "We have to be quite pleased with finishing inside the top six in Qualifying. I was competitive in the wet and dry conditions and I felt very strong in Q1 and Q2. Because of this, I was thinking I could have qualified a little higher, but a few others edged us on their final laps in Q3. We know it's difficult to overtake here and we will be lining up on the dirty side of the grid which doesn't help, but let's see tomorrow! With both cars qualifying in the top six it's a good result for the team. We will do our best to score as many points as we can tomorrow."
Alan Permane, Sporting Director: "We're happy with our Qualifying effort today with both cars inside the top six and in a great position to be competitive for tomorrow's race. We've built up our weekend steadily and made the right improvements when we've needed to, and that's reflected in today's result. The aim for the race is to outscore our rivals and have both our cars inside the points. We will, of course, assess the options on strategy to maximise our potential in the race to ensure we bring home strong points."
Scuderia AlphaTauri
Yuki Tsunoda (16th, 1:19.240): "It's been a difficult weekend so far, we're struggling for grip in general and especially today in sector one I've had absolutely none, so overall the car has been really hard to drive. We knew it wouldn't be an easy day, but we didn't expect it to be as much of a struggle as it has been. We thought maybe we'd be able to get through to Q2, but that was even harder than we imagined. We've still got one more day to go, so we've got to try and fight back, it's not easy to overtake here but I'll do my best to try and finish this first half of the season on a more positive note."
Pierre Gasly (19th, 1:19.527): "On one hand, it is extremely frustrating not to be part of Q2, but on the other hand we have made a small step forward since Friday. We managed to put a good lap together and were running in P13, set to get through to Q2, but unfortunately had our lap time deleted. It looked like we weren't too far off the times of the cars in the top 10, so it's all to play for during the race. There is definitely potential, it is up to us to make the right step forward to try and unlock the pace for tomorrow."
Jody Egginton, Technical Director: "A frustrating Qualifying today as both cars had the pace for Q2, but we did not manage to get either there. Pierre's best lap was good enough for 12th in Q1, but he was reported for a track limit infringement at Turn 5, meaning the lap was deleted and he missed the cut. Yuki also had a lap deleted and needed his final run to make the cut, but unfortunately missed this by 0.035sec reporting a lack of grip on his final set. So, as a team we cannot be satisfied and need to go through the data to see where we can improve. Looking ahead to the race, although we have not managed to secure the best possible grid positions here, our task for tomorrow remains unchanged and everyone will be focused on trying to get our cars moving forward into points scoring positions."
Aston Martin Aramco Cognizant F1 Team
Lance Stroll (14th, 1:19.137): "To qualify 14th was not what we really wanted today. Yesterday we looked more competitive, but the conditions were very different today and we just generally struggled for grip. We will have to look at the data to analyse why things panned out the way they did today. We have been performing better on race day, but it is tricky to overtake here – so it will be tough to make progress in the race, but there might be some interesting weather tomorrow which can go in our favour."
Sebastian Vettel (18th, 1:19.273): "The off this morning in FP3 was a shame – obviously, it was my mistake, but I wasn't pushing too hard when it happened. The track improved quite a bit throughout Q1. I thought my first lap was good, but then I could only do one cool-lap, so the tyres were still a bit too hot for my final lap. It doesn't leave us in a good place for tomorrow. Getting the car repaired for qualifying with just minutes to spare makes failing to get out of Q1 hurt that bit more. There is very little possibility to overtake around here, so we will need to see what we can do with the strategy in tomorrow's race."
Mike Krack, Chief Operating Officer: "Days like these show the grit and determination of the whole team. Lance did well this afternoon to progress into Q2, ultimately ending up in 14th position. But we did not have the pace to be in contention for Q3. Sebastian had a difficult day. After hitting the barriers at the end of FP3 and damaging his car, it was a race against time to have everything ready for qualifying. But, once again, our mechanics worked faultlessly to fix the damage. They got the car ready ahead of Q1, but Sebastian unfortunately finished up in 18th place. These positions leave us with a lot to do tomorrow, but, with changeable conditions still on the cards, anything could happen."
Williams Racing
Alexander Albon (17th, 1:19.256): "I was really happy with my qualifying lap. It was tricky going from the wet FP3 to a dry qualifying, the wind changed and we were missing a little bit of downforce. We're very fast down the straights, but that is not the most helpful round this track. But we'll do a rain dance ahead of tomorrow and we'll see what we can do strategy wise."
Nicholas Latifi (20th, 1:19.570): "After a positive FP3 in the wet, we had to reset the expectations for Qualifying with it being dry. I was looking to be on the cusp of Q2, but I missed the last corner quite bad. It's frustrating to make a mistake in the final corner with snap of oversteer on entry after a big tailwind. I was surprised to hear I had a purple sector one. However, we're still missing downforce from the package, so we know where we need to improve. It's difficult to overtake here but we'll be looking to capitalise on any opportunities that may come in the race tomorrow."
Dave Robson, Senior Race Engineer: "Today was mixed in many senses. The wet conditions for FP3 were not unexpected and with the rain potentially lasting into Qualifying, we opted to run on both the full wet and the intermediate tyres in FP3. Both drivers were happy with their cars and were able to complete good, unhindered runs. We obviously showed good pace in the wet, which was encouraging and enjoyable. However, with Qualifying ultimately taking place in dry conditions, we knew that we would struggle more. Again, both drivers had good clean runs in qualifying and perfect laps from either would've seen them into Q2. However, with the wind picking up, getting that perfect lap was difficult. Both drivers came close to perfect, but both struggled in the final long corners. It was a shame to miss out having done so many good things today, but that is how tight it is at the moment. There could be further rain tomorrow and as we have seen here many times before, a lot can happen in the race; we'll be ready to take any opportunity that we get."
Alfa Romeo F1 Team ORLEN
Valtteri Bottas (8th, 1:18.157): "It is positive to be back in Q3, we finally got everything together and the results show for it. It has been a while since we have been there and it's good to be where we feel we belong. We were closer to Alpine than we thought, which is a positive, and it seems we made a bit of progress since the last race. In terms of race pace, I believe there is not really a big difference between the teams at the top of the midfield, which should make for a good battle tomorrow. Still, this is a difficult track on which to overtake, so it is good to start from the Top 10 and be able to fight for the points right for the start. Tomorrow will be all about having a good start off the line and choosing the right strategy: I'm looking forward to it."
Guanyu Zhou (12th, 1:18.573): "I am quite happy with how qualifying went today, especially taking into account the difficult conditions we faced this morning. We finally got back to Q2 with both cars, and it's been very intense as once again it was so close in the midfield. I was quite impressed with our pace today, as we seemed to be back on our levels after a couple of difficult weekends. Q3 wasn't too far from my reach, but I encountered some traffic on my out-lap and the tyres weren't ready, nevertheless I pulled together a good lap in the end and I'm happy about it. It looks like tomorrow won't be any hotter than today, so hopefully that puts us in a good position for the race, to try and fight for places and bring home some points."
Frédéric Vasseur, Team Principal: "The team did a good job today and delivered a strong performance. Eighth place with Valtteri and Zhou missing on Q3 for the smallest margin, little more than 0.1s, is nearly as good a result as we would have hoped before the session and a good starting point for tomorrow. We showed good pace with both cars and we are confident we can do so tomorrow as well, when points are on offer. With one car in the top ten and one just outside, in P12, we are looking forward to the race. This is a circuit in which overtaking can be challenging: we are ready for a battle tomorrow and to give everything to bring home points."
Haas F1 Team
Kevin Magnussen (13th, 1:18.825): "You always want to make Q3 and it wasn't one of our best qualifying sessions but it seems this weekend we've been a little bit less competitive. There's a lot of work going into it but it's one of those things that will take time to extract the most out of it. From P13, I think you can fight for points. The pace looked alright on the long run, certainly the car felt good in FP2 with high-fuel, if anything a little bit better than low-fuel. We'll take what we can tomorrow and go and have some fun."
Mick Schumacher (15th, 1:19.202): "It was tougher than what I would've hoped for. It was quite a chaotic sequence of laps but on the other hand it's qualifying, and you've got to try some stuff, and with the upgrade package the gap was a bit bigger than what we wanted it to be. Our car isn't bad, we still have the opportunity to go forwards and how far forwards is the question. If there's a race from start to finish with no safety cars, maybe it will be a bit difficult to overtake, but we'll give it a shot."
Guenther Steiner, Team Principal: "It was a medium qualifying session today. In FP3 with the rain, it was neither here nor there, so no conclusion can be taken from there. In qualifying, it wasn't perfect but still if we have good starts like we had in France, we can still go for points. We got out of Q1 pretty well, but we just didn't have the speed to get into Q3. We're focused now on tomorrow, we'll hopefully get a good start as we normally do and try to put ourselves in the position to score points. We're here to fight and tomorrow that's what we'll be doing."