Hungarian GP 2021
JULY 30, 2021
Friday Team Quotes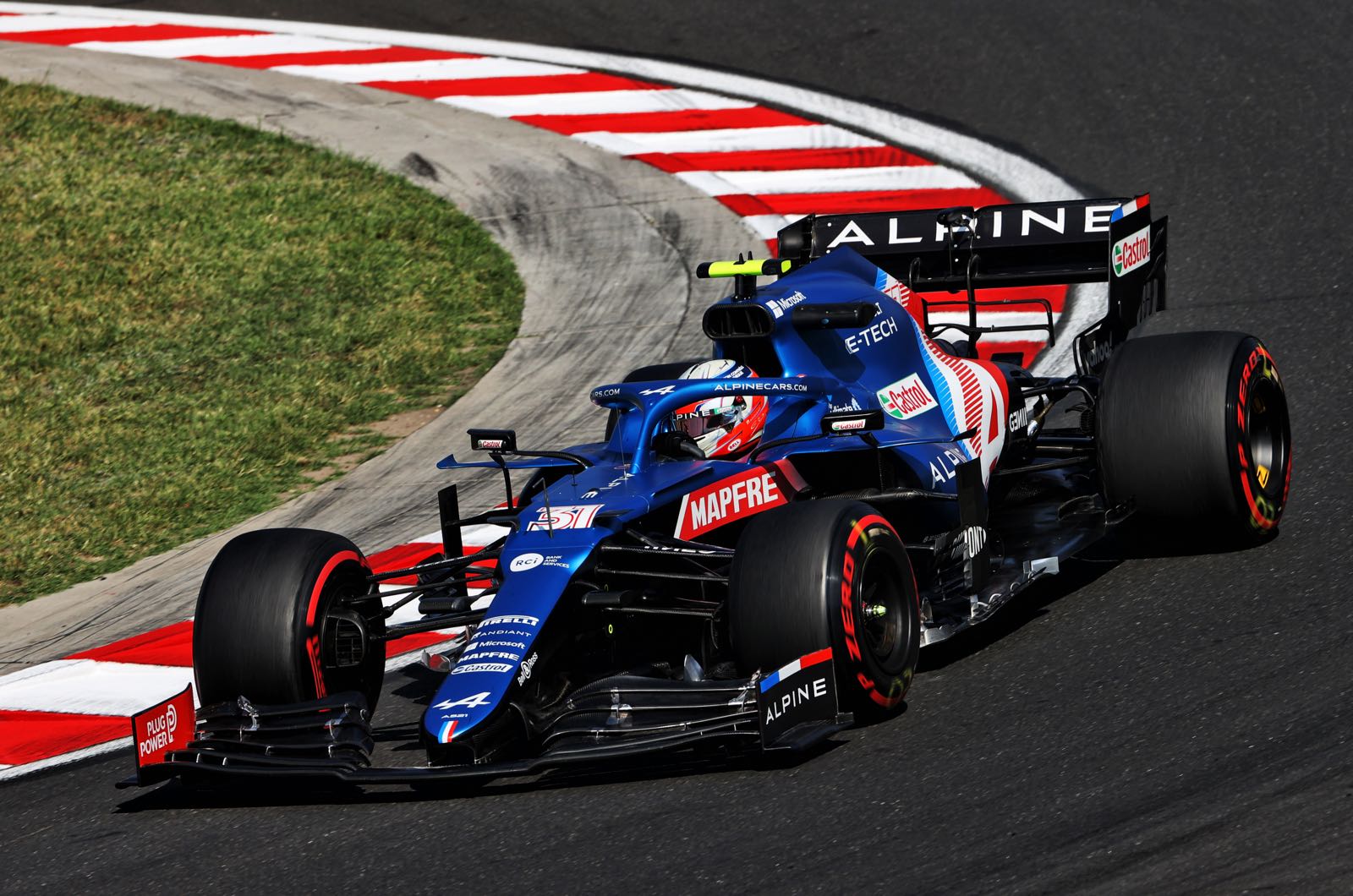 © Alpine
Mercedes-AMG Petronas F1 Team
Valtteri Bottas (1st, 1:17.012): "It felt like being in a Finnish sauna today, especially when you stop mid-runs - it's way more than 60 degrees in the cockpit! It makes it tricky with the tyres overheating but honestly, it didn't feel too bad - a promising start. Recently we've been making improvements and I don't think we're in too bad a place but it's only Practice, you never know what teams are holding back. In FP1 we had work to do with the balance but we made changes quickly and were in better shape for FP2, and no doubt there's still more to come. We'll be in on the fight for pole tomorrow and that's hugely motivating."
Lewis Hamilton (2nd, 1:17.039): "It was roasting today, I've probably lost 3kg out there and the tyres were melting! To see Valtteri and I at the top of the timesheets this afternoon is pleasing, it's great for the team and we'll only improve on that. We have some work to do tonight to see how we can finesse the car some more. You can't plan for the rain, it's so unpredictable so you just try and get the car in the best place, understand the tyres, and set the car up for a dry Qualifying and if it rains, it rains. I'm optimistic because I definitely think we can improve the car balance-wise and if we can do that, we should be there ready to fight tomorrow and for the race on Sunday."
Andrew Shovlin: "We got off to a fairly difficult start on the Hard tyre this morning as the grip and balance just weren't there. As the day went on we seemed to improve in terms of the timesheets, although we're still finding the balance quite tricky. It may be that it's the same for everyone, the track is at 60°C after all and the tyres are getting really hot which is making the long runs quite difficult. Overall, it is encouraging to see both cars at the top of the timesheets but with a risk of rain it may be a very difficult challenge tomorrow so we cannot take anything for granted."
Red Bull Racing
Max Verstappen (3rd, 1:17.310): "In general, it was not an easy day on track today, we had a few adjustments that we were working on from FP1 and FP2 that we need to look into, seeing what works and what doesn't. There are a lot of things to analyse this evening but there's nothing too big to overcome so I'm not worried. The track was very hot today, but it looks like there's a bit of rain coming so that should make things interesting and I'm looking forward to it."
Sergio Perez (5th, 1:17.824): "The car felt good over the longer and shorter runs today. I think there's definitely time to be found, I was caught in some traffic during both sessions so I think there is still plenty to play for in qualifying tomorrow. With the weather conditions predicted to change over the weekend, there is a bit of an unknown, it may benefit some more than others so we will have to wait and see what happens. We've made good steps and we have a good idea about what we need to do before qualifying to make improvements, so I am optimistic for the rest of the weekend."
McLaren F1 Team
Lando Norris (9th, 1:18.313): "Today wasn't too bad – obviously very hot which made things a bit tricky. It's not just warm inside the car but the car itself, especially the tyres – the tarmac is hot and that can change a lot of things with the car and how it feels too. It doesn't make things too easy with the temperatures, but we'll try to make sure we do a better job with that tomorrow and make improvements overnight. But I think we're there or thereabouts, so we'll see if we can gain a little bit for tomorrow."
Daniel Ricciardo (13th, 1:18.737): "It was a pretty tricky day. The track conditions were really hot, so I think that made it more difficult. Even if you're fastest today it's probably not going to feel great because the cars and the tyres aren't optimised for these sorts of conditions. It was hard to get a good feel from the car this morning, in terms of balance. But it was better this afternoon, even though we've still got work to do before tomorrow. We'll try to chip away, make another step or two overnight and then be in a good place tomorrow."
Andrea Stella, Racing Director: "We've had a busy and productive day of practice in Hungary. Conditions today were extreme: high ambient temperatures and I don't think we were far from a record track temperature. We progressed through our programme well, without issues, and are happy with what we've learned today. We seem to be in the usual position in terms of competitiveness. The midfield is very tight, and a few milliseconds will make all the difference, so we have some work to do this evening and tomorrow to prepare for qualifying and ensure we have a good race on Sunday, starting from as high up on the grid as possible. We also know the weather is unsettled, so we'll be preparing for multiple scenarios for the rest of the weekend."
Aston Martin Cognizant F1 Team
Sebastian Vettel (8th, 1:18.228): "We had a decent day. If we qualify tomorrow where we finished today, I think that would probably be a good result for us. But, of course, we want more – so let's see what we can find overnight. My fastest lap this afternoon was OK, but I left a bit of a margin. On this track, the driver can make the difference if they have absolute trust in the car: it is one corner after the other, without much time to think, so, if we can get in the groove tomorrow morning, we can aim for a good result in qualifying."
Lance Stroll (10th, 1:18.320): "It was really close out there between the teams, which is to be expected at the Hungaroring. It is always great fun to drive this track, so I am happy to be back. We have learned a lot today – particularly with the tyres. There was quite a lot of degradation in the long runs in FP2, which is often the case in Hungary. We will go away and look into it, because tyres and strategy can be really influential here. I felt good in the car over a single lap, but there are always areas to improve. It has been a good start to the weekend and I am looking forward to qualifying tomorrow. It could be especially exciting if we get some rain, too."
Alpine F1 Team
Esteban Ocon (4th, 1:17.759): "It was a good Friday practice overall. The conditions were very tricky with the heat, which must be a record here. I've never seen track temperatures above 60C in my career! It's very challenging to deal with the warm temperatures and having to manage the tyres, brakes and the car is a big exercise. Understanding all of that is key, but it looks like it will be much cooler tomorrow. Today we were competitive, and the car felt decent on the one lap we did on Softs. It's a positive start to the weekend, I enjoy driving here, but tomorrow we have to keep working hard for qualifying, which we know is an important session at this track."
Fernando Alonso (7th, 1:18.169): "It was an OK day. Obviously the Hungaroring is a very different type of circuit to Silverstone, and you really need to adapt to these low speed corners and the amount of action around a lap. We tested a few different things on the car, some of which were thinking about these very high temperatures in Budapest. We don't have a perfect balance yet so we will have to do a lot of work tonight, but we are getting close, so overall it's a productive day."
Davide Brivio, Racing Director: "We had two positive sessions, particularly with Esteban who felt comfortable in the car and showed some decent pace on both tyre compounds. Fernando still has a little way to go to improve the car to his exact liking, but we collected a lot of useful data on long runs and different tyres and can improve tomorrow. The final results are good, but it is difficult to read much into the classifications today, especially as the weather may change tomorrow. So, for now, we need to keep our heads down, keep working, have a good qualifying and keep ourselves focused."
Scuderia Ferrari Mission Winnow
Charles Leclerc (11th, 1:18.370): "It was a good day. We went through our planned programme and I was quite happy with how I felt in the car. The conditions changed slightly from FP1 to FP2, but we did a good job in both the qualifying and race simulations. What we need to focus on the most is our qualifying performance. It will be quite tricky to overtake, so we have to be a bit stronger here on Saturday than we have been recently at some of the other circuits. It was very warm today, and all of us had to adapt to the heat in our cars. But the temperature can also affect other things, such as tyre management. It looks like the weather could be variable for the rest of the weekend, which could mix things up again."
Carlos Sainz (12th, 1:18.441): "Today was a tricky Friday. FP1 was a decent session but FP2 proved to be a bit more complicated. The car didn't feel any worse, but while the others managed to improve, we went backwards. This is something to analyse before tomorrow, when there is some risk of rain and things could get interesting."
Scuderia AlphaTauri Honda
Pierre Gasly (6th, 1:18.113): "I'm very pleased with today, particularly after Silverstone where we struggled a bit. It's good to see that we've got the performance back again. The car felt good even in these really hot conditions, so we'll see how we do tomorrow. The Alpine car is looking very fast this weekend so we'll have to work hard tonight to try and get them in Qualifying. I think it might rain overnight, and also in the morning, so we may have different track conditions tomorrow. The pace of the car seems to be good though, so we can go into tomorrow with confidence."
Yuki Tsunoda (17th, 1:19.671): "I'm really disappointed with today, I made a mistake in FP1 and it meant that I've lost more than a session's worth of running. The rear of the car felt very nervous, especially in high-speed corners, and I was losing a lot of time there compared to Pierre. I was trying to improve in those areas, but I lost control of the car and I went into the wall. Unfortunately, the gearbox was damaged, and the team had to work really hard to get my car ready for the afternoon. The mechanics did a really good job getting the car fixed before the end of the session, so I was able to get one push lap in during FP2. It was really helpful for both the engineers and I to get this, so we can review the data tonight."
Jonathan Eddolls, Chief Race Engineer: "It's a tale of two halves today for the team. Pierre's side of the garage have had a very good Friday, we hit the ground running in FP1 and he showed a very good performance on all of the tyres and particularly on the short-run, where the car seems to be in a good place. For sure, the race will be difficult, especially if we have these very high temperatures as it's very hard on the tyres, so that is probably an area that we should work on for the rest of the weekend. We've brought some aero updates to this race and they are performing as expected, which is really positive. Yuki was having quite a good FP1 up until the spin, which was unfortunate for him. He sustained some damage to the car which was fairly extensive and took quite a long time to repair. The mechanics did an excellent job getting the car back out before the end of FP2 and Yuki was able to get one push lap in before the end of the session. He completed this lap on the Softs, however he ended up in the mix of cars doing long-runs, so we can't consider his time representative of the real performance. It was always going to be difficult getting that lap in but thanks to the mechanics' hard work we were able to check that everything on the car is ok and it will also allow Yuki to analyse the set-up changes we made to the car after FP1. The forecasts here have been changing daily, so who knows what weather we'll have tomorrow!"
Alfa Romeo Racing ORLEN
Kimi Raikkonen (14th, 1:19.277): "We were able to do a good amount of laps in FP2, but there's still work to be done with the set-up of the car. The balance is not yet where we want it to be, but we have a whole evening to improve it ahead of tomorrow. We'll only find out if we've done enough when we get to qualifying, hopefully we will earn a spot in Q2."
Antonio Giovinazzi (19th, 1:20.186): "Not the easiest day for us, but a good recovery in the afternoon, all things considered. A technical issue meant we effectively missed FP1, but we were able to make up some ground in the second session. Unfortunately, my fastest lap was deleted, so the standings don't look great, but we can be confident: hopefully we can be strong on Saturday. The fight for a spot in Q2 will be tight but we are going to give it our best shot and see if we can make it."
Robert Kubica: "It was a productive morning in difficult conditions, a session in which we managed to complete our programme. My day in the car was quite smooth and I am happy with the job I did: I am always keen to help the team progress and I feel my input gives a different perspective compared to Kimi's and Antonio's, who get to drive the car every session. Hopefully that can be of help to the team. Outside the car, it was very nice to have a virtual meeting with some of the fans in the grandstands. There's a lot of support for us here, we see it in our team booth in the fan zone, and we're keen to put up a good show for them."
Haas F1 Team
Mick Schumacher (18th, 1:19.817): "I think it was a positive start in the sense that we were able to accomplish our run plan. Obviously, in terms of speed we're a bit adrift but hopefully if I manage to get a good lap in, we'll be a bit closer to Williams, which is what we're hoping for. We had two very different types of tire wear in the two practice sessions. Today we had 63-degree track temperature – that's the hottest I've ever seen it. For Sunday, the temperature should be a bit cooler and hopefully we will have done enough in terms of research to be able to keep up with the others."
Nikita Mazepin (20th, 1:21.881): "It was a physical day, but we got lot of laps done. Unfortunately, I had a puncture in the afternoon which prevented me from any soft tire running but we compensated and got a very long run. Although it isn't perfect on a track where you can't overtake, there's loads of laps completed, experience and data gathered. Ever since Silverstone, we've managed to stabilize the car well and obviously on a track where you lose the rears, like Silverstone, we've achieved a good pace on long runs. We need to rebalance the car to have more front end in slow speed corners and we'll be good."
Guenther Steiner, Team Principal: "It was a pretty good session. We had a slow puncture with Nikita during FP2 on his soft tire which we need to look into. No real problem – we just did our job. We got enough data and the guys got to learn the track in a Formula 1 car. So far, all good. Let's see what we can do tomorrow."
Williams Racing
George Russell (15th, 1:19.292): "It was very hot out there and overall, it was a good day. We were not quite as quick as I had hoped but, having said that, it's only Friday. We're in a good position for Qualifying and also for the race. It is so difficult to overtake here and if conditions stay the same, with the track temperature being very hot, then it will be a difficult race for everyone, so we are definitely keeping an eye on Sunday."
Nicholas Latifi (16th, 1:19.479): "It was definitely very tricky today, one of the hottest track temperatures I have driven, so it was a challenge to find the right balance with the tyre management. The relative pace is there or there abouts, but I feel there is a lot that we can improve which is a positive. The car has had the pace to get into Q2 at almost every race this year, so on a track where the car should be more competitive, I see no reason why we can't fight for that tomorrow. We have some work to do tonight, we still have to dial in the balance of the car to give me a bit more confidence, but it is definitely possible."
Dave Robson, Senior Race Engineer: "Today has been very hot and this has occupied quite a lot of our time. Both drivers have had solid days and have begun to tune their cars for the conditions we expect to see tomorrow and on Sunday. We have run all three compounds today and have a good idea of how we will tackle qualifying and the race. We think there is more to come from the car tomorrow and tonight we will be looking to see how we can get a little more from the tyres during a qualifying lap. There is a risk of rain for the rest of the weekend and so we will have to keep this in our minds as we finalise the car build ahead of qualifying."