Hungarian GP 2021
JULY 30, 2021
Friday Report - Split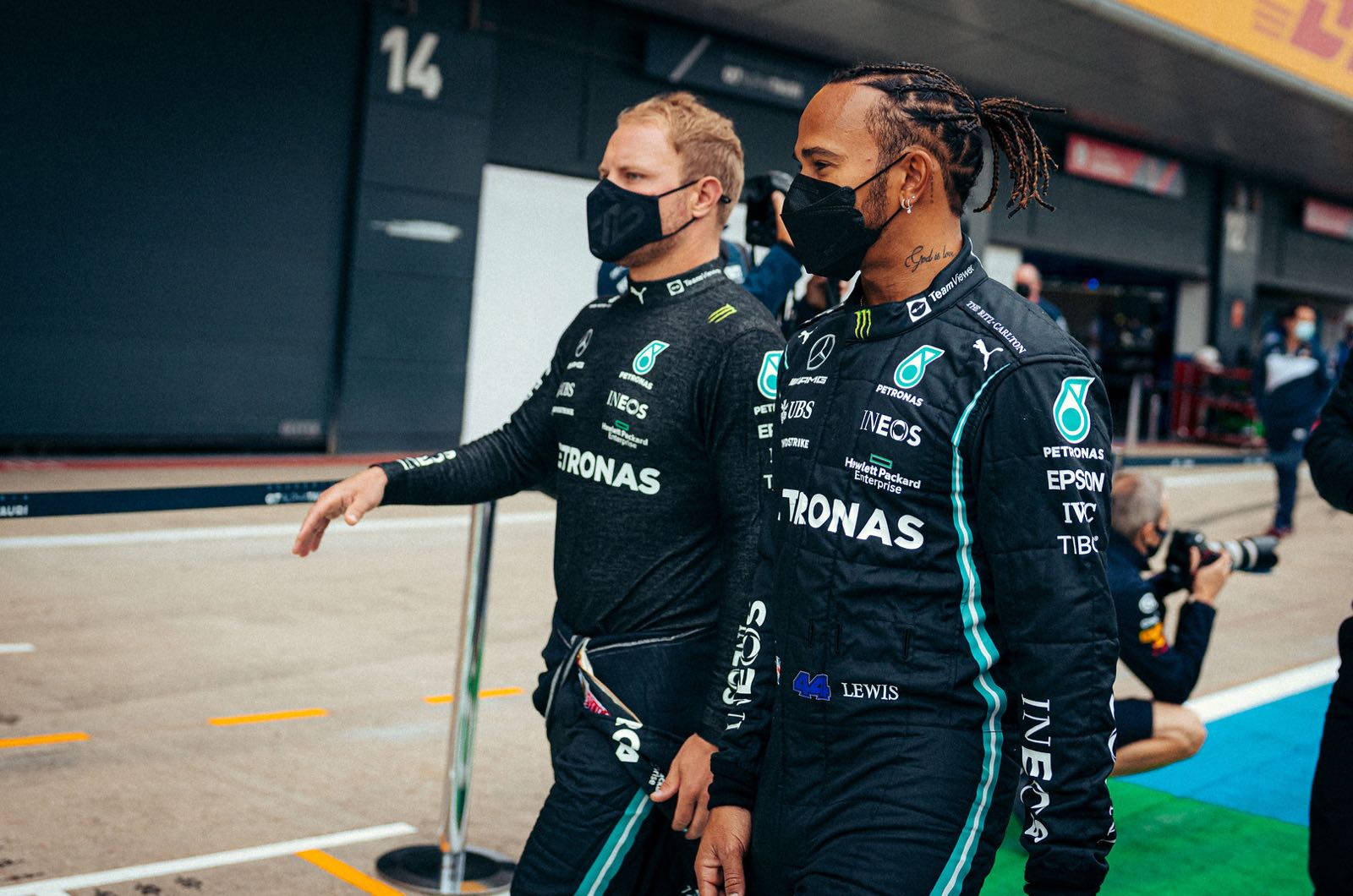 © Mercedes-Benz Grand Prix Ltd.
By Dan Knutson
The Red Bull and Mercedes teams split Friday practice at the Hungaroring, with Max Verstappen quickest in FP1 and Valtteri Bottas fastest in FP2.
The line-up for the weekend was: Mercedes – Lewis Hamilton and Valtteri Bottas; Red Bull Honda – Max Verstappen and Sergio Perez; McLaren Mercedes – Lando Norris and Daniel Ricciardo; Aston Martin Mercedes – Lance Stroll and Sebastian Vettel; Alpine Renault – Fernando Alonso and Esteban Ocon; Ferrari – Charles Leclerc and Carlos Sainz; AlphaTauri Honda – Yuki Tsunoda and Pierre Gasly; Alfa Romeo Ferrari – Kimi Raikkonen and Antonio Giovinazzi; Haas Ferrari – Nakita Mazepin and Mick Schumacher; Williams Mercedes – George Russell and Nicolas Latifi.
Robert Kubica replaced Russell in FP1.
Verstappen's time of 1:17.55 put him out front in FP1 ahead of Bottas, Hamilton and Sainz. The session was briefly red flagged when Tsunoda crashed.
Raikkonen and Sainz were the first out in FP2.
Bottas set the early pace in FP2 with a 1:18.376. Verstappen was second, two tenths slower.
The ambient temperature at the start of the 60-minute session was 90 degrees Fahrenheit (32 degrees Centigrade) and the track temperature was 147 degrees Fahrenheit (64 degrees Centigrade).
At the 15 minute mark the order was: Bottas, Verstappen, Hamilton, Perez, Ocon and Gasly. And a minute later Hamilton took the lead with a 1:18.140. All had used Pirelli's medium compound tires.
Tsunoda's wrecked car was still being repaired.
First runs over, most of the drivers were in the pits. Then it was back out on the soft tires for the qualifying simulations.
This included Bottas and Hamilton. The latter clocked a 1:17.039, the former a 1:17.012. Ocon jumped up to third ahead of Gasly, Vettel and Stroll at the half-hour mark.
But others were now doing their soft tire runs. Verstappen, complaining of understeer, took third place.
So the order was Bottas, Hamilton, Verstappen, Ocon, Perez, Gasly, Alonso, Vettel, Norris and Stroll as the drivers began their race simulations in the final 20 minutes.
Tsunoda finally made it out onto the track in the final two minutes.