Hungarian GP 2019
AUGUST 4, 2019
Race Analysis - The chase down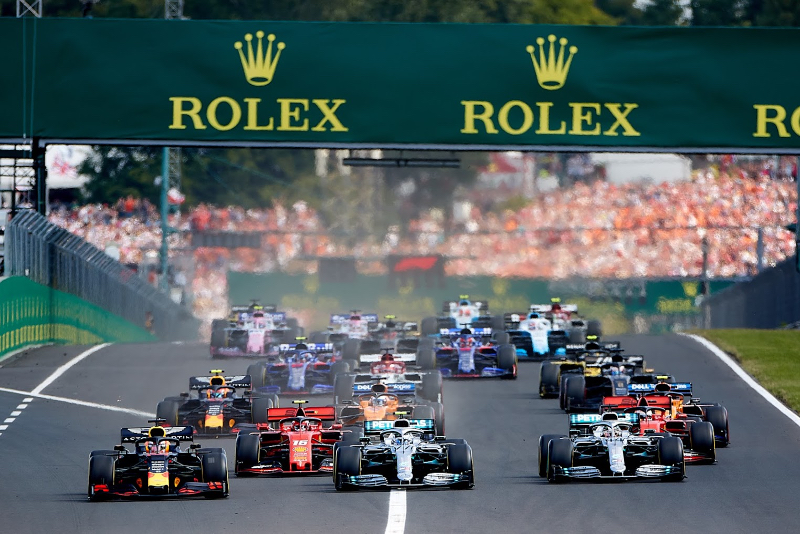 © RV Press
By Dan Knutson in Budapest
Lewis Hamilton chased down Max Verstappen to take the lead for good with just four laps remaining in the Hungarian Grand Prix. It was a race of strategy calls and pit stops that, for the victory, involved only these two drivers. Here's how Hamilton's victory evolved.
FIRST EVER
Red Bull's Verstappen won his first ever F1 pole. It was also the first ever F1 pole for a Dutch driver.
SINCE 2006
This was the first pole for Honda since the 2006 Australian Grand Prix.
MIGHTY CLOSE
Valtteri Bottas (Mercedes) was mighty close in second place on the grid – a mere 0.018 of second slower than Verstappen.
FEELING BETTER
After being ill during the German Grand Prix weekend, Hamilton was feeling better in Hungary. He qualified his Mercedes third alongside Ferrari driver Charles Leclerc.
NEXT UP
Next up in the grid lineup were Sebastian Vettel (Ferrari) and Pierre Gasly (Red Bull).
BLAST OFF
Verstappen zoomed into the lead and had a 1.7 second lead over Hamilton after the first of 70 laps.
ALL OVER
Bottas had light contact with Hamilton. Then heavier contact with Leclerc. Bottas pitted for a new front wing and a set of the hard compound Pirelli slick at the end of lap 5. It was all over for him as far as fighting at the front. He finished eighth.
"That was a tough day and not what I expected," Bottas said. "I came out in traffic and lost a lot of time. I tried everything I could, but it was really tough to overtake. At least I got some points but we'll analyze what happened and learn from it."
ALSO OVER
Verstappen and Hamilton steadily pulled away from Leclerc and Vettel. Ferrari' hopes of victory were over soon after the race started.
PIT
Both Verstappen and Hamilton started the race on the medium compound Pirellis. Who would pit first?
GAME ON
"Qualifying didn't go the way I'd planned and I'd hoped," Hamilton said. "Then today, once I got into second, I was like 'OK, game on.' And I could keep up with Max, no problems. So I was like, 'we've got an actual real race on here. How is it going to play out? I don't know. We're going to have to figure it out as we go along.'"
LOSING GRIP
Verstappen radioed that he was losing grip. He pitted at the end of lap 25 for a set of the hard slicks.
HAMMER TIME
Hamilton's engineer Peter Bonnington told him it was "hammer time." Hamilton led from lap 26 until he pitted for the hard tires at the end of lap 31.
CHASE DOWN
Hamilton was now 4.9 seconds behind Verstappen, but he chased down the Red Bull while at the same time conserving the brakes on his Mercedes.
STRATEGY CALLS
Mercedes decided to bring Hamilton in for a set of the medium compound Pirellis at the end of lap 48. Red Bull opted to not respond and left Verstappen out there.
"It wouldn't have made sense (to pit) because then I would have been behind and then the race is lost anyway," Verstappen said. "The only option from me was then to continue and that's what we did. I started to run out of tires trying to keep up with Lewis' pace."
CHASE DOWN II
Hamilton was 19.8 seconds behind Verstappen on lap 49. He chased him down and took the lead on lap 67.
"I wasn't sure if I could close the 19-second gap," Hamilton said, "but the team said to just get your head down, so I did. I kept pushing, the gap closed and the laps were like Qualifying laps. I was on the limit all the way."
SHOT
Verstappen's tires were shot, and he stopped for a fresh set of softs at the end of lap 67. But that did give him the chance to grab the fastest race lap point on his way to second place.
SOMETHING DIFFERENT
Ferrari was left way behind to fight for third place. Leclerc was ahead of Vettel, but the latter used a different tire strategy to grab third place with three laps to go.
"Today, we simply could not match the pace of our rivals," Vettel said. "In terms of strategy, the idea was to come up with something different to try and do better than fourth. I managed to extend the first stint to 39 laps and that allowed me to fit softs and have a stronger pace than Charles in the closing stages."
TOUGH
"Arriving in Hungary we knew it would be a tough race for us, and it was," Leclerc said. "The beginning of the first stint wasn't bad, but as the race progressed, I started to struggle with my rear tires more and more and could not match the pace of our competitors."
HAPPY
Verstappen was not all that upset to finished second.
"Second and fastest lap," he said. "I think a good weekend overall for us. Of course congrats to Lewis for the win. He was pushing me very hard, so I like that. Today we didn't win but again, like I said, it was a good day, a good weekend for us."
TAKE A BREAK
The Formula 1 teams now must all shutdown for two weeks.
"It has been a fantastic first half of the season, with 10 wins from 12 races," said Mercedes team boss Toto Wolff. "We will use the break to recharge our batteries - and hopefully return even stronger in Spa."