Hungarian GP 2018
JULY 27, 2018
Practice 2 Report - Red battle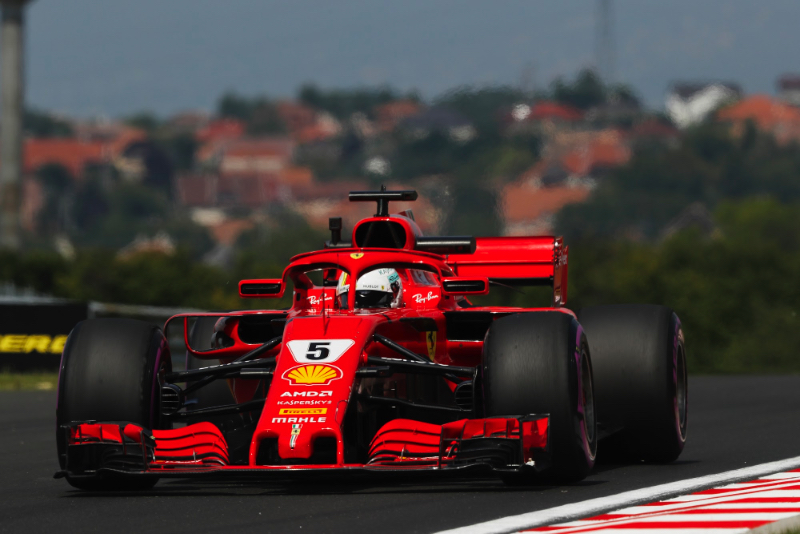 © RV Press
By Dan Knutson in Budapest
Sebastian Vettel (Ferrari) edged out Max Verstappen (Red Bull) in Free Practice 2 for the Hungarian Grand Prix. Daniel Ricciardo (Red Bull) took third ahead of Kimi Raikkonen (Ferrari).
The line-up for the weekend was: Mercedes - Lewis Hamilton and Valtteri Bottas; Ferrari - Vettel and Raikkonen; Red Bull TAG Heuer - Ricciardo and Verstappen; Force India Mercedes - Sergio Perez and Esteban Ocon; Williams Mercedes -Lance Stroll and Sergey Sirotkin; Renault - Nico Hulkenberg and Carlos Sainz; Toro Rosso Honda - Brendon Hartley and Pierre Gasly; Haas Ferrari - Romain Grosjean and Kevin Magnussen; McLaren Renault - Fernando Alonso and Stoffel Vandoorne; Sauber Ferrari - Marcus Ericsson and Charles Leclerc.
Ricciardo went fastest in FP1, turning a 1:17.613 on the soft Pirelli compound. The softs and super softs were also available
The Mercedes drivers were "only" fifth and sixth quickest.
"I think this weekend is going to be the same challenge it is every single year," Hamilton said the day before when asked if Ferrari and Red Bull would have the upper hand at the Hungaoring. "You've got the Red Bulls, it's not a power circuit, they often end up closer. You've got the Ferraris which were quickest here last year. It's probably going to be the same weekend.
Haas teammates Magnussen and Grosjean were the first out in FP2, and both did a practice start at the end of pit lane.
The ambient temperature at the start of the 90-minute session was 84 degrees Fahrenheit (29 degrees Centigrade) and the track temperature was 115 degrees Fahrenheit (46 degrees Centigrade).
Hulkenberg's Renault had stopped on track during FP1, and the crew was still working on the car as FP2 began.
Hamilton clocked a 1:17.875 in the early going on the soft tires that had looked competitive in FP1. Bottas was second, 0.218 of a second slower. But then Bottas improved to a 1:17.868. Hamilton came back with a 1:17.587.
Ericsson, meanwhile, had his third spin of the day. This time at Turn 11.
Things were worse for Alonso who radioed "I have no power" as he drove slowly back to the pits, getting Hartley's way as he did. Fortunately for Alonso, McLaren soon repaired his car.
Now Verstappen was flying as he moved into the lead with a lap in 1:17.509.
At the 25-minute mark the top six were: Verstappen, Hamilton, Bottas, Ricciardo, Vettel and Raikkonen.
Then Ricciardo moved into second, 0.047 of a second off his teammate.
Just past the half-hour mark Hamilton headed out for a flier on the super softs. But he made a mistake and abandoned the lap.
Others were now also on the ultra softs for their qualifying simulations.
Vettel got things rolling with a lap of 1:16.834. A few minutes later Verstappen got within 0.074 of a second of that time. Raikkonen slotted into third, a third of a second adrift.
Then Ricciardo moved into third place, but he was 0.227 slower than Vettel.
"I feel like the balance is a bit far out," Ricciardo radioed.
Hulkenberg finally got out on the track halfway through the session.
Hamilton, Bottas, Grosjean, Sainz, Gasly and Ocon rounded out the top 10 at this time.
Vandoorne provided some excitement with a smoky spin at Turn 5.
And now rain was moving into the area as the last third of the session went on.
"It's quite dark here," Verstappen radioed.
With most of the fast laps complete, it was now a matter of running out the session on used tires.
There were lots of cars on track, and more than one driver complained about traffic.
Vettel ended FP2 still ahead of Verstappen, Ricciardo and Raikkonen. Hamilton and Bottas were fifth and sixth but neither had done a fast lap on the ultra soft Pirellis. Grosjean, Sainz, Gasly and Ocon remained in the top 10.