Hungarian GP 2018
JULY 27, 2018
Practice 1 Report - Indications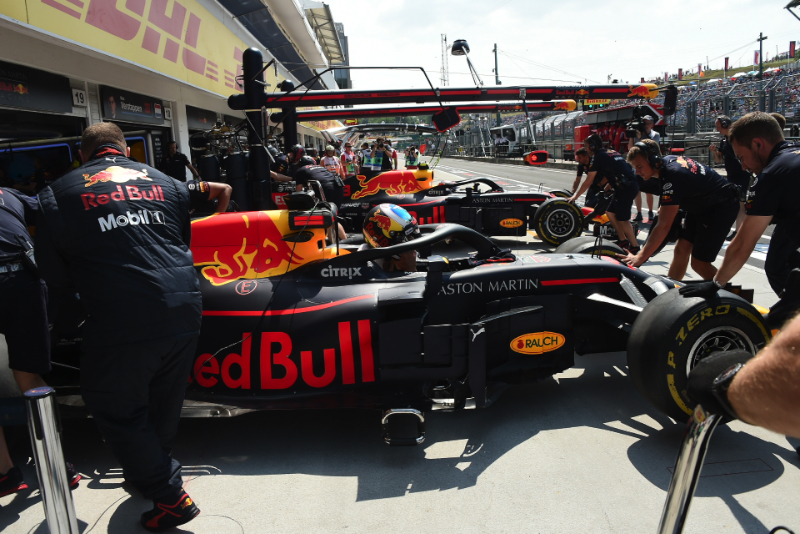 © RV Press
By Dan Knutson in Budapest
The first indications of which car and driver will be best-placed to win the Hungarian Grand Prix when Daniel Ricciardo and Red Bull clocked the fastest lap in the opening round of practice for the weekend.
Was Red Bull the favorite to win in Hungary?
"I'm not sure who is going to be the favorite this weekend," Ricciardo said the day before. "I really think all three (Red Bull, Ferrari and Mercedes) are going to be really close. I'm going to predict, after me, the rest of the field will be within one tenth, the other five! Should be close, I hope it's close, for all six cars."
The line-up for the weekend was: Mercedes - Lewis Hamilton and Valtteri Bottas; Ferrari - Sebastian Vettel and Kimi Raikkonen; Red Bull TAG Heuer - Ricciardo and Max Verstappen; Force India Mercedes - Sergio Perez and Esteban Ocon; Williams Mercedes -Lance Stroll and Sergey Sirotkin; Renault - Nico Hulkenberg and Carlos Sainz; Toro Rosso Honda - Brendon Hartley and Pierre Gasly; Haas Ferrari - Romain Grosjean and Kevin Magnussen; McLaren Renault - Fernando Alonso and Stoffel Vandoorne; Sauber Ferrari - Marcus Ericsson and Charles Leclerc.
Gasly was looking forward to his first laps around the Hungaroring in a F1 car.
"I won there in 2013 in Renault 2.0 liter," he said. "I was second in 2014 in 3.5, second in 2015 in GP2 and first, again in GP2, in 2016, so it's a track that seems to work well for me. It's one of my favourite tracks because it's very technical, which is something I like. It's important to get into a good flowing rhythm and on a track with so few straight sections, the driver can really make the difference.
"With one corner leading straight into another, it's important to get the flow working, because if you make a mistake at one turn, it has a big impact on the following ones. However, rather like Monaco, overtaking here complicated, therefore qualifying is even more important than usual. In terms of pure driving though, I love it, as there are all sorts of corner types: slow, medium and fast, long corners, heavy braking ones, so it has a bit of everything. Given that I really like it, I can't wait to find out what it will be like in an F1 car. I reckon it will be a pure pleasure!"
Antonio Giovinazzi drove Leclerc's Sauber in FP1, and he was the first out on track.
The ambient temperature at the start of the 90-minute session was 79 degrees Fahrenheit (26 degrees Centigrade) and the track temperature was 102 degrees Fahrenheit (39 degrees Centigrade).
Ricciardo clocked the first time - 1:19.566, but Verstappen quickly beat that with a 1:19.280. They were on the medium tires.
The Pirelli slicks on offer for the weekend were the medium, soft and ultra soft compounds.
Raikkonen, on the ultras, became the third to post a time as he clocked a 1:18.710.
His teammate Vettel won the pole last year with a time of 1:16.276, so the drivers had a way to go to get down to that.
More drivers did flying laps in the first 25 minutes but none beat Raikkonen's time. But then Bottas slid into first with a 1:18.470 on the softs.
Vettel, who had not set a time yet, then beat that with a 1:18.218 when he finally did a flying lap. A few minutes later he lowered that to a 1:17.997 on the ultra soft.
Ericsson, meanwhile, had a big slide in the final corner. And Verstappen spun in the first corner. All was okay, Verstappen radioed as he headed for the pits.
At the 40-minute break, when the drivers each have to return one set of tires to Pirelli, the top 10 were: Vettel, Bottas, Raikkonen, Verstappen, Hamilton, Hulkenberg, Sainz, Ricciardo, Magnussen and Alonso.
Five minutes later, Vandoorne became the first driver to head back onto the track. He had a new McLaren chassis after struggling to get performance out of the previous one.
Hamilton, on a new set of softs, was the first to make a crack at the leader as he turned a time 0.039 slower than Vettel.
Ericsson, meanwhile, had a spin, this time at Turn 4. He was worried that he'd ruined a set of tires. Things were worse for Hulkenberg whose car stopped out on the track. He parked it and climbed out.
With just under 30 minutes remaining in FP1, Raikkonen slotted into the lead with a time of 1:17.948 on the soft compound Pirellis. Vettel, on the ultra soft tires, responded with as 1:17.692. Then Verstappen, on the softs, got within 0.009 of a second of Vettel.
There were now a lot of cars on the track. "Everyone's got traffic," Hamilton radioed. He was slipping and sliding on a well-used set of softs.
Ricciardo had his Red Bull well planted as he turned a 1:17.613 on a fresher set of softs.
With about 15 minutes to go the order was: Ricciardo, Vettel, Verstappen, Raikkonen, Hamilton and Bottas.
The usual six, therefore, were out front and remained there as the first session wound down. The halted Hulkenberg held on to seventh place, and Sainz, Grosjean and Magnussen rounded out the top 10.