Hungarian GP 2017
JULY 30, 2017
Race Notes - Vettel wins Hungary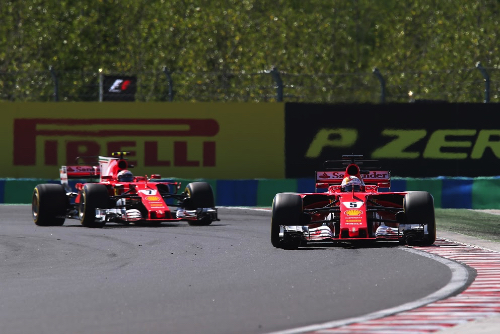 © RV Press
By Mark Karp
Sebastian Vettel won the Hungarian Grand Prix in a Ferrari one-two over his team mate Kimi Raikkonen by 0.908 seconds. Valtteri Bottas in the Mercedes GP finished third, 12.4s behind the winner.
The win is Vettel's fourth of the season and 46th career victory. Vettel now leads the drivers championship by 14 points over Hamilton. Mercedes leads Ferrari by 39 points going into the summer break.
Lewis Hamilton (12.8s) in the second Mercedes finished in fourth place, followed by Max Verstappen (13.2s) in the Red Bull was fifth, Fernando Alonso (71.2s) in the McLaren-Honda was sixth, Carlos Sainz (1 lap) in the Toro Rosso-Renault was seventh, Sergio Perez in the Force India-Mercedes was eighth, his team mate Esteban Ocon was ninth and Stoffel Vandoorne in the second McLaren was tenth.
Before the start Ferrari sits on pole with Vettel and Raikkonen on the front row, the Mercedes of Bottas and Hamilton sat on row two, the two Red Bull's of Verstappen and Daniel Ricciardo sat on row three, and the McLaren's of Alonso and Vandoorne sat on row four, with Sainz's Toro Rosso in ninth and Palmer's Renault tenth. Paul di Resta starts 19th in the Williams, after jumping into the car for qualifying to replace the ill Felipe Massa.
Most drivers are planning a two-stop strategy, starting on super soft tyres, except for Daniil Kvyat and Di Resta starting on soft tyres.
At the appointed time the grid cleared and cars took to the formation lap. The lights went off and the race began with Vettel getttubg the lead over Raikkonen. Verstappen touches Ricciardo, and Ricciardo is stranded on the track with damage to his radiator - the safety car is deployed. Romain Grosjean and Nico Hulkenberg having made contact on the first lap as well.
At the end of the first lap, under the safety car, Vettel leads Raikkonen, Bottas, Verstappen Hamilton and Sainz. The track marshals are working to clean up the oil left on the track.
At the end of lap 5 the safety car came in and the race resumed with Hamilton trying to attack Verstappen in fourth place.
On lap 6 Vettel sets fast lap at 1m23.137s and has a 1.6 second lead.
The stewards hand Verstappen a 10-second time penalty for the collision with his team mate Ricciardo.
On lap 8 Vettel sets fast lap at 1m22.512s and again on lap 10 at 1m22.255s.
At lap 10 Vettel leads Raikkonen by 2.9 seconds, followed by Bottas (7.6s), Verstappen (9.0s), Hamilton (11.2s), Sainz (16.7s), Alonso (20.1s), Perez (21.4s), Vandoorne (22.7s) and Ocon (24.5s) in tenth place.
Mercedes had been having trouble with Hamilton's radio, but the problem seems to be fixed.
Hulkenberg in 12th tells his team, "think I've got to take a little breather from that group."
On lap 20 Hulkenberg passes Jolyon Palmer into the first corner to take 11th place.
At lap 20 Vettel leads Raikkonen by 2.4 seconds, followed by Bottas (8.7s), Verstappen (11.4s), Hamilton (13.5s), Sainz (29.2s), Alonso (31.3s), Perez (34.5s), Vandoorne (37.0s) and Ocon (40.4s) in tenth place.
Grosjean pits with a punctured tyre. After coming back on the track he slows and pulls off the track with a cross-threaded wheelnut.
Hulkenberg is closing on Ocon in tenth place.
Vettel complains to Ferrari that, "check the steering, it's hanging to the left when I'm on the straight. I think it is getting worse."
On lap 30 Bottas pits from third for soft tyres, Stroll pits as well.
At lap 30 Vettel leads Raikkonen by 1.1 seconds, followed by Verstappen (7.3s), Hamilton (10.0s), Vottas (27.1s, Sainz (36.4s), Alonso (37.5s), Perez (40.3s), Vandoorne (44.1s) and Ocon (47.9s) in tenth place.
On lap 33 Vettel responds and pits from the lead - he switches to soft tyres and rejoins third.
The next lap Raikkonen pits for soft tyres and rejoins behind Vettel.
On lap 33 Bottas sets fast lap at 1m21.264 seconds. Perez pits from eighth place for soft tyres. Alonso and Ocon pit the next lap.
Alonso and Sainz battle over ninth place. Hamilton closes on the back of his team mate Bottas.
Alonso battles back and passes Sainz for ninth.
At lap 40, Verstappen, yet to pit and with a 10-second time penalty leads Vettel by 10.3 seconds, followed by Raikkonen (11.9s), Bottas (13.5s), Hamilton (15.0s), Vandoorne (42.1s), Hulkenberg (45.8s), Palmer (58.6s), Alonso (59.9s) and Sainz (62.0s) in tenth place.
Raikkonen complains that Ferrari is not letting him past Vettel and tells the team, "you've put me under massive pressure from Mercedes, for no reason."
On lap 43 Verstappen pits from the lead and takes his 10-second penalty, switches to soft tyres and rejoins in fifth place.
Vandoorne pits as well.
On lap 44 Verstappen sets fast lap at 1m20.490 seconds.
On lap 46 Bottas lets Hamilton through into third place, and the British driver is now chasing the Ferrari's at the front.
Vettel is told by Ferrari that he should avoid the kerbs - perhaps fearing a suspension issue.
Hulkenberg pits, and has a slow stop in the Renault.
At lap 50, with things closing up at the front of the field, Vettel leads Raikkonen by 1.1 seconds, followed by Hamilton (2.4s), Bottas (5.9s), Verstappen (14.6s), Alonso (61.0s), Sainz (64.0s), Perez (65.6s), Ocon (68.9s) and Vandoorne (70.8s) in tenth place.
Hamilton reports, "it's getting very hard to get close."
Raikkonen closes to under a second behind Vettel. Hamilton is pushing hard to catch Raikkonen.
Hamilton tells the team, "my tyres are holdinhg, I'm just waiting for a mistake ahead."
At lap 60 Vettel continues to lead Raikkonen by 1.7 seconds, followed by Hamilton (2.6s), Bottas (8.2s), Verstappen (12.5s), Alonso (65.5s), Sainz (71.6s), Perez (73.4s), Ocon (78.0s) and Vandoorne in tenth.
Magnussen and Hulkenberg battle, Magnussen pushing Hulkenberg off-track.
Di Resta retires his Williams. Magnussen is handed a five-second penalty for pushing Hulkenberg wide.
Hamilton starts dropping back from Raikkonen, now with a 2.5s gap.
On lap 67 Verstappen closes up behind Bottas in fourth place.
On the last lap Hamilton returns the favor to his team mate and let's Bottas through to take third place.
Alonso sets fast lap at 1m20.182s.
At the flag Vettel takes the win ahead of Raikkonen and Bottas.