Hungarian GP 2017
JULY 29, 2017
Qualifying Report - Ferrari front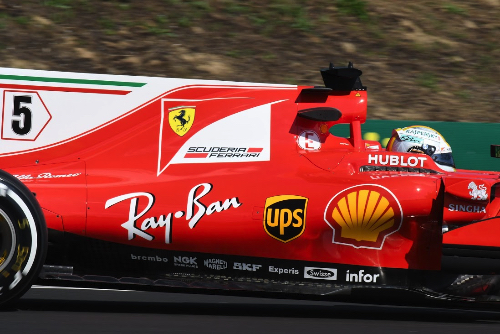 © RV Press
By Dan Knutson in Budapest
Ferraris will fill the front row of the grid for the Hungarian Grand Prix after Sebastian Vettel and Kimi Raikkonen qualified first and second.
The ambient temperature at the start of qualifying was 79 degrees Fahrenheit (26 degrees Centigrade) and the track temperature was 133 degrees Fahrenheit (56 degrees Centigrade).
The lineup for the weekend was: Mercedes - Lewis Hamilton and Valtteri Bottas; Red Bull TAG Heuer - Daniel Ricciardo and Max Verstappen; Ferrari - Sebastian Vettel and Kimi Raikkonen; Force India Mercedes - Sergio Perez and Esteban Ocon; Williams Mercedes - Felipe Massa and Lance Stroll; McLaren Honda - Fernando Alonso and Stoffel Vandoorne; Renault - Nico Hulkenberg and Jolyon Palmer; Toro Rosso Renault - Daniil Kvyat and Carlos Sainz; Haas Ferrari - Romain Grosjean and Kevin Magnussen; Sauber Ferrari - Marcus Ericsson and Antonio Giovinazzi.
Massa had visited the medical center and the MH EK Honvedkorhaz hospital for precautionary tests on Friday, after feeling unwell and dizzy during FP2. He was cleared to take part in Saturday's practice session by the FIA medical delegate, but he felt unwell again during FP3, and he made the decision to withdraw from the weekend.
Williams reserve driver Paul di Resta took over Massa's car for the rest of the weekend. It was his first F1 qualifying session in three and half years, and he was in a car he had never driven before. A bit of a learning curve, then.
QUALIFYING 1
Vettel had been quickest in FP3 with a record time of 1:17.017 on the super soft Pirellis.
Everyone was out on the super softs in Q1 which lasted 18 minutes.
Raikkonen set the pace with a 1:17.364. Hamilton was second at 1:17.492. Then Vettel took the lead with a 1:17.244.
Just past the midpoint of the session, Perez was 15th and on the bubble with Stroll 14th and Grosjean 16th.
Next, Verstappen stormed to second with a 1:17.266.
While the top eight drivers stayed in the pits as Q1 wound down, there was plenty of lapping reshuffling of the order behind them.
The five drivers who were eliminated at the end of Q1 were: Magnussen, Stroll, Wehrlein, di Resta and Ericsson.
The fastest 15 drivers who moved on to Q2 were: Vettel, Verstappen, Raikkonen, Hamilton, Ricciardo, Bottas, Hulkenberg, Alonso, Vandoorne, Palmer, Kvyat, Ocon, Sainz, Grosjean and Perez.
QUALIFYING 2
Bottas and Hamilton were the first out for the 15 minute session, and they were followed by the nemesis Ferrari drivers.
All were on super softs including Hamilton who reported a vibration with his tires. Still he managed a 1:17.194, which Vettel promptly beat with a 1:16.802.
Raikkonen took third ahead of Bottas and Ricciardo. Then Verstappen slotted into second with a 1:17.028.
So, with the first laps run, the order was Vettel, Verstappen, Hamilton, Raikkonen, Bottas, Hulkenberg, Ricciardo and Alonso.
Down at the cutoff, Ocon was 10th with Palmer 11th and Vandoorne ninth.
With four minutes to go, the drivers started to head out for their final runs.
Hamilton ran to first with a 1:16.683. The rest of the top 10 were Vettel, Verstappen, Raikkonen, Bottas, Hulkenberg, Ricciardo, Alonso, Vandoorne and Sainz.
The five drivers who were eliminated at the end of Q2 were: Palmer, Ocon, Kvyat, Perez and Grosjean.
QUALIFYING 3
Q3 lasted 12 minutes and would play a major role in determining the outcome of the race as overtaking is so difficult around the Hungaroring.
Bottas and Vettel were the first out. Bottas did a 1:16.631, Vettel a 1:16.276.
Hamilton's first run was aborted after he slid wide.
Ricciardo moved to third with a 1:16.876. Verstappen edged him out with a 1:16.797.
So the order was now Vettel, Bottas, Verstappen, Ricciardo, Raikkonen, Hulkenberg, Alonso and Vandoorne. Hamilton and Sainz had yet to set a time.
With three minutes remaining, Hamilton took to the track. He reported a big vibration on his tires and moved up to third.
Bottas improved to a 1:16.530, but Raikkonen beat that with a 1:16.444 to give Ferrari a lockout of the front row with Vettel on pole.
Bottas, Hamilton, Verstappen, Ricciardo, Hulkenberg, Alonso, Vandoorne and Sainz rounded out the top 10. Hulkenberg would have to take a five-place grid penalty for getting a new gearbox.