Hungarian GP 2017
JULY 29, 2017
Practice 3 Report - Red Alert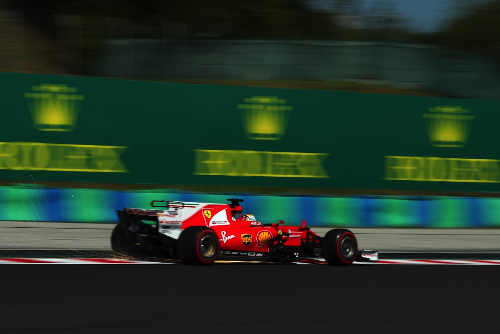 © RV Press
By Dan Knutson in Budapest
Friday's practice sessions for the Hungarian Grand Prix were all about Daniel Ricciardo and Red Bull. But his car suffered a mechanical problem in Saturday morning's session while the red Ferraris of Sebastian Vettel and Kimi Raikkonen came out on top of FP3.
The ambient temperature at the start of the 60-minute session was 77 degrees Fahrenheit (25 degrees Centigrade) and the track temperature was 111 degrees Fahrenheit (44 degrees Centigrade).
The lineup for the weekend was: Mercedes " Lewis Hamilton and Valtteri Bottas; Red Bull TAG Heuer " Daniel Ricciardo and Max Verstappen; Ferrari " Sebastian Vettel and Kimi Raikkonen; Force India Mercedes " Sergio Perez and Esteban Ocon; Williams Mercedes " Felipe Massa and Lance Stroll; McLaren Honda " Fernando Alonso and Stoffel Vandoorne; Renault " Nico Hulkenberg and Jolyon Palmer; Toro Rosso Renault " Daniil Kvyat and Carlos Sainz; Haas Ferrari " Romain Grosjean and Kevin Magnussen; Sauber Ferrari " Marcus Ericsson and Pascal Wehrlein.
Ricciardo had been fastest in FP1 and FP2 with a best lap of 1:18.455.
"We obviously brought some updates here and they seem to be working," he said on Friday. "I definitely feel like we have found some grip in various areas and taken a step in the right direction. We know this track usually suits us so it was important to come here and extract everything we could out of the car and make sure the updates did their job which in turn can allow us to fight with the guys up front.
"Being top of the timesheets is always nice but we were able to replicate that pace in the long runs which gives me confidence looking ahead to the rest of the weekend."
Massa was feeling unwell on Friday, and he went to the hospital for further checks. He was cleared by the doctors to drive the car on Saturday.
Pirelli's compounds for the weekend were: medium, soft and super soft.
Raikkonen used the super soft slicks to post a 1:18.727 early on in the session. He lowered that to a 1:17.909.
Vettel was the next big name to have a run on the supers, and 17 minutes into the session he clocked a 1:17.790. Then Hamilton finally ventured out but on the soft tires.
Just past the 20 minute mark, the order was: Vettel, Raikkonen, Verstappen, who set their times on the super softs, Bottas and Hamilton, who used the softs. Ricciardo had yet to do a lap.
When Ricciardo did go out, he was on the super softs moved into fourth behind Hamilton who was now third.
But Ricciardo's Friday form did not hold up on Saturday as he stopped at Turn 9 on the track just past the midpoint of FP3.
"Everything is turned off," he radioed before getting a ride back to the pits.
Next, with 22 minutes to go, Bottas tried the super softs, but his 1:17.914 was only good enough for third behind the Ferraris. Vettel's next run produced a staggering 1:17.017. Shortly thereafter Raikkonen got down to a 1:17.492.
Now it was Hamilton's turn, but he made a mistake. His 1:18.434 put him fourth.
With 15 minutes remaining, the order was: Vettel, Raikkonen, Bottas, Hamilton, Ricciardo, Verstappen, Alonso, Vandoorne, Hulkenberg and Kvyat.
Verstappen had another go but only moved to fifth. But he then got to fourth.
Massa, meanwhile, had done 12 laps but was too ill to continue.
And so the red Ferraris remained out front. The rest of the top 10 at the end of FP3 were: Bottas, Verstappen, Hamilton, Hulkenberg, Ricciardo, Alonso, Vandoorne and Palmer.