Hungarian GP 2017
JULY 28, 2017
Practice 1 Report - Tumbling Times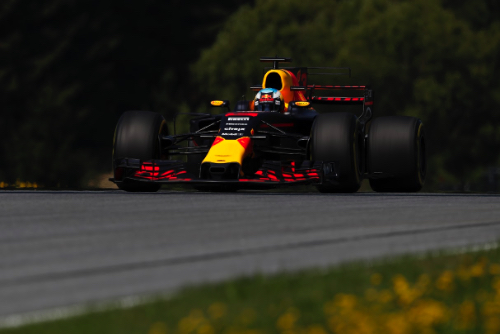 © RV Press
By Dan Knutson in Budapest
Lap times tumbled during Free Practice 1 for the Hungarian Grand Prix, and fastest of all was Daniel Ricciardo who clocked a time of 1:18.486 in his Red Bull. Pole time last year was a 1:19.965 set by Nico Rosberg in a Mercedes.
The lineup for the weekend was: Mercedes - Lewis Hamilton and Valtteri Bottas; Red Bull TAG Heuer - Daniel Ricciardo and Max Verstappen; Ferrari - Sebastian Vettel and Kimi Raikkonen; Force India Mercedes - Sergio Perez and Esteban Ocon; Williams Mercedes - Felipe Massa and Lance Stroll; McLaren Honda - Fernando Alonso and Stoffel Vandoorne; Renault - Nico Hulkenberg and Jolyon Palmer; Toro Rosso Renault - Daniil Kvyat and Carlos Sainz; Haas Ferrari - Romain Grosjean and Kevin Magnussen; Sauber Ferrari - Marcus Ericsson and Pascal Wehrlein.
In FP1, Alonso Celis drove Force India, and Antonio Giovinazzi took over Magnussen's Haas.
The main topic of conversation off-track in the paddock on Thursday was the FIA's decision to make the halo cockpit protection system mandatory in 2018.
As for the on-track action, Verstappen was the first out for FP1 on the 14-turn 2.722-mile (4.381 km) Hungaroring.
The ambient temperature at the start of the 90-minute session was 72 degrees Fahrenheit (22 degrees Centigrade) and the track temperature was 81 degrees Fahrenheit (27 degrees Centigrade).
Pirelli's tire compounds for the weekend were the medium, soft and super soft.
Only Ricciardo did any flying laps in the early going and clocked a 1:21.212 on the soft slicks.
Hamilton was quickest in FP1 last year with a time of 1:21.347 on the super soft tires.
Things got moving as drivers headed out 20 minutes into the session, Vandoorne had a spin at Turn 2, and Bottas set a 1:20.912 on the super softs. Raikkonen lowered that by 0.100 of a second, and then Vettel slotted into first with a 1:20.345. And Grosjean backed his Haas into the tire barriers at Turn 9.
Raikkonen retook first with a 1:20.078, and Bottas beat that with a 1:20.053. Just about everybody was on the super softs. Vettel spun off at Turn 9.
At the one-third mark, Bottas broke into the 1:19s with a 1:19.451. Hamilton joined him with a 1:19.657.
Then Giovinazzi shunted at Turn 11, and that brought out the red flags 32 minutes into the session.
The top 10 were: Bottas, Hamilton, Raikkonen, Vettel, Verstappen, Ricciardo, Alonso, Massa, Vandoorne and Hulkenberg.
After seven minutes the session was restarted. Ricciardo, on the softs, moved into third with a 1:19.920.
Times continued to tumble as Bottas got down to a 1:19.248. Hamilton shaved his time to 1:19.376 and then a 1:19.095 followed by a 1:18.858.
With 30 minutes remaining, the top 10 were: Hamilton, Bottas, Ricciardo, Raikkonen, Hulkenberg, Verstappen, Vettel, Alonso, Massa and Vandoorne.
Ricciardo then moved into second with a time of 1:19.138 on the super softs.
With 24 minutes to go, Ricciardo tumbled into first with a 1:18.852 followed by a 1:18.486. Next, Raikkonen moved up to second.
Drama in the final seconds occurred when the red flags came out after Palmer went over curb and tore off his front wing.
So FP1 wound down with the top 10 final order being: Ricciardo, Raikkonen, Hamilton, Bottas, Verstappen, Vettel, Alonso, Vandoorne, Hulkenberg and Palmer.