Hungarian GP 2017
JULY 28, 2017
Friday Team Quotes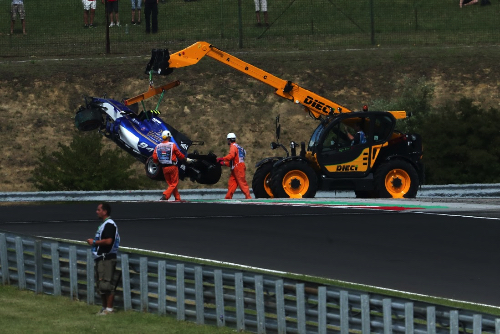 © RV Press
Mercedes GP
Valtteri Bottas (3rd, 1:18.656): "We have some work to do. The three teams at the front seemed very close. I was not quite happy with the balance of the car today and I was especially struggling with the rear end. The temperatures are expected to rise tomorrow, which means that we really need to get the rear end of the car more stable. I think that will be the main area for us to focus on. It should be interesting tomorrow."
Lewis Hamilton (5th, 1:18.779): "It wasn't the easiest start to the weekend, with the conditions very gusty. We end the day in fifth but there's clearly good pace in the car. It's super tight between Ferrari, Red Bull and ourselves at the top of the leaderboard, so it's looking like it will be an exciting weekend. That should be good for the fans! There's some more work to do overnight to fine-tune the balance to get the car just where we want it and I believe the pace is in there. We just need to unlock it ahead of qualifying because every tenth is going to be crucial with three teams in the mix."
James Allison, Technical Director: "I guess after all the fun of Silverstone, it's back down to hard work here in Hungary. The leading cars are all very close and it's going to be a proper fight this weekend. The car has been reliable, and we improved the balance of the car from this morning. But we clearly still got more work to do before we achieve the right balance between having a quick car in qualifying and one that will have good tyre usage in the race."
Red Bull-Tag Heuer
Daniel Ricciardo (1st, 1:18.455): "I can't complain with that day after topping both sessions, it's nice. We obviously brought some updates here and they seem to be working, I definitely feel like we have found some grip in various areas and taken a step in the right direction. We know this track usually suits us so it was important to come here and extract everything we could out of the car and make sure the updates did their job which in turn can allow us to fight with the guys up front. Being top of the timesheets is always nice but we were able to replicate that pace in the long runs which gives me confidence looking ahead to the rest of the weekend and achieving a solid result in Qualifying tomorrow. Ferrari seemed to find a bit more pace in the afternoon but I still managed to stay ahead so all signs are good. I'm sure the other teams will bring a bit more tomorrow, but I also think we have a bit more to find. If we can put it all together it could be a really positive Qualifying. I have a car I am comfortable with and I'm at a track I enjoy so it will be an exciting weekend, drive fast and put it all together in Q3, that's the plan."
Max Verstappen (6th, 1:18.951): "From my side in the beginning it was a bit difficult today and I was struggling with the balance. We changed quite a lot of things on the car and by the end of the second practice it was actually feeling quite ok. On the Supersoft tyre it was all coming together but I struggled to get a clean lap because of the red and yellow flags. I went out again when everyone was doing long runs and the sector times were fine so we are up there and it's looking good. I'm finally feeling good in the car at the end of a practice session so I think we can work from here. In qualifying Mercedes will of course turn up the power so I think we still need to find a bit of pace to really fight them, but it's all looking a lot better than previous races."
Ferrari
Sebastian Vettel (2nd, 1:18.638):
Kimi Raikkonen (4th, 1:18.755):
Maurizio Arrivabene, Team Principal:
Force India-Mercedes
Esteban Ocon (11th, 1:20.126): "I was in the car this afternoon and I think I caught up with things pretty quickly. I found a nice rhythm straight away and I've ended the day feeling comfortable in the car. It's clear we have some work to do tonight to find a bit more performance, but we've done a lot of the hard work and we know where we need to improve. They have made some changes to the kerbs this year, which impact on the character of this circuit a little bit. I preferred the old style kerbs, but it's still an awesome track and I really enjoy driving here."
Sergio Perez (12th, 1:20.264): "Our long run pace looks promising, but I think there's still a lot we can find in terms of performance. The track improved a lot between the morning and the afternoon sessions, but it was still very windy and it made things quite difficult. It's very hard to overtake here so there's a big emphasis on qualifying tomorrow. I haven't been totally comfortable with the balance of the car so far but I am confident we can get it together and be in a position to fight for the top ten."
Alfonso Celis: "It's not been an easy session with the red flags coming at the worst possible times. When I finally got a chance to do a flying lap, I struggled to get the tyres in the right temperature window. At the beginning of the session, I found the car to be a bit unbalanced and difficult to drive. The changes we made in the second part helped and gave me more confidence. It's great to get back in the car after a couple of races because it allows me to really feel the way the car is improving. Even since Austria, the performance keeps getting better."
Robert Fernley, Deputy Team Principal: "It's been quite a disrupted Friday, with lots of yellow and red flags interfering with our work. We had a pretty comprehensive test programme, split between our two cars, and although we did manage to get through it, we didn't collect as much data as we had hoped. Esteban and Sergio are reasonably happy with the car, but of course there is still plenty of work to do to improve our performance during both the low and high-fuel runs. The battle in the midfield will be very tight tomorrow: margins will be small and any gain or mistake can mean a big swing in positions."
Williams-Mercedes
Lance Stroll (14th, 1:20.791): "The day wasn't too bad, as we had a clean one without too many issues, so that is positive. We are not where we were hoping to be, but, as expected, we knew this track would be tricky for us and we need to keep pushing and work for tomorrow. The grip is quite hard to predict and, especially Turn 11, is quite bad. I saw a lot of drivers going off there. Like always, we will push as hard as we can to get the best possible result."
Felipe Massa (15th, 1:20.869): "It was a typical Friday, we were just trying to understand the tyres and the car on this circuit. For sure we did not have a great position at the end of the day, but we just need to understand everything around the car so that we can improve during the weekend. But this is normal for a Friday."
Paddy Lowe, Chief Technical Officer: "It was quite a messy day for everybody, with a highly-disrupted FP2 session. In FP1 we managed to run a good programme with both Felipe and Lance, however the car was not as well balanced as we'd like, the pace was not spectacular and we didn't manage to improve from the first new tyre to the second new tyre. In FP2, we didn't manage to set times on the supersoft tyres, so from a highly-disrupted session we've come away looking quite poor on the timesheet. But it's given us lots of information to work with and we'll be working hard this evening to further improve the car for tomorrow."
McLaren-Honda
Fernando Alonso (8th, 1:19.815): "It was a good day; even though it's always difficult on a Friday to get a clear picture, we're more or less where we thought we would be. We did some good testing and now we need to analyse the data and see where we've made progress. We're a little bit more competitive here than we were in the last couple of races, and it feels better to be able to potentially fight for Q3 and for a top-10 finish. We are taking care of every single detail - the smallest things matter."
Stoffel Vandoorne (10th, 1:19.909): "With both cars in the top 10, today's been a fairly positive day for us - everything went as we expected. As usual, the times in the midfield are very tight, so it'll be very important to find those tiny steps for tomorrow to enable us to improve a little bit. At the end of the session, we had a problem with the MGU-H but it didn't really matter because the PU I was using was already at the end of its mileage and we were going to fit another engine anyway, so luckily we'll have no penalties. I feel comfortable in the car, even though it's still not 100% there yet, and I'm confident we can take a step forward tomorrow."
Eric Boullier, Racing Director: "It's pleasing to end the day with both cars having finished inside the top 10 in both sessions. Fernando and Stoffel showed excellent consistency to match each other lap after lap during two sessions where progress was difficult due to a frustrating number of red flags. Nonetheless, Stoffel was particularly impressive today, and his performances underline the steady progress he has been quietly making over the past few races. It was just a pity that his afternoon session was cut short by an MGU-H problem - it was an older unit, nearing its mileage limit, and wasn't due to be used for the remainder of the weekend anyway. It won't have any impact on the remainder of his weekend. We've made a positive start to this grand prix, but we're mindful that there's still a lot of work left to do if we're to extract the maximum out of our car's package this weekend."
Yusuke Hasegawa, Honda: "We came to the Hungaroring with expectations of acquiring some points here, and it has been a positive start for us today. Fernando was running with some new aero parts trying various settings in order to find the best balance of the car. Stoffel ran well, with lap-times close to his team-mate. We had to stop his car towards the end of FP2 due to an MGU-H issue, however the PU was nearing its life-span and the plan was to change it after FP2 so it will not affect the remainder of his weekend. In addition, we are not expecting to receive any penalties with this PU replacement which will take place tonight. We are expecting another tough session in hot conditions tomorrow; however, we think we have enough potential for both drivers to go through into Q3 here in Hungary."
Scuderia Toro Rosso-Renault
Carlos Sainz (9th, 1:19.834): "Overall, today has been a positive day. We had a bit of a slow start in this morning's FP1, trying to understand the new parts that were on the car, but in this afternoon's FP2 we managed to understand them a lot better and we put together a much better car than the one we had in FP1. I felt a lot more comfortable and the car was also a bit faster. So, all in all, it's been a day where we've managed to make good progress and I look forward to tomorrow."
Daniil Kvyat (13th, 1:20.577): "We were not really able to put a fast lap together today. There's certainly room for improvement and we need to try and progress in order to get ready for tomorrow."
James Key, Technical Director: "We brought quite a few developments here this weekend and we spent most of FP1 getting the cars set up around them. We hadn't got quite the balance we were looking for this morning, but we gathered a lot of data that we used for FP2 to try and optimise the car a little bit more. I think we made some steps in the right direction and Carlos was certainly happier with the balance of his car this afternoon. He gave good feedback on the directions that we'd pursued so that's given us some good indications of next steps to take. With Daniil, we just didn't quite get to the point where he was 100% happy, but we know what we need to look at for tomorrow. He had tricky conditions with traffic and so on while doing his laps on the supersoft tyres, so we know the lap time will come with a cleaner run. The conditions in general were quite tricky today - it's a difficult and technical track and the grip levels were quite difficult to manage, so it was quite a stop-start day in that respect without the normal flow of car setup work and tyre management. Overall, we've learned quite a lot and we know there's more to be found for tomorrow, so we'll work hard overnight and hope that we continue to make progress."
Haas-Ferrari
Kevin Magnussen (17th, 1:21.345): "It's been a tough day not getting much out of the Friday sessions. I only got a couple of laps at the end of FP2 on low fuel. So, we don't have a great feeling for things at the moment but, hopefully, I'll catch up a bit tomorrow. For sure, it's going to make things a little bit difficult."
Romain Grosjean (18th, 1:21.504): "A pretty tough day for the whole team. We've been struggling with the balance all day. I think we can quote it as one of our worst Fridays since we started Haas F1 Team. We just need to put everything together and try to understand what the problems are. Obviously, we've had some issues today. We have to try to get better for tomorrow. It's not over yet, but we've certainly not made our lives easy."
Antonio Giovinazzi: "The car had been looking quite good even in the short track time I had in the session. I lost the rear quite aggressively. It snapped on entry into turn 11. There was nothing I could do, to be honest. We're checking to see what happened. The track time is important for me. I lost out on 50 minutes of FP1, so I'm disappointed for myself, and also for Kevin."
Guenther Steiner, Team Principal: "A miserable day today. It must be our worst day since we started here a year-and-a-half ago. I don't know where to start with all that happened. We crashed two cars in FP1. One was pretty heavily damaged, but thanks to the hard work of the guys we at least got Kevin out so he could do a few laps. Romain's car was less damaged and he could get out, but we just struggled to find a balance. It's going from oversteer to understeer and we haven't found out why yet, so we keep on working. Hopefully, tomorrow we know more and do better and get back to our normal selves."
Renault
Nico Hulkenberg (7th, 1:19.714): "We had to fight to find grip at times today, but this was just an aspect of a pretty usual Friday for us. The car feels pretty decent so it's just the standard Friday working through the data to find the best balance and set-up for of tomorrow."
Jolyon Palmer (16th, 1:21.175): "It wasn't the end to the day that anyone wanted, however FP1 looked good. Starting the weekend in the top ten was positive, even if I suffered from a damaged front wing and floor after running wide and feeling the consequences of the new kerbs. My car didn't feel right from the start of FP2, and this contributed to me putting it in the wall. Looking to tomorrow, we're going to go over the set-up with a fine tooth comb as we know there's definitely good potential. My side of the garage has a bit of work to do so there'll be some cold drinks waiting for them at the end of the weekend to say thanks."
Nick Chester, Technical Director: "We saw good potential from the car today with competitive times from both drivers in the morning and Nico ending the day P7 in the afternoon. Nico was pretty happy with the balance and tyre wear was reasonable so we have a decent base to work with. Jolyon had a more difficult day; the track was certainly slippery as we saw from a number of offs, but his pace was good in FP1. We will work on balance with Jolyon overnight and look forward to FP3."
Sauber-Ferrari
Marcus Ericsson (19th, 1:21.559): "The day started off quite well for me. We were able to make some improvements on the car side with the new aero update, although it is not visible on the timesheets yet. The car felt good in terms of driving from the beginning of FP1 onwards. FP2 was a bit less smooth than the morning session, so we are now working on understanding how to optimize the car's setup for tomorrow and Sunday."
Pascal Wehrlein (20th, 1:21.722): "Of course, I am disappointed about having crashed into the barrier during FP2 - fortunately, I am feeling ok. We did have some positive moments before that in testing the new aero update. We are now working on looking into the data to understand the causes of the incident in more detail. I hope that we will be able to perform well for the rest of the weekend."