German GP 2019
JULY 29, 2019
Race Analysis - Wild and Wet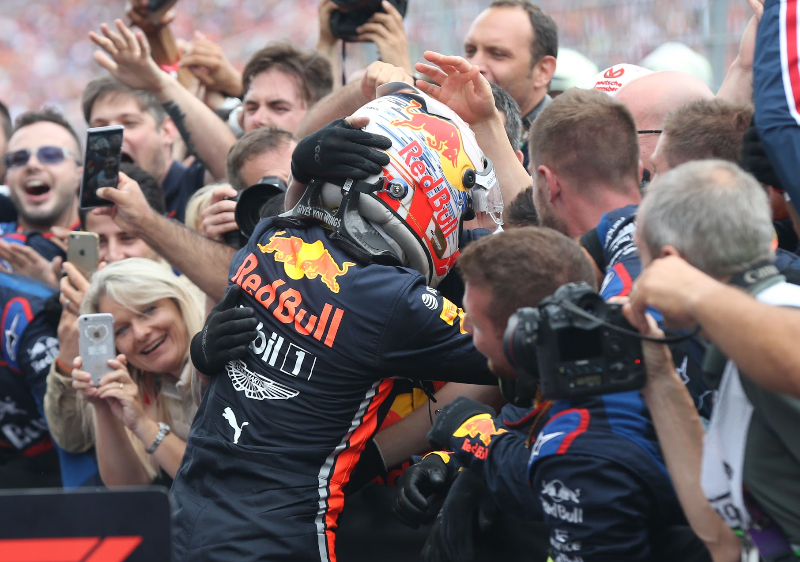 © RV Press
By Dan Knutson in Hockenheim
The German Grand Prix started off wet and then turned wild. Max Verstappen took the victory after 64 action-packed laps during which Mercedes drivers Lewis Hamilton and Valtteri Bottas both went off the track as did Ferrari's Charles Leclerc. The other Ferrari driver – Sebastian Vettel – fought his way from last to second in his home grand prix. Here's how Verstappen's victory unfolded.
FERRARI SIZZLES
The Ferraris were fast in the blazing heat during Friday's practice, and the team remained on top in Saturday's practice as well.
FERRARI FIZZLES
Vettel's hopes of winning his home grand prix with Ferrari took a major hit when his car broke down before qualifying even began on Saturday. It was a problem with the intercooler.
"We had a chance to start from first place, but now we start from last," said Vettel who actually lined up after penalties to other drivers. "Of course it is bitterly disappointing, especially that this should happen here at my home race, in front of such a large crowd of fans. It could not have happened at a worse time."
AND FIZZLES
At least Leclerc made it all the way to Q3 before the fuel pump control unit failed in his Ferrari.
"The weekend was going well up to that point and the car felt really good throughout," said Leclerc who started in the 10th grid spot. "Sometimes, these things just happen. It is difficult for a team to miss an opportunity with one car, but when it happens with both it is even harder to take."
YET ANOTHER
The Mercedes cars were definitely more competitive in the cooler conditions on Saturday, but Ferrari's mistakes gave Hamilton a clear run to win yet another pole position.
"It's not just unfortunate what happened to Ferrari today," Hamilton said, "but unfortunate for the sport too because it was building up to be a really exciting qualifying session. I don't know how close it would have been in the end, but they were quick all weekend."
IN SECOND
Verstappen beat out Bottas for the second spot on the grid. So Bottas lined up third, and Pierre Gasly started fourth in his Red Bull. Next in the lineup where Kimi Raikkonen (Alfa Romeo) and Romain Grosjean (Haas).
THE RAINMAKER
On and off drizzles and showers meant that the 11th round of the championship would be the first wet race of the season.
FULL WETS
All 20 drivers were on Pirelli's full wet tires versus the intermediate wet weather tires.
FIRST TIME
In the past such races have often been started behind the safety car, after the safety car led the cars around for several laps to dry off the track. This time, however, was the first time the procedure was used where the safety car took the cars around – for three laps in this case – then peeled off. The drivers then formed up on the grid for a standard standing start.
SHORTENED
The race distance was shortened from 67 to 64 laps.
THE BEST PLACE
The best place to be in a rain race is out front, clear of the spray. And that's where Hamilton was when the German Grand Prix got underway. Bottas grabbed second ahead of Raikkonen while Verstappen dropped to fourth.
THE FIRST OF MANY
Sergio Perez was one of the first of many drivers to spin or crash. He planted his Racing Point in the barriers on lap 3.
SETTING THE PATTERN
Out came the safety car. A number of drivers dived into the pits to switch from the full wets to the intermediates. That set the pattern for the race: accident/safety car/pit stops.
IN ALL
In all there were four safety cars and two virtual safety cars.
STOP AFTER STOP
And there was pit stop after pit stop. In all 74. Hamilton had the most – six – while Carlos Sainz, who finished fifth in his McLaren, had only three. Most drivers pitted four or five times.
TIRE CHOICE
With the constantly changing weather and track conditions the drivers were constantly changing between slicks and rain tires. Some made the right calls, some did not.
LED
Hamilton led until lap 29. Verstappen laps 30 to 46. Hamilton lap 47. Then Verstappen to the finish.
CRASH
Leclerc hit the barriers on lap 28. He was out of the race.
OFF
Hamilton also went off the track and breaking his front wing. He took a shortcut to the pits where the team was not ready with tires or a new nose. He dropped to fifth and earned a five second penalty to be served at his next pitstop.
PENALTY
That penalty sent Hamilton back to 12th. He crossed the finish line in 11th but was promoted to ninth when Alfa drivers Raikkonen and Antonio Giovinazzi were penalized for a technical infringement.
CRAZY
"What a crazy race," Hamilton said. "This has been one of the most difficult races we've had as a team for a long time. I thought I had the race under control, but we took a risk going out on slicks and the race fell apart from there. I went wide at Turn 16 and it was like ice out there, then hit the wall and damaged my wing. I made a mistake and paid the price."
MEANWHILE
Meanwhile Vettel had been working his way to the front. He was sixth on lap 54 and second on lap 64.
Starting last today, I think I was very excited about the race in these conditions. The race turned out a lot crazier than I thought beforehand."
RISKS
Verstappen stayed in command to win his seventh F1 race.
"Once you are ahead you can take a few less risks and everything feels a bit nicer," he said. "The conditions were very tricky and it was all about survival. It was definitely not an easy race and very tricky with the changing conditions."
OUTSTANDING
Rounding out the podium was Daniil Kvyat who started 14th and finished third. It was the first podium for Toro Rosso since 2008 with Vettel.
"These kinds of races aren't easy," Kvyat said. "It was a tough call to pit that lap earlier, but it's a 50/50 call between the team and me, we win and lose together and today we won together."