German GP 2019
JULY 27, 2019
Qualifying Report - Triumph and disaster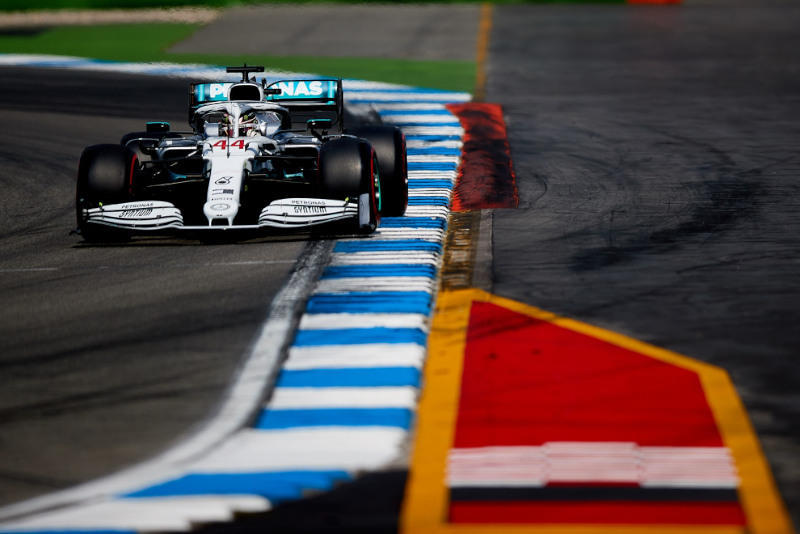 © RV Press
By Dan Knutson in Hockenheim
Qualifying for the German Grand Prix was a triumph for Lewis Hamilton as he won the pole for Mercedes' home race. After having the quickest car in all three practice sessions, qualifying turned into a disaster for Ferrari with the cars of Sebastian Vettel and Charles Leclerc breaking down at crucial moments. So Vettel will start last and Leclerc 10th.
The line-up for the weekend was: Mercedes – Hamilton and Valtteri Bottas; Ferrari – Vettel and Leclerc; Red Bull TAG Heuer –Max Verstappen and Pierre Gasly; Renault – Daniel Ricciardo and Nico Hulkenberg; Haas Ferrari – Romain Grosjean and Kevin Magnussen; McLaren Renault – Carlos Sainz and Lando Norris; Racing Point Mercedes – Sergio Perez and Lance Stroll; Alfa Romeo Ferrari – Kimi Raikkonen and Antonio Giovinazzi; Toro Rosso Honda – Daniil Kvyat and Alexander Albon; Williams Mercedes – George Russell and Robert Kubica.
Leclerc was best in FP3 with a time of 1:12.380.
QUALIFYING 1
The ambient temperature at the start of 18-minute session was 82 degrees Fahrenheit (28 degrees Centigrade) and the track temperature was 113 degrees Fahrenheit (45 degrees Centigrade).
Sainz set the early pace with a lap of 1:13.221, but it was not going to last long as the Ferraris and Red Bulls headed out with 10 minutes remaining. And then out came Hamilton and Bottas.
Verstappen posted a 1:12.593. Leclerc beat that with a 1:12.229.
Meanwhile, Vettel was back in the pits with the engine cover off the car. Ominous.
On track, Hamilton was only 16th. It went better for Bottas who grabbed fourth.
With less than five minutes to go, Vettel had yet to set a time. And he would not as he climbed out of the Ferrari. It was a turbo problem.
Hamilton had another go and took third.
With three minutes remaining, Giovinazzi was 15th and on the cutoff line for drivers advancing to Q2. Perez was 14th and Albon was 16th.
The five drivers who were eliminated at the end of Q1 were: Norris, Albon, Russell, Kubica and Vettel.
The fastest 15 drivers who moved on to Q2 were: Leclerc, Verstappen, Hamilton, Gasly, Raikkonen, Bottas, Magnussen, Ricciardo, Grosjean, Giovinazzi, Hulkenberg, Perez, Sainz, Stroll and Kvyat.
QUALIFYING 2
Those that tried to use the medium compound Pirelli tires to set their best times in Q2 – and thus also be allowed to start the race on those tires – were: Hamilton, Leclerc and Bottas.
Hamilton clocked a 1:12.149. Bottas a 1:12.487. Leclerc had a slow lap so went for it again, and this time he grabbed a 1:12.344 to take second from Bottas.
Others were now on their quick laps. But Verstappen got blocked by a Haas.
On the bubble with five minutes to go in Q2 was Perez. He was flanked by Giovinazzi in ninth and Hulkenberg in 11th.
Out front it was: Hamilton, Leclerc, Gasly, Bottas, Sainz and Grosjean.
Verstappen had not set a time yet. He started his flying lap with three minutes to go. And rocketed to fourth.
After the usual last-minute flurry, the five drivers who were eliminated at the end of Q2 were: Giovinazzi, Magnussen, Ricciardo, Kvyat and Stroll.
The fastest 10 drivers who moved on to Q3 were: Hamilton, Leclerc, Gasly, Bottas, Verstappen, Raikkonen, Sainz, Hulkenberg, Grosjean and Perez.
QUALIFYING 3
Q3 lasted 12 minutes. Bottas headed out immediately. As did Hamilton. But Leclerc stayed put.
So Bottas was the first to get a time – a 1:12.222. Hamilton crossed the line a few seconds later and recorded a 1:11.767.
And then, disaster at Ferrari as Leclerc climbed out of the car! A problem with the fuel system.
Meanwhile Verstappen had slipped into second between Hamilton and Bottas. Gasly was fourth ahead of Grosjean and Sainz.
All nine drivers were on track in the last two minutes.
Hamilton's lap cost 1:11.793, but he kept the pole. Verstappen remained in second and Bottas third. Gasly wound up fourth ahead of Raikkonen, Grosjean, Sainz, Perez, Hulkenberg and Leclerc.