German GP 2019
JULY 27, 2019
Practice 3 Report - The cool factor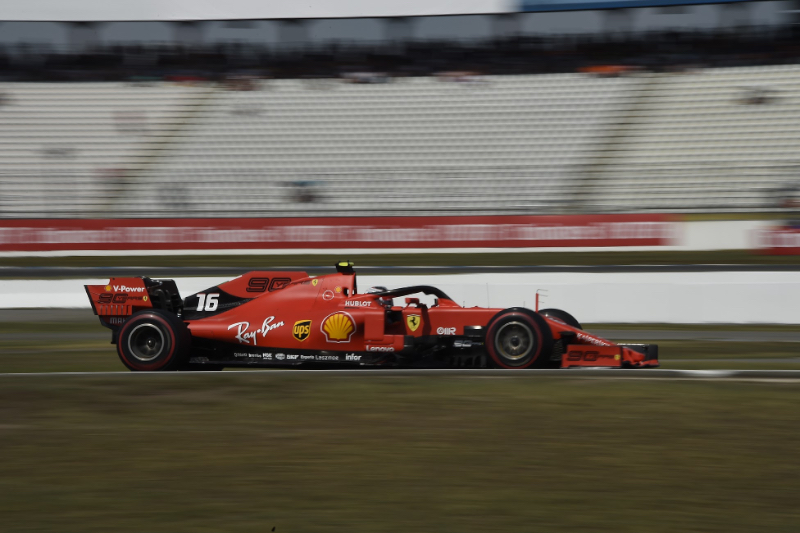 © RV Press
By Dan Knutson in Hockenheim
Charles Leclerc stayed hot despite cooling down. The Ferrari driver was fastest in the broiling conditions on Friday. With the forecast calling for cooler temperatures and possible rain on Saturday, Leclerc was worried about Mercedes and Red Bull. But he managed to beat them all in Free Practice 3.
The line-up for the weekend was: Mercedes – Lewis Hamilton and Valtteri Bottas; Ferrari – Sebastian Vettel and Leclerc; Red Bull TAG Heuer –Max Verstappen and Pierre Gasly; Renault – Daniel Ricciardo and Nico Hulkenberg; Haas Ferrari – Romain Grosjean and Kevin Magnussen; McLaren Renault – Carlos Sainz and Lando Norris; Racing Point Mercedes – Sergio Perez and Lance Stroll; Alfa Romeo Ferrari – Kimi Raikkonen and Antonio Giovinazzi; Toro Rosso Honda – Daniil Kvyat and Alexander Albon; Williams Mercedes – George Russell and Robert Kubica.
Leclerc was fastest in the broiling Friday afternoon practice session with a lap 1:13.449.
"It's obviously looking good," he said, "but on the other hand it's only Friday, and we know Mercedes sometimes is hiding a little bit until Saturday. So it's not going to be easy. Also it's going to be cooler Saturday, which will help the other teams. We are always very strong when it's sunny. We also know that Red Bull is very, very quick in the rain. So it's not going to be easy."
The ambient temperature at the start of the 90-minute FP2 session on Friday was 97 degrees Fahrenheit (36 degrees Centigrade) and the track temperature was 122 degrees Fahrenheit (50 degrees Centigrade).
The ambient temperature at the start of the 60-minute FP3 session on Saturday was 77 degrees Fahrenheit (25 degrees Centigrade) and the track temperature was 95 degrees Fahrenheit (35 degrees Centigrade).
Magnussen and Albon were the first out. The rain stayed away.
It was Sainz who topped the charts with an early time of 1:14.152.
Hamilton, on the soft compound Pirelli slicks, clocked a 1:13.767 thirteen minutes into the session.
To celebrate 125 in motor sport, the Mercedes crew were wearing 1930s garb, and the front of the car was painted white like the Mercedes cars of the past.
Leclerc, driving for the historic Ferrari team, beat that with his 1:13.117. He also used the softs. His teammate Vettel slotted into second after clocking a 1:13.369. Hamilton improved his time but could do no better than third. Leclerc, meanwhile, trimmed his time down to 1:12.736.
The order as the halfway point of FP3 approached was: Leclerc, Vettel, Hamilton, Raikkonen, Albon, Verstappen, Hulkenberg and Norris.
A few minutes later Verstappen, on the mediums, moved up to third. Bottas was back in 10th.
And with about 22 minutes remaining, most of the drivers were in the pits preparing for their all-out qualifying sims on the soft compound slicks.
Out went Leclerc who recorded a 1:12.380. Then Vettel got a 1:12.644.
Bottas then clocked a 1:12.890, which put him third ahead of Verstappen and Hamilton. But then Verstappen did a flier on the softs and his 1:12.548 put him second.
Hamilton headed out with a dozen minutes remaining. But fourth was the best he could manage, so he was behind Leclerc, Verstappen and Vettel. But not for long because soon fourth belonged to Bottas. Then came Bottas, Magnussen, Sainz, Gasly, Raikkonen and Hamilton.
Hamilton's time had been deleted because he exceeded track limits. He kept his next lap and was now sixth behind Magnussen.
So Leclerc remained the hot driver in the cooler, albeit dry, conditions. Verstappen, Vettel, Bottas, Magnussen, Hamilton, Sainz. Gasly, Raikkonen and Grosjean rounded out the top 10.