German GP 2018
JULY 22, 2018
Race Notes - Hamilton wins German GP from 14th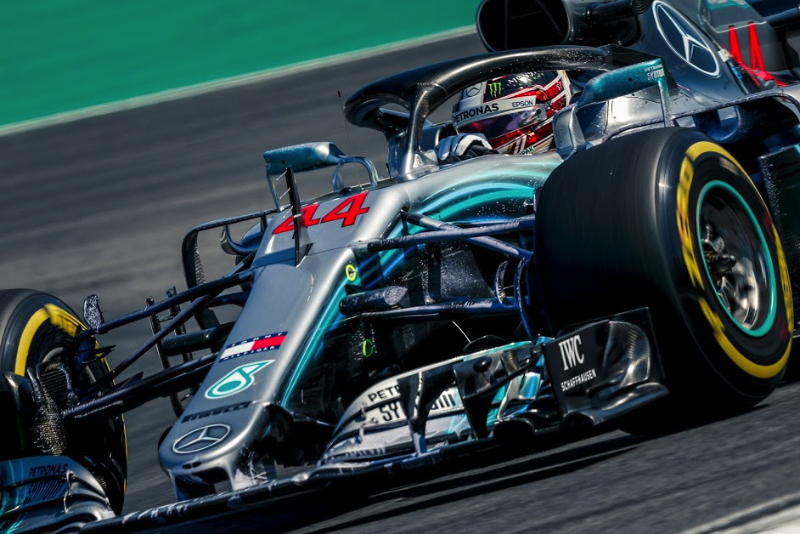 © RV Press
By Mark Karp
Lewis Hamilton won the German Grand Prix, after starting from 14th on the grid, in his Mercedes, after Vettel crashed out of the lead with spots of rain falling.
Valtteri Bottas, his Mercedes team mate, finished second, 4.535 seconds behind, and Kimi Raikkonen in the Ferrari is third, 6.732 seconds behind the winner.
The win is Hamilton's fourth of the season, and 66th of his career, and he retakes the lead in the drivers standings by 17 points over Vettel, and Mercedes retakes the Constructors championship by 8 points over Ferrari.
Max Verstappen (7.654s) in the Red Bull-Renault finished in fourth, followed by Nico Hulkenberg (26.609s) in the Renault was fifth, Romain Grosjean (28.871s) in the Haas-Ferrari was sixth, Sergio Perez (30.556s) in the Force India-Mercedes was seventh, his team mate Esteban Ocon (31.750s) was eighth, Marcus Ericsson (32.362s) in the Sauber-Ferrari was ninth and Brendon Hartley (34.197s) in the Toro Rosso-Honda took the final point position in tenth place.
Before the start, the risk of some rain during the race is 60% at the end of the race. But we are still expecting a one-stop race, with medium, soft and ultrasoft tyres on offer.
Vettel is on pole with Bottas alongside on row 1, Raikkonen and Verstappen on row 2, Magnussen and Grosjean on row 3, Hulkenberg and Sainz on row 4 and Leclerc and Perez round out the top ten.
Hamilton starts 14th, and Ricciardo 19th.
The top ten starting on ultrasoft tyres, and then a number of drivers on soft tyres, Ricciardo the only driver starting on medium tyress.
Overnight, new power unit parts forces Gasly to start from the back.
At the appointed time the grid came around on the formation lap, the lights went out and the race began with Vettel out in front ahead of Bottas Raikkonen and Verstappen.
Verstappen battling with Raikkonen. Hulkenberg takes Grosjean for sixth. At the end of lap 1 Hamilton passes Ocon for 12th.
On lap 3 Hamilton passes Alonso for 11th. Reports of light rain in turn 6.
On lap 4 Hamilton uses DRS to pass Leclerc for 10th.
Vettel sets fast lap at 1m17.777s.
Renault tells Hulkenberg that his left-rear tyre is getting hot.
Vettel leads Bottas by 2.7 seconds, Hamilton passes Sainz for ninth place.
Ricciardo passes Sirotkin for 15th.
Grosjean is complaining that his rear tyres are struggling, as he gets passed by Perez for seventh, complaining that Perez put him in the grass. Then Hamilton passes Grosjean as well and takes eighth place.
On lap 9 Hamilton passes Perez for seventh place, some 23 seconds behind leader Vettel.
Ricciardo passes Ocon for 13th place.
On lap 10 Hamilton passes Hulkenberg for sixth place.
At lap 10 Vettel leads Bottas by 3.9 seconds, followed by Raikkonen (5.7s), Verstappen (7.5s), Magnussen (22.0s), Hamilton (24.5s), Hulkenberg (26.2s), Perez (27.7s), Grosjean (30.1s), and Sainz (31.3s) in tenth place.
On lap 13 Sainz is challenging Grosjean for ninth. Hamilton passes Magnussen for fifth.
On lap 15 Raikkonen is the first runner to pit from third for soft tyres and rejoins in fourth.
Alonso runs wide at the hairpin battling with Leclerc. Leclerc takes 11th place.
On lap 16 Raikkonen sets fast lap at 1m17.581s, and then again the next lap at 1m17.379s.
On lap 17 Ricciardo passes Alonso in the hairpin for 12th place.
On lap 20 Ricciardo passes Leclerc for 10th place.
Magnussen pits from sixth place for medium tyres and rejoins in 11th.
At lap 20 Vettel leads Bottas by 4.5 seconds, followed by Verstappen (10.5s), Raikkonen (19.9s), Hamilton (23.3s), Perez (42.3s), Grosjean (45.2s), Ricciardo (47.4s), Alonso (53.7s) in ninth.
Grosjean pits and changes to medium tyres. Perez has a slow stop for soft tyres and rejoins in 14th.
Stroll creates a logjam at the hairpin with Grosjean, Hartley and Sainz behind him.
On lap 25 Vettel pits from the lead and switches to soft tyres, and rejoins in third behind Raikkonen. Bottas now leads still yet to change his ultrasoft tyres.
Raikkonen sets fast lap at 1m17.286s.
Leclerc passes Sirotkin for 14th place.
There are reports of rain only 10 miles away from the circuit.
On lap 28 Bottas pits from the lead for soft tyres, and rejoins in fifth.
Ricciardo pulls to the side of the track with an engine problem.
On lap 29 Verstappen pits for soft tyres and rejoins in fifth behind Bottas.
On lap 30 Bottas sets fast lap at 1m16.956s.
Alonso, with his tyres worn out pits for medium tyres and falls to 15th.
At lap 30 Raikkonen leads Vettel by 1.2s, followed by Hamilton (4.3s), yet to pit, Bottas (10.9s), Verstappen (17.5s), Magnuusen (53.8s), Hulkenberg (56.9s), Grosjean (59.6s), Perez (61.4s) and Ericsson (64.2s) in tenth place.
Ferrari tells Vettel that rain is predicted in 10-15 minutes from now.
Vettel tells the team, "this is just silly, I am just losing time and I am destroying my tyres," as he runs behind his team mate Raikkonen.
Hamilton's rear tyres are starting to blister, and he is still yet to pit.
Vandoorne is running slowly and pits with an engine problem. Gasly is running slowly as well.
On lap 38 Raikkonen lets Vettel past to take the lead.
Ferrari reports to Vettel, "rain in eight minutes."
At lap 40 Vettel leads Raikkonen by 2.0 seconds, followed by Hamilton (6.0s), Bottas (7.5s), Verstappen (13.1s), Magnussen (61.9s), Hulkenberg (65.7s), Grosjean (67.4s), Perez (68.0s) and Sainz (74.4s) in tenth place, with all drivers anticipating coming rain.
On lap 42 Hamilton finally pits from third place and switches to ultrasoft tyres, and rejoins in fifth behind Verstappen.
On lap 43 there appears to be some rain falling at the hairpin.
Leclerc takes a chance and pits for intermediate tyres. Alonso and Gasly pit as well, most of the circuit still dry.
Some light rain drops falling in the pitlane.
On lap 46 Verstappen pits for intermediate tyres and rejoins in fifth/
Vettel tells Ferrari, "It's still okay, I stay out for now." as he loses a bit of his front winglet on a kerb.
Ferrari tells Vettel, "rain decreasing."
Leclerc pits again and takes ultrasoft tyres.
Gasly pits and switches back to ultrasoft tyres.
Leclerc spins but continues.
Two laps latter Leclerc goes wide again.
Bottas is challenging Raikkonen, Raikkonen runs wide and takes second place. Perez spins.
At lap 51 Vettel leads Bottas by 9.1 seconds, followed by Raikkone (9.6s), Hamilton (11
On lap 52 with some rain falling, Vettel goes off at the Sachs curver and is in the barrier and is out, the safety car is out.
Vettel tells the team with emotion, "sorry guys."
Bottas pits for ultrasoft tyres, with a slow stop.
Hamilton looks like he was entering the pits, but stays out at the last second.
Raikkonen pits for ultrasoft tyres.
Sirotkin pulls to the side of the track and retires with the car smoking.
Under the safety car Hamilton leads Bottas, Raikkonen, Verstappen, Hulkenberg, Perez, Ocon, Ericsson, Grosjean, Sainz, Magnussen, Hartley and Stroll in 13th place.
Hamilton complains "the safety car really needs to pick up the pace - stone cold tyres." there is still spots of rain around the circuit.
At the end of lap 57 the safety car comes in and the race resumes, with Hamilton leading Bottas, Raikkonen, Verstappen, Hulkenberg, Perez, Ocon.
At the hairpin Bottas passes Hamilton, but Hamilton comes back and retakes the lead.
Hamilton sets fast lap at 1m16.596s and pulls a 1.7s lead.
Race control is investigating if Sainz overtook under the safety car.
Mercedes tells Bottas to hold position.
Sainz tells Renault, "it's starting to rain again."
At lap 61 Hamilton leads Bottas by 2.5s, followed by Raikkonen (3.8s), Verstappen (6.1s), Hulkenberg (13.5s), Perez (16.6s), Ocon (18.7s), Ericsson (19.8s), Grosjean (20.4s), and Sainz (22.1s) in 10th place.
Sainz is handed a 10-second penalty for overtaking during the safety car period.
Ericsson and Ocon battling for seventh place.
On lap 66 Hamilton 1m15.545s. and leades by 4.4 seconds.
Hamilton wins over Bottas and Raikkonen.
Hamilton tells the team, "what an amazing job by you guys, I am so grateful."
The rain begins to fall again during the podium.