German GP 2018
JULY 22, 2018
Race Analysis - Losing & Winning at Home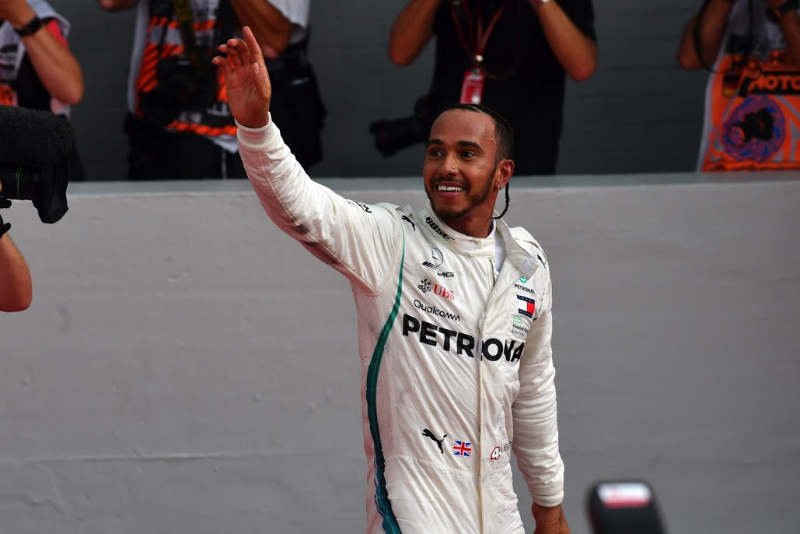 © RV Press
By Dan Knutson
Sebastian Vettel was heading to victory in his home grand prix but then he ended up in the barriers. That set the stage for Lewis Hamilton and Valtteri Bottas to give Mercedes a one/two finish in its home grand prix. Here's how the race unfolded.
NO BETTER PLACE
Vettel put his Ferrari on pole. What better place to start the race and aim for that win at home?
"Some days you can feel already when you go out and you do you first flying lap that you've got something in your hands that you can play with," he said, "and that's the feeling I had today and from there it just got better."
A WHOLE LOT WORSE
Hamilton started the race in a place that was a whole lot worse - way back in 14th on the grid after bouncing off the track in the first qualifying segment.
"We had a hydraulic failure at Turn 1, then lost the power steering and I went wide," he said. "When you're fighting for a championship that's as close as this you can't afford days like this."
THE OTHERS
Bottas and Kimi Raikkonen (Ferrari) qualified second and third. The Red Bull did not have the pace of the top two teams, so Max Verstappen started fourth. His teammate Daniel Ricciardo was back in 19th because of an engine penalty.
SAME ORDER
Vettel took the lead at the start, and the order was the same as in qualifying with Bottas, Raikkonen and Verstappen trailing him.
While the front four remained unchanged, Hamilton and Ricciardo worked their way up through the field. They both planned to do long stints on their first set of tires. Hamilton got up to fifth by lap 14. Ricciardo was seventh on lap 21.
STOP THE CAR
Ricciardo got up to sixth and then his car started to lose power on lap 23.
"Stop the car," the team radioed.
STOPS
Pit stops were looming. Vettel came in at the end of lap 25. Bottas led for three laps and then pitted. Raikkonen, who pitted way back on lap 14, now led. Next on track came Vettel, Hamilton, Bottas and Verstappen.
FINN AHEAD
Finland's Raikkonen led laps 29 to 38. Then he let Vettel retake the lead on lap 39.
FINALLY
Vettel was ahead of Raikkonen, Hamilton and Bottas. Hamilton finally made his first stop after 42 laps and briefly dropped to fifth behind Verstappen until the latter made his second stop a few laps later.
SOMETHING NEEDED
Something was needed to jumble the order in the race.
THE RAIN CAME
And that something was the light rain that started to fall on some parts of the circuit about lap 44. Some drivers pitted for rain tires, but that was a mistake and they came back in for slicks.
AWAY AND BACK
The rain went away and came back a few laps later. It was slippery out there on slicks, and the drivers were slipping and sliding.
OFF!
Vettel slid off the track on lap 52 and hit the barriers. He was out of the race and had thrown away his chances of winning his home grand prix.
BLEEP BLEEP BLEEP
Vettel's radio message to the Ferrari crew was a torrent of swear words.
SMALL MISTAKE
"It was a very positive weekend," Vettel said later, "and it was just one of those moments, it's my mistake, apologies to the team, they did everything right. I had it in my hands, small mistakes, big disappointment."
SLICK SLICKS
The Safety Car came out. Although the track was still slick, Bottas, who led lap 52, pitted for new slicks rather than rain tires. Hamilton started to pit and then cut back over the grass and back onto the track.
14TH TO FIRST
Hamilton took the lead on lap 53 behind the Safety Car.
LUNGE
Bottas made a lunge for the lead when the Safety Car came in at the end of lap 57, but Hamilton held on to first.
TEAM ORDERS
Shortly thereafter Mercedes ordered Bottas to hold position in second place. The team did this because it wanted to insure a one/two finish. It wasn't done to pad Hamilton's points lead.
MORE RAIN
More rain was on the way, but it held off until after Hamilton had crossed the finish line to score an incredible victory.
OH NO!!
After the race the stewards investigated whether Hamilton had made an illegal move by cutting across the grass when he decided not to pit. Would he be given a penalty that would take away his victory? Fortunately he just got a reprimand.
MEGA STAT
Hamilton became only the 12th driver to win a Formula 1 world championship grand prix from 14th or lower on the grid.
THE IMPORTANT POINT
Hamilton goes from trailing Vettel by eight points to leading the championship by 17 points.
SPARE A THOUGHT
It absolutely poured shortly after the race finished. Spare a thought for the hundreds of crew members as they had to work through the night dismantling the vast and soaked hospitality units so that they could be trucked to Budapest and set up in the paddock there just a few days later for the Hungarian Grand Prix.