German GP 2018
JULY 21, 2018
Qualifying Report - Threat removed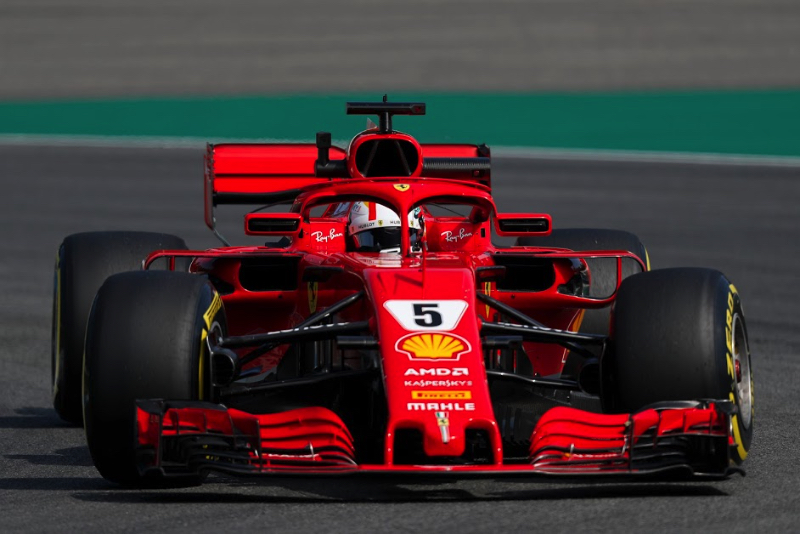 © RV Press
By Dan Knutson in Hockenheim
Sebastian Vettel won the pole for his home Grand Prix of Germany in a session that saw a major threat for that pole - and possibly the race victory - removed as Lewis Hamilton's Mercedes stopped on track during the first of the three qualifying sessions.
The line-up for the weekend was: Mercedes - Hamilton and Valtteri Bottas; Ferrari - Vettel and Kimi Raikkonen; Red Bull TAG Heuer - Daniel Ricciardo and Max Verstappen; Force India Mercedes - Sergio Perez and Esteban Ocon; Williams Mercedes -Lance Stroll and Sergey Sirotkin; Renault - Nico Hulkenberg and Carlos Sainz; Toro Rosso Honda - Brendon Hartley and Pierre Gasly; Haas Ferrari - Romain Grosjean and Kevin Magnussen; McLaren Renault - Fernando Alonso and Stoffel Vandoorne; Sauber Ferrari - Marcus Ericsson and Charles Leclerc.
Wherever he qualified, Ricciardo would be moving down the grid because of penalties for new power unit components.
QUALIFYING 1
It rained during Free Practice 3 earlier in the day. Would the rain remain for qualifying?
"For sure rain would spice up qualifying but it can turn out well for you or bad for you," Alonso mused. "In the condition we are, not in the championship battle, everything that can mix things up is good."
As it turned out, the rain stopped, but the track was dry enough for the drivers to use slicks when the 18-minute Q1 began. But there were still some damp patches off the racing line. The Pirelli compounds were: soft, super soft and ultra soft.
The ambient temperature at the start of qualifying was 72 degrees Fahrenheit (22 degrees Centigrade) and the track temperature was 86 degrees Fahrenheit (30 degrees Centigrade).
It was going to be one of those situations as the track steadily got faster throughout the session.
Vandoorne was not going fast as he limped around with a gear shift problem on the McLaren. But the team quickly sorted that out on the fly.
Raikkonen was flying as he posted a 1:12.723 only to have Vettel beat that his 1:12.538. Bottas, Hamilton, Verstappen and Hulkenberg rounded out the top spots after the initial runs.
With six minutes remaining, Alonso was on the 15th place bubble with Gasly 14th and Sainz 16th.
Next, Raikkonen sliced his time down to a 1:12.505.
In the closing moments Alonso moved up to 12th.
And Hamilton headed slowly to the pits - gears won't change, he radioed. He stopped on track at Turn 10. The team had detected a hydraulic problem and told him to stop immediately as the power unit was at risk. A motorbike rider took him back to the paddock.
The five drivers who were eliminated at the end of Q1 were: Ocon, Gasly, Hartley, Stroll and Vandoorne.
The fastest 15 drivers who moved on to Q2 were: Raikkonen, Vettel, Bottas, Grosjean, Hamilton, Leclerc, Magnussen, Verstappen, Ricciardo, Sainz, Perez, Hulkenberg, Ericsson, Alonso and Sirotkin.
QUALIFYING 2
So a major threat for the pole - Hamilton - was out of contention. Ricciardo did not bother to go out, given his impending penalty.
Several drivers including Verstappen tried the soft compound tires. Meanwhile, Ericsson had an off-track excursion and deposited stones all over the track at Turn 13. That brought out the red flags, with seven minutes left in the session, so the marshals could clean the track.
Bottas had taken the lead with a time of 1:12.152 ahead of Raikkonen and Vettel, Magnussen and Grosjean.
The session restarted six minutes later.
This time, Verstappen who was ninth, was on the ultra softs, and jumped to second.
The fastest 10 drivers who moved on to Q3 were: Bottas, Verstappen, Raikkonen, Vettel, Magnussen, Grosjean, Hulkenberg, Leclerc, Sainz and Perez.
The five drivers who were eliminated at the end of Q2 were: Alonso, Sirotkin, Ericsson, (Hamilton and Ricciardo who did not take part in Q2).
QUALIFYING 3
Q3, which lasted 12 minutes, would be a battle between one Mercedes, one Red Bull and two Ferraris for the pole.
Raikkonen got it rolling with a 1:11.880. Vettel beat that with his 1:11.539, and then Bottas split the Ferraris with his 1:11.709. Verstappen took fourth.
Grosjean, Hulkenberg, Magnussen and Leclerc rounded out the top eight after their first runs.
The last runs happened in the last two minutes.
Bottas did a 1:11.416. Vettel beat it with a 1:11.212 to take the pole in his home grand prix.
The top 10 qualifiers were: Vettel, Bottas, Raikkonen, Verstappen, Magnussen, Grosjean, Hulkenberg, Sainz, Leclerc and Perez.