German GP 2018
JULY 21, 2018
Practice 3 Report - Soaked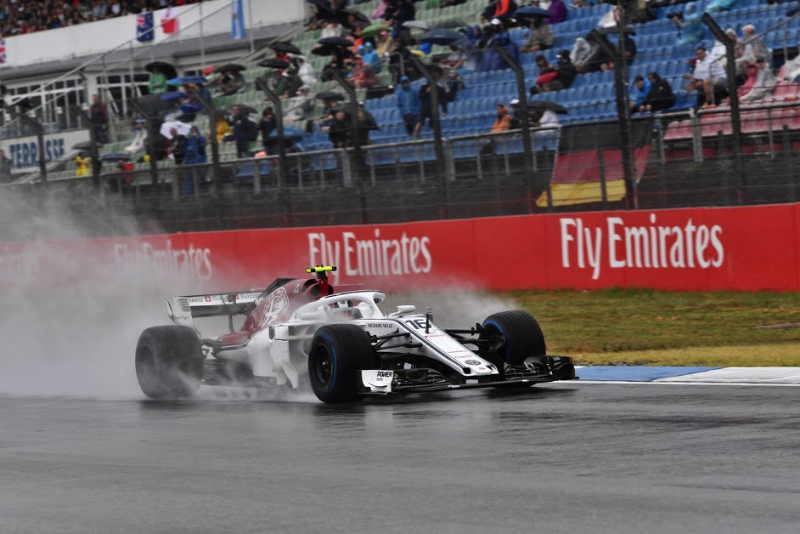 © RV Press
By Dan Knutson in Hockenheim
The spectators, except for the lucky ones under the covered grandstands, got soaked while watching an empty track. That was the story of Free Practice 3 for the German Grand Prix which was washed out by rain.
The line-up for the weekend was: Mercedes - Lewis Hamilton and Valtteri Bottas; Ferrari - Sebastian Vettel and Kimi Raikkonen; Red Bull TAG Heuer - Daniel Ricciardo and Max Verstappen; Force India Mercedes - Sergio Perez and Esteban Ocon; Williams Mercedes -Lance Stroll and Sergey Sirotkin; McLaren Renault - Fernando Alonso and Stoffel Vandoorne; Renault - Nico Hulkenberg and Carlos Sainz; Toro Rosso Honda - Brendon Hartley and Pierre Gasly; Haas Ferrari - Romain Grosjean and Kevin Magnussen; Sauber Ferrari - Marcus Ericsson and Charles Leclerc.
Verstappen had been quickest in FP2, clocking a 1:13.085 on the ultra soft tires. But Hamilton had been just 0.026 of a second slower.
"I feel like we have a good balance with the car which shows by topping Practice 2," Verstappen said Friday. "It was a nice surprise to start so competitively here but we have to remember it is only Friday. The others will be quicker for qualifying but certainly a better than expected start for us."
Friday's sun and heat had given way to rain and cooler temperatures on Saturday. The ambient temperature at the start of the 60-minute session was 66 degrees Fahrenheit (19 degrees Centigrade) and the track temperature was 74 degrees Fahrenheit (23 degrees Centigrade).
There was also a chance that the rain would continue into qualifying later in the day.
Ericsson was the first to sample the wet conditions. Others ventured out for a lap. But Hulkenberg was the only one to attempt a flying lap, and he tiptoed around in 1:36.873 and then pitted. His teammate Sainz had a spin at Turn 10.
Some, such as the Ferrari, Force India and Mercedes drivers didn't get wet at all as they stayed in their garages.
Finally, with 15 minutes remaining in FP3, Bottas donned his helmet and climbed into his #77 Mercedes.
Other drivers were getting ready to go out as well. It was important to get at least a lap or two in to sample the wet weather tires in case it rained in qualifying or the race.
Sirotkin followed by Ericsson and Leclerc took to the track. Others did as well, and some spun while others slid wide.
Meanwhile, the rain fell steadily as the clock ticked down and the session was washed away.
Of those that set a lap time in the closing minutes, the final order was: Leclerc, Ericsson, Sirotkin, Vettel, Gasly, Hartley, Hulkenberg, Raikkonen and Stroll.