German GP 2016
JULY 31, 2016
Race Notes - Hamilton wins again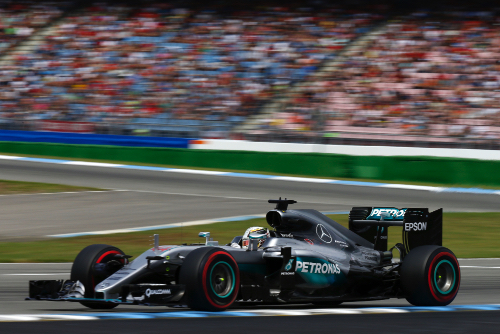 © Active Pictures
Lewis Hamilton won the German GP at Hockenheim today in the Mercedes GP, 6.996 seconds ahead Daniel Ricciardo in his Red Bull-Tag Heurer in second place and his team mate Max Verstappen in third , 13.413 seconds behind.
Hamilton now has tajen his sixth victory out of the last seven races, and his 49th career win.
Nico Rosberg after sitting on pole, dropped to fourth at the start, and was then given a 5-second penalty for running Verstappen wide later in the race, to finish in fourth place, 15.845 srconds behind. Sebastian Vettel (32.570s) in his Ferrari was fifth, his team mate Kimi Raikkonen (37.023s) was sixth, Nico Hulkenberg (1m10.049) in the Force India-Mercedes was seventh, Jenson Button (1 lap) in the McLaren-Honda was eighth, Valtteri Bottas in the Williams-Mercedes was ninth and Sergio Perez in second Force India finished in the final points position in tenth.
Before the start, the weather is warm. Rosberg starts on pole with his Mercedes GP team mate Hamilton alongside on the front row.
The Red Bull's of Ricciardo and Verstappen are on row 2, the Ferrari's of Raikkonen and Vettel are on row three, Bottas and Hulkenberg are on row 4 and Perez and Felipe Massa round out the top ten.
All drivers starting on supersoft tyres, except Esteban Gutierrez in 11th, starting with soft compound tyres.
At the appointed time the cars rolled, and came around to the grid. The lights went out and the race started with Hamilton jumping into the lead with Verstappen passing and Ricciardo on the outside of turn 1 and following through into second, Ricciardo in third. Rosberg drops to fourth, Vettel and Raikkonen in sixth and seventh Hulkenberg, Button and Massa rounding out the top ten. Massa and Jolyon Palmer make contact in turn 1 but both continue.
On lap 2 Rosberg attempts to pass Ricciardo in third, the two battle, but Ricciardo stays ahead. Palmer pits but continues.
On lap 4 Hamilton has pulled out to a 1.9s lead over Verstappen,
On lap 7 Fernando Alonso passes Massa for tenth place. The Manors of Rio Haryanto and Pascal Wehrlein and Haryanto touch in the hairpin, but continue.
On lap 8 Verstappen complains of problems with traction with the rear tyres. Perez pits. Carlos Sainz passes Massa, for 11th. Kevin Magnussen follows past Massa.
Massa and Sainz both pit.
On lap 9 Hamilton sets fast lap.
On lap 11 Verstappen and Rosberg both pit for supersoft tyres. Rosberg has a slow stop and rejoins in 10th. Verstappen takes another set of supersoft tyres.
Bottas and Hulkenberg pit the next lap. Hamilton sets another fast lap at 1m20.465s.
Ricciardo pits taking on soft tyres and rejoins fifth. Vettel and Button pit for soft tyres.
On lap 15 Hamilton pits for soft tyres rejoining still in the lead. Rosberg sets fast lap at 1m20.216s. Raikkonen has a slow stop to soft tyres, but continues.
On lap 18 Grosjean pits for soft tyres.
On lap 20 Magnussen dives to the inside of the hairpin and passes Massa for 13th.
Alonso passes Perez for 11th.
Sainz and Romain Grosjean chase Massa.
At lap 20, Hamilton leads Verstappen by 6.9s followed by Ricciardo (8.7s), Rosberg (9.9s), Vettel (15.1s), Raikkonen (19.7s), Bottas (29.5s), Hulkenberg (33.2s), Button (39.0s) in ninth.
On lap 22 Alonso passes Gutierrez for tenth, and then Perez passes Gutierrez as well. Gutierrez is yet to pit. The top ten runners all running laps around 1m21s.
On lap 26 Gutierrez continues to struggle and is passed by both Magnussen and his Haas team mate Grosjean, and then pits.
On lap 27 Palmer pits and the team changes his front wing.
Massa pits with a slow stop - the team looking over the car.
On lap 28 Rosberg pits for a second time for another set of soft tyres.
On lap 29 Verstappen pits again for soft tyres as well and rejoins just ahead of Rosberg.
Rosberg sets up Verstappen and passes him in the hairpin for fifth position - pushing the young Red Bull driver wide at the corner.
The FIA is investigating the incident.
Button pits from ninth place for more soft tyres.
On lap 32 Raikkonen pit for a second time, taking soft tyres. Hulkenberg and Vettel pit as well.
On lap 33 Roberg is handed a 5 second penalty for pushing Verstappen wide.
Ricciardo and Bottas both pit the next lap.
On lap 34 Hamilton pits from the lead switching back to super soft tyres, rejoining still in the lead.
On lap 34 Ricciardo sets fast lap at 1m19.684s.
At lap 35 Hamilton leads Rosberg (still to serve his penalty) by 5.5s), followed by Verstappen (9.2s), Ricciardo (10.9s), Vettel (20.9s), Raikkonen (24.1s), Hulkenberg (42.9s), Bottas (44.3s), Button (51.4s) and Alonso (54.8s) in tenth place.
Hamilton sets fast lap at 1m19.452s.
On lap 37 Massa pits and retires the Williams.
On lap 40 Ricciardo closes on his team mate Verstappen and passes him for third place.
Riccardo sets fast lap at 1m19.105s. Ricciardo in now only 3 seconds behind Rosberg. Mercedes tells Rosberg that he needs speed up and do 1m19s laps.
Grosjean conplains there is something wrong with the rear of the Haas.
On lap 43 Ricciardo closes the gap to Rosberg down to one second, as Rosberg continues to struggle with his tyres.
On lap 45 Rosberg pits and serves his penalty and rejoins with another set of soft tyres in sixth.
On lap 46 Verstappen pits for supersoft tyres.
On lap 47 Ricciardo and Vettel pit, and his team mate Raikkonen the next lap.
Hamilton pits from the lead for another set of soft tyres and rejoins still in the lead.
At lap 50 Hamilton continues to lead Ricciardo by 6.5 seconds, followed by Verstappen (9.1s), Rosberg (14.4s), Vettel (19.3s), Raikkonen (28.7s), Bottas (40.0s) m Hulkenberg (53.0s), Button (63.3s) and Alonso in tenth.
On lap 52 Gutierrez passes Magnussen for 12th place.
On lap 53 Ricciardo complains that he has trouble lapping Gutierrez.
On lap 57 Grosjean passes Magnussen for 13th. Sainz closes on Magnussen, and passes him the next lap.
At lap 60 there are reports in the pits the light rain drops are falling, with Hamilton leading Ricciardo by 6.9s, followed by Verstappen (9.6s), Rosberg (15.8s), Vettel (25.0s), Raikkonen (35.6s), Bottas (61.8s), Hulkenberg (64.6s), Button (76,3s) and Alonso (1 lap) in tenth place.
On lap 61 Felipe Nasr retires his Sauber in the pits.
On lap 62 Hulkenberg passes Bottas for seventh place.
Perez closes on Alonso in tenth place - the two battle, but Perez takes the position.
Button closes on Bottas, who is struggling on his old tyres, and Button passes for eighth place.
Hamilton holds on to the finish and wins over Ricciardo and Verstappen.