German GP 2016
JULY 30, 2016
Qualifying Report - Home Run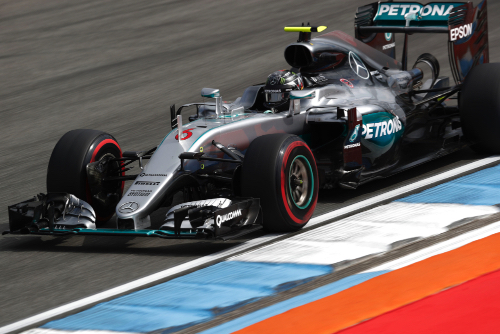 © Active Pictures
By Dan Knutson in Hockenheim
Nico Rosberg has lived most of his life in Monaco, but he was born in Germany and is a German citizen. So he calls the German Grand Prix one of his home races, and therefore was delighted that his run in qualifying earned him the pole.
The ambient temperature at the start of qualifying was 79 degrees Fahrenheit (26 degrees Centigrade) and the track temperature was 102 degrees Fahrenheit (39 degrees Centigrade.)
The line-up for the weekend was: Mercedes - Lewis Hamilton and Nico Rosberg. Ferrari - Sebastian Vettel and Kimi Raikkonen. Williams Mercedes - Felipe Massa and Valtteri Bottas. Red Bull TAG Heuer - Daniel Ricciardo and Max Verstappen . Force India Mercedes - Nico Hulkenberg and Sergio Perez. Renault - Kevin Magnussen and Jolyon Palmer. Toro Rosso Ferrari - Daniil Kvyat and Carlos Sainz. Sauber Ferrari - Marcus Ericsson and Felipe Nasr. McLaren Honda - Fernando Alonso and Jenson Button. Manor Mercedes - Pascal Wehrlein and Rio Haryanto. Haas Ferrari - Romain Grosjean and Esteban Gutierrez.
QUALIFYING 1
Q1 lasted 18 minutes, but nobody but the Manor and Haas boys was interested in going out straight away.
A dozen minutes remained in Q1 when more drivers including Rosberg and Hamilton, both on the soft compound Pirelli slicks, ventured out.
Rosberg clocked a 1:15.485, and Hamilton beat that with a 1:15.243. Ricciardo, Raikkonen, Verstappen and Vettel all used the super soft compound but were still no match for the Mercedes drivers and ended up in that order behind Rosberg.
After the first round of runs, the bubble area contained Kvyat in 15th, Gutierrez in 16th and Haryanto in 17th. All the action was in the lower half of the order in the final minutes as the top drivers stayed in the garages and those lower down scrambled to make sure they made the cut to Q2.
The six drivers who were eliminated at the end of FP1 were: Magnussen, Wehrlein, Kvyat, Haryanto, Nasr and Ericsson.
The fastest 16 drivers who moved on to Q2 were: Hamilton, Rosberg, Ricciardo, Raikkonen, Verstappen, Vettel, Bottas, Gutierrez, Perez, Button, Hulkenberg, Sainz, Grosjean, Alonso, Massa and Palmer.
QUALIFYING 2
Rosberg and Hamilton were the first out in Q2 that lasted 15 minutes. Both were on the super soft slicks. No one else followed them out, so they had a clear track for their laps that ended with Rosberg posting a 1:14.839 and Hamilton a 1:14.748.
Next, the Red Bull drivers took to the circuit. Verstappen clocked a 1:15.124 and Ricciardo a 1:15.602.
Now everybody but the Mercedes drivers were pounding around the track. When everybody except Palmer had set a time, the bubble area contained in Perez in ninth, Massa in 10th and Gutierrez in 11th.
The top six were Hamilton, Rosberg, Verstappen, Raikkonen, Ricciardo and Vettel with less than three minutes remaining. They all stayed in the pits (except Vettel) while the rest were on track gunning for better times.
The six drivers who were eliminated at the end of FP2 were: Gutierrez, Button, Sainz, Alonso, Grosjean and Palmer. Grosjean would have to take a five-place grid penalty for getting a new gearbox so would drop to 20th.
The fastest 10 drivers who moved on to Q3 were: Hamilton, Rosberg, Verstappen, Raikkonen, Bottas, Perez, Ricciardo, Hulkenberg, Vettel and Massa.
QUALIFYING 3
The top 10 drivers had 12 minutes to fight it out for the top 10 places on the grid. Naturally they used the super soft Pirellis.
Vettel and Perez were the first out.
Vettel set a 1:15.619, which Raikkonen beat with a 1:15.142 and Hamilton with a 1:14.486. Then Verstappen took second with a 1:15.103.
Rosberg did not set a time on his first outing. Ricciardo was now second with a 1:14.726.
The top of the order was now: Hamilton, Ricciardo, Verstappen, Raikkonen, Vettel, Perez and Hulkenberg. Rosberg, Bottas and Massa had yet to set times with less than five minutes remaining.
Rosberg and Massa headed out with just over three minutes to go. Rosberg was quickest in the first sector, and the second, but not in the third, but he went out in front with a 1:14.363.
Now all 10 drivers were in action. Hamilton was flying, but not fast enough to beat Rosberg who kept the pole. When the dust had settled, the top 10 qualifiers were: Rosberg, Hamilton, Ricciardo, Verstappen, Raikkonen, Vettel, Hulkenberg, Bottas, Perez and Massa.