German GP 2013
JULY 8, 2013
Race Report - King Of The Ring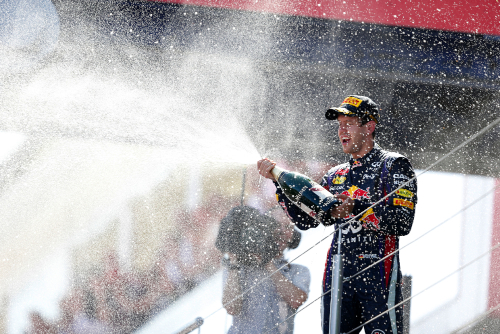 © Active Pictures
Sebastian Vettel had 29 Formula One victories on his resume prior to last weekend, but none of them had happened in his home Grand Prix of Germany. That all changed when he pulled off a hard-fought victory over Lotus teammates Kimi Raikkonen and Romain Grosjean at the Nurburgring.
"Obviously I felt the push from the crowd," the Red Bull driver said. "I tried to focus the last couple of laps. I knew it would be very close with Kimi once he got past Romain, so yeah, incredibly tough, I was pushing every single lap as hard as I could and Lotus was incredibly quick today, looking after their tires probably a little bit better than other people. But yeah, all in all, fantastic. Compliments to the team, three great stops we had. Very, very happy with the day."
Lewis Hamilton put his Mercedes on pole for his team's home grand prix, but at the start of the 60 lap race the Red Bulls of Vettel and Webber swept by on either side to take first and second place. Hamilton would never be a factor in the lead battles and eventually finished fifth.
The top five drivers on the grid had started with Pirelli's soft compound slicks, to visits to the pits were soon needed. Vettel came in after six laps and Webber led for two laps before he pitted.
The Red Bull crew failed to attach Webber's right rear wheel properly and it flew off and slammed into a TV cameraman in pitlane. Paul Allen was flown taken helicopter to hospital and treated for a broken collarbone, two broken ribs, a concussion and bruises.
Grosjean, who had qualified fifth, led laps nine to 13 before pitting to switch to Pirelli's medium compound. That put Vettel back in the lead on lap 14 and he held it until lap 40 when he made his third pit stop. Meanwhile, Grosjean and Raikkonen had been running second and third.
Raikkonen took over first on lap 41. Could his set of medium compound tires, which had been on his car since lap 25 make it to the end of the race? Radio problems meant that he had trouble discussing his options with the team. He finally pitted on lap 49 for a set of softs.
"I could hear them but they couldn't hear me," Raikkonen said. "I think it only worked in one part of the circuit and unfortunately today there was quite a lot to discuss and it didn't work. So, not the ideal but we managed to do pretty well and obviously we want to win but today we didn't have the speed. The race should have been a bit longer, maybe then we could have had a good chance " but we scored good points for two cars and we are getting back where we should be."
Grosjean, meanwhile, had stopped on lap 40 for a set of mediums.
"We had a very strong race," he said. "Very good first stint. I thought I would have had a chance at one stage on Seb but the Red Bull was quick today. And then at the end we choose different strategy with the team. I think that was the right things to do " just put one car on one tires and the other one on the other one, and it appears the Option for Kimi was quicker. So, yeah, I think it was good to play a little bit, the team, and then I'm very happy to be back on the podium. I think we've deserved it for a little while but now it's reality."
So Vettel now led on lap 50. The Lotus drivers were closing in. Grosjean let the faster Raikkonen go by, and the Finn took up chase after the German. But Raikkonen ran out of time and crossed the line 1.008 seconds behind Vettel.
"I could feel him coming and more and more pressure," Vettel. "I obviously had a couple of laps where it was quite close with Romain as well who tried to push very hard. In the middle of the race we lost KERS for a couple of laps so it was very difficult " but fortunately the system recovered and yeah, it's very useful to defend properly. Very happy that the race ended after 60 laps and not 61 or 62."
Fernando Alonso started the race on the medium compound tires and only had the softs put on his Ferrari for the last stint. He closed in on Grosjean and finished fourth, less than two seconds behind the Lotus driver.
"This was a difficult race," Alonso said. "We weren't very quick and at some moments we were not competitive enough. In the first stint, we paid the price for being on used tires, because by lap twelve they were already finished, which cost us some of the advantage we hoped to gain from our strategic choice. Even if we were hoping to finish on the podium, finishing less than eight seconds off Vettel after starting eighth is an encouraging result. The team is doing its utmost to make the car more competitive and after tackling a few races without being too sure about our updates, today we can claim to have cleared up many of our doubts and to have understood which are the areas we must concentrate on to move the development forward. When we arrived here on Thursday, the Silverstone test did not seem that important, because the race drivers were only meant to be testing the tires, but having heard what the FIA had to say, it's been confirmed that we can test updates and this makes it a much more sensible proposition. If I get the call from the team, I'm ready to go."
Hamilton was an unhappy man after only finishing fifth after starting on the pole.
"That was really a tough race out there for us today," he said. "I didn't have a great start and the Red Bulls were much quicker off the line, dropping me back to third. We really struggled with the second set of tires which then compromised the rest of my race. It's a real shame as the team are working so hard and doing such a good job. We've clearly got a good car but for some reason, it doesn't work in these hot conditions. We'll keep working on it and the positive from today is that we were able to recover to fifth place with a good strategy and great pit stops, and we're still second in the Constructors' table. Hopefully we'll have a better chance at the next race but, for now, there's a lot of hard work ahead of us."
The McLarens weren't all that fast, but Jenson Button and Sergio Perez still ended up sixth and eighth.
"There are a lot of positives to take away from this weekend," Button said. "Our pace was reasonably good; it's nice to be racing cars closer to the front, such as the Mercedes; our lap times compared to the four cars at the front weren't too bad either; and today's points are badly needed right now. Unfortunately, the two Caterhams fighting in front of me in the closing laps probably cost me fifth place. When you're fighting for position, you expect the backmarkers to move over, even if they're fighting for position themselves. It's a shame - those points could be so important for us later in the season. The Safety Car also didn't help our strategy - but we were a lot stronger this weekend than we've been for the past few races. We can be positive - as a team, we didn't put a foot wrong all weekend, and we got the best out of what we have. Overall, it's a positive day for the team - now we just need to find some more pace in the car."
Webber went a lap down after the pit lane incident. But he was able to get back on the lead lap when the Safety Car came so that Jules Bianchi's Marussia, which first caught fire and then rolled across the track, could be retrieved.
"I knew we had lost the tire in the pit stop of course," he said, "but not that someone got hit by it. That's bad and I hope he is okay, that's the main thing. Today was a bit of a nightmare and you want to wake up tomorrow and have another go at it. We had an excellent start and were in a great position leading up to the first stop with Seb, but we lost all of that. We lost a lot of points today and a chance to challenge for the win, but there's no rewind button now."
Germany's Nico Rosberg and Nico Hulkenberg rounded out the top 10.
"It was an extremely tough race," Hulkenberg said. "I was fighting on every lap, but this is what we were able to get out of it. To be honest, I expected we would have better pace today, but we didn't. The car didn't feel as good as I expected it would either. I thought, and hoped, we could fight with McLaren, but, unfortunately, they were too fast for us today. It was a race with a lot of overtaking and wheel-to-wheel battles, which are always fun. However, having to fight for positions all the time is never good for the strategy, as it's tough on the tires and you lose time. Nevertheless, this weekend was better than the previous ones. We didn't have an update on the car; we experimented with the set-up, which worked well."
With three German drivers in the top 10 the fans had plenty to cheer about.
"First of all you have to remember that it's a privilege to have the opportunity to race in your home country," Vettel said. "We have around 20 races, but there are obviously more than 20 countries, so it's special to race at home and get so much support. I had a good start and then just focused on every single lap during the race. You don't really think about where you are while you are racing, you can't allow your mind to drift, but when the flag came out and the race was over I really let myself enjoy the parade lap and saw a lot of people in the grandstands cheering and waving flags. These pictures will remain in my head for a long, long time."