German GP 2013
JULY 6, 2013
Qualifying Report - Triumph and Disappointment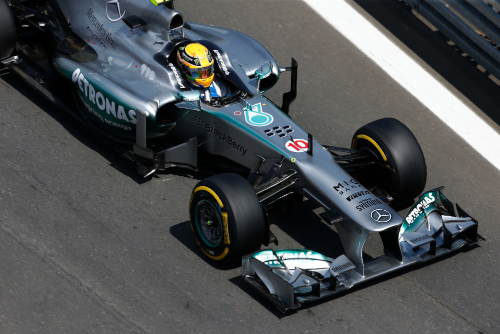 © Active Pictures
Qualifying for the German Grand Prix was a case of triumph and disappointment for the Mercedes team.
Lewis Hamilton won the pole, but his teammate Nico Rosberg, who had been quick all weekend, failed to make it into Q3 and gridded 11th for his and the team's home grand prix.
Qualifying 1
The ambient air temperature at the start of the session was 75.2 degrees Fahrenheit (24 degrees Celsius), and the track temperature was degrees 107.6 Fahrenheit (42 degrees Celsius). There was zero percent chance of rain.
Force India's Paul di Resta was the first out of the pits as the 20 minute Q1 session that would eliminate six drivers began. Next out was Jules Bianchi in the Marussia and his teammate Max Chilton.
Di Resta clocked the first serious lap time: 1:32.911 but that was topped by Pastor Maldonado who turned a 1:31.834 in his Williams. Valtteri Bottas was second with a 1:32.838 in the other Williams.
All the top team drivers, meanwhile, sat in the pits waiting for the track to get faster.
Halfway through the session, the Red Bull, Lotus and Ferrari drivers still had not turned a lap. Then with nine minutes remaining Sebastian Vettel and Mark Webber took their Red Bulls on track and Fernando Alonso joined them in his Ferrari.
Daniel Ricciardo had the fastest time 1:31.081 in his Toro Rosso with 7 minutes to go. But now the fast guys were out there, and indeed Alonso moved ahead with a 1:30.709.
With 5 minutes remaining, Kimi Raikkonen posted a 1:30.676 in his Lotus.
Then 30 seconds before the checkered flag, Felipe Massa set a 1:30.547 in his Ferrari'.
The top six were: Massa, Raikkonen, Alonso, Ricciardo, Lewis Hamilton (McLaren) and Nico Hulkenberg (Sauber.)
The six drivers eliminated at the end of Q1 were: Bottas, Maldonado, Charles Pic (Caterham), Bianchi, Guido van der Garde (Caterham) and Chilton
Qualifying 2
Jean-Eric Vergne (Toro Rosso) got things underway for the 15-minute Q2 session that would eliminate a further six drivers. He clocked a 1:31.285. Paul di Resta beat that with a 1:31.258.
Next Raikkonen sliced in with a 1:30.575 and his teammate Grosjean set a 1:30.868.
With nine minutes remaining, Hamilton moved up front with a 1:30.152. The Red Bulls were still in the pits.
All the drivers were on Pirelli's soft tire with the yellow sidewalls.
With 7 minutes remaining, Rosberg took second place with a 1:30.326. And the Red Bulls were still in the pits.
With just under 6 minutes to go, Vettel and Webber took to the track.
With 3 minutes remaining, Vettel topped the times with a 1:29.992 and Webber grabbed third with a 1:30.217.
With 2 minutes remaining, everybody was on the track except the Mercedes duo as Grosjean moved into second with a 1:30.005.
With 1 minute remaining, Alonso set a 1:29.962 to become number one. But Massa beat that with a 1:29.825.
The top 10 were Massa, Raikkonen (who had been out of the top 10 but got in with seconds to spare with a time of 1:29.852), Alonso, Vettel, Grosjean, Hamilton, Webber, Ricciardo, Hulkenberg and Jenson Button (McLaren).
Incredibly, Rosberg, who had been fast all weekend, was only 11th.
"It was quite a shock really," he told the BBC. "I didn't see it coming. The team didn't expect the track to ramp up that much. It really is a big disappointment. Unbelievable. I can't believe I'm standing here. We just didn't judge it correctly."
The six drivers eliminated at the end of Q2 were: Rosberg, di Resta, Sergio Perez (McLaren), Esteban Gutierrez (Sauber), Adrian Sutil (Force India) and Vergne.
Qualifying 3
The German fans hoping for a pole for Rosberg were disappointed, but they still had Vettel to cheer for as the final 10-minute Q3 session began.
Alonso, Massa and Ricciardo were out first. Soon everybody but Button and Hulkenberg were on track.
Ricciardo, Massa and Alonso aborted their first runs.
Raikkonen set the first time 1:29.970 but Vettel beat that with a 1:29.662. Then Hamilton posted a 1:29.540.
Webber was fourth and Grosjean fifth. Only these five had posted times with less than 3 minutes to go.
With 2 minutes remaining, all the drivers were on track.
But not all the drivers were on Pirelli's soft tire. Alonso, Massa and Button were among those to sacrifice qualifying pace and go for the more durable medium compound. That would give them more range for the first stint in the race.
Vettel took the pole with a 1:29.501. Webber moved into third with a 1:30.217. Then Hamilton pushed Vettel down to third and won the pole with a 1:29.398.
Raikkonen, Grosjean, Ricciardo, Massa, Alonso, Button and Hulkenberg rounded out the top 10.