German GP 2000
JULY 30, 2000
German GP, 2000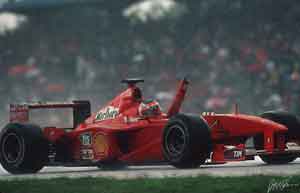 ®© The Cahier Archive
THE result of the German Grand Prix was largely down to luck. It was going to be a McLaren walkover until a disgruntled Mercedes-Benz ex-employee walked onto the track and gave everyone a nasty surprise which meant that a Safety Car had to be sent out while the gentleman was rounded up and locked away. That helped Barrichello rid himself of a half minute disadvantage. Then it started to rain and Mika Hakkinen pitted for wets. Barrichello stayed out. After that it was down to the clouds...
On with the Schnitzel Season. If it is the end of July it must be Hockenheim and the annual gathering of the Schumi Fundamentalists in the grandstands of the Motodrom. The camper vans are dusted down, loaded full of beer and fireworks and sent off to the woods of Hockenheim. Once installed the Schumi fans slip on their best pajama trousers (Hockenheim's sense of fashion continues to lag behind the catwalks of Coo-ol London and chic Paris) and don their red hats and, having painted a German flag on their forehead, they take their seats in the grandstands. And they have fun, cheering frantically whenever a car vaguely resembling that of Michael comes hurtling by and constantly launching their fireworks in celebration of his monstrous talent. One day one of these pyrotechnic devices is going to arch gracefully down and land in Michael's lap as he dives into the first corner, and you can be sure that this will add fuel to the dispute about whether or not Schumacher should be allowed to swerve in front of his rivals at the start of a race...
Hockenheim is a little different from other races these days because the track is fast. Take a look at the average speeds of the cars at tracks these days and you will find that most are around the 125mph mark. Hockenheim and Monza are up in the 150mph bracket. This means that the engines get a real workout, running at maximum revs for 60% of the lap. The longest burst of full throttle in the year comes on the run up to the first chicane when the engines are wide open for 17 seconds. Usually it is very hot in Germany at this time of year and so it is often a race dictated by engine power, but that is not to tell the whole story because Hockenheim is all about finding the right compromise between the fast woodland road out in the woods and the twiddly bits in the stadium section of the circuit. It is a question of balancing everything correctly.
Normally the grid at Hockenheim is a team by team affair but that was not the case at all this year. This was entirely due to the intemperate weather that is currently destroying any vestige there might have been of a European summer. For most of the time the F1 folk were watching the skies, waiting for the next torrential downpour. On Friday the storms were such that 13 unlucky Schumacher fans ended up in the hospital having been zapped by lightning which was conducted into their tents by flood waters. In total 20,000 campers had to remove flood waters from their tents. If it had not been for the trees, which hid all the nasty muddy stuff, it would probably have looked a lot like Silverstone.
The tunnels into and out of the circuit seemed to be permanently underwater and fire engines were being used to pump all the water out of the way. It was horrible. There were even stories that one of the beer can pyramids which they like to build had been struck by a bolt of lightning and the owner of this edifice killed, but it was probably not true.
When qualifying began, with black cloud ringing the track and a sniff of rain in the air, everyone went rushing out to try to get a time in the bag. It was not the moment to have a mechanical problem or a spin. And so there was some consternation in the BAR, Benetton and Ferrari pits when one of each of their drivers did not return from their first runs. Jacques Villeneuve and Giancarlo Fisichella had overcooked it and spun while Rubens Barrichello had suffered a mechanical problem. There were also troubles down in the Arrows pit where Jos Verstappen's car refused to start and while the spannermen flexed their wrists everyone else ran around signing "Rain, Rain, go away, come again another day".
It worked.
In those frantic opening minutes Heinz-Harald Frentzen, Jacques Villeneuve, Jarno Trulli and Michael Schumacher were all briefly in the number one spot but then David Coulthard put all their efforts into perspective as he sailed round to record a lap time which was 1.4secs faster than that of his McLaren team mate Mika Hakkinen.
The Finn said that he reckoned he had been "a little bit too cautious" because he was worried about going off. Coulthard had no such worries and was delighted with the outcome. "It was a bit of a rush at the start," he admitted, " I was probably able to read the conditions better than everybody else."
The McLaren 1-2 looked to be pretty solid as a sprinkle of rain came along but as it was happening Fisichella in his spare car was out on a desperate mission to make the grid. It probably helped that Fisichella knew that he had very little to lose and so pushed harder than he might have done otherwise. The result was that he popped up to second on the timesheets, and then the rain ended dreams of others doing any better. In fact at the end of the session the track had dried enough to allow Michael Schumacher to sneak a time which was six-hundreths head of Fisichella but he was still a very long way behind Coulthard. Down at the back of the grid there was some excitement as both Barrichello and Heinz-Harald Frentzen just managed to get into the field with their final efforts.
Michael Schumacher's second place was good news for him and came after a difficult Saturday morning when he crashed his own car. This meant that he went into qualifying with the spare car. He said it made little difference but it did mean that he did not have the confidence to push to the absolute limit on his first flying lap.
Barrichello ended up 18th on the grid having used Michael's repaired car after his own stopped with an electronic problem. Rubens was not happy. "This was the worst day of the year for me," he said.
Benetton was happy to have Fisichella third and Alexander Wurz seventh (although the Austrian was nine-tenths of a second slower than the Italian). While it is nice to see the cars going well, there was a large element of luck in Fisichella's position. If he had not spun off he would not have been out on the track at exactly the moment he needed to be there without anyone else to get in his way. But in F1 you must ride the luck when it comes along.
The nature of the qualifying meant that there were quite a few surprises, notably fifth place for Pedro de la Rosa, using the Arrows spare car because of an engine problem in his own at the end of the morning practice session.
"It was not a particularly good lap," Pedro admitted later. "I just took my chances. We were a bit lucky with the rain but we've been very unlucky in the past so that is the way it goes sometimes."
Verstappen was less happy but 11th on the grid was not bad given that he might have failed to qualify if the rains had come a few minutes earlier.
The Jordan team was pretty disappointed with sixth and 17th positions on the grid with the revised EJ10 and the latest Mugen-Honda engine. Trulli was happy enough with fifth given the fact that he had problems on Saturday morning but Frentzen was not pleased. He had been right up there in the early minutes of the session but his best time was taken away because he had gone through a chicane.
"I felt it was a harsh decision by the stewards because I did not overshoot the chicane on a fast lap and so did not gain an advantage from it." So Frentzen ended the session struggling to qualify and had to be satisfied with 17th.
It was a good day (a rare one) for Jaguar Racing with Johnny Herbert qualifying eighth ahead of a newly-blond Eddie Irvine who was 10th.
"We had a bit of help from the man upstairs today," admitted technical director Gary Anderson. "Donations of that kind are gratefully received. It was all about timing really and we decided to go with the main bunch because of the threat of heavy rain. As it turned out we timed it well."
The team had the latest version of the Cosworth engine and the reports about them were generally favorable.
British American Racing had its cars ninth and 12th which was a little bit disappointing given recent good showings but in the circumstances it was quite good as Villeneuve had dropped the ball and if the rain had not come would probably have been in serious trouble. Ricardo Zonta complained that he had encountered traffic on his lap so he did not go as well as he had hoped to do.
Life was not good at Prost but local hero Nick Heidfeld was 13th which was not bad considering that he had lost half the morning with gearbox trouble. Jean Alesi had a miserable time and made a mistake on the all-important first run and was only able to improve in the very last seconds of the session. "I want to forget it very quickly," he said.
It was a bad day for Williams as well with Ralf Schumacher 14th and Jenson Button 16th. Button looked threatening throughout and reckoned he would have gone much quicker if he had not had to lift off when Fisichella spun off. Jenson went out just as the rains came down. After that the cars were a handful as they were set up for the dry.
It was a pretty poor day for Sauber as well with Mika Salo 15th and Pedro Diniz 19th. The team blamed the poor performance on the weather having made it a lottery.
Rain or shine it seems to make little difference to Minardi. The two cars were 21st and 22nd on the grid as they usually are with Gaston Mazzacane ahead of Marc Gene for once. This was because Gene went out on wet tires at the critical moment, hoping that it would rain as everyone was on the warming up laps. If you are in a Minardi it is worth taking the risk to get pole position.
As it turned out he was last on the grid instead because the man upstairs was busy looking after Jaguar...
ON race day the man upstairs must have been looking the other way when the grid set off for the final parade lap because poor Jenson Button was left sitting there as his BMW engine had refused to fire up. He would have to start from the back of the grid.
When the lights went out neither David Coulthard nor Michael Schumacher made a good start. As it has now been decided that a driver is allowed to make one change of direction before the first corner Coulthard moved across the road into Schumacher's path. Schumacher is allowed to do it and so Coulthard no doubt felt that he would be allowed to do the same thing. In the Media Center there were howls of laughter: Schumacher had been given a little of his own medicine.
This was rather frustrating for Michael but he was in no position to complain.
As this was happening on the inside, Mika Hakkinen had gone to the left and was quickly ahead of Fisichella, Schumacher and Coulthard. "I made one of the best starts of my career," Mika explained.
Schumacher was going a little faster than Coulthard and so he moved to the left after Hakkinen had gone by. In doing so he moved across in front of Fisichella who drove straight into the back of the Ferrari. It was curious that he did not lift off. Whatever the case the result was that Fisichella had a fairly big accident and Schumacher ended up out of the race as well.
"It is hard to accept something like this for a second race in a row," Michael said.
Fisichella, not surprisingly, saw things differently. "I was on my line and then suddenly Michael's car was right in front of my front wheel so I went into the back of his car. I think we should really decide in the rules about whether a driver should stick to his line or not because it is just a waste of a race."
The upshot of all this was good news for McLaren and bad news for Ferrari. Hakkinen and Coulthard were running 1-2 and Schumacher was walking back to the pits. The only hope for Ferrari was that Rubens Barrichello might be able to do something from his 18th starting place on the grid. At the end of the first lap Rubens had made up eight places. He then overtook the two BARs, Irvine, Verstappen, Herbert and de la Rosa to run fourth by lap 12. Three laps later he overtook Trulli for third. But the McLarens were 14 seconds ahead and Rubens was coming up to his first pit stop because he had picked a two-stop strategy. On lap 17 he came into the pits and was sent on his way. He rejoined in sixth although this soon became fifth when Frentzen (another two-stopper) came in two laps later.
Ahead were the two McLarens, Trulli's Jordan and de la Rosa's Arrows. Rubens closed quickly on the Spaniard. He would offer little resistance. Trulli was only a few seconds ahead of him but the gap to the McLarens was half a minute. Barrichello could only really hope for third place.
And then a man appeared beside the track at the run down to the Clark Chicane. He carried a sheet with a message about Mercedes-Benz. He wanted everyone to know that he was unhappy with the company. The man had cut his way through a fence beside the track. The problem was that no-one knew whether he was going to do something really stupid. In the end he did, running across the track to avoid the marshals who were trying to stop him.
When faced by such a situation the only thing the race director could do was to either red flag the event and ruin it for everyone or send out a Safety Car until the protester could be apprehended. It later emerged that 15 seconds prior to the start he had tried to run onto the grid but was grabbed by marshals and dragged off. At Magny-Cours he had done something similar but had been grabbed by the FIA Photographers' Delegate 10 laps from the end of the French GP.
The man in question could not have known that his intervention would give Ferrari the chance to win the race. He is probably quite happy that it did but it is doubtful that he would have had the necessary grasp of the strategic situation to have done it deliberately. It is hard to follow races when you are walking through the woods and cutting holes in fences.
The decision to send out the Safety Car was taken after Hakkinen and Coulthard had gone by. The first teams to realize that there was a chance to make up ground were Jordan, Arrows and BAR. So, while the McLarens continued on their way, Trulli, de la Rosa, Villeneuve and the others came into the pits. At the end of the next lap there was a problem because McLaren could not handle both cars at the same time. At the same time Coulthard was a bit confused by what was going on. He had not seen the man beside the track.
"I was due to pit on that lap anyway, but I didn't hear the radio in the Stadium section, and then Mika pitted in front of me. At that point I didn't know the Safety Car was out, so I thought there must have been some confusion over which one of us was coming in. That's why I went past and continued. Then I realized the Safety Car was out. It is just one of those unfortunate days when things didn't work out."
The Safety Car meant that the 30-second lead which Hakkinen had enjoyed disappeared and, although Trulli was between them, Barrichello was within striking distance of Hakkinen. His disadvantage had completely disappeared.
When the Safety Car retired the race resumed. There was trouble soon after the restart when Diniz and Alesi collided, Jean having a big accident at the third chicane. And then, when the race began again, it began to rain almost immediately. There were 10 laps to go. It was raining on one side of the track but not on the other. Pitting for wet weather tires was an option but whether it was the right thing to do was really in the lap of the Gods. Who could say whether it would rain enough in the last 15 minutes of the race. Hakkinen took the gamble, Barrichello did not. For a few laps we had four men on dry tires: Barrichello, Coulthard, Frentzen and Zonta. The others all stopped for wets. Trulli was running second when he went into the pits but the stewards felt that Jarno had overtaken Barrichello under a yellow flag and he received a stop-go penalty which dropped him out of contention.
"He and I were side by side and I was on the racing line," Jarno said later. "I cannot understand this decision. To me there is no clear reason why I received this penalty."
Jordan's hopes of a podium rested with third-placed Frentzen after that but his race ended soon afterwards with an electrical problem. "The Luck of the Irish really does not seem to be with us at the moment," said Eddie Jordan.
For the last few laps everyone was watching the sky. Of the four on dry tires Frentzen disappeared and on lap 38 Zonta spun out. Coulthard also decided that he had gone as far as possible in the situation and so he came in for wets, dropping from second place to fifth. This left Hakkinen 10 seconds behind Barrichello. Their laps times were similar. It was wet enough for the wet tires and dry enough for the dry tires. But would the rain increase?
It was tense stuff but the miles went by and the rains held off and an ecstatic Barrichello finally made it to his first F1 victory. It was a popular one because Rubens has few enemies. Even the McLaren men seemed happy for him. After the checkered flag the rains suddenly increased but it was too late. Barrichello had won his first F1 victory.
Hakkinen was philosophical in defeat. "I might have won the race if I had stayed on slicks," he said with 20-20 hindsight.
The demise of Frentzen left third place to Coulthard and he was happy in the circumstances. The World Championship situation has been transformed.
Fourth place was a remarkable effort from Button. He had started at the back and had made little impression early on. He was late to stop during the first Safety Car interlude, making up time as others sat behind in line. This promoted him a few places. When the rains came he pitted early. It was the right thing to do and he jumped from 10th to eighth. He then overtook de la Rosa and gained places when the Jordans hit trouble and so was soon chasing Salo for fourth. He overtook the Sauber driver with three laps to go. A splendid effort.
The same could not be said for Ralf Schumacher. He made some progress early on but was then run into by Zonta and had to pit for repairs. This dropped him back and a spin followed when the rains came. He finished seventh.
Salo's fifth place was a good result for Sauber. He had a very near miss when Wurz's gearbox failed just as the race was restarting after the first Safety Car intervention but just managed to avoid contact with the Benetton.
Diniz had a less successful time, his race ending when he collided with Alesi on lap 30. "He must have put two wheels on the grass and ran into me," explained Pedro. "Suddenly it started raining wheels."
Alesi saw the incident in a rather different light. "I was overtaking Diniz before the chicane when he suddenly changed his line," said Jean. "It was probably one of the worst accidents of my life." It was the end of another imperfect day for Prost. Heidfeld was running 10th when his alternator failed with just five laps to go.
The final point went to de la Rosa's Arrows. He had been running strongly until the rains came but then made a mistake and went for a wild ride over a gravel trap before heading into the pits. It cost him a few seconds but they were vital ones and he lost a couple of places. It was a good effort nonetheless.
The Arrows team press release was bizarre in that it quoted de la Rosa as saying that he had been in third when he went off. One can only imagine he was talking about the gear ratios because he never got higher than fourth place. Verstappen was running in seventh for half a lap when he fell off. "Seventh means nothing to me," he said.
It was not a great day for BAR. Villeneuve was running eighth at the start and finished eighth. This was largely because of an incident on lap 34 when the two cars collided and Villeneuve spun. "I have to say that I don't have much respect for him as a result," said the team leader.
Zonta said he was sorry. He stayed out on dry tires and so rose to fourth but was then radioed by the team and told that he had been given a 10-second penalty for overtaking under a yellow flag. This was sufficient to cause him to lose concentration and he spun off.
Jaguar Racing had another bad day. Herbert and Irvine emerged at the end of the first lap in fifth and sixth places and slipped backwards from then on. Herbert disappeared with gearbox failure (as usual) after only 12 laps while Irvine lost a lot of time when he pitted just before the Safety Car came out. He then had two spins within a couple of hundred meters when the rains came and after that it was a fairly pointless (if profitable) exercise for Irvine.
Gene had a good run early on in his Minardi but it ended when his engine blew up in fiery fashion after 33 laps. Mazzacane ran around until the flag came out and finished 11th and last.
A marvelously entertaining and bizarre race was over.
POS
NO
DRIVER
ENTRANT
LAPS
TIME/RETIRE
1
4
R.BARRICHELLO
Ferrari
45
1h25m34.418
2
1
M.HAKKINEN
McLaren Mercedes
45
7.452
3
2
D COULTHARD
McLaren Mercedes
45
21.168
4
10
J.BUTTON
Williams BMW
45
22.685
5
17
M.SALO
Sauber Petronas
45
27.112
6
18
P.DE LA ROSA
Arrows Supertec
45
29.079
7
9
R.SCHUMACHER
Williams BMW
45
30.897
8
22
J.VILLENEUVE
BAR Honda
45
47.537
9
6
J.TRULLI
Jordan Mugen-Honda
45
50.901
10
7
E. IRVINE
Jaguar Cosworth
45
1:19.664
11
21
G.MAZZACANE
Minardi Fondmetal
45
1:29.504
12
15
N.HEIDFELD
Prost Peugeot
40
5 Laps
R
5
H.FRENTZEN
Jordan Mugen-Honda
39
Electrical
R
19
J.VERSTAPPEN
Arrows Supertec
39
Spin
R
23
R.ZONTA
BAR Honda
37
Spin
R
20
M.GENE
Minardi Fondmetal
33
Engine
R
12
A.WURZ
Benetton Supertec
31
Spin
R
16
P.DINIZ
Sauber Petronas
29
Accident
R
14
J.ALESI
Prost Peugeot
29
Accident
R
8
J.HERBERT
Jaguar Cosworth
12
Gearbox
R
3
M.SCHUMACHER
Ferrari
0
Accident
R
11
G.FISICHELLA
Benetton Supertec
0
Accident
Fastest Lap:
R.BARRICHELLO
Ferrari
20
1:44.300