French GP 2021
JUNE 21, 2021
Race Analysis - Max is back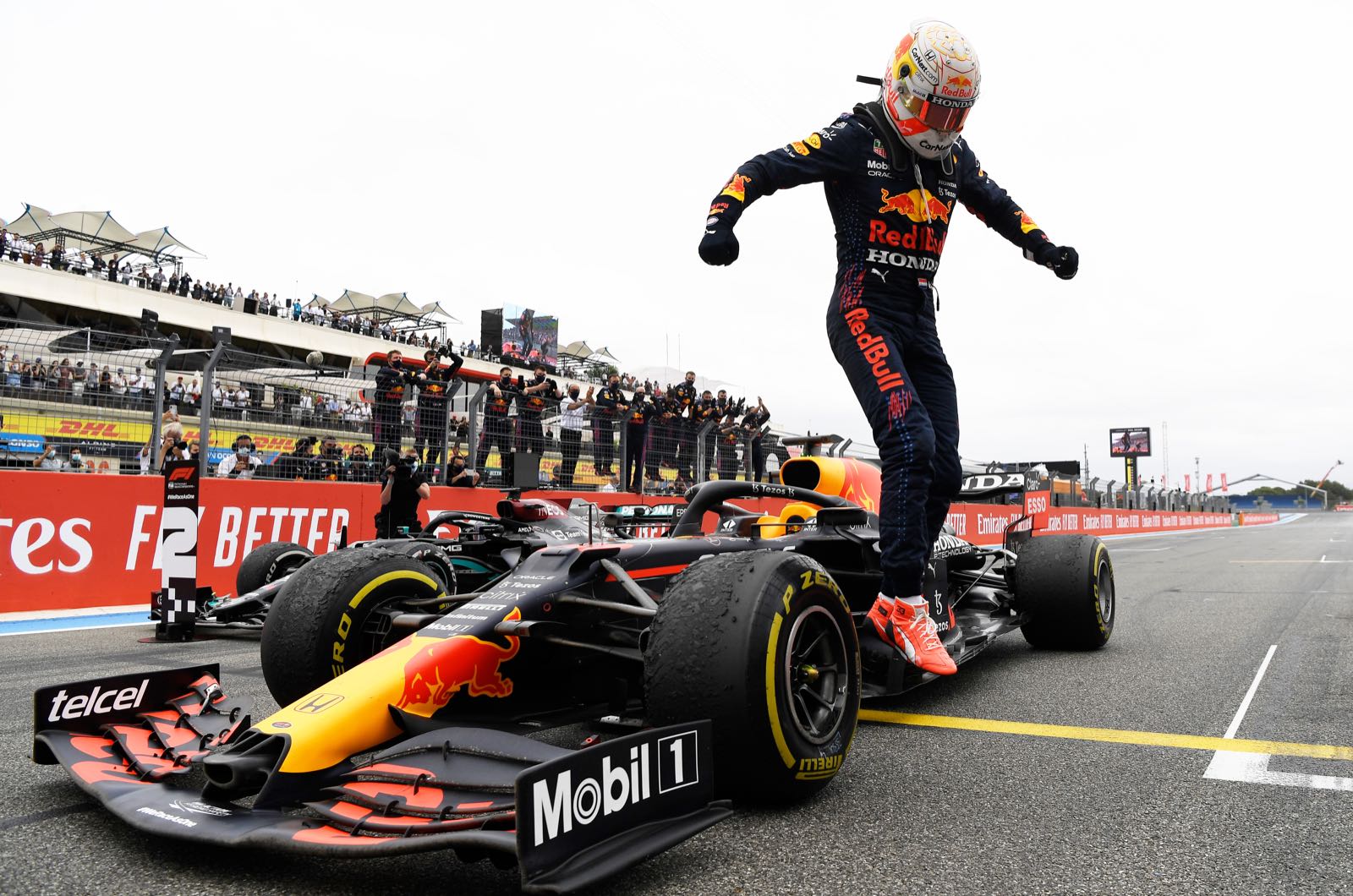 © Red Bull
By Dan Knutson
After crashing out of the lead of the Azerbaijan Grand Prix when a blowout sent Max Verstappen's Red Bull into the wall, Verstappen won the French Grand Prix. This is how his win unfolded.
FIFTH
Verstappen qualified on pole for the fifth time in his F1 career.
THIRD
Mercedes driver Lewis Hamilton qualified second. It was the third time this season the pair had shared the front row.
DOUBLES
The top five on the grid had "double" car numbers. Verstappen (33), Hamilton (44), Valtteri Bottas, Mercedes (77), Sergio Perez, Red Bull (11) and Carlos Sainz, Ferrari (55).
MAX OFF
Verstappen slid off the track at Turn 2 at the start of the 53 lap race. That handed the lead to Hamilton.
"I had my moment in Turn 1, where I honestly really got caught out," Verstappen said. "I turned in thinking it was fine and then suddenly I kept losing the rear. I had to go off track and then I lost the position. Of course I was really upset at the time but you also have to think ahead. It was still a long race and a lot could happen. I just tried to follow."
ORDER
Hamilton had a 1.4 second lead over Verstappen at the end of lap 1. Next came Bottas, Perez, Sainz, Pierre Gasly (AlphaTauri), Charles Leclerc (Ferrari), Fernando Alonso (Alpine) and McLaren teammates Daniel Ricciardo and Fernando Alonso.
TIRES
The soft compound Pirellis tires were not durable enough, so all the drivers were on the medium or hard compound slicks.
PITS
Verstappen pitted at the end of lap 18 to switch from the medium to hard compound tires. Hamilton did the same a lap later.
GOING LONG
Perez didn't pit until the end of lap 24, the going long strategy would pay off at the end of the race.
25
On lap 25 Verstappen had a 0.8 of a second lead over Hamilton who had a 0.5 advantage over Bottas who was 17 seconds ahead of Perez.
SWITCH
Most teams had planned to pit only once. But Verstappen's hard compound tires were fading. He pitted again to switch to the mediums at the end of lap 32.
TWO
Now third, Verstappen, on his new tires, was lapping two seconds a lap faster than Hamilton and Bottas ahead of him.
SECOND
Verstappen took second place from Bottas on lap 44. He was now 5.1 seconds behind leader Hamilton.
FADING
Hamilton's tires were fading.
PAID OFF
Having fresher tires paid off for Perez who took third place from Bottas on lap 49. Hamilton's lead over Verstappen was now 2.5 seconds.
BACK
On lap 52 of 53 Verstappen passed Hamilton and was back in the lead.
"As soon as I was getting close I could see, of course Lewis on the tires he was on, they were really worn and there was not much left on it," Verstappen said. "As soon as I got in the DRS with the top speed and the wing level we chose, let's see it was a fairly easy pass, but of course also having fresher tires. It worked out but it was very tight."
WOUND
So Hamilton wound up second.
"Congrats to Max, he did a great job today," Hamilton said. "They just had better strength all weekend and just considering that we had such a difficult Friday I'm really happy with today's result. Of course we didn't win and we were in the lead but I had no tires left at the end and unfortunately lost the position. But still, it was a good race."
BACK
Azerbaijan Grand Prix winner Perez finished third.
"Back to back podiums is still solid points," he said, "but I just needed probably three more laps to get past Lewis for the 1-2 finish, so we'll keep pushing to get it at our home race in Austria."
FRUSTRATED
Bottas, who finished fourth, was frustrated that the team had not let him pit earlier for another set of tires.
"The last stint wasn't fun at all today, the last 10 laps with the hard tire were terrible," he said. "I had no front tires left."
4 TO 12
Verstappen's lead over Hamilton in the drivers' world championship stretched from 4 to 12 points.