French GP 2021
JUNE 18, 2021
Friday Report - Third to first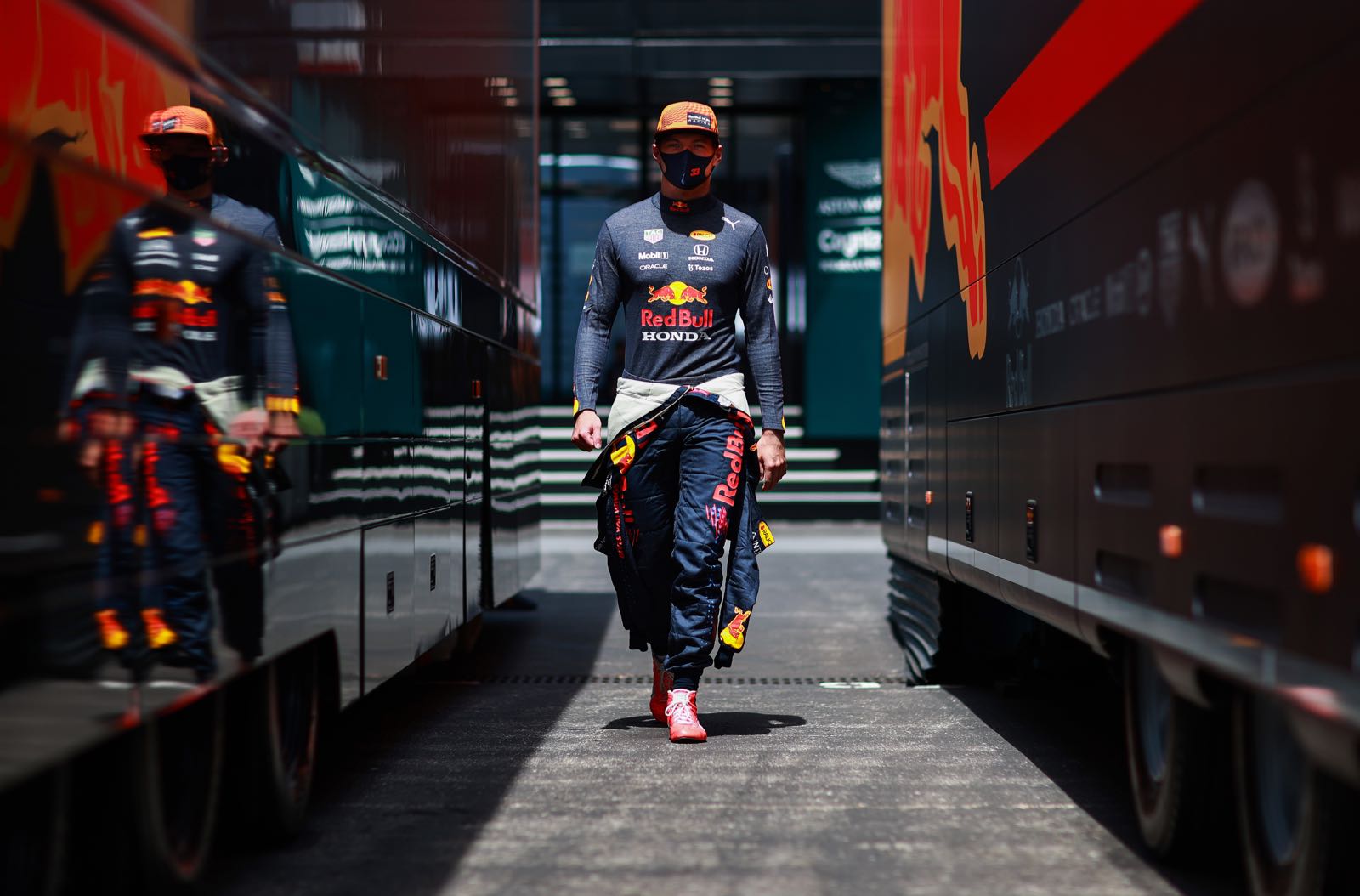 © Red Bull
By Dan Knutson
Red Bull driver Max Verstappen was third fastest in the opening practice session for the French Grand Prix, but he improved to take first place in the second session.
The line-up for the weekend was: Mercedes – Lewis Hamilton and Valtteri Bottas; Red Bull Honda – Max Verstappen and Sergio Perez; McLaren Mercedes – Lando Norris and Daniel Ricciardo; Aston Martin Mercedes – Lance Stroll and Sebastian Vettel; Alpine Renault – Fernando Alonso and Esteban Ocon; Ferrari – Charles Leclerc and Carlos Sainz; AlphaTauri Honda – Yuki Tsunoda and Pierre Gasly; Alfa Romeo Ferrari – Kimi Raikkonen and Antonio Giovinazzi; Haas Ferrari – Nakita Mazepin and Mick Schumacher; Williams Mercedes – George Russell and Nicolas Latifi.
Bottas topped FP1 (1:33.448) ahead of Hamilton, Verstappen, Perez, Ocon and Ricciardo.
Raikkonen and Russell were the first out in FP2 on the15-turn 3.360-mile (5.842 km) Le Castellet circuit aka Paul Ricard.
The ambient temperature at the start of the 60-minute FP2 session was 82 degrees Fahrenheit (28 degrees Centigrade) and the track temperature was 117 degrees Fahrenheit (47 degrees Centigrade).
Williams test driver Roy Nissany drove Russell's car in FP1. So Russell was anxious to get in some flying laps.
Bottas on the medium compound Pirelli slicks jumped in front with a 1:32.880. Just as in FP1, the order was Bottas, Hamilton, Verstappen, Perez and Ocon. All 20 drivers were circulating, most of them on the mediums in the early going.
Mazepin had a quick spin in the final turn.
After 15 minutes the order remained the same, with Norris, Alonso, Raikkonen, Gasly and Vettel rounded out the top 10. First turns over, most drivers were in the pits.
Bottas, now on the soft slicks, headed back out and clocked a 1:33.218 – slower than he had been on the mediums. Perez tried the softs and, like Bottas, found they did not stick for the whole lap. Ocon however got up to third.
Hamilton's soft run yielded a 1:33.125, so he improved but stayed second to his teammate. But now Alonso had displaced teammate Ocon in third.
Verstappen, seventh, did a run on the softs and jumped to first with a 1:32.872. So Bottas was now second, followed by Hamilton, Alonso, Ocon, Gasly, Sainz, Raikkonen, Norris and Perez.
But there were still a few fast runs left, including Leclerc who slotted into fifth.
Now it was time for the race simulations, and so the top 10 at the end of FP2 were: Verstappen, Bottas, Hamilton, Alonso, Leclerc, Ocon, Gasly, Sainz, Raikkonen and Norris.