European GP 2011
JUNE 27, 2011
Race Report - Alonso splits the Red Bulls in Valencia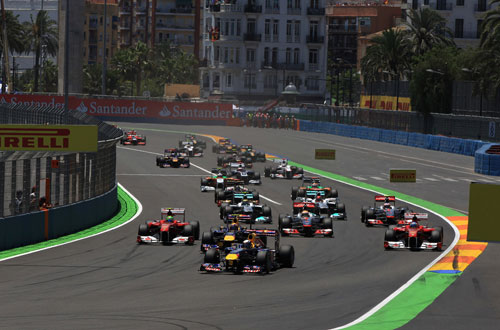 © WRI2, All Rights Reserved
BY TONY DODGINS
It didn't matter that they had to run the same engine maps in qualifying and race. It didn't matter that Valencia, traditionally, has been one of Red Bull's weaker circuits. Nothing could stop Sebastian Vettel taking his sixth win in eight 2008 races, moving 77 points clear at the head of the world championship table. He could go on sabbatical until Spa in a couple of months and still lead the championship on his return...
Valencia may not have had the drama of Monte Carlo or Montreal, but Vettel's delight was the result of a race that was tougher to win than it appeared. The world champion, Fernando Alonso and Mark Webber were hard on it from beginning to end. Vettel had just a little too much for his pursuers and got to the line 10.8s clear of Alonso's Ferrari.
"We have made huge steps forward in slower corners but Valencia's still not our ideal track," Vettel said. "It was not easy to pull way and it was a bit of an unknown how long the stints were going to be. It helps having a bit of a cushion, so we always came in a lap later and they were closer behind when I came out, so I had to build up the gap again. But it was a faultless race and I enjoyed it a lot."
In the three races leading up to Valencia, McLaren had strong enough race pace to worry Red Bull but, in Spain, it was home hero Alonso who took the fight to the constructors champions.
"I didn't get the best start," Alonso said, "but then everyone seemed to brake quite early at the first corner."
In fact, he was beaten away by team mate Massa but then Felipe had a look down the inside of Webber's Red Bull into the first turn and compromised himself. Hamilton was also uncharacteristically circumspect at Turn 1 and Alonso was able to go deep into the corner on the outside and emerge third, behind the Red Bulls. Massa ran fourth, from Hamilton, Rosberg and Button. On lap 6 Button pulled a good move on Rosberg into Turn 2 to promote himself to fifth.
With the first pit stop window nearing, Vettel had 3s on team mate Webber, who had Alonso in his wheeltracks, then a 3.5s gap to Massa, with Hamilton 1.5s further back and then an 8s gap to the delayed Button.
McLaren went aggressive on strategy and called Hamilton in after 12 laps which, Martin Whitmarsh said, was a good call as it got him ahead of Massa. Red Bull responded with Webber next time around, with Vettel and Alonso answering that a lap later.
The order at the front remained the same but Alonso now looked more threatening and got the Ferrari within DRS range of Webber, passing the Red Bull on the brakes into T12 on lap 21 of the 57.
With the second round of stops approaching, it was still tight at the front. Vettel led Alonso by 3.2s, with Webber a further 1.7s back. Mark was the first into the pit lane, on lap 28. Alonso responded next lap but it was not enough to defend his second place. Vettel came a lap later and once back up to speed the trio was covered by just 3.1s.
The pre-race strategy was always going to be about doing the last stint on the harder Pirelli Medium (prime). The question was, what would the warm-up and early lap performance of the prime be like versus a used option?
Webber was the first to pit, with 15 laps to go. The situation then, was that Vettel had a 4s margin over Webber with Alonso 1.5s behind the second Red Bull. Normally, going onto fresh tyres you gain by stopping first. But, not necessarily when you are going from the option onto the prime. Webber's lap times looked consistent enough but he felt that his last set of options were on their way out.
"I'm a bit disappointed," he later admitted. "At the end I probably pitted a bit too early. The big question mark was how the prime was going to perform in the first eight sectors of its life. And it turned out it was a marginal against a used option. I also got a bit of traffic, Vitaly (Petrov) and Rubens (Barrichello) I think, but that didn't cost me so much. In the end it was my call, so no fault of the team at all."
This time, neither Alonso nor Vettel responded, both still setting competitive lap times on tused options. When the Ferrari did stop, three laps later, it emerged still second. The team had experienced trouble switching on the prime tyre earlier in the weekend, to the extent that Massa had actually used a set of options to escape Q1. Now it was a question of whether Alonso could fend off Webber while he did so. Fernando was pleasantly surprised. The warm-up was not bad and he managed it without much problem. Any threat from Webber in the DRS zone during the closing stages was negated when the Red Bull's gearbox started to play up and Webber had to back off.
Vettel stopped for the last time two laps after Alonso, with 10 to go, and comfortably maintained his lead.
"When Mark changed onto the harder tyre I saw him going into the pits, exit of the last corner, and was asking by radio what his pace was as we all didn't really know how quick the tyre warm-up would be," Vettel explained. "We realised he wasn't able to do the usual step you see on new tyres so we decided to stay out and came in last. If you have the luxury of a bit of a cushion you can wait one or two laps, so in the end we had very good strategy and a race without mistakes."
Webber also had the luxury of being able to back off when he had gearbox gremlins because the McLaren was not a competitive proposition in Valencia. Lewis Hamilton got his to the line fourth, but 46s behind Vettel after struggling with an oversteering car for most of the race. Button had similar afflictions, the pair split by Massa's Ferrari.
"We were struggling all weekend," McLaren's Martin Whitmarsh confirmed, "probably with tyre temperature. That was hurting us. And also we don't have the strongest DRS and there were two long zones here, so it was a hard weekend for us. On top of that Jenson drove a good race when you consider that half of it was without KERS. That costs around half a second a lap, so there was 14s or so there, but it also puts more heat into the rear tyres because you are using the brakes more, so I suspect it cost Jenson more half a second a lap."
Mercedes was also struggling for pace, with Nico Rosberg achieving just about all he could to take the points for seventh, while Schumacher's race was compromised by contact with Vitaly Petrov coming out of the pits after his first stop, which required a slow lap then another pit visit for a replacement nose.
Jaime Alguersuari made use of a two-stop strategy to take eighth place and points for Toro Rosso in the second successive race, with Adrian Sutil and Nick Heidfeld taking the final points for Force India and Toro Rosso respectively.
For the first time this season there was no Sauber in the top 10. Sergio Perez completed his comeback race in 11th place, having started on the prime tyre and run a one-stop race that proved difficult.
All three podium finishers took away strong positives. Vettel produced another faultless display, Alonso finally took a trophy away from Valencia - he now needs just India and Abu Dhabi to complete his personal set - and Webber enjoyed his strongest display of the year in a race that was run at a flat-out pace.
For the statisticians, Valencia was only the fourth GP in history with no retirements, after Zandvoort '61 and Indianapolis and Monza races of 2005.