European GP 2010
JUNE 26, 2010
Qualifying Report - Red Bull hits back to claim front row in Valencia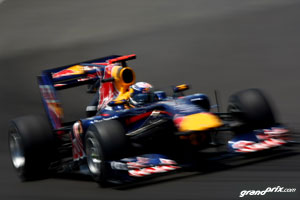 © Grandprix.com, Photo: Andrew Hone
Red Bull Racing underlined its qualifying speed when it locked out the front row of the grid for the European Grand Prix at Valencia, with Sebastian Vettel (1:37.587) just pipping Mark Webber (1:37.662) to pole position.
"In the last couple of races I didn't have a very smooth run in but these types of circuits shouldn't be our strongest and it's good that we can put the car on pole and our pace is looking good," Vettel said. "On my first run I had a huge moment in the first sector and knew I had to put everything into the second run.
"It's been tough here because we introduced the F-duct and other things and the mechanics only had an hour or two sleep. We can feel the difference, you can see how much you gain against McLaren, who are using the system to the optimum. I think we made a step overnight and I think today the F-duct worked much better."
Webber admitted that Valencia has not been a favourite or successful venue for him but seemed happy enough to have kept up his record of never qualifying outside the top two since Bahrain.
"It would be nice if it could be the other way round but the 1-2 is a credit to the team," the Aussie said. Coming here, people were saying Red Bull this and Red Bull that, so it's great to show our speed. When you look at the eyes of the guys in the garage you can see how hard they've been working and without them we wouldn't be here, simple as that. People might say we're always going on about it, but it's true. As for missing the pole, I'm not going to roll out a shopping list of excursuses, I just wasn't good enough."
The first lap could well be interesting between the Red Bull pair, given events in Turkey recently, with Webber confirming he will go for it if the opportunity arises. "Fighting for position is what racing drivers do," Vettel added, "It's in the job description but we're looking forward with not a lot of interest in the history. There's a good escape road at Turn 2 but you're not too keen to use it..."
Both Red Bull drivers will race the F-duct for the first time, helping straightline speed, and the RB6 was three tenths clear of its closest challenger, Lewis Hamilton's McLaren Mercedes (1:37.969). Webber confirmed that the team had been tweaking the system throughout, with different specs tried on the cars in the final free practice session, but neither Red Bull driver was able to quantify exactly how much of a step it is, other than to say that McLaren's system, having had the car designed around it, will always be superior.
Hamilton, meanwhile, admitted to being delighted with third place on the grid, from where he hoped to be able to launch a race that is much more than merely damage limitation, as had been suggested would be McLaren's main aim from Valencia.
"I'm really happy, so fortunate," the '08 champion admitted. "We knew that other people had updates and we were quite a long way behind in practice and I didn't think we were going to be so far up. On my last run I was 0.15s up in the first sector but then locked up the rears in Turn 12 and was surprised and really happy to come in and find I was third.
"It's going to be an interesting race, how we manage the tyres and how they behave, and I think anything's possible. The pit stops will be crucial and obviously the first few laps for track position. We will be pushing as hard as possible to win it."
The rest of the top 10 was covered by less than half a second. Ferrari, hopeful of so much from its new update package, had to put up with fourth and fifth fastest times from home hero Fernando Alonso (1:38.076) and 2008 Valencia winner Felipe Massa (1:38.127).
Robert Kubica (1:38.137) could not quite match his Q2 time in the decisive top 10 shoot-out and put his Renault sixth on the grid. Jenson Button, who has admitted that he has some qualifying speed to find to match team mate Hamilton, was a quarter of a second away from the man who has won the last two grands prix but in Valencia that meant the difference between third and seventh.
The Williams drivers, amazingly, recorded identical qualifying times to the last thousandth of a second, 1:38.428, to place Nico Hulkenberg and Rubens Barrichello eighth and ninth on the grid, their best combined qualifying performance other than the mixed conditions session in Malaysia. Vitaly Petrov (1:38.523) again did an admirable job to put the second Renault in the top 10, just 0.4s down on Kubica.