Emilio Romagna GP 2022
APRIL 23, 2022
Saturday Team Quotes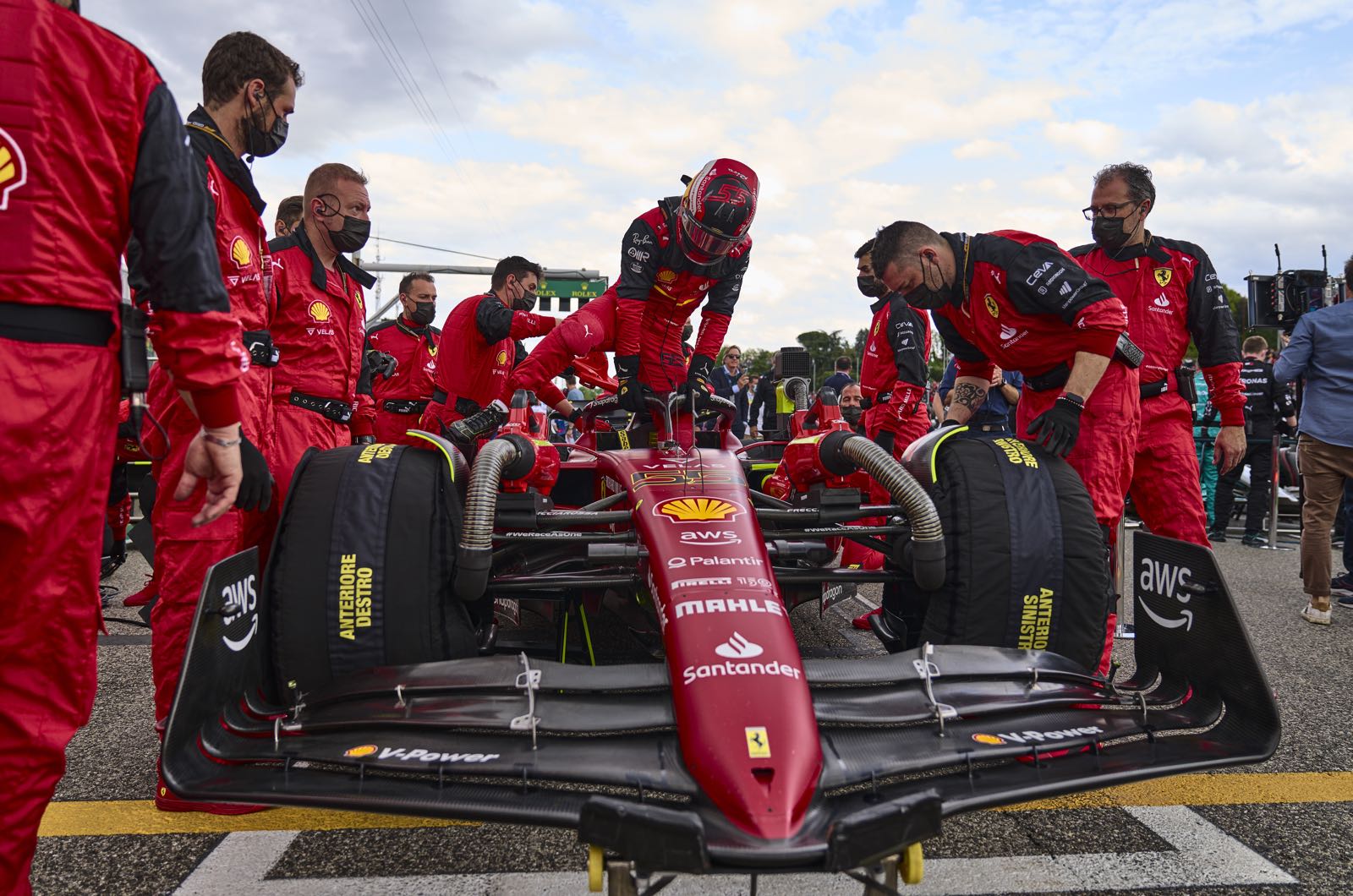 © Ferrari
Mercedes-AMG Petronas F1 Team
George Russell (11th): "It wasn't very enjoyable for us today and it was difficult to overtake, we had some good pace but not the speed in a straight line to really make progress. The sprint races are very short and there isn't time for the tyres to start degrading, creating differences between drivers and cars, opening up opportunities. We didn't make strong starts today which is unlike us, we've made solid starts recently. Strategy is going to be key tomorrow, we'll have to do something different to our competition, that will give us opportunities to fight and move up the grid. It's been a difficult weekend so far for us, tyre warm-up has been difficult, we need to get on top of things and capitalise on what is possible tomorrow."
Lewis Hamilton (14th): "Today is what it is - a lot of work is going on in the background but ultimately, we haven't got it right yet this year and everyone is working as hard as they can to correct it. The team have been through many, many tough years. Most of the people that I'm working with have been with this team for more than 20 years, so they've been through it. It wasn't the greatest of years in 2013 but we've had great years since then. We stick together, we try to motivate everyone. This is the situation that we are faced with and everyone's got their heads down, working. We are fighting to understand the car and improve and progress through the year. That is all we can hope for right now."
Toto Wolff, Team Principal: "What we saw today was a car without enough of a performance differential to the midfield cars to make the overtakes. If we were running in free air, the picture would be similar to previous races where we moved forward but behind the cars in a DRS train, the car didn't have enough performance to make progress. Point-scoring needs to be the minimum for tomorrow and we know that isn't any where near our expectations, so it's a humbling experience. We understand our problems, we have a direction to unlock the potential that is within the car to bring us much closer to the front but at the moment, we don't have the key. Therefore you just need to grind away and rely on the science and the physics. The passion and determination to improve is there in every team member."
Andrew Shovlin: "We were hoping to move forward this afternoon but we've ended up back where we started with George and slipping back one place with Lewis. The starts were OK, the drivers both lacked a bit of grip on the first lap to attack but also got boxed in position with cars around them and the outside line through turn 2 to 4 was moving quicker. For the remainder of the race, both drivers were affected by being in a DRS train and just couldn't gain on the cars ahead. We're going to have to prepare ourselves for a tough afternoon tomorrow. The longer race should allow the cars to spread out more which will help but we've got a lot of ground to make up if we want to get into a good points-scoring position."
Oracle Red Bull Racing
Max Verstappen (1st): "We did well as a team and it is of course a positive day for us. I didn't have the best start so we need to investigate what happened there but after that we had good race pace. Initially for the first 10 laps or so it seemed like the gap to Charles wasn't really growing but then I think at one point the tyre degradation started to kick in a bit more and I could close the gap and I got ahead. Tomorrow is a new day and there are no guarantees, I still expect it to be very close and I the battle tomorrow will be difficult. We are very focused on what is ahead and we hope to do a good job tomorrow."
Sergio Perez (3rd): "I am happy with the result of the sprint and looking forward to tomorrow starting from P3. We managed to minimise the damage from quali so I am happy with that, it was a nice save and it was all we needed for today, anything more would have been a bonus. I got a really strong start and after that I was just progressing through the field, it got a bit messy with Daniel when we touched, but overall it was a nice sprint for me and we got some good overtaking done. I think there is some fine tuning we can do for tomorrow and hopefully we are able to do it to be in the mix for the win, which is the target. We certainly have good pace and I am looking to produce another solid weekend for the Team, hopefully we can come out on top against the Ferraris. We have seen in Melbourne and we have seen here already that it can change fairly quickly so either team can turn things around and we certainly expect the Ferraris to be strong. I got really close to Charles today near the end but it was just a sprint so let's what we can do over race distance."
Christian Horner, Sporting Director: "It was a great performance today by both drivers. All credit to Max, he kept his head, stayed patient and kept his position on the tail of Charles, we could see the Ferrari's front tyre was starting to go, and when his opportunity to take back the lead came, he took it. Checo drove well today and made great progress up the grid to take some valuable points and put himself in a better starting place on the grid for tomorrow's race. Max didn't have the best start, but we've got the data from today, so we'll need to make sure we don't make the same mistakes tomorrow. But the good thing is we've now got two cars up at the front of the grid and we'll hope to capitalise on that."
Scuderia Ferrari
Charles Leclerc (2nd): "The Sprint taught us some valuable lessons ahead of tomorrow's race. My start was really strong, and then I got out of Max's DRS zone by creating a gap and was confident until we started to have some graining in the closing laps. We may have paid the price for pushing too hard at the start, so that's something we have to work on tonight. If we manage to cure that, it will be a good fight tomorrow."
Carlos Sainz (4th): "Today was a good day and I'm fairly happy with the comeback. The start went well and then I was able to pick up places one at a time, with strong pace and good tyre management all the way. It was a solid Sprint race but most importantly, we are back in a good position for tomorrow. After a difficult day yesterday, I want to thank all the tifosi for their support. It's such a positive boost. The weekend is still not over and I will give everything tomorrow to deliver a good result."
Laurent Mekies, Sporting Director: "It was a particularly busy Sprint from our point of view and the most important aspect of it was to have got Carlos back onto the second row, after he did a good job of moving up the order from tenth. Charles got a perfect start and was running at a very strong pace in the opening laps, although not quite enough to distance the Red Bulls. That's why, in the closing stages, when he had a bit more tyre graining than Verstappen, he was unable to fend him off. Carlos was very adept at executing the race to the letter, in the way we had planned. He got off the line well and then he waited patiently in the opening laps before picking off all the cars ahead of him that were realistic targets. Having him on the second row is important for the whole team because it puts us on equal terms with our closest rivals in what I expect to be a very tactical race. We will see some cars running quicker at the start of the stints and others that will be stronger towards the end. We have to take all these factors into consideration and work out the best possible strategy. The race looks to be open and we want to give it our all to repay the many fans who have come to the Grand Prix to thank them for their support, not just this weekend, but especially when things were not going that well for us."
McLaren F1 Team
Lando Norris (5th): "A tough Sprint! I just didn't have the pace to keep up with the guys in front, but we got the best result we could today and a few points, so I'm happy. We've got a good position for the race tomorrow, we can fight for some more points from P5. There's a few things to try to work on and figure out tonight, apart from that, I'm happy."
Daniel Ricciardo (6th): "I didn't really know what to expect for the Sprint because we haven't really had dry running this weekend. With the issue in practice this morning, it was really just a 'go out and see what we got' situation. I felt like I had a good start, so I was looking ahead. I got Fernando [Alonso] early and was looking to get Kevin [Magnussen]. But by the time we got to the braking zone I ended up sandwiched between Kevin and Sergio [Perez] going into the braking zone and made we made contact. Luckily there was no damage. I tried to settle into a rhythm, and I think we struggled a bit towards the end with the tyres but other than that it was pretty good and we scored some points. I think we had a bit more to show, but I'm looking forward to tomorrow. It should be good."
Andreas Seidl, Team Principal: "A very good result today, with both cars in the points but also good starting positions for tomorrow's Emilia Romagna Grand Prix. P5 for Lando and P6 for Daniel was the best that we could do today. It is a good recovery after a difficult start to the day, with Daniel not able to run in FP2 after the team found an issue on the car, and Lando missing most of the session with a brake system issue. My thanks to the whole team here at the track, supported by the factory, and our colleagues at Mercedes HPP for the hard work today. We have another evening of hard work ahead, as we prepare to do it all over again in what we expect to be an exciting race."
BWT Alpine F1 Team
Fernando Alonso (9th): "We weren't fast enough today, so it was a disappointing Sprint Qualifying for us. There was a lot of tyre degradation and our start was far from ideal, so we need to look into that tonight. We knew that it was going to be tough to keep Perez and Sainz behind with the pace they have, so we thought seventh was possibly a realistic position today. But, with the tyre graining, it was made harder to achieve this. We have tomorrow to recover and today is almost like a Q4! We will review our tyre selection and will see what the weather is going to do tomorrow, because it looks like there is a chance of rain. There's definitely more to play for."
Esteban Ocon (16th): "It was a tricky race overall today and it was always going to be a challenge for us to gain places. To finish in sixteenth was probably the best we could have achieved. I had a decent start, avoided the incidents and from there it was a train with the cars ahead. It was difficult to progress, but tomorrow, I'm confident we can do more. Scoring points is very much our target. We gained a good understanding on the tyres today, which will help with our strategy. There could be some rain too, and, as we know in Formula 1, anything can happen."
Otmar Szafnauer, Chief Operating Officer: "It was a disappointing Sprint Qualifying for the team today, which leaves us with some work to do for tomorrow's main race. Unfortunately, Fernando's race was compromised from the start when a poor launch meant he was always on the backfoot and in defensive rather than offensive mode. From there, he wasn't able to progress any further and we have to identify some of the areas that will make our car more competitive in race trim. On Esteban's side, he was able to benefit from the early incident to cars ahead to gain some positions, which means he's slightly better placed on the grid for tomorrow's race. Tomorrow, with half an eye on the sky, and some unpredictability in the forecast, will be a challenge and we'll give it our best to have both cars in the points at the end of the main race."
Scuderia AlphaTauri
Yuki Tsunoda (12th): "I'm happy with how today went; I had a good start and gained a few positions there, which I think was the turning point for my race because the start really is key here in Imola. After that, the car seemed good, I liked the set-up and how the car behaved so was able to trust it and gain another position. The pace was better today but it's still not that strong, compared to the cars around us, so there's still some performance to find with this package. Obviously, we've still got some work to do to get into the points tomorrow, but we'll work hard tonight to get ourselves into a good position and we'll see how the race goes."
Pierre Gasly (17th): "This weekend is not going the way we wanted. Zhou didn't give me much space, it's not a great place to be side-by-side, and unfortunately there was contact, but that's just the way it is sometimes. After that, the car suffered some damage and it wasn't easy. If it could rain tomorrow, that would be great for us, as I think with our current performance we will struggle a bit, the straight-line speed just isn't there this weekend. We'll really look at the strategy tonight and try everything we can tomorrow to move forward."
Jody Egginton, Technical Director: "The balance of both cars on both the soft and medium compound was fairly good in FP2, so in terms of preparation for the race we had covered as much ground as possible and had a good read on the tyres. The other variable going into the race was the weather, with some forecasts suggesting a risk of rain for the race start. This did not manifest itself, so the tyre call was straight forward, with the Softs being the preferred option for ourselves and the majority of the other runners. In terms of our performance in the Sprint, the grid positions we had with both cars following a suboptimal Qualifying meant the race was always going to be harder than it should have been. However, Yuki made good progress to finish 12th, battling the Mercedes pretty much the entire race. His progress was of course positive, but it also leaves us wondering what would have been possible, had we achieved the Qualifying positions we were capable of. Pierre has had a tougher race, having contact with the Alfa Romeo on the first lap, meaning he had to stop for tyres and a front wing change. This dropped him to the back of the field and forced him to try and fight back through the field. Although Pierre passed both Williams, and showed a good pace, he ran out of laps to make further progress finishing in a train of cars. Our focus now shifts to tomorrow's race, where we need to ensure the tyre learning from today is well applied in order to get both cars moving further up the field again. It won't be easy, but the pace shown today is positive and the target of getting into the points is clear."
Aston Martin Aramco Cognizant F1 Team
Sebastian Vettel (13th): "It was a shame that we were not able to hold onto a top 10 position, but I think the Safety Car did not help us and we struggled with some graining on the Soft tyres late on. I managed to defend strongly in the first few laps, which created a train of cars behind me. Mick [Schumacher] had the advantage of being on the Medium tyres and, once he got past, I lost a few positions quite quickly. I just did not have the pace to hold on. The Sprint always allows you to learn a lot about the car and what to expect in the main Sunday race. One thing we saw today is that the Soft tyre will not be the preferred compound tomorrow."
Lance Stroll (15th): "We did everything we could today, but we just did not have the pace to make up significant ground. I enjoyed battling with Lewis [Hamilton] – he kept me on my toes! I have enjoyed having the Sprint format return because it is a great challenge to have just one practice session before qualifying on Friday and then racing on Saturday. It helps spice things up a bit. Now, though, we will go away and look at the data to see where we can improve for tomorrow. There is a chance of mixed weather conditions, so, hopefully, we will get a bit of rain and the race will come to us."
Mike Krack, Chief Operating Officer: "With our current performance we knew going into today's Sprint that it was going to be difficult for Sebastian to stay in his starting position. And, given the strength of DRS around this track, he was then powerless to resist the attacks from behind. He fell back a couple of places and will start tomorrow's Grand Prix from 13th. Lance was unlucky in qualifying yesterday and got stuck in a long train which meant he was unable to make progress. As a result, he finished where he started – in 15th. This was an eventful first Sprint of the season, with plenty of racing up and down the whole field, and there is still plenty to play for in tomorrow's Grand Prix."
Williams Racing
Alexander Albon (18th): "It was a tough day. We didn't quite have the pace of the other cars around us so I was having to push harder, which then destroys the tyres. It's a bit of a vicious cycle. We seem to be struggling slightly more on the softer tyres, so we need to keep working on that. We've made up a couple of places for the race, so tonight we'll focus on what we can do in the race and keep pushing."
Nicholas Latifi (19th): "It was a tricky afternoon for us. It was good to get the first F1 Sprint event of the year under our belts but we seemed to struggle. We tried something different to most of the field but we have to see what we can do to improve our race management and our overall pace for tomorrow. It's a longer race so there could be opportunities and hopefully we can have a better end to our weekend."
Dave Robson, Senior Race Engineer: "It was good to see the car in the dry conditions and we were reasonably pleased with what we found in FP2. In the Sprint we expected degradation on the Soft tyre but felt that overall, it offered the best opportunity for Alex to progress. With most other drivers opting for the same choice, there was less opportunity than we had hoped for, but he was still able to improve his starting position for tomorrow. Nicholas chose the Medium compound hoping to gain on people towards the end of the race, but he too suffered with some degradation, which denied him this opportunity. The forecast for tomorrow looks mixed and with the Grand Prix offering more strategic options than the Sprint, there is still a lot to unfold in Imola."
Alfa Romeo F1 Team ORLEN
Valtteri Bottas (7th): "First of all, I want to thank the team who did a great job putting the car back together: there were so many things they had to change but they were brilliant and thankfully everything worked perfectly. I always trust the crew to get the car right, but they had a big task ahead of them and they delivered. Once we got racing, it was a fun afternoon with a lot of battling and some nice overtaking. I had a good, close fight with Fernando [Alonso] which was enjoyable, but overall it was an exciting Sprint for me. I had a bit of wheelspin at the start and I lost a few places, but after that my performance was strong. The car felt really good in terms of balance and we had good pace, so we should be in a strong position for tomorrow as well."
Guanyu Zhou (20th): "It's obviously disappointing to end a race like this, especially because we have a good car that allows us to be competitive. I was in a hard but fair fight with Pierre [Gasly] and Lewis [Hamilton] throughout the whole of sector one and the beginning of sector two, I made a move on Pierre in turn nine and I was ahead going into the braking zone. I got a big hit on the exit, and that spun me into the wall: it was a big surprise but that was the end of it. It's a shame as we had a good opportunity to gain some places, the car has quite a bit of damage and it's going to be a lot of work for the mechanics, unfortunately. Now we need to focus on making a comeback tomorrow: we still have a good car and you never know what can happen. The team is working in the right way, our upgrades work and we saw today that overtaking is possible. We will do our best – we made it into the points from last at turn one in Melbourne and we'll try to do it again this time."
Frédéric Vasseur, Team Principal: "It's always a bittersweet feeling when you have a strong result with a car but the other fails to finish, but in a sense we can take it as, effectively, it's just qualifying today. Valtteri delivered a really determined performance, putting in some good overtakes and bringing home two points, and the fact he was racing at all is to the credit of the crew, who did an incredible job to rebuild his car from scratch after yesterday's technical issues. Unfortunately, Zhou was caught in a first lap collision that ended his race: we need to assess the damage ahead of tomorrow but he has the means to make up ground. The main takeaway from today is that our car looks really strong in race trim and we can aim to have a good result tomorrow."
Haas F1 Team
Kevin Magnussen (8th): "We were super surprised to see everyone on softs, that's not what we wanted to see, but we judged that the softs would degrade too quickly so we went for the mediums. Everyone just seemed to pass me at the beginning of the race and then it kind of reset so we were on the same pace, at least with Ricciardo and Alonso. It's nice to get a point today and P8 – we would normally be happy with P8 in qualifying – so let's look at the positives. We're starting in the top 10 tomorrow for the main race and hopefully we'll be able to score some more points."
Mick Schumacher (10th): "I think for us, we definitely chose the right tire. We had some good battles but unfortunately still not quite in the points, so hopefully for tomorrow we will be in a position to do that. Obviously fighting with a lot of cars around us, one of them being Seb (Vettel) which was a great fight, was good fun. We'll have to wait to see how it is with higher fuel but everything we've learned from this morning was promising."
Guenther Steiner, Team Principal: "Maybe we expected a little bit of a better result, but it seemed that Kevin wasn't really happy with the balance. On the other side, Mick did a good job and gained two positions for tomorrow's starting grid. All in all, we scored a point which is a positive and Mick is up two positions for tomorrow. We need to find a slightly better balance of the car and then try to get some points as well tomorrow."