Emilio Romagna GP 2022
APRIL 22, 2022
Friday Team Quotes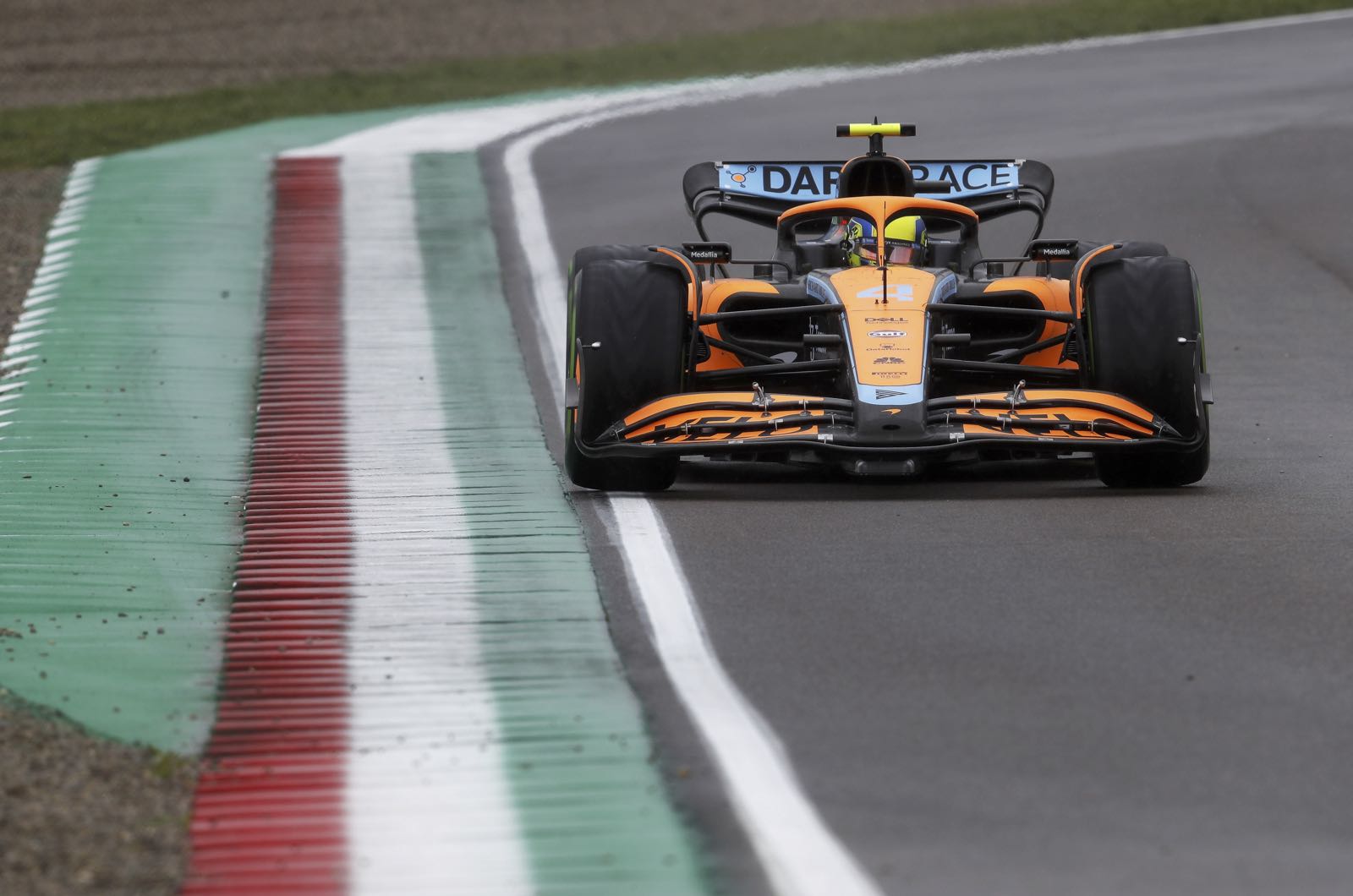 © Mclaren
Mercedes-AMG Petronas F1 Team
George Russell (11th, 1:20.757): "We've struggled to get the temperature in the tyre in the first few races, we're always seemingly taking a bigger jump on the second lap. We saw that in Australia when we compare to the Alpines and the McLarens; they were a first lap qualifier, and we were on the third or fifth lap doing a fast consecutive sequence. It was a bit of a shame with how the red flags panned out today but if there is a weekend to not be where we want to be, a sprint weekend is the one to do it. Not ideal, but we've got the chance to make up positions tomorrow. The Sprint Race will be interesting with these new cars as we can follow a bit closer, but I don't think there's enough laps with enough degradation for us to use our advantage there compared to our current rivals. We've got the Sunday race as well and we can only go up."
Lewis Hamilton (13th, 1:21.138): "Today wasn't a great session and naturally it's disappointing. We came here with optimism, everyone is working so hard at the factory but things just didn't come together. I think we underperformed as a team today. We'll work as hard as we can to move up in the Sprint Race. It's going to be a difficult race but who knows? Maybe we can move our way forwards. Each weekend is a rescue at the moment."
Andrew Shovlin: "A difficult couple of sessions today; we have a car that doesn't generate tyre temperature sufficiently well and that has cost us today. We were moving towards a schedule of longer runs but with the red flags we couldn't get the laps that we needed and once the rain came, we were left in 11th and 13th with no chance to improve. This is not a great track for overtaking so we expect the rest of the weekend to be a challenge but we have shown that our race pace is better than our single lap and with both the sprint and the main race we have longer than normal to try and recover."
Oracle Red Bull Racing
Max Verstappen (1st, 1:27.999): "It was good out there today but also very easy to make mistakes, so luckily we mainly stayed out of trouble. We started on the slicks initially and then it started raining again, making the right call on how you wanted to prep your laps was key today and ultimately we chose the right one, so I'm of course very pleased with that. When I saw the yellow flags for Valterri I immediately lifted so there won't be any trouble there, it does cost you lap time but luckily the lap was still good enough for pole. Tomorrow looks to be dry and we haven't really driven these new cars a lot in the dry here so hopefully in FP2 we can understand the car a bit more in different conditions."
Sergio Perez (7th, 1:29.808): "Overall it's a disappointing day but we need to remember it's just the start of the weekend. It just didn't seem to work out for me today, we got a few things wrong. It was important to get the temperature on the tyres and we couldn't seem to get the right out lap, we were just warming up the tyres and then we had another red flag. I am pleased with the pace of the car though, I am looking forward to tomorrow, hopefully we are able to progress through the field during the sprint and get a good start position for the race on Sunday."
Christian Horner, Sporting Director: "Max did a super job today, it was an unusual qualifying and the one lap that turned out to count was thankfully the lap we banked and there was just too much rain for anyone to respond. It was a shame for Checo because I think he would have been up there as well today with a clean lap, but that's encouraging for the F1 sprint tomorrow. Now the challenge will be to hold onto the lead tomorrow – we have got to get a good start, convert it and go from there. The aim tomorrow is to try and bag as many points as we can before the race on Sunday."
Scuderia Ferrari
Charles Leclerc (2nd, 1:28.778): "Qualifying didn't end exactly as I wanted it to, but starting the race from P2 isn't too bad. It was a tricky one. Q1 and Q2 were all about making it through to Q3 – and then pushing hard. I did one strong lap in the last session, then decided to abort my second lap to save the tyres for my last two runs at the end of Q3. Unfortunately, that never happened because of the red flags. It's a shame, but everything is still possible. We've been competitive in all sessions so far and have the potential to fight for the win tomorrow."
Carlos Sainz (10th, No Time): "This is a very tough one to take and there is little to say other than sorry to the entire team and every fan out there. I wasn't even pushing that hard, as we had more than enough pace to make it into Q3 comfortably. The car surprised me with a snap and I couldn't stop it before hitting the wall. Thinking positively, the weekend is not over yet and I still have the Sprint race and the Grand Prix on Sunday to try to recover. It's a difficult moment but now it's time to focus on what is ahead."
Laurent Mekies, Sporting Director: "Even though the result of today's qualifying did not quite go in our favour, I still want to thank the team here and back in Maranello, because we have started the weekend on the right foot and we were immediately competitive. Unfortunately, today, what made the difference was the timing of the red flags. If the fourth had come out a few seconds earlier, then pole would have gone to Charles, but that wasn't to be, so it went to Max Verstappen. Charles' second place is still a good result and tomorrow Carlos will have the opportunity to fight back after what happened in Q2. These things can happen and it's easy to understand how frustrating this must have been for him, given the potential he had demonstrated earlier. There's still a long way to go this weekend, so now we have to reset and focus on tomorrow and Sunday. The F1-75 is on the pace and we have all we need to do a good job. A positive aspect today was that the car was also competitive on both wet weather tyre compounds. We never had the opportunity to run in these conditions and that confirms we are on the right path. Tonight we will work to identify the areas in which we can improve, because as has been the case so far this season, the fight with our main rivals will go down to hundredths of a second and every factor can make the difference."
McLaren F1 Team
Lando Norris (3rd, 1:29.131): "Very happy. P3, which I'm a bit surprised by but I think a lot of other people made some mistakes and we took advantage of that. To be honest, I made quite a few mistakes as well. There was a chance we maybe could have done a little bit better, I think there was a bit left in it at the end and it would have been nice to go for that lap and attack one more time, but I just made a mistake and caught the white line. Apart from that, I'm happy and in a good position for tomorrow."
Daniel Ricciardo (6th, 1:29.742): "On paper it's pretty good. I feel a little hurt because I think pretty much everyone in front of me did two laps and I just got the one because of the red flags. With the improvements on the second lap, I really feel I could be significantly further up, but that's alright. I'm happy we had good pace and happy we're in a good position and up the pointy end. We'll fight hard for the rest of the weekend and I'm looking forward to the Sprint. It'll be fun."
Andrea Stella, Racing Director: "We've had a positive start to our first Sprint weekend of the season. The car behaved well, across the wet and dry conditions we experienced today, while the drivers and the team operated very well to adapt through the frequently changing conditions. Unfortunately, there are no points on offer today, and we've still got a lot of work to do. We'll make sure our feet stay firmly on the ground, and we'll prepare as best we can for the Sprint tomorrow and Sunday's Grand Prix."
BWT Alpine F1 Team
Fernando Alonso (5th, 1:29.202): "It feels good to be in the top five after a messy qualifying with all of the changing conditions and red flags. With the wet weather changing the track all the time, anything can happen, so overall I'm pleased to be in the top five for tomorrow. The car felt fast in the last two rounds and I feel quite comfortable with the car here. Let's see how we do tomorrow as there are points on offer in the Sprint and for the race on Sunday."
Esteban Ocon (19th, 1:22.338): "Our qualifying ended early, so that was a tough way for us to end the day. We've had a suspected gearbox issue, which is why I couldn't complete the lap in Q1 and we pitted straight away. We will be looking closely at what happened. Up until that point, the car felt good so it's going to be all about getting it back for tomorrow in the Sprint and for Sunday's Race. Still, there are two races to go this weekend, with potentially some rain as well, so there are still some opportunities to save our weekend. Let's see what happens."
Alan Permane, Sporting Director: "We're left with a bittersweet feeling after tonight's Qualifying as, unfortunately, the team faced mixed fortunes on either side of the garage. Esteban's car had a gearbox failure in Q1 and we'll fully investigate how that occurred. As we saw with Fernando, the car had strong pace today, so it's disappointing that Esteban was not able to show his true potential, especially in conditions where we've seen him shine in the past. On Fernando's side it was a relatively straightforward session. The car had good pace in both the wet and dry and Fernando was happy with the car's balance across all conditions. He will start in fifth tomorrow on the clean side of the grid and that's a very good place to begin the Sprint. Esteban, with a quick car, will certainly have an opportunity to make up some places, so his weekend is definitely not over. We'll be doing our best tomorrow in the Sprint to set ourselves up for Sunday's Race."
Scuderia AlphaTauri
Yuki Tsunoda (16th, 1:20.474): "We had brought a new update here this weekend, so we had expected to be in the midfield I think, but we struggled quite a lot today and the performance just wasn't there. It's a shame that we couldn't maximise the opportunity, but we've got the Sprint tomorrow and then another race on Sunday, so there's lots of possibilities. It's our home track, so we've got a lot of experience driving here and hopefully we can make the most of the rest of the weekend."
Pierre Gasly (17th, 1:20.732): "I don't exactly know what happened today. The track was at the driest on our last lap, but we were still knocked out so it's very disappointing. We need to make a lot of positions up tomorrow, as we're obviously not where we want to be. Firstly, we need to go away and analyse everything from today to understand, we clearly could've done better, and then hopefully we can make our way forward across the rest of the weekend."
Jonathan Eddolls, Chief Race Engineer: "Having missed the wet running in Barcelona shakedown, today was the first running on the 18" wet and intermediate tyres, so we had plenty to learn in FP1. Our wet performance was good, but the Inters struggled to warm up. The track conditions were borderline for Quali, but it quickly went to dry, however we didn't quite seem to have the pace we expected in those conditions and that, combined with not being the last to cross at the end of the session, meant we just missed out on places in Q2, with Yuki just 0.004 from 15th. Having both cars getting knocked out in Q1, with many of our factory members in the grandstands supporting, is hugely disappointing and a big blow to the team, but we will go away and learn from it, regroup. We now have the Sprint to look forward to tomorrow, where the plan is to be aggressive! We can't discard any surprises the weather may throw our way also, as we have seen how often it changes these last few days."
Aston Martin Aramco Cognizant F1 Team
Sebastian Vettel (9th, 1:31.062): "I am pleased with the job we did today. It was my first time in Q3 in 2022 and the first time this year for both cars in Q2, which is a great effort by the team. It took a while to get comfortable, but by the first run of Q2 I was pretty happy. In Q3, I only had one clean lap. On the second attempt, I braked late and ran wide in Turn Two, and then it was all red flags from there. It is a shame it ended in a bit of an anticlimax, but we should be able to have a good weekend from here."
Lance Stroll (15th, 1:28.119): "Despite the Q2 exit, I am positive about our performance today because we had good pace. We had a decent Q1 and finished inside the top 10, but Q2 was just very unlucky. After I locked up going into the chicane, we then had the unfortunately timed red flag, followed by rain, so I did not get another chance to improve. It is a shame we could not get it done on the track today, but I am hopeful for tomorrow."
Mike Krack, Chief Operating Officer: "Starting ninth for tomorrow's Sprint is a good achievement for Sebastian and a highly encouraging result for the entire team after our misfortunes in recent events. Sebastian had been right in the thick of it all afternoon. He reacted brilliantly to the changing conditions, setting competitive times in both Q1 and Q2, and was all set to challenge for a higher position before his progress was stalled by the multiple Q3 red flags. Lance was particularly unlucky to be caught out by the Q2 red flag, then the worsening conditions. He had also been looking competitive throughout qualifying, but he will get another roll of the dice tomorrow and I am sure he will push hard. Finally, I want to say 'well done' and 'thank you' to the team here in Imola and the support back at Silverstone. Adapting to an evolving racetrack in changing conditions is never easy, but it is the sort of challenge that brings out the best in people. Everyone did a fantastic job today. We go into tomorrow's Sprint feeling positive."
Williams Racing
Nicholas Latifi (18th, 1:21.971): "It was definitely a tricky session. With FP1 being full wet conditions and Qualifying being mixed it was challenging but it's a challenge for everyone. My issue is still not having the feeling to really push the car; I don't always have it in full dry conditions and mixed conditions usually only make it more difficult. It was good though to get the opportunity to drive the FW44 in full wet conditions as I am sure we will have other wet sessions throughout the year. Hopefully we can move forward in the F1 Sprint tomorrow and secure a better starting position for the race on Sunday."
Alexander Albon (20th, No Time): "Unfortunately, we suffered a brake system issue which ended Qualifying early for us. These things happen, and we'll go away and investigate tonight so we understand what went wrong and how we resolve it. Thankfully, tomorrow's Sprint event should offer us some opportunities to improve our position on Sunday's starting grid."
Dave Robson, Senior Race Engineer: "The combination of mixed conditions and the Sprint format is very tricky and today we did not rise to the occasion. Alex suffered with a brake issue due to an incorrect switch position when switching to the slick tyres and Nicholas struggled to find full confidence in the car in the difficult conditions, but he did well to start ahead of Ocon. Our attention now moves to preparing the cars for the Sprint and Grand Prix, which are expected to take place in quite different conditions to today."
Alfa Romeo F1 Team ORLEN
Valtteri Bottas (8th, 1:30.439): "It was a really strong session for us until we had to stop the car for a technical issue. We are still investigating what it is, hopefully it is nothing serious and we can fix it quickly. It's a bit of a shame as we had the potential to be higher than eighth, but it's not a disaster on a sprint weekend: we are in a decent place to fight tomorrow and we can aim to make up some more places ahead of the race on Sunday."
Guanyu Zhou (14th, 1:21.434): "I am pleased about our work today: to get through Q1 in the top five was already good, especially considering the little practice I could do in these conditions with just one session before qualifying. The chance to get into Q3 was there, but I struggled a bit with the tyre warmup in my first Q2 run and, with the red flag and the rain coming afterwards, never got a chance to do another. Despite these circumstances, I am very happy to be in Q2 again. We are normally stronger in race trim, so I hope we can move up as a team in tomorrow's sprint. If the track is dry, we stand a good chance, although you can never know how the weather will be like here. I am ready for whatever conditions there will be: we did well so far and hopefully we can carry on this momentum into tomorrow."
Frédéric Vasseur, Team Principal: "Our objective before the session was to have at least one car in Q2 and one in Q3, and in this regard, we accomplished it. Both drivers felt at ease in the car despite the tricky conditions and did well in the circumstances: Zhou was impressive in Q1 but the timing of the red flag in Q2 penalised him and he couldn't improve when a spot in the top ten was realistic. Valtteri made it to Q3 and was looking good for a place in the top six, but unfortunately a technical issue we are investigating stopped him: still, P8 is a really good position and, with Zhou in P14, we can aim to claim some points on Saturday and some really good positions for Sunday's grid."
Haas F1 Team
Kevin Magnussen (4th, 1:29.164): "First of all, what a result. It's great, it feels amazing, I can't really believe it – it's that close to top-three. P4 is the best qualifying for Haas ever, so I'm really proud of that and the team. I went off, lost the car and went all the way through the gravel. I managed to just keep it going and do a bit of a four-point turn and get back on track. The car was just phenomenal, and I can't believe we're P4. It's looking like it's going to be dry tomorrow so we'll just do the best we can, I don't know what to expect. We'll go and have fun and give it everything we've got like we did today."
Mick Schumacher (12th, 1:20.916): "A mistake at Turn 7 led to me losing over a second so I think we would've been through. It's a shame but now we have two more races to come and hopefully we'll be able to fight our way through – the car feels great. Already in Melbourne we were able to fight pretty hard with the cars around us and one thing which was very positive was that we were able to keep the tires alive for quite a while. It's all to play for tomorrow and hopefully we have a bit of luck on our side to be able to maybe get into the points."
Guenther Steiner, Team Principal: "A very good day today. They were very challenging weather conditions and I know that is the same for everyone but after Australia we really needed this, and we bounced back. In Australia, we didn't have a fantastic weekend but this weekend we all started right on Friday morning, confidence levels were high. Finishing with Kevin in P4 is fantastic – it's another best for Haas F1 Team. For Mick, he was almost there, just a little bit missing but P12 is not a bad position to be starting the race so starting fourth and 12th, let's see what we can do tomorrow."