Emilio Romagna GP 2021
APRIL 19, 2021
Race Analysis - Storm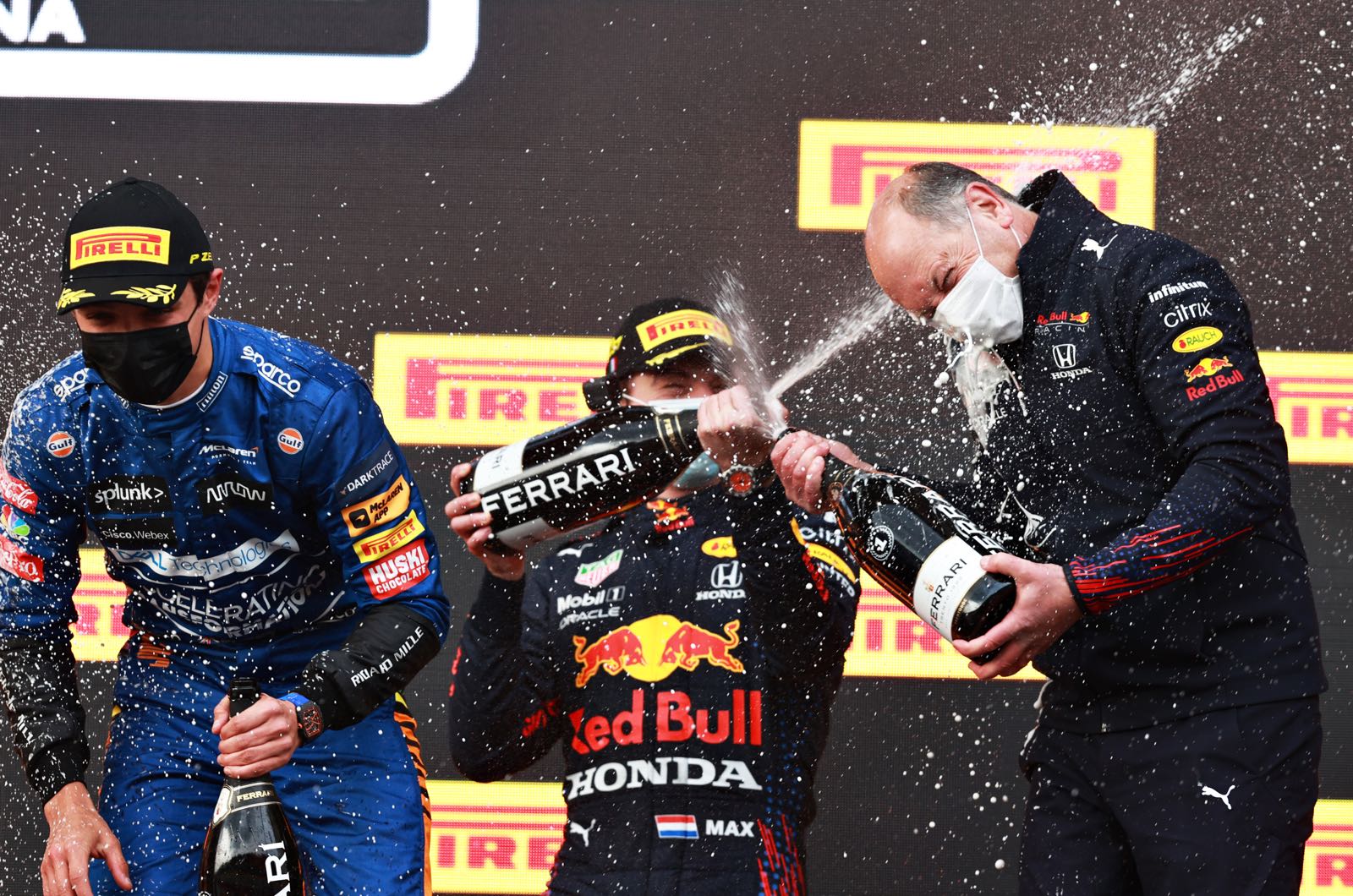 © Red Bull
By Dan Knutson
Max Verstappen stormed to victory in the Emilia Romagna Grand Prix, and Lewis Hamilton stormed from ninth to second place. Here's how their races unfolded.
99
Hamilton started from the pole for the 99th time.
FIRST
Sergio Perez qualified on the front row for the first time in F1. His Red Bull teammate Verstappen qualified third.
ROUNDED
Charles Leclerc (Ferrari), Pierre Gasly (AlphaTauri), Daniel Ricciardo (McLaren), Lando Norris (McLaren) and Valtteri Bottas (Mercedes) rounded out the top eight on the grid.
RAIN
It was raining at the start of the race.
LUNGE
Verstappen stormed into the lead.
DAMAGE
Hamilton damaged the left-end front wing endplate on his car while fighting with Verstappen on the opening lap.
"I didn't get a good start," Hamilton said. "Max got a better start than me, and then I think I was slightly ahead going into Turn 2, but I was basically avoiding us coming together. Max was just coming and coming and coming across. Of course, we had that touch and I had to use the exit, and take those big curbs, but I'm grateful I just got it through it and didn't damage much more than the endplate."
TANGLED
Nicholas Latifi (Williams) and Nikita Mazepin (Haas) tangled on the first lap, and that brought out the safety car until the end of lap 6.
DRYING
By lap 27 the track was drying, so Verstappen pitted to switch from intermediate rain tires to slicks. So Hamilton led on lap 27.
"It was very challenging out there," Verstappen said, "especially in the beginning. It was very hard to stay on track to be honest; it was very slippery. And then of course with the tires degrading in the wet and then choosing the right moment to go onto slicks is never easy."
PITS
Hamilton came into the pits a lap later, so Verstappen was back in the lead.
CRASH
Bottas and Williams driver George Russell crashed in Turn 2 on lap 31.
NARROW
"George got close and decided to go for a move," Bottas said. "Obviously the track is quite narrow, there is only one dry line and he went for the outside, there was space all the time for two cars but he obviously lost the car and hit me."
AVOIDED
"I think it was a very unfortunate incident and one that could have been avoided," Russell said. "Valtteri was defending hard, and he is in his right to do so."
NO FAULT
The stewards ruled that it was a racing incident.
REVERSE
On that same lap 31 Hamilton slid off the track and nose into the barriers at the Tosa bend. He had problems backing out.
"It just wouldn't go into reverse so I was holding the reverse button and it took forever to engage," he said. "I didn't think it was going to work. I tried reversing and then tried to kind of do a burn out spin to get going again and I was back in the barrier so then it took a long time again to get back in reverse. And when I was reversing, I was like I've just got to keep going backwards and work my way out in reverse and if I hadn't done that I would probably still have been there now!"
LAP
All that reversing put Hamilton a lap down.
RED
The race was red flagged at the end of lap 33 so that the accident debris could be cleaned up.
27
After 27 minutes the race was restarted.
UNLAP
As per the rules, lapped drivers were allowed to unlap themselves. Hamilton, now ninth, was back on the lead lap.
STREAK
Verstappen streaked away in the lead.
SECOND
Leclerc was second ahead of Norris and Perez.
PICKED
Hamilton picked off one car after another and finished second.
TOUGH
Norris passed Leclerc to finish third.
"It was a long race," Norris said. "It was a tough start but I came back through. I had good pace. I tried hanging on to second but Lewis was a bit too quick for me today."
22.000
The margin between Verstappen and Hamilton was 22.000 seconds.
11
This was Verstappen's 11th win in F1.
"We still have to work hard to improve because it's very close," he said, "but for now I'm very happy with the result."