Emilio Romagna GP 2021
APRIL 17, 2021
Qualifying Report - 99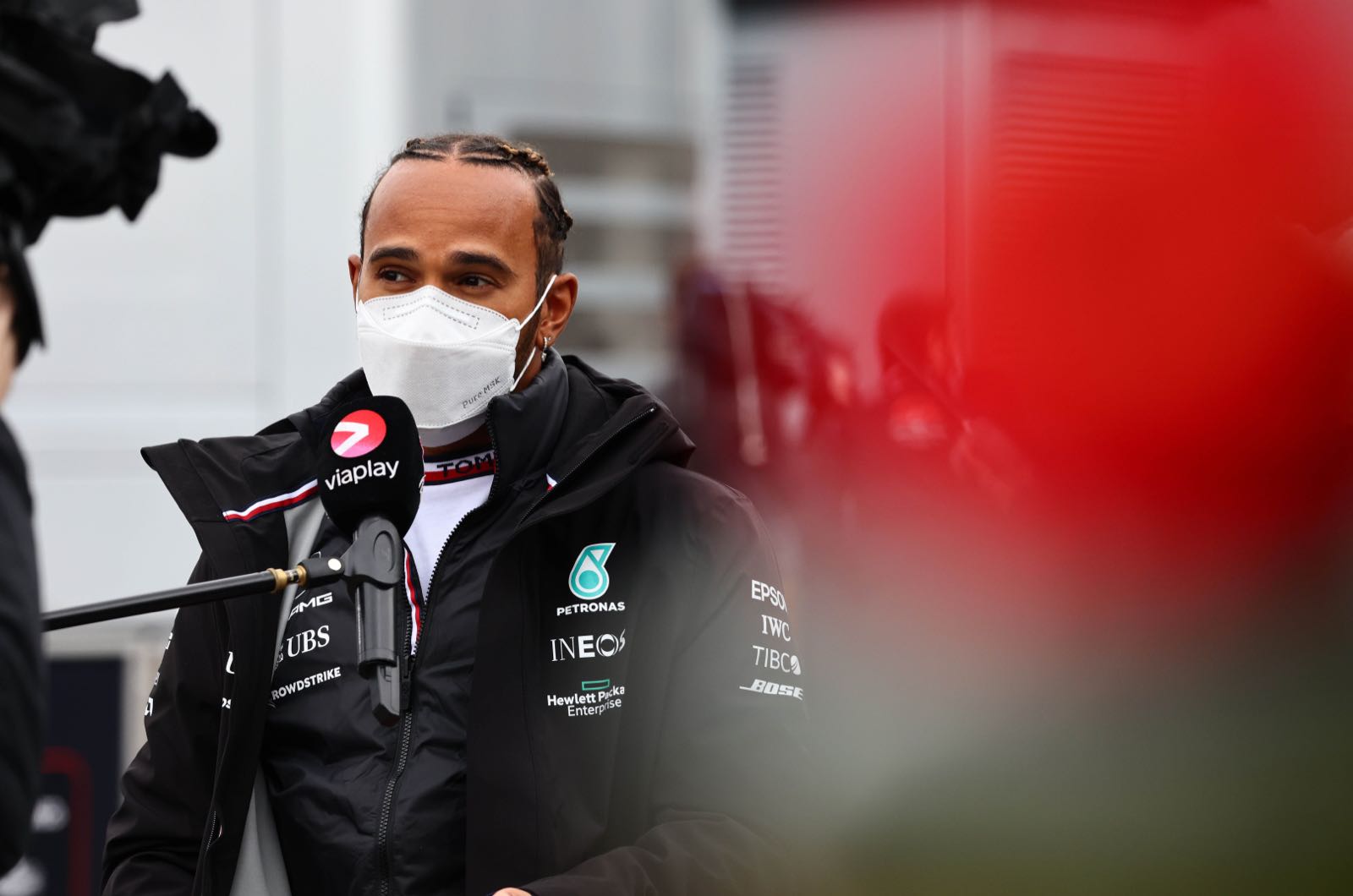 © Mercedes-Benz Grand Prix Ltd.
By Dan Knutson
Lewis Hamilton earned the 99th pole position of his F1 career during qualifying for the Emilia Romagna Grand Prix. Sergio Perez qualified second, so started on the front row for the first time in his F1 career. His Red Bull teammate Max Verstappen was third.
"I definitely did not expect us to be ahead of the two Red Bulls," Hamilton said.
The line-up for the weekend was: Mercedes – Lewis Hamilton and Valtteri Bottas; Red Bull Honda – Max Verstappen and Sergio Perez; McLaren Mercedes – Lando Norris and Daniel Ricciardo; Aston Martin Mercedes – Lance Stroll and Sebastian Vettel; Alpine Renault – Fernando Alonso and Esteban Ocon; Ferrari – Charles Leclerc and Carlos Sainz; AlphaTauri Honda – Yuki Tsunoda and Pierre Gasly; Alfa Romeo Ferrari – Kimi Raikkonen and Antonio Giovinazzi; Haas Ferrari – Nakita Mazepin and Mick Schumacher; Williams Mercedes – George Russell and Nicolas Latifi.
Fastest in FP3 was Verstappen with a time of 1:14.958.
QUALIFYING 1
Haas teammates Schumacher and Mazepin were the first out.
The ambient temperature at the start of the 18-minute session was 55 degrees Fahrenheit (13 degrees Centigrade) and the track temperature was 82 degrees Fahrenheit (28 degrees Centigrade).
Tsunoda had a big shunt at Variante Alta which brought out the red flags six minutes into the session. "He's okay but the car is not," the team radioed his teammate Gasly.
Once the marshals cleared away the wreck, the session restarted after a nine minute delay.
Verstappen clocked a 1:15.109 to take the lead while teammate Perez had his lap time deleted for exceeding track limits. But then Bottas edged ahead with a 1:14.926 followed by a 1:14.672.
Norris slotted into second ahead of Verstappen, Hamilton, Leclerc and Ocon with seven minutes to go.
When there were three minutes remaining in Q1, Raikkonen was 15th and on the cutoff line. Giovinazzi was 14th and Schumacher was 16th.
The five drivers who were eliminated at the end of Q1 were: Raikkonen, Giovinazzi, Schumacher, Mazepin and Tsunoda.
The fastest 15 drivers who moved on to Q2 were: Bottas, Hamilton, Norris, Verstappen, Ocon, Perez, Sainz, Leclerc, Vettel, Stroll, Gasly, Latifi, Ricciardo, Russell and Alonso.
QUALIFYING 2
The eventual top 10 qualifiers would start the race on the same tire compound they used to set their fastest lap times in Q2. So, if they could manage to do so, it would be an advantage to use the medium rather than the soft compound Pirelli slicks in Q2.
Among those to head out on the mediums were the Mercedes teammates and Verstappen.
Bottas turned a 1:15.098, but Verstappen beat Bottas with a 1:14.884, and Hamilton beat them both at 1:14.817. Perez, on the soft tires, took fourth place.
Then, with seven minutes remaining, Norris, on the softs, jumped ahead with a 1:14.718. Next up were Hamilton, Verstappen, Leclerc, Bottas, Perez, Stroll and Sainz.
Tenth and on the bubble with four minutes to go was Russell, and Gasly was ninth while Ricciardo was 11th.
But things were going to change in the final minutes. Perez, on the softs, went ahead at 1:14.716.
The five drivers who were eliminated at the end of Q2 were: Sainz, Russell, Vettel, Latifi and Alonso,
The fastest 10 drivers who moved on to Q3 were: Perez, Norris, Leclerc, Hamilton, Verstappen, Bottas, Gasly, Ricciardo, Ocon and Stroll. The top 12 were separated by just half a second.
QUALIFYING 3
Norris was the first to set a time:1:14.875. Perez beat that. But then Hamilton took the lead with a 1:14.411 ahead of Verstappen's 1:14.502.
So, after the first runs, the order was Hamilton, Verstappen, Perez, Norris, Leclerc, Bottas, Gasly, Ocon, Ricciardo and Stroll. The latter had not gone out for a fast lap yet.
With three minutes remaining Hamilton was back on track, and soon all 10 drivers were out there. Verstappen was at the tail end.
Hamilton did not improve. Perez did, however, and grabbed the second spot. Verstappen, Leclerc, Gasly, Ricciardo, Norris, Bottas, Ocon and Stroll rounded out the top 10. Norris had temporarily been third, but had that lap time deleted for exceeding track limits.