Emilio Romagna GP 2020
NOVEMBER 2, 2020
Race Analysis - Record seven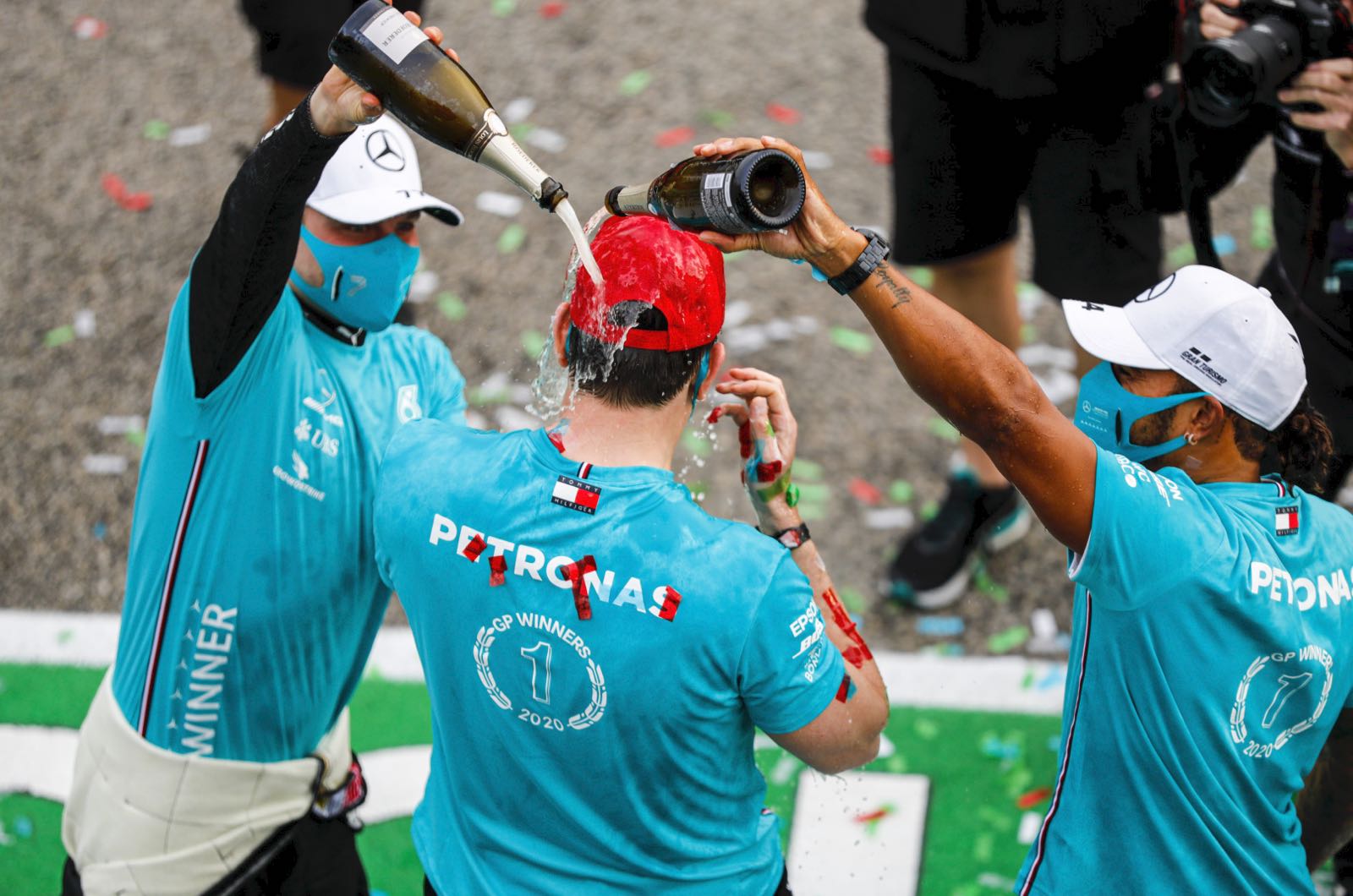 © Mercedes-Benz Grand Prix Ltd.
By Dan Knutson
Mercedes wrapped up a record seventh consecutive world constructors' world champion thanks to Lewis Hamilton and Valtteri Bottas finishing first and second in the Emilia Romagna Grand Prix. And Hamilton's victory moved him another step closer to equaling Michael Schumacher's record of seven drivers' world championships. This is how it happened.
15
Bottas won the 15th pole of his F1 career. Hamilton qualified second.
SLOT
Max Verstappen put his Red Bull into its usual number three grid slot.
ROUNDED
Pierre Gasly (AlphaTauri), Daniel Ricciardo (Renault), Alexander Albon (Red Bull), Charles Leclerc (Ferrari) and Daniil Kvyat (AlphaTauri) rounded out the top eight qualifiers.
POOR
Hamilton made a poor start and dropped to third behind Bottas and Verstappen as the 66-lap race began.
DAMAGE
"The start was really good but then on lap two, out of Turn 7, there was some debris on the track," Bottas said. "I didn't have time to avoid it, so I aimed for the middle of the car, trying not to run over the debris with the tyres. But it caused some damage and got stuck on the car somehow, which made the car really tricky to drive and also cost a chunk of performance."
STOPS
Verstappen pitted at the end of lap 18 to switch from the medium compound Pirelli tires to the hard compound slicks. Bottas did the same a lap later.
LEAD
That put Hamilton into the lead on lap 20.
EXTENDED WIN
Hamilton decided to extend his stint on the medium slicks.
"Max stopped much earlier than I thought he would and Valtteri stopped to cover him and there was no way I was doing the same," Hamilton said. "Naturally, at the beginning of the race we get given a bunch of different options of strategy, and I understood that if I was in that position the only way to do something was to do something different – to extend as long as I could. But I didn't know how long that tire would go, but I think that's where the race was won today."
VIRTUAL
Esteban Ocon stopped out on the track on lap 28 with a broken clutch in his Renault. That brought out the virtual safety car.
PERFECT
And that created the perfect opportunity for Hamilton to duck into the pits at the end of lap 30 for a set of the hard tires and keep the lead.
HOBBLED
Verstappen grabbed second place from the hobbled Bottas on lap 37.
BLOWOUT
Verstappen stopped on lap 51.
"Once I got past him (Bottas) the pace was there and the car felt good," Verstappen said. "I was actually having a lot of fun and then suddenly on the straight I lost the car because of some sort of tire failure, so it's a big shame because it would've been very nice to have second place and another podium."
TO PIT OR NOT TO PIT
Out came the safety car. Was it a good strategy to pit for tires?
GOOD IDEA
It was a good idea for Hamilton and Bottas to pit for the soft tires because they were safe in first and second place.
BAD IDEA
It was a bad idea for Sergio Perez, now third in the Racing Point, to pit. He would finish sixth.
"It was clear that today we had the podium in our pocket and I'm disappointed we missed out," he said. "It's easy to be critical with the benefit of hindsight, but ultimately we should have tried staying out and keeping track position. However, I don't want to be critical of my team; the important thing is that we learn the lesson for next time."
PRETTY
Ricciardo, who did not pit, moved into third place.
"We were pretty settled in fifth but then Max triggered the safety car," he said. "It was the right thing to stay out, especially after Perez pitted. It is pretty difficult to overtake here and it was worth the risk today: it paid off. It's a shame about Esteban (Ocon) as the car was strong today. The result here means we get into third in the constructors' championship.
OVERWHELMING
"It's very overwhelming right now," Hamilton said of Mercedes clinching a seventh world championship. "I look at this team and think of everyone back at Brackley and Brixworth, they are the unsung heroes. They are the ones grafting away, never giving up, continuing to push, elevate and innovate. A big congratulations to the team on a hugely deserved Constructors' title. I'm forever grateful to everyone and so, so proud to be a part of it. To come back year on year and deliver such great performance is absolutely unbelievable. Seven-time champions - that's something I'm going to be able to tell my grandchildren one day. No team has ever achieved this and I feel honored to be a part of breaking this record."