Emilio Romagna GP 2020
OCTOBER 31, 2020
Qualifying Report - Edged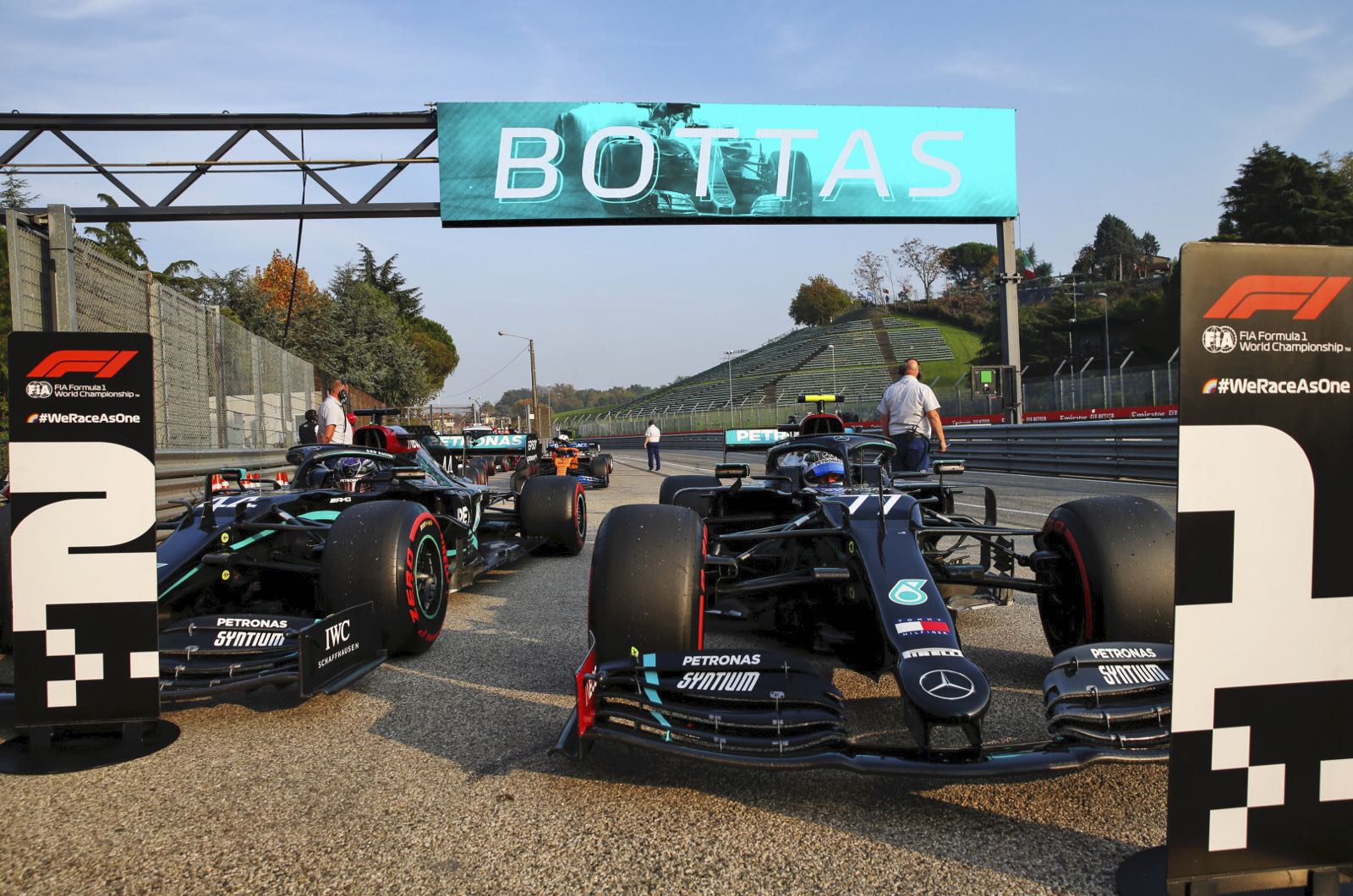 © Mercedes-Benz Grand Prix Ltd.
By Dan Knutson
Valtteri Bottas edged out Mercedes teammate Lewis Hamilton by 0.097 of a second to snatch the pole for the Emilia Romagna Grand Prix.
"I knew I had to improve on the last lap to find those small gains," Bottas said after winning his 15th F1 pole.
The line-up for the weekend was: Mercedes – Lewis Hamilton and Valtteri Bottas; Ferrari – Sebastian Vettel and Charles Leclerc; Red Bull Honda – Max Verstappen and Alexander Albon; McLaren Renault – Carlos Sainz and Lando Norris; Renault – Daniel Ricciardo and Esteban Ocon; AlphaTauri Honda – Daniil Kvyat and Pierre Gasly; Racing Point Mercedes – Sergio Perez and Lance Stroll; Alfa Romeo Ferrari – Kimi Raikkonen and Antonio Giovinazzi; Haas Ferrari – Romain Grosjean and Kevin Magnussen; Williams Mercedes – George Russell and Nicolas Latifi.
Hamilton was fastest in the morning practice with a time of 1:14.726 around the 3.050-mile (4.909 km) 19-turn Autodromo Internazionale Enzo e Dino Ferrari in Imola.
QUALIFYING 1
Q1 lasted 18 minutes.
First out on the track was Magnussen who clocked a 1:17.186.
But it was Kvyat's 1:15.412 that became the mark to shot for. And Hamilton beat that with a 1:15.144. Then Verstappen posted a 1:15.034.
Hamilton responded with a 1:14.574.
When there were five minutes remaining in Q1, Giovinazzi was 15th and on the cutoff line. Sainz was 14th and Norris was 16th.
Bottas had been 20th but then jumped up to second behind Hamilton. Then Bottas went ahead at 1:14.221.
The five drivers who were eliminated at the end of Q1 were: Grosjean, Magnussen, Raikkonen, Latifi and Giovinazzi.
QUALIFYING 2
Leclerc, Bottas and Hamilton headed out on Pirelli's medium compound tires, as did Verstappen and Albon.
Hamilton turned a 1:14.643 but Bottas went 0.05 of a second quicker. So the order was Bottas, Hamilton, Gasly, Norris, Ocon and Kvyat with 10 minutes remaining.
Verstappen pitted, saying he had no power. Teammate Albon had a spin.
Tenth and on the bubble with five minutes to go was Leclerc, and Sainz was ninth while Albon was 11th. Verstappen had yet to set a time.
There was a flurry of activity on the track in the final couple of minutes. Verstappen, who had a spark plug replaced, was out there.
The five drivers who were eliminated at the end of Q2 were: Perez, Ocon, Vettel, Russell and Stroll.
The fastest 10 drivers who moved on to Q3 were: Bottas, Hamilton, Gasly, Albon, Ricciardo, Verstappen, Leclerc, Kvyat, Sainz and Norris.
QUALIFYING 3
Q3 lasted 12 minutes.
Sainz was the first out and soon all 10 drivers were on track.
Hamilton clocked a 1:13.781. Bottas slotted into second, 0.031 of a second slower. Verstappen was third ahead of Gasly, Leclerc, Norris, Kvyat, Ricciardo, Sainz and Albon.
Everybody headed back to pits to gear up for a final run.
Hamilton turned a 1:13.706. But Bottas grabbed the pole with a time of 1:13.609.
Verstappen stayed third ahead of Gasly, Ricciardo, Albon, Leclerc, Kvyat, Norris and Sainz.