Eifel GP 2020
OCTOBER 11, 2020
Race Notes - Hamilton takes Germany for 91 wins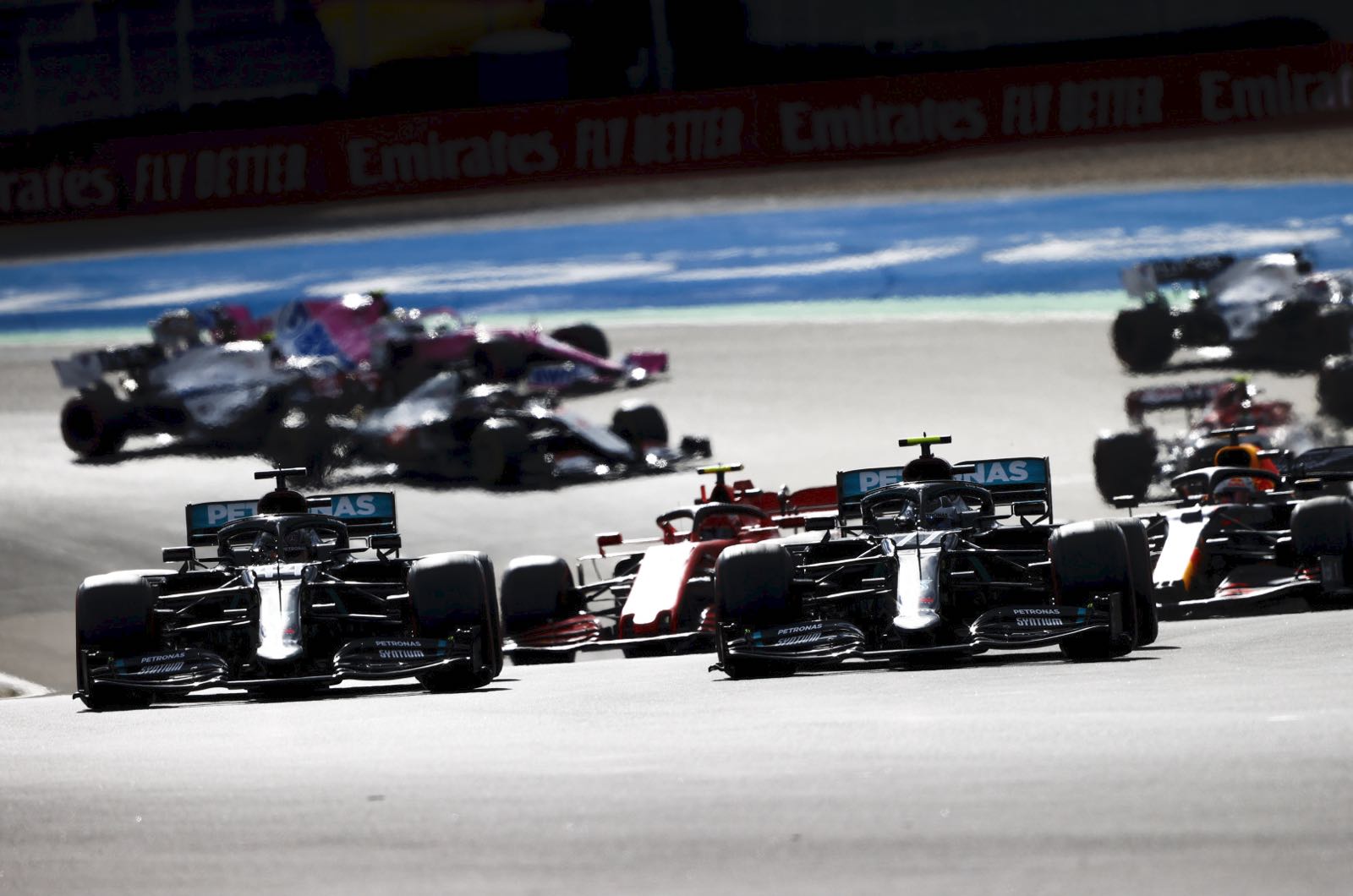 © Mercedes-Benz Grand Prix Ltd.
By Mark Karp
Lewis Hamilton won the Eifel Grand Prix at the Nurburgring in his Mercedes GP - matching Michael Schumacher for the career win record of 91 victories.
Max Verstappen was second in the Red Bull-Honda, 4.470 seconds behind. Daniel Ricciardo in the Renault finishing third on the podium, 14.613 seconds behind the winner.
The win is Hamilton's seventh of the 2020 season, Mercedes ninth win. Hamilton leads the championship by 69 points ahead of second placed Bottas.
Sergio Perez (16.070s) in the Racing Point-Mercedes finished fourth, followed by Carlos Sainz (21.905s) in the McLaren-Renault was fifth, Pierre Gasly (22.76s) in the AlphaTauri-Honda was sixth, Charles Leclerc (30.814s) in the Ferrari was seventh, Nico Hulkenberg (32.596s) in the second Racing Point was eighth, Romain Grosjean (39.081s) in the Haas-Ferrari was ninth and Antonio Giovinazzi (40.035s) in the Alfa Romeo-Ferrari was tenth, and picked up the final point.
Before the start, it is cloudy, but a very cold day for a formula one race (10c/50f).
Bottas sits on pole, with Mercedes GP team mate Hamilton starting alongside on the front row, Verstappen and Leclerc are on row two, Albon and Ricciardo on row three, Ocon and Norris on row four and Perez and Sainz rounding out the top ten, Vettel starting in 11th place. All drivers starting on soft tyres, except Vettel and Kvyat.
Raikkonen makes the record-setting 323rd Formula One start.
At the appointed time the field came around to the grid, the lights went out and the race begin with Hamilton jumping ahead, but Bottas taking the lead around the outside of the first corner.
Verstappen in third followed by Leclerc, Ricciardo, Albon, Norris, Perez, Ocon and Sainz in tenth.
On lap 8 Albon pits from fifth, for medium tyres and rejoins last.
On lap 9 Ricciardo passes Leclerc for fourth place.
Spots of rain are being reported.
Leclerc pits from fifth and takes medium tyres.
At lap 10 Bottas leads Hamilton by 1.3 seconds followed by Verstappen (3.6s), Ricciardo (22.1s), Norris (26.3s), Perez (27.6s), Ocon (29.4s), Sainz (31.1s), Giovinazzi (36.4s) and Gasly (39.8s) in tenth place.
Vettel spins but continues in 18th.
On lap 13 Bottas locks up into the first corner, and Hamilton sweep by into the lead. Bottas limps around to the pits and changes to medium tyre, and rejoins fourth.
Raikkonen touches Russell, and his car launches in the air and he limps around with a damaged rear suspension and retires on the side of the track.
On lap 16, Bottas chases after Ricciardo and passes him for third place.
On lap 16 the Virtual Safety car comes out while Russell's car is moved. Hamilton, Verstappen and Ricciardo all pit. Kvyat knocks off his front wing when Albon passes him and limps back to the pits.
On lap 18 Bottas limps around the track complaining of power issues dropping back in the field. Bottas pits and retires.
On lap 19 Hamilton sets fast lap at 1m30.454s, and reports to the team that his tyres are starting to work.
On lap 20 Verstappen sets fast lap at 1m30.439s.
At lap 20 Hamilton leads Verstappen by 2.6 seconds, followed byy Norris (26.0s), Perez (28.4s), Ocon (34.3s), Sainz (36.9s), Ricciardo (42.9s), Gasly (48.0s), Albon (49.0s) and Leclerc (53.0s) in tenth place.
On lap 21 Hamilton sets fast lap at 1m30.109s.
On lap 23 Ocon retires in the pits with brake problems.
Raikkonen is given a 10-second penalty for contact with Russell, and Albon is given a 5-second penalty for conact with Kvyat.
Albon pits and they retire the car.
On lap 27 Norris is reporting that he is losing power, and is lapping 3-seconds off the leaders.
On lao 28 Leclerc passes Gasly for seventh place.
On lap 29 Perez and Sainz pit. Perez rejoins in sixth.
On lap 30 Norri and pits for medium tyres. Hulkenberg pits as well.
On lap 31 Perez passes Norris for fifth.
At lap 32 Hamilton leads Verstappen by 5.5 seconds, followed by Ricciardo (1m00.4s), Leclerc (1m14.4s), Perez (1m15.2s), Norris (1m19.2s), Sainz (1m20.7s), Giovinazzi (1 lap), Vettel and Raikkonen in tenth place.
Perez is chasing Leclerc for fourth place, the two passing back and forth for the position.
Norris continues to complain that his engine has no power.
On lap 35 Perez makes the pass stick for fourth.
Leclerc pits for medium tyres and rejoins in tenth.
Hamilton is complaining that his tyres are beginning to grain.
Giovinazzi pits and rejoins in 13th.
Leclerc passes Raikkonen for eighth place.
The next lap Leclerc passes Vettel for seventh.
Hulkenberg passes Raikkonen and is in the points in tenth.
Gasly passes Vettel for eighth.
At lap 40 Hamilton leads Verstappen by 9.4 seconds followed by Ricciardo (1m09.2s), Perez (1m21.3s), Sainz (1m26.3s), Norris (1 lap), Leclerc, Gasly, Vettel and Hulkenberg in tenth.
Hulkenberg passes Vettel for ninth place.
Vettel pits for soft tyres and rejoins in 15th.
On lap 44 Norris pulls off to the side of the track and retires - the yellow flags are out.
The safety car is out. Ricciardo pits from third place. Hamilton and Verstappen pit, Sainz pits as well. Perez pits as well.
Behind the safety car the order is Hamilton, Verstappen, Ricciardo, Perez and Sainz on the lead lap, Leclerc, Grosjean, Gasly, Hulkenberg, Giovinazzi, Magnussen, Latifi, Vettel, Raikkonen and Kvyat a lap down.
Hamilton and Verstappen both complain that the safety car is going much too slow.
The safety car lets past the cars that are one lap down.
At the beginning of lap 50 the race resumes with Hamilton continuing to lead, Verstappen, Ricciardo, Perez and Sainz following.
On lap 51 Gasly passes Leclerc for sixth place.
On lap 51 Hamilton sets fast lap at 1m28.487s.
Perez is within DRS of Ricciardo.
Hamilton sets another fast lap at 1m28.335s, and leads Verstappen by 2.9 seconds.
Hamilton goes faster on lap 53 at 1m28.257s.
Vettel passes Magnussen for 11th. Raikkonen passes him as well for 12th.
At lap 55 Hamilton leads Verstappen by 2.6 seconds, followed by Ricciardo (9.4s), Perez (11.2s), Sainz (14.0s), Gasly (15.2s), Leclerc (19.6s), Hulkenberg (22.1s), Grosjean (26.5s) and Giovinazzi (28.5s) in tenth place.
On lap 58 Hamilton set fast lap at 1m28.145s.
On lap 60 Verstappen takes fast lap at 1m28.139s.
At the chequered flag Hamilton wins ahead of Verstappen and Ricciardo.