Eifel GP 2020
OCTOBER 12, 2020
Race Analysis - On the record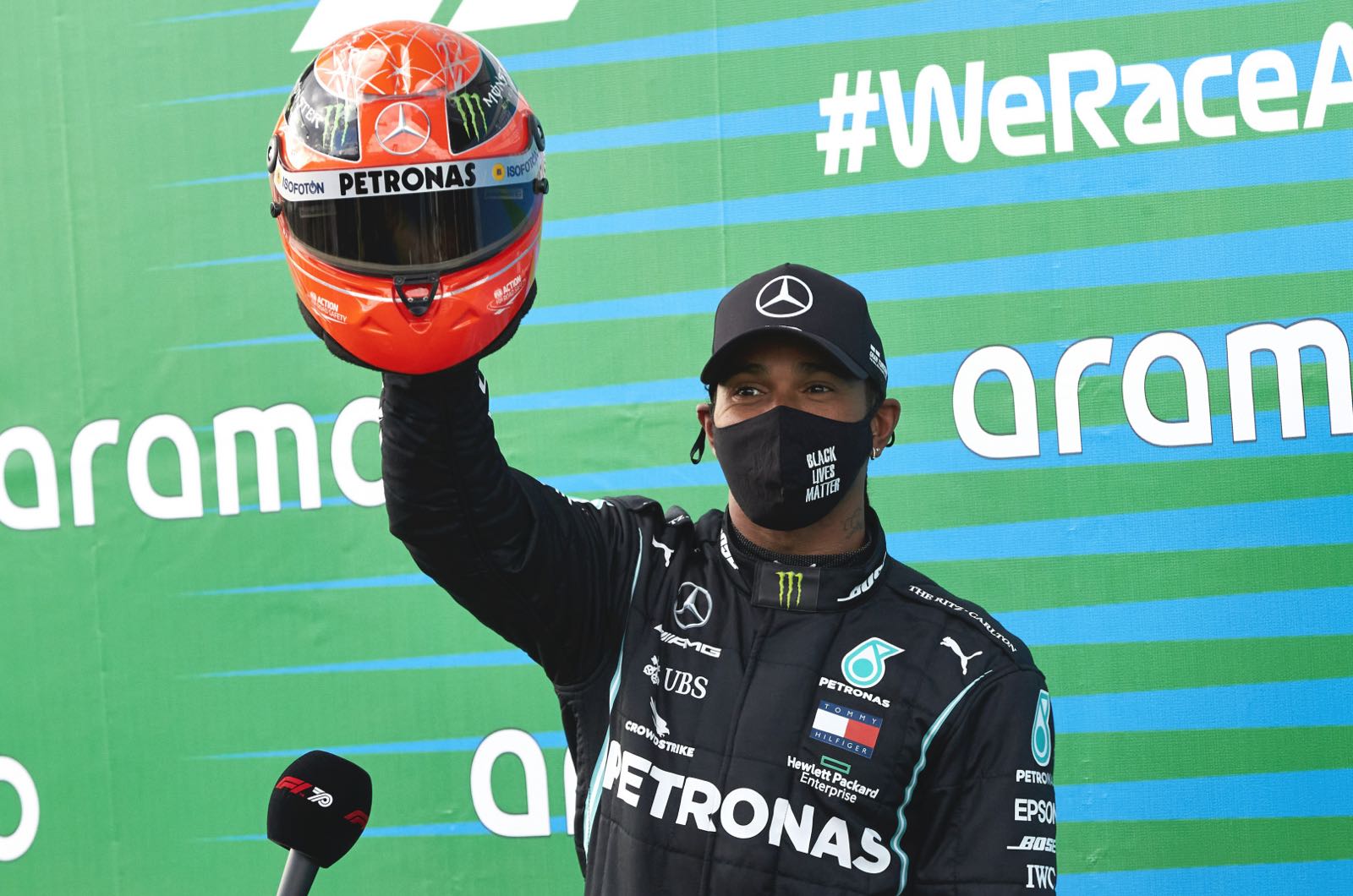 © Mercedes-Benz Grand Prix Ltd.
By Dan Knutson
Lewis Hamilton's victory in the Eifel Grand Prix was the 91st of his Formula 1 career, which ties the record of all-time F1 victories set by Michael Schumacher. Here is how Hamilton accomplished the feat.
MOMENTUM
Hamilton's Mercedes teammate Valtteri Bottas won the most recent grand prix, in Russia, and he carried that momentum in to the Eifel Grand Prix, staged at Germany's Nurburging, by claiming the pole. Hamilton qualified third.
NEXT
Next on the grid were Max Verstappen (Red Bull), Charles Leclerc (Ferrari), Alex Albon (Red Bull) and Daniel Ricciardo (Renault).
DRY BUT COLD
Friday's practice sessions were wiped out by fog and rain. It was dry but cold on race day.
SIDE BY SIDE
The Mercedes drivers were side-by-side at the start of the 60-lap race, and then Bottas grabbed the lead. Verstappen was third ahead of Leclerc, Ricciardo and Albon.
ROOM
"I had a good start and got up alongside Valtteri," Hamilton said, "and we both like understeered into the corner. So I tried to give as much room as possible and then he was in my blind spot. So I didn't know where he was after that. I moved as wide to the outside, but he came back and he did an amazing job. I remember coming out of that corner thinking: 'Good on you, man. I'm impressed. That was good.'"
UNLUCKY 13
Bottas ran wide at Turn 1 on lap 13, and Hamilton darted into first place.
LOSING POWER
Bottas' engine started to lose power, and he started to drop down in the order.
RETIRED
Bottas retired after 18 laps –his first non-finish of the year.
"It's a frustrating way to finish a race, it was really good fun until I started to lose power," he said. "The start and the battle with Lewis through the first couple of corners was nice, there was no way I was going to make it easy for him. Obviously, later on I had a lock-up into Turn 1 and lost the position."
SAFETY CAR
The safety car came out on lap 44 because Lando Norris had to park his McLaren at the side of track.
IN FRONT
Hamilton stayed in front at the restart on lap 50.
STILL IN FRONT
Hamilton was still in front at the checkered flag on lap 60.
91
Hamilton had now equaled Schumacher's record of 91 victories.
SUNK IN
"It's definitely not sunk in, that's for sure," Hamilton said just after the race. "It takes some time for you to analyze it and for it to sink in, to realize what it actually means."
WATCHING SCHUMCHER
"I grew up watching Michael (Schumacher) win all of those grands prix," Hamilton said, "and I couldn't have fathomed equaling him. I think getting to Formula 1 was the first step of the dream and obviously emulating Ayrton (Senna). But Michael was just so far ahead. It's beyond my wildest dreams to think that I'm here today having equaled him.
"I just feel really humbled by the moment and the opportunity I was given when I was 13 by Mercedes to join this team,"and I feel really proud to continue to represent them and to have brought this record to Mercedes. Hopefully we have got more records to break and to make. Hopefully they know it was a good investment!"
PACE
Verstappen wound up second.
"Overall it was a positive weekend," he said, "and I think we can be very pleased with another second place. I tried to keep as close as possible to Lewis during the race and we just didn't quite have the pace to fight him but overall I was pleased with the performance. We have taken a step forward with the car this weekend, so I am of course happy with that, but we still need to improve and we will keep pushing so we can take the fight to Mercedes every weekend."
FIRST
Ricciardo finished third. It was his first podium with the Renault team and his first since he won the 2018 Monaco Grand Prix in the Red Bull.
"It feels like the first time I ever got a podium," he said. "These emotions and that feeling you get when you get out the car, hug the team, the mechanics slapping you on the helmet, it's just amazing and I am so happy we did it! It's obviously my first one with Renault and it's something I wanted to achieve when I set out on this journey with the team."
MASSIVE
Hamilton has a massive lead in the championship with six races remaining in the season. He has 230 points while Bottas, in second place, has 161 points.