Eifel GP 2020
OCTOBER 10, 2020
Qualifying Report - Spot on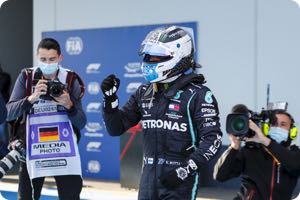 By Dan Knutson
Valtteri Bottas qualified his Mercedes on pole for the Eifel Grand Prix at the Nurburgring with a new lap record.
"The last lap in Qualifying 3 was spot on," he said.
The line-up for the weekend was: Mercedes – Lewis Hamilton and Bottas; Ferrari – Sebastian Vettel and Charles Leclerc; Red Bull Honda – Max Verstappen and Alexander Albon; McLaren Renault – Carlos Sainz and Lando Norris; Renault – Daniel Ricciardo and Esteban Ocon; AlphaTauri Honda – Daniil Kvyat and Pierre Gasly; Racing Point Mercedes – Sergio Perez and Lance Stroll; Alfa Romeo Ferrari – Kimi Raikkonen and Antonio Giovinazzi; Haas Ferrari – Romain Grosjean and Kevin Magnussen; Williams Mercedes – George Russell and Nicolas Latifi.
Fog grounded the medi-vac helicopter all day on Friday, so both free practice sessions had been washed out Therefore, Free Practice 3 on Saturday marked the first time the F1 drivers ventured out onto the track.
At the end of a dry FP3 it was Bottas who had clocked the best lap time so far at the Nurburgring – 1:26.225.
Stroll was feeling ill on Saturday morning and did not take part in FP3. Racing Point brought in Nico Hulkenberg to replace him for the rest of the weekend.
"Lance did not feel 100% this morning and the team took the decision not to run him for the rest of the event," the team said in a statement. "Nico, who previously deputized for Sergio Perez at the Silverstone events, is familiar with the car and team already, and fortunately was in nearby Cologne."
QUALIFYING 1
Q1 lasted 18 minutes.
The ambient temperature at the start of the session was 48 degrees Fahrenheit (9 degrees Centigrade) and the track temperature was 64 degrees Fahrenheit (18 degrees Centigrade).
Hulkenberg quickly got out on the track to get in some laps.
Hamilton set the early pace with a time of 1:26.703, which was 0.223 of a second quicker than Bottas.
With 10 minutes remaining, Verstappen grabbed the lead by clocking a 1:26.319. Bottas moved up to second ahead of Hamilton, Leclerc and Albon.
When there were five minutes remaining in Q1, Perez was 15th and on the cutoff line. Russell was 14th and Grosjean was 16th.
The five drivers who were eliminated at the end of Q1 were: Grosjean, Russell, Latifi, Raikkonen and Hulkenberg.
The fastest 15 drivers who moved on to Q2 were: Verstappen, Bottas, Hamilton, Norris, Ricciardo, Leclerc, Gasly, Ocon, Vettel, Perez, Albon, Magnussen, Kvyat, Sainz and, for the first time this season, Giovinazzi.
QUALIFYING 2
Q2 lasted 15 minutes.
Hamilton and Bottas were the first out, and both were on the medium compound Pirelli tires, as were both Ferrari drivers and Ricciardo.
Hamilton set a 1:26.183, and Bottas turned a 1:26.954. Verstappen, on the soft slicks, jumped ahead with a 1:25.720.
Hamilton was now second ahead of Albon, Norris, Ocon, Sainz and Perez with eight minutes remaining.
Tenth and on the bubble with five minutes to go was Ricciardo, and Leclerc was ninth while Vettel was 11th.
Bottas headed back out on the softs as did Hamilton. Bottas went from eighth to second. But then Hamilton jumped into the lead at 1:25.390.
The Ferrari guys and Ricciardo switched to the soft tires for their final runs.
The order kept changing, and at the end of Q2 the five drivers who were eliminated were: Vettel, in his home race, Gasly, Kvyat, Giovinazzi and Magnussen.
The fastest 10 drivers who moved on to Q3 were: Hamilton, Verstappen, Bottas, Ricciardo, Leclerc, Albon, Norris, Perez, Sainz and Ocon.
QUALIFYING 3
Q3 lasted 12 minutes.
The McLaren drivers and the Mercedes drivers were the first out.
Sainz turned a 1:27.573 and Norris did a 1:27.325.
But they did not stay up front for long. Bottas got a 1:25.812 and Verstappen beat that at 1:25.744. Hamilton was third with a 1:25.825.
Albon was fourth ahead of Leclerc, Ocon, Norris, Sainz and Ricciardo. Perez did not make an initial run in Q3.
Perez then headed out and had the track to himself as he claimed sixth place.
And now the rest of the drivers went out.
Hamilton clocked a 1:25.525. Bottas beat that with his 1:25.269. Verstappen, who lacked grip, dropped to third ahead of Leclerc, Albon, Ricciardo, Ocon, Norris, Perez and Sainz.