Dutch GP 2022
SEPTEMBER 3, 2022
Saturday Team Quotes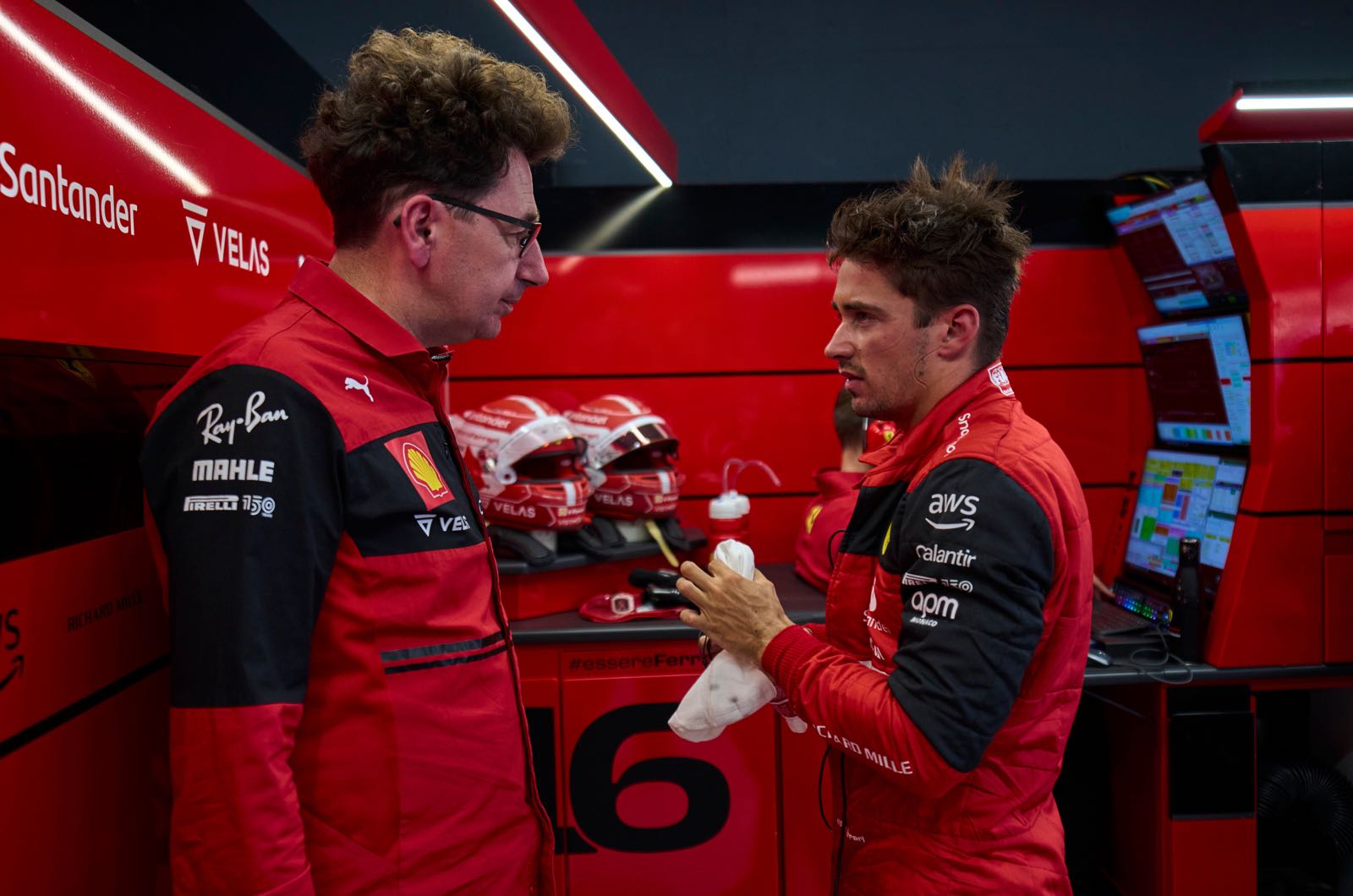 © Ferrari
Mercedes-AMG Petronas F1 Team
Lewis Hamilton (4th, 1:10.648): "That final lap was a good one, coming into the final sector I was definitely up and I saw the car facing the opposite direction and had to lift, that lap could have been good enough for at least third but I'll see if I can replace that tomorrow. I'm happy our car is much, much better this weekend, that's exciting. Throughout qualifying I was just a tenth behind the Red Bull which gave me a lot of belief that we could just maybe make the difference but it wasn't meant to be. I'm really happy with where I've got the setup and balance of the car, I hope degradation comes into play tomorrow and we can have the upper hand. The aero characteristics of the car work much better here, last week we had to run our car higher and that small window where our car likes to operate in is much easier to find here."
George Russell (6th, 1:11.147): "I think on a circuit like this, there is so much track evolution and when we are already on the back foot, we felt like we need to give it everything and that was our strategy in Budapest as well. The track kept evolving and if you are the last one to cross the line, you are going to hopefully get the best of the track so it goes both ways, you can look like hero or zero. And obviously today it didn't quite work for us but P6 isn't a terrible place to start and the run into Turn 1 and those first few laps will be vital. But I see no reason why we can't fight for a podium. I hope the sun comes out and combined with the orange fog, creates a bit of temperature in the atmosphere tomorrow. We understand why we were slow in Spa and why we are faster this weekend, so I think these two races have been key to our understanding of how to make a faster car across 23 races."
Toto Wolff, Team Principal: "It was frustrating not to have the chance to improve our times on the final run of Q3, we were a tenth up on Verstappen and Leclerc so Lewis was in contention for the pole here. Unfortunately, Checo pushed it a lot and lost it but it's not his fault. It's just a decision you take, you can lose pole position because of a yellow or you can lose the pole by a few hundredths having run first - afterwards you always know better. We have a strong race car which has been in a good place all weekend and starting on the second row, anything is possible tomorrow. We developed a car which gains a lot of its downforce with a low ride height and sometimes you can't run low because you are hitting the ground. You're forced to take compromises in the setup which moves the car away from its sweet spot but here in Zandvoort, we're able to find that spot much more easily."
Andrew Shovlin: "After a really difficult qualifying session last week, it's been encouraging to see that we have been able to get the car and tyres in a better place throughout free practice and qualifying. Both drivers lost positions with the yellow flag caused by Sergio's spin, which is frustrating when it's as tight as it was today but sometimes that's just the way it goes. We did some race work this morning during final practice and both drivers were encouraged by the way the car was handling and looking after its tyres, so that will hopefully bode well for tomorrow. It's also hard to know where everyone is going to go on strategy for tomorrow. There's wasn't a lot of long run data due to a number of red flags so it may be we see a range of strategies up and down the grid which could give us opportunity. We do normally race better than we qualify and if that proves to be the case, we should be able to make some good progress in the race tomorrow."
Oracle Red Bull Racing
Max Verstappen (1st, 1:10.347): "Unbelievable! We had a difficult day yesterday, the whole team worked really hard over night to turn it around and we recovered well. Again, today we had a quick car and it was enjoyable to drive; a qualifying lap around here feels insane. I know it's going to be close during the race, but I think if we make the right calls on tyres and execute it well, we should stand a good chance tomorrow. The atmosphere is amazing here, I hope the fans are having a great time, I really can feel the support and I can hear them all around the track."
Sergio Perez (5th, 1:11.077): "I was pushing it to the limit on the final lap of Q3 and I just went over the limit a little, it's a shame. I went a bit too hot into the final corner and in the end I was lucky not to damage the car. I touched the throttle too early; I just kissed the gravel and unfortunately, I lost the rear end. I was on a good lap and could have improved quite a bit but we lost out. We are still P5 though and we can race from there but it will be very important to have a strong race pace. We have made positive changes to the car since yesterday and we are on the right track, this morning the long run was positive so Im hopeful to carry that into tomorrow and make up some good positions on the leaders. We think it could be a very close race between us, the Mercedes and the Ferraris, it could be a battle and I am looking forward to it."
Christian Horner, Sporting Director: "When you watch elite sportsmen at the top of their game they can really turn it on under pressure and Max did just that. He's gaining more experience. He is continuing to mature and develop, and he has proved throughout the year that he can deliver an outstanding performance. Charles put down a hell of a marker and there was a lot of pressure on Max to turn in a perfect lap and he did it. It was a tiny margin but a vital one for tomorrows race. But, as I have said before, it's all about team work. There is a lot of hard work that goes on behind the scenes, crunching the numbers and working on the simulator late into the night back at home in Milton Keynes. It is a shame for Checo not to be able to finish that final lap. He was up there as well and he would probably have been on the second row but he is P5 and will be able to fight hard from there against Charles and Carlos. Mercedes will be also be competitive in the race, they have nothing to lose, they will push hard and it all sets up for a very exciting contest tomorrow."
Scuderia Ferrari
Charles Leclerc (2nd, 1:10.363): "As a driver, you always target pole but Max (Verstappen) just put it together today. The car balance felt a step better compared to yesterday. Q1 and Q2 were a little tricky. We tried different things on the out laps and in the end the front was a bit stronger which was good because I could push more. I'm confident for tomorrow, though it's a track on which it is rather difficult to overtake, so I hope it will be as close as today and that we can have a good battle with Max."
Carlos Sainz (3rd, 1:10.434): "We knew we were up for a good battle and it proved to be one of the closest qualifyings of the year. Finishing P3 within less than a tenth from pole shows how small the margin was today. I expect a close race with even more cars in the mix, but I'm confident we can fight for the top places. Overtaking may be a bit easier than last year and strategy will play a big role. Tonight, together with the team, we will evaluate all the available options in order to maximize the result in the race."
Laurent Mekies, Sporting Director: "We can be reasonably happy with how qualifying went, but there's also an element of regret. We're pleased to be back fighting for pole position down to the nearest thousandths of a second with both our cars, but obviously, when you come that close to pole you would like to have actually taken it. To see Charles and Carlos come within a whisker of Verstappen, just 2 and 9 hundredths slower respectively, is a good indicator of how intense the fight was. Well done to Max for his home pole. One of the positive aspects of the weekend so far is that we have been able to help the drivers get more and more confident with the car with each passing session. This is down to the team at the track, including Charles and Carlos, and all those supporting us back in Maranello. I expect tomorrow's race will be a very close battle between three teams, as even Mercedes could be in the mix and so it should be a great show for all the fans in the grandstands and those watching at home on TV. We know that, so far, Verstappen has had a very strong race pace and tomorrow we will try and put him under pressure to make life difficult for him."
McLaren F1 Team
Lando Norris (7th, 1:11.174): "A good day. I'm very happy with P7. We've given ourselves the best opportunity to make the most of our race, and we couldn't have done a lot better comparing to the six cars ahead of us. We've got a good chance to score some good points tomorrow, so that's the aim."
Daniel Ricciardo (17th, 1:12.081): "I'm disappointed to be out in Q1. It was a tough one, because I think we were tracking to make it through. I was quite confident we were, but then just got a bit unlucky in the second-last corner. The car in front dragged some dirt onto the track and I just slid my way through and lost, I think it was about three-tenths or something. So, yeah, that cost us. I think then it was probably a couple of tenths to find, and I think we could have chipped away at that. So it's pretty unlucky and frustrating. It's going to be tough for the race tomorrow but we'll keep at it."
Andreas Seidl, Team Principal: "Mixed feelings after qualifying here in Zandvoort. Lando had a very strong run, got everything out of the car, and finished Q7. Daniel was unlucky with the incident in front of him, which cost him the chance of progressing, and he starts P17. The car has been competitive so far this weekend, and we made improvements overnight which have put us in a decent position. Qualifying just behind the top three teams is a strong result, demonstrating we have the pace to score good points tomorrow. Our full focus is on race prep, and we're looking forward to an exciting Dutch Grand Prix in front of an unbelievable crowd."
BWT Alpine F1 Team
Esteban Ocon (12th, 1:11.605): "It's been a tricky day for us and it's not where we wanted to qualify. We struggled a bit with rear grip and seemed to lack a bit of pace compared to previous weekends, so we'll definitely have a close look at that. We've been in worse positions in the past and points places are not far away. The weekend is far from finished. We hope for some more overtakes tomorrow and we'll be giving it our all as always to have a solid race and get both cars back into the points."
Fernando Alonso (13th, 1:11.613): "Unfortunately, it's not been our day today. It was the traffic in Q2 that cost us from going into Q3, as we were half a second faster and could have been in sixth position. We could not show the true potential of the car, but these things can happen on a track as narrow as Zandvoort. Let's see if we can use the pace of the car tomorrow and have a better result in the race when it counts. It's not easy to overtake here as we saw last year, but we will push to score as many points as possible."
Alan Permane, Sporting Director: "It was a disappointing Qualifying for the team today, we have work to do, but I'm sure we can recover and score points tomorrow. We line up twelfth and thirteenth on the grid, but with the modified DRS zone this year, overtaking should be possible. We will be doing our hard work between now and the race to identify the best strategy. Esteban has not been quite at one with his car this weekend, struggling with the rear end in general around the lap. Fernando's result is definitely not a reflection of his performance, he had traffic on his second Q2 run and would have been comfortably into Q3 without this. We'll do everything we can tomorrow to come away with both cars in the points and, the way we've been racing at recent events, I think achieving that is certainly possible."
Scuderia AlphaTauri
Yuki Tsunoda (9th, 1:12.556): "I'm really happy about our Quali performance today. If I'm honest, it was a bit of a surprise to make it through to Q3, considering our pace in FP3, but we made some good changes to the car after practice, I was then able to put it altogether and extract the maximum performance from the car. The hard work from the team has really paid off this afternoon and making it through to Q3 is really positive, so I'm pleased with how we've improved today. Now we've got to concentrate on the race, we've got a lot of strong data to look through, so we need to work hard tonight to allow us to try and finish in the top 10 tomorrow."
Pierre Gasly (11th, 1:11.512): "At the end of the day, considering where we were in the practice sessions, we have to be pleased with our performance today. We've made a big step-up from FP3, and we just missed out on making it through to Q3 this afternoon. For the race tomorrow, the aim is to gain as many places as possible off the line, as we're starting from P11, and then hopefully come home in the points."
Claudio Balestri, Chief Engineer, Vehicle Performance: "After Friday's session we were not really satisfied by our performance as we knew there was margin to improve our package, so for this reason we decided to change the setups overnight. The aim was to try to improve the management of the tyres and the overall performance, we were especially struggling in the corners. In high-speed corners we were sliding and in Sector 1 we were slower than our competitors. This morning, in FP3 we didn't fully solve our main limitations and were not happy with our performance, so we made further changes to our setups before Quali and it paid off. At the end of day, we can be pleased with Yuki starting tomorrow in P9 and Pierre in P11. Now we are looking forward to the race, it will be very important to manage the tyres and to ensure we control the degradation, and if we do this well then hopefully we can fight for points."
Aston Martin Aramco Cognizant F1 Team
Lance Stroll (10th, No Time): "It is a shame that we had the hydraulic issue in Q3 because we had the pace for a top-eight result today – and that would have been great given our recent difficulties in qualifying. The car was really fun to drive today – the team have done a fantastic job with the set-up and balance – so it is great to see everyone being rewarded for their efforts. This starting position should give us a good chance to score some decent points in the Grand Prix tomorrow."
Sebastian Vettel (19th, 1:12.391): "On my final Q1 lap I picked up some sand on my left-side wheels on the entry to Turn 13. At that point, you are really focused on the apex kerb on the right – I was not trying anything fancy – and I just drifted off-line and lost the car. I guess you could say that I got caught out by the 'zand' in Zandvoort. My pace up until that point had looked very good – that last lap was easily good enough for Q2 – and I think we could probably have got to Q3, too. It is a shame, and it makes things harder for tomorrow because we will basically start last. We will see if we can find a smart strategy solution – but it is probably going to be a long afternoon."
Mike Krack, Chief Operating Officer: "Sebastian was on a quick lap in Q1 when he arrived at Turn 13 to find the racing line coated with dust kicked up by the car that had run wide just ahead of him. As a result, he too ran wide and lost the lap. That is racing, but it is frustrating all the same. Lance was also really 'on it' in Q1 – a strong P7 – and again in Q2 despite locking up at Turn One at the start of his second fast lap – a fine P8 – then in Q3 we suffered a lack of hydraulic pressure which prevented him from being able to go out again. All in all, it was a frustrating session but both our drivers showed very good pace and will therefore approach tomorrow's race with controlled ambition."
Williams Racing
Alexander Albon (15th, 1:11.802): "Today was okay if you think about the circuit and where we are in our limitations to get into Q2, so I think it's a really good job. I'm pleased about Q1 as we didn't expect to make it into Q3, so it's been a massive effort by everyone. I lost a little bit of the rear in Q2 and we're fighting small margins out there, so whilst finishing P15 in Q2 is obviously disappointing, I feel like we made some good changes overnight, so can see if we can make up some places tomorrow."
Nicholas Latifi (20th, 1:13.353): "We had an issue that we are still investigating in qualifying. On my first lap I was getting some messages on the dash and losing power and then on my second attempt I had to abort the lap because the issue re-occurred. It's not ideal because we've been struggling all weekend and it seemed like we had made a decent step in the right direction at the start of the first lap, but we just didn't get In a representative lap. This is motorsport and it happens."
Dave Robson, Senior Race Engineer: "We made some good progress overnight and got the car into a better window today. It is still difficult round here, especially when the wind picks up, but we got more from the tyres today and were able to get a more consistent balance. We expected Q1 to be very tight and so opted to send Alex early to give him a clean lap. This worked well and he was able to produce a very good lap to make Q2. Unfortunately, Nicholas struggled with a spike in engine temperature, which we are currently investigating. The problem started during his 1st lap in Q1 and we took some time to investigate whilst the car was back in the garage. However, it was clear early on in his 2nd run that we had not fully fixed the issue and so he had to abort his lap, which was a huge shame as he was very fast in the opening half of the lap. It was a shame that Alex's 1st run in Q2 was interrupted by a flare on the track, but he was still able to set a decent lap on used tyres after the red flag. For his final run, we again looked for a clear lap for Alex, which was successful, but he had a small snap early in the lap, which prevented him from bettering his Q1 time. A perfect lap would've earned us a few more places on the grid but Q3 was probably just beyond us today. We have a good selection of tyre remaining for tomorrow and there is still a long way to go this weekend."
Alfa Romeo F1 Team ORLEN
Guanyu Zhou (14th, 1:11.704): "I think we made a decent step in qualifying today, especially considering the results in FP3 earlier today, as we were on the back foot and it looked like we could've been out in Q1. As predicted, it was super tight in the midfield, but I am fairly happy with where we qualified: I reckon we maximized everything we had, and this is why I wanted to thank the team over the radio. We are still struggling a little with the pace compared to some of the other teams, and we should start from that to give ourselves a better chance ahead of tomorrow. It will be hard to overtake on this track layout, but hopefully we can have some good action during the race."
Valtteri Bottas (16th, 1:11.961): "The feeling with the car wasn't too bad, but we're still lacking a bit of pace and grip to be higher up on the grid. We tried everything with the setup, but what we could find was not fast enough today. We expected this compound to be a one-lap tyre in qualifying, and that is what we have been focusing on with our run plan today. It's been quite a tough weekend so far, but there's still a race ahead of us. It's going to be a challenge, no doubt, but we will try our best and see what we can find."
Frédéric Vasseur, Team Principal: "Today's result is roughly in line with what we were expecting after what has been, so far, a difficult weekend. We struggled to find the best balance for the car yesterday and, even though we made a step forward today, it was not enough to place a car in Q3. P14 and P16 on the grid are not the easiest places to start on this narrow and twisty track, but there's a long race ahead of us and we need to be ready to make the best of any opportunity. The start and the strategy will be key: we'll give everything we have and see what we can bring home."
Haas F1 Team
Mick Schumacher (8th, 1:11.442): "It's great to be in Q3 and obviously we're very happy with our performance. It's unexpected as I think we were expecting to go out in Q2 but to get to Q3 and repeat the lap time we did in Q2 was definitely decent, and we now have a good starting position for tomorrow. We haven't made massive changes, we've just been fine-tuning and luckily we started the weekend with a great set-up so we didn't have to make big changes which always helps. It especially helps builds confidence and hopefully makes you faster."
Kevin Magnussen (18th, 1:12.319): "It looked good this morning and for whatever reason it disappeared again. It looked pretty decent after the first run in Q1 so that's why I'm a bit puzzled that we didn't gain that extra grip that everyone else seemed to, as I just gained two tenths where some others gained eight tenths or a second. We'll push tomorrow and see what we can do."
Guenther Steiner, Team Principal: "It was a good day today mainly for Mick getting into Q3, that was our goal. Obviously, our goal was to get in with both cars, and I said anything is possible – either going out in Q1 or getting in to Q3 – and we did both. Well done to Mick, Kevin just wasn't happy on his fast lap and it's so close together, it's very difficult if you are not 100 percent at ease with the car. Tomorrow, I think the car is performing pretty well and we know that Kevin is a good starter, so maybe he will make some magic at the start. All in all, it's very good that Mick starts in the top 10 and hopefully we can bring some points home."