Dutch GP 2022
SEPTEMBER 2, 2022
Friday Team Quotes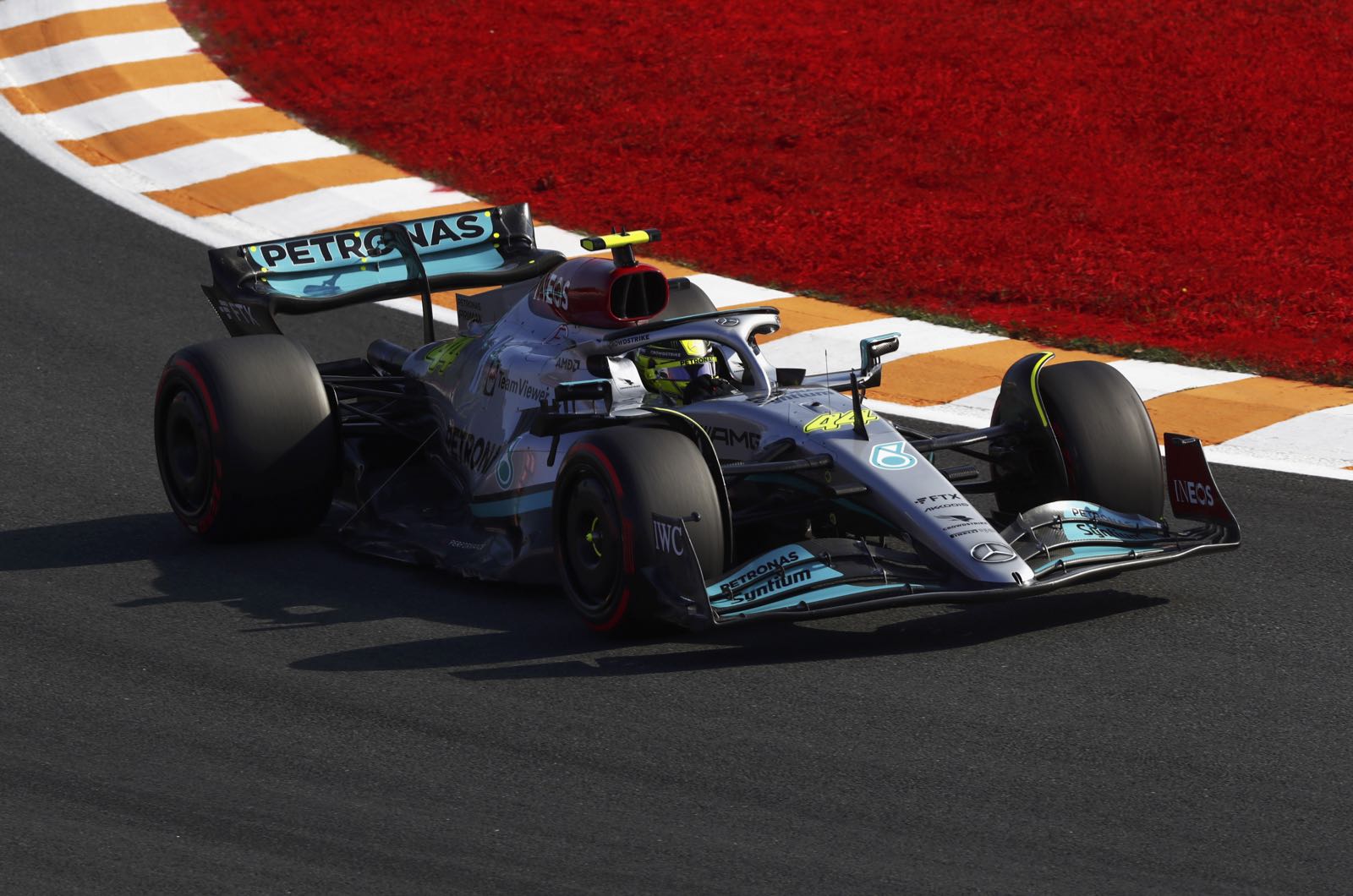 © Mercedes-Benz Grand Prix Ltd.
Mercedes-AMG Petronas F1 Team
Lewis Hamilton (3rd, 1:12.417): "This is a lot better than my Sunday last week and better than the Friday too. It's been a decent start to the weekend, we've landed in a much sweeter sport with the car, just being a very different track. It's still a work in progress, we aren't that far behind which is great to see and the car doesn't feel too bad so we've got to keep chipping away. This track is a lot more aggressive on the tyres and we could feel some bouncing here and there but if we can make some progress overnight, which we normally do, then let's see what's possible tomorrow."
George Russell (5th, 1:12.655): "The car's working better than this time last week and it's going to be close tomorrow, McLaren will be up there and Aston Martin too. We know qualifying is our weak point and the race will come towards us - our race pace is looking pretty strong - but you've got to be starting in the right position. It was tricky out there because the timing screens were down so we couldn't see where our long run pace was definitively but we know it's in a relatively good spot. We're closer on Friday than we've been in a while so that's promising for tomorrow. The DRS on the banking is pretty cool, it's incredible how much grip you get with this banking and on turn 3 here, you throw the car in and it just grips - it's a great feeling."
Andrew Shovlin: "The car has been a lot easier to balance here than in Spa and we look to be in a better place in terms of pace; we're still missing a bit on single lap and long run but the gaps are a lot better than last week. The sessions were a bit messy with a few red flags but we managed to tick off our test items and have a decent idea where we are going with the car spec for tomorrow. Neither driver has the balance where they want it yet and both felt the car was a little easier to drive in the morning. In the afternoon, we were understeering in some places and lacking stability in others. Not major issues but ones we are going to need to put right overnight if we plan on giving Red Bull and Ferrari any trouble tomorrow."
Oracle Red Bull Racing
Max Verstappen (8th, 1:13.042): "We missed out on valuable time in FP1 and then the balance wasn't great in FP2. In an hour-long session you can't really change much on the car, so we just had to deal with what we had. Today wasn't great but we'll have a look at everything overnight, for sure we can do better than this. I wasn't surprised when I saw the time difference, there are a lot of things that we can improve on, we've got FP3 tomorrow morning to try out a few things ahead of qualifying."
Sergio Perez (12th, 1:13.493): "Things are very marginal and Ferrari seem to be very strong around this circuit so, as I predicted, it is going to be an interesting weekend. It is a pretty challenging track and I think we are lacking speed throughout at the moment, we haven't been quick in any of the sectors, so there is analysis to be done. We haven't been as happy as we were in Belgium so there are things we need to look at to make sure we pick up on everything to be in the mix for quali. I got a lot of traffic today, I got one of the Ferraris on my fast lap and I couldn't get a proper read on my soft tyre unfortunately, without causing an incident. Degradation seems to be pretty high on the long runs so it will be interesting to see what we are able to do with the strategy. We certainly need to improve for qualifying tomorrow."
Scuderia Ferrari
Charles Leclerc (1st, 1:12.345): "We picked up the pace a little in FP2, but we were not quite there with the car balance on my side. There's some work ahead of us and I'm confident we can make a step forward by tomorrow. We were all very close apart from Max and Checo, but I don't think they had a clean day so it will be interesting."
Carlos Sainz (2nd, 1:12.349): "Overall it was a good Friday here in Zandvoort. It was great to be back at such a demanding and challenging track for drivers and cars, so I enjoyed it a lot. Performance-wise, it was a clean Friday and we completed the run plan without any issues, both for the long and short runs. It seems to be tight with our closest rivals, so any performance we can find overnight will definitely help us going into qualifying."
McLaren F1 Team
Lando Norris (4th, 1:12.448): "A reasonable day. I think with the different type of track we're a little bit more back in line with where we've been in general - closer to the front, back in the midfield pack. There are some positives. The car is handling reasonably well both in low fuel and high fuel. I think we're in an okay position. It's still close, both in front of us and behind us but if we can squeeze a bit more out of the car overnight, into qualifying tomorrow, then we can give ourselves a good chance of scoring decent points on Sunday."
Daniel Ricciardo (10th, 1:13.362): "It was nice to be back on the track, it's a good time for sure. It was fun. Unfortunately, we lost a bit of track time due to an oil leak in FP2, however looking at Lando's pace, it was promising. We made a few changes for FP2 and it looks like that's worked, so we'll have confidence going in that direction overnight. It's just a case of putting the lap together, which I'm confident of tomorrow. All in all, I think it was a good day for the team and we'll just clean it up tonight."
Andrea Stella, Racing Director: "Overall, we had a productive day. There were a few issues, most notably a radiator problem for Daniel which cut short his FP2 and, as a result, he missed the high-fuel run at the end of the session. That aside, the day went well. We have progressed our understanding of the tyres and set-up direction, and we seem to be in a better place than we were last weekend at Spa. We're looking forward to Qualifying and the Race – but still have plenty of work to do overnight in order to be as competitive as we can be."
BWT Alpine F1 Team
Fernando Alonso (7th, 1:12.848): "It was a decent Friday for us. It is a very different circuit to what we experienced last weekend in Spa. It's a fun place to drive Formula 1 cars around, it's like a rollercoaster with all of the bumps. The car feels good so far and I think we've seen a lot of track evolution today as it was quite dusty across the circuit this morning. We're going to evaluate everything now, but we are pleased with our progress so far."
Esteban Ocon (9th, 1:13.305): "It's good to be back in Zandvoort at a track I enjoy driving at with its unique undulation and layout. Our Friday ended with both cars in the top ten in both practice sessions and that's a decent start to our weekend. Tonight we'll need to look at and try to find the areas where we can improve. We'll also approach tomorrow with good understanding on how the tyres are behaving, especially since we have tested the hardest compound today and it's not something we usually do on Fridays. There's plenty of work to do with the team to be ready for an all-important qualifying session tomorrow."
Matt Harman, Technical Director: "Today was a trouble-free day of practice and we completed everything we intended to do with both cars. We've brought a couple of small upgrades here, which performed in line with our pre-race simulations, and that's brought a bit of extra performance. It's fantastic that we continue to bring upgrades to every race and there's more to come at the next couple of races as well. We're looking forward to the rest of the weekend in Zandvoort – there have been no surprises so far – and we're happy with our work. This weekend, we aim to continue our momentum in the Constructors' Championship relative to our main on-track rivals."
Scuderia AlphaTauri
Yuki Tsunoda (11th, 1:13.419): "I think we've had an ok day, up until that last stint in FP2. I was struggling with a lack of grip during my long run in FP2 and then unfortunately, I hit a gust of wind and lost the car, going into the gravel trap. Overall, I've not felt that comfortable with the car today, but we've gained a lot of good data across both sessions, so we'll go away tonight and look at this to try and put it altogether for tomorrow."
Pierre Gasly (16th, 1:13.666): "It's not been a great day for me really, I've not felt that happy with the car in either session. We also had to make some changes to the car at the start of FP2, which unfortunately cost us quite a lot of track time. So far, it's been quite challenging, so we've got a lot of work ahead of us tonight and tomorrow, but I'm sure we'll find some solutions and feel more confident heading into Quali."
Jonathan Eddolls, Chief Race Engineer: "Coming to Zandvoort, the circuit characteristics are very different compared to the last race in Spa. So, we go from the lowest downforce run this season to the highest. The track always starts quite green here, especially with the sand on track, so putting the drivers out on the Hards for the first run was challenging for them, particularly with the mild temperatures. We struggled to make that tyre work well so shifted focus quickly to the Mediums, however we were still lacking overall grip. Therefore, we made big changes to the setup of both cars for FP2. Unfortunately, we lost some time on Pierre's car with one of the changes, so he lost the first part of the session, but across the two cars we managed to gather good short-run data to piece together the best bits of each setup for tomorrow. During the long run, Yuki lost the car when he was hit by a sudden gust of wind whilst on power in the exit of T10, so sadly he beached it and that was the end of our session. Yuki was able to put in a competitive lap on the Soft tyre, which is positive, but generally for the team the performance was not aligned with our expectation, so we have a lot of work ahead of us tonight."
Aston Martin Aramco Cognizant F1 Team
Lance Stroll (6th, 1:12.746): "We had a strong day today around a track I really like. This place is quite different to Spa – which is much faster – and we were strong there as well during Friday practice. It is a case of having to wait and see whether we can carry this momentum into qualifying tomorrow. If we can maintain our strong progress, then we should be in a good position to fight for points in the race."
Sebastian Vettel (14th, 1:13.611): "It was a bit of a tricky day for us today. FP1 was pretty busy, and there was plenty of traffic, but I never really felt on top of the car in either session. Looking at the times, I think our long-run pace looks pretty good, but we still need to focus on our single-lap pace. I am not really happy with today's result – I think there is more pace in the car that we can find – but hopefully we can take a step forward overnight and hit the ground running in FP3."
Williams Racing
Alexander Albon (17th, 1:13.837): "Whilst it wasn't great today, it felt okay out there, despite being quite windy with a high downforce circuit. The cars that are quick is opposite to last weekend, so it's really different in terms of requirements for us. Ultimately, the track is just not suiting us today so it's not easy, however I think we know where we need to improve so it's all about trying to get it done for tomorrow, knowing how important qualifying is. Hopefully we can make some changes that will improve our overall pace across the weekend, so that's the goal."
Nicholas Latifi (20th, 1:14.797): "Today was a really tough day for the team and especially for me. Obviously FP1 is difficult to judge as the track is completely different going into the weekend. It's very windy out there and some corners are more affected than others. All in all, I struggled with a lot of different things and need to work on finding the right rhythm with driving and balancing the car. This is a track that requires a lot of commitment and you need to feel everything so I have a lot of homework to do tonight so that I can push the car more confidently the rest of the weekend."
Dave Robson, Senior Race Engineer: "It has been a slightly challenging day in Zandvoort with both drivers struggling to find a comfortable balance. The track grip was low today and didn't improve as quickly as we hoped. The tyres have also been tricky to manage as they get very little rest during a lap here, especially the front left. We have got some useful low fuel data from today, but we are going to need to study this hard overnight to help guide the setup changes for tomorrow. We would've liked to have got some more high fuel running done but red flags prevented this, which makes the race strategy a little difficult to judge at this stage. We will need to be flexible and agile on Sunday, but we are confident that this style of racing suits us."
Alfa Romeo F1 Team ORLEN
Guanyu Zhou (15th, 1:13.624): "Of course, today was quite a change from the last time I raced here; the track layout back then, for starters, was the old school one, while now there's a lot of banking, and it's overall different driving on it in a Formula One car. In terms of learning the track, I think today was a really smooth day: we didn't have any issues and, while we still haven't got the best balance for the car yet, we will make sure to find it ahead of tomorrow. Zandvoort is a high-downforce track, and it's always quite dirty due to the gravel and being next to the beach. Once again it will be super tight in the midfield, but we're still there: we just need to find a few tenths ahead of qualifying and we'll be through."
Valtteri Bottas (18th, 1:14.167): "We got some clean running, which is always a positive, but it was quite a tricky day. It was quite windy and this may have contributed to making the balance of the car feels a bit inconsistent: whatever the cause is, we have to figure out how to improve tonight so to find a bit more for qualifying. Grid position will be important on this tight track and I expect everyone's setup to be a bit skewed towards single-lap performance: in the end, the challenge is the same for everyone so we'll see how tomorrow goes."
Haas F1 Team
Mick Schumacher (13th, 1:13.604): "I'd call it a clean day. The car felt good from the get-go, and it was definitely nicer to drive compared to Spa plus it's a bit more competitive which is nice. I love coming here, it's such a pure, old school racing track and you really have to drive the car around here, instead of the car driving you around. It's definitely a good, fun place to drive a lap but maybe in the race it's going to be a bit more tough as overtaking is still a bit difficult it seems, but for sure we'll have a lot of action compared to last year."
Kevin Magnussen (19th, 1:14.282): "It was great. It's a really cool track and it's really challenging as well, so it's nice that we go to places like Zandvoort where you really feel exhilarated, and that's certainly the case. I'm looking forward to getting some more laps in tomorrow, I'll sleep on the laps I got today, and get more out of it tomorrow."
Guenther Steiner, Team Principal: "Maybe a slightly more positive Friday than we had last weekend. FP1 was productive for both Kevin and Mick with lots of laps – good for Kevin especially given it's his first time driving a Formula 1 car around Zandvoort. Our times were more competitive on the soft tires which was inline with our expectations coming here. We didn't quite replicate that form in FP2 later in the day, at least not with both cars, but we got to complete our run through of all the tire compounds by running the mediums before our quali sims. Work to do based on what we've learned, as always, but we're on a solid footing heading into Saturday."