Dutch GP 2021
SEPTEMBER 4, 2021
Saturday Team Quotes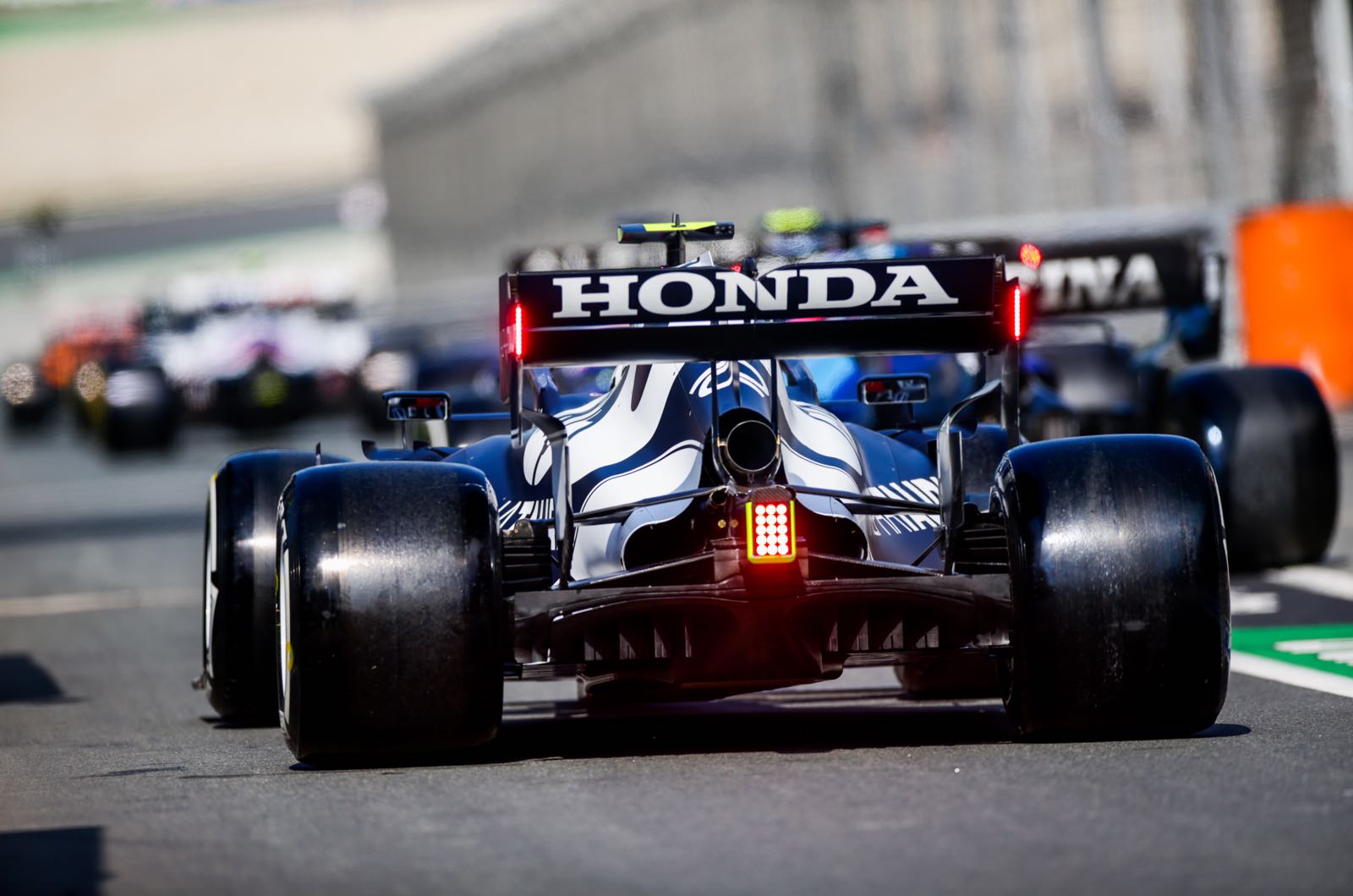 © Red Bull
Mercedes-AMG Petronas F1 Team
Lewis Hamilton (2nd, 1:08.923): "That was so close. I gave it absolutely everything out there, but Max did a fantastic job and deserved pole position. I've been trying to play catch-up after missing most of yesterday's session, so that made it a bit more of a difficult day. Nevertheless, the car felt good out there and what an amazing track to qualify on. A big thank you to the Dutch fans, I love coming to this country and I really appreciate the welcome I have received. We haven't seen a crowd like this in a while so hopefully we put on a good show for them tomorrow. It's going to be tough, because it's a challenging track to overtake on, but strategy will play a big role. We've got two cars at the front, so we'll both be giving it our all and what a track to go racing on."
Valtteri Bottas (3rd, 1:09.222): "That was a fun Qualifying session. It's a great track to drive, especially in the middle sector where it is so fast, and also the banked corners. There's a really nice atmosphere here, too. The car has been feeling good, but Red Bull were just a bit out of reach today. We're still lacking a little bit in the first sector, particularly through Turns 2 and 3. My last lap in Q3 wasn't the best, I was up on my time until Turn 11 but then got a bit too greedy and braked too late. But we have two cars in the top three and that's important, so it's all to play for and we'll be on the attack tomorrow. It's a hard track to overtake on but the start and strategy will provide opportunities, so I'm sure we will still see a great race."
Toto Wolff, Team Principal: "We're satisfied with where we ended up in Qualifying. Firstly, it was great to see the drivers pushing to the limit on an exciting track like this. Lewis missed out on a lot of running yesterday but he put a fantastic lap together in the end, he probably outperformed the car. Valtteri did a strong job throughout the session, too, so having the cars in P2 and P3 is a good starting point for tomorrow. There are options on both one and two stops for the race and we have both our drivers up at the front, so that gives us the chance to play different strategies and see where we end up. I think it's going to be a really exciting race and there's a good atmosphere here, so I'm looking forward to seeing how it all plays out."
Andrew Shovlin: "We've been on the backfoot through this weekend; losing time with Lewis yesterday didn't help but we've struggled with the car through Turn 2 and 3 and that was a trend that remained in the morning session today. We made some changes going into Qualifying, but we didn't get a great read on that in the first half of Qualifying, as we ran the Medium to start and then ended up on cold tyres in the second session due to a red flag. The final session was the first time we had hot tyres and the Soft compound, and the car was working reasonably well. Lewis ended up less than four hundredths of a second off Max and Valtteri would have been right there had Turn 11 and 12 been a bit cleaner on his final run, so whilst we missed out on pole position, we can still be satisfied with the progress. It's going to be very difficult to overtake but having two cars at the front is an advantage and the indications from the sessions so far are that incidents are likely, so there's still plenty of opportunity."
Red Bull Racing
Max Verstappen (1st, 1:08.885): "It feels great to be on pole position and of course it makes it even more satisfying when it's at one of your home races. Everyone was going crazy each time I crossed the line and it's amazing to see people having the time of their lives in the grandstands. I've had so much fun already from FP1 driving this track and in qualifying when you're on low fuel it's just incredible. Sector two and the banked corners, plus the last corner where you're flat, it's a nice sensation and it's just so enjoyable to drive. It's an old school track that is flowing and fast like Suzuka where you really feel the grip of a Formula One car, it's challenging and I enjoy tracks like this. Today we worked really well as a Team and took another good step forward with the car compared to yesterday. Qualifying was quite tricky with the red flags, you could see there was no room for error which is nice and makes it more exciting, but my lap itself was good. There were two occasions where I lost some time, first with a double upshift coming out of Turn 3 where it is very bumpy, and then my DRS didn't open coming out of the last corner which we need to look into, but fortunately the lap was enough for pole. Of course at this track it's important to be starting from out in front because it's very difficult to overtake here so the start will be key and then we need to look after our tyres and be on alert because new tracks can often bring chaos. I expect Mercedes to be strong, you could see the gap was close today, so tomorrow isn't as straightforward as it seems."
Sergio Perez (16th, 1:10.530): "I'm really disappointed today because we had such a fantastic car going into qualifying. We were making great progress and could have had two cars up there tomorrow, possibly locking out the front row and so we really didn't expect to be in this position. We were just so unlucky at the end, people were going so slow in the pit lane and I didn't manage to get my second lap in, I missed it by just one second and a half. We'll discuss today together as a group and see what we can learn for the next race as this is how we get stronger as a Team. We know tomorrow will be really difficult to overtake, but this is an unpredictable track, no one knows what to expect and so of course I will try and minimise the damage and score something for the Team."
Christian Horner, Sporting Director: "It was an amazing performance by Max under massive pressure in front of his home crowd to become the first Dutchman to take pole position at a Dutch Grand Prix. Max has got a lot of racing experience behind him now and the way he deals with pressure has been outstanding in recent years and he's done a great job today. It's a tough track to overtake at and he's in the best place to start tomorrow's race so the first part of the job is done. With Sergio, we sent him out in Q3 with enough time to go but then everyone backed up in the Pit Lane which ultimately cost him and he just missed out on getting another run by a second and a half. It was massively frustrating for him and the Team so we'll have to fight back tomorrow. Looking at the start, we have the two Mercedes directly behind Max so they'll be able to split their options so it's important we just get our heads down and focus on our own race."
McLaren F1 Team
Daniel Ricciardo (10th, 1:10.166): "75 per cent of quali, in Q1 and Q2, was really good relative to where we thought we were. There were a lot of things that felt good, and the lap times were good. It came to me quite naturally and normally, and I was able to improve a little bit in each corner. I felt comfortable. In Q3 I felt like I was lacking grip from Turn One, so it was a bit more of a struggle from then on. We don't really know why yet. The track might have changed and maybe we just missed something, but we'll look into that and try to find an answer. It's frustrating as Q3 dictates the grid and that was our worst run in qualifying. There're some positives to take from today, but still some unknowns. We'll keep working at it."
Lando Norris (13th, 1:10.406): "Not the day I wanted or that we were expecting – I just didn't do the best job. I didn't feel too confident in qualifying to hook it all up and put it together. It's probably the closest qualifying we've had all year. It's a shame as this is the race we really needed to be strong, but we just didn't manage it. We also didn't get that last opportunity to try again because of the red flag. It's going to make our day tomorrow very tricky, but I think we're definitely quicker than a few other cars ahead of us, so hopefully we can still score some points."
Andreas Seidl, Team Principal: "This was a very difficult Saturday afternoon for us. On both sides of the garage, it was simply difficult to extract more performance out of the car. Daniel's Q1 and Q2 went well and he could put in a very good lap at the start of Q2, which allowed him to progress to Q3 despite the difficulties we experienced today, but we then struggled with grip in Q3. On Lando's side, in three attempts he never felt really comfortable with pushing to the limit. He missed his final opportunity in Q2, but even with that, it was marginal whether he would progress. Given the nature of the Zandvoort track, this puts us in a difficult position for the race, given how hard it is to overtake here. At the same time, so far this weekend we've seen that this is a track where a lot can happen. The job tonight is to see what we can learn from today, make any improvements we can make and be ready to take any opportunities that may come our way tomorrow."
Aston Martin Cognizant F1 Team
Lance Stroll (12th, 1:10.367): "It is a real shame that the red flags prevented us from making Q3. We were on for a much better lap and I think it would have been enough. We had pace in the car, so it is a shame not to be able to fully show it. While it is not the result we wanted today, I am already looking forward to qualifying here next year – it is such a fun circuit to drive. From P12 on the grid, I know we can fight for points. I do not expect a lot of overtaking in the race, so making a good start and executing a good strategy will be crucial. Our focus is already on tomorrow and coming back stronger."
Sebastian Vettel (17th, 1:10.732): "It is a disappointing result and there are lessons to learn today. I think a place in Q2 was achievable with a clear run and I felt good in the car, but there was a lot of traffic that prevented me from getting the chance to complete a push lap and maximise the track evolution. Regardless, we were not able to make a big enough step forward from our encouraging practice pace, so we need to understand why that was the case. It is difficult to overtake here, but anything can happen tomorrow, especially on such a challenging track. We will try to make up ground in the race and take advantage of any opportunities."
Otmar Szafnauer, Chief Operating Officer: "Lance drove very well in Q1 to make it smoothly through to Q2, but sadly Q2 was then disrupted by accidents for both Williams drivers, first George [Russell] then Nicholas [Latifi], the latter's shunt ending the session and thereby preventing Lance from improving on P12, which is where he was sitting at the time of Latifi's accident. Lance's aim will be to score points from there tomorrow. Sebastian was very unlucky to be badly impeded by both Haas drivers in Q1, and the result was that he qualified in P17 on a circuit where overtaking is likely to be very difficult. Nonetheless, he has a faster car than the drivers who qualified near him – Checo [Perez] apart – so we hope he will be able to make progress despite his ruined qualifying."
Alpine F1 Team
Esteban Ocon (8th, 1:09.933): "I think it's been a good qualifying for us today. I felt good out there, with the car performing at its best and I think we maximised everything we had in hand today. We had some improvements to make after FP3 and we worked very hard in the break to do so. We would like to be further up the grid, of course, but we have the race tomorrow to push on and aim to score points. As a team, having both cars in the top ten is a decent result. The atmosphere out there was amazing, and the fans have been really special all weekend. I could hear the cheering on the straight, which was cool and hopefully we can look forward to putting on a show tomorrow."
Fernando Alonso (9th, 1:09.956): "Overall it was a good day for us as both cars made it into Q3. We managed to save one set of tyres in Q1 but because of the red flag in Q2 our brave move didn't pay off as others regained the ground. Then in Q3 it was very close between a number of cars. We will try to do some overtakes at the start and see where we end up after the first few laps. After that, I think it's going to be difficult to overtake. It will be a challenge for us but we're looking forward to it."
Davide Brivio, Racing Director: "A positive day for us, with both cars through into Q3. It was a difficult session to manage with the red flags, but the team did very well in the situation. We were quite pleased with the performance today overall, even though Esteban struggled a little bit in the morning. Everyone did a good job to put him into Q3, and also on Fernando's side. Tomorrow we know it won't be easy to gain positions, but anything can happen, especially with safety cars or red flags as we have already seen on several occasions this weekend. We are in a good position so we will try our best to make the most of any opportunity."
Scuderia Ferrari Mission Winnow
Charles Leclerc (5th, 1:09.527): "It's a shame to have missed out on fourth place today, but in the end, a fifth and sixth on the grid is a solid Saturday for us. We were probably a bit too aggressive on the front wing set-up on the last run and I lost the rear in the middle sector. For the race, tyre degradation is still something of a question mark. We didn't do a lot of long-run simulations in free practice, so we will manage that the best we can tomorrow. The most important thing will be to have a good start because overtaking will be difficult here."
Carlos Sainz (6th, 1:09.537): "It was one of the most challenging qualifying sessions of the season and for sure the most stressful! I can only say a massive thank you to the mechanics. After the incident in FP3, the car only came back to the garage over 20 minutes after the session, so it was extremely tight on timing to check it and fix everything, and again the entire team did an incredible job. Watching them all over the car was impressive! After all that tension, once I knew we were going out, I really focused on resetting my mind and trying to build up my pace lap after lap. We managed to recover well and had a good quali in a tricky and very tight session. I think overtaking will not be easy tomorrow, but we have a good opportunity to bring home good points from our starting position."
Laurent Mekies, Sporting Director: "First of all, I want to congratulate our mechanics for managing to repair Carlos' car in time for him to take part in qualifying. It was by no means a given and they really did a great job. Having both drivers on the third row is a good team result. Going into this race, we had said we wanted to get back to fighting for these places in qualifying and we have achieved our first objective of the weekend. Carlos did very well to immediately get a feel for the car after he had gone off the track. It was a shame Charles didn't manage to get the place on the second row that was within his grasp, especially when you look at the fantastic lap he did in Q2. But it means he can do it again tomorrow! Now we are focussing on the race, which will be very tough. On a track where overtaking is complicated, the start will be even more crucial than usual. Furthermore, we will have to do a good job of making the most of any opportunity that comes our way on a track that does not forgive the slightest mistake."
Scuderia AlphaTauri Honda
Pierre Gasly (4th, 1:09.478): "I'm extremely happy getting P4 in Quali today, as it hasn't been that easy up until this point here, we've struggled a bit and lacked some pace in practice. We managed to find some extra time and put a really strong lap together when it counted and it's great to be able to say we will start tomorrow's race from the second row. We knew how important Quali was on this track, as it's going to be quite tricky to overtake during the race, and we were able to do a very good job today. The team gave me a great car and starting tomorrow in such a strong position, I'll give it all to bring home a good result."
Yuki Tsunoda (15th, 1:11.314): "I'm pleased with the progress I've made this weekend, I've been building up the lap steadily and this approach has worked really well for me. This is a really fun track to drive and I really enjoyed the Qualifying session, I was feeling confident in the car and it was good to make it through to Q2. It's unfortunate that there was no opportunity to put a lap altogether in the end with my new tyre, due to the red flag, but it is what it is. The pace is definitely there, I think it might've been possible to make it through to Q3, so there are mixed feelings about this afternoon, but overall I am happy with how today went from my side."
Claudio Balestri, Chief Engineer, Vehicle Performance: "After Friday's session we were not fully satisfied and we knew that we could still improve our package. For this reason, we decided to change the setup of the cars overnight, trying to work on the tyres and the overall performance, especially in the corners where we were struggling. After the morning session we made further little changes and it paid off, we matched our best Qualifying of the season with Pierre, with a very competitive P4. Yuki was doing well, but he was unlucky in Q2, due to the red flag he didn't get to use the new tyres, so couldn't complete a final push lap. Now we are looking forward to tomorrow's race, we believe it will be difficult to overtake, meaning the starting position on the grid is very important."
Alfa Romeo Racing ORLEN
Antonio Giovinazzi (7th, 1:09.590): "Today's result feels really good, and I need to give big thanks to the team. We had a technical issue to a wheelnut between Q2 and Q3, but the crew did an amazing job: they did everything they could and they were able to put me back on track. Then I had to really push hard as I wanted to repay them for their work: the lap in Q3 was mega. We will start from a good position in tomorrow's race, we need to continue pushing, stay out of trouble and use this opportunity to bring home a good result."
Robert Kubica (18th, 1:11.301): "My job as a reserve driver is to be ready to stand in, but you never wish for the need to arise. I hope Kimi gets better soon. Considering the short notice and the little practice I had, I think today went ok. This is quite a demanding track, one I had to learn almost from scratch, and practice went quite quickly, but I think I maximised the time I had today. Unfortunately, on the final outlap in Q1 I was affected by the traffic and couldn't get the tyres in the right window, and that ruined my lap. Tomorrow will be a long race, let's see what we can do."
Frederic Vasseur, Team Principal: "Our best qualifying performance of the year comes at the end of a rollercoaster of a day here in Zandvoort. Of course, the morning started with the news about Kimi, but I was proud of the way the team responded. Robert was able to get up to speed quickly, despite this being a challenging track on which he had no recent experience, and then Antonio produced a really good performance to qualify seventh. The team really pulled together in a difficult moment to show its spirit: now we need to convert today's result into points."
Haas F1 Team
Mick Schumacher (19th, 1:11.387): "We'll have to go through and see what happened today. The biggest challenge is to find track position as the track is so short and if you have the right position, it makes a massive difference. We're both now in a situation which isn't great, and the last corner wasn't easy. We had high hopes for a better lap but it wasn't meant to be, but we'll be strong again. We'll try to do our best in the race tomorrow."
Nikita Mazepin (20th, 1:11.875): "It's really difficult here with 20 cars on track. There was so much going on and that last corner is so tight with the gravel, so I tried to get on the power, but I was too late. The track improves all the time and for the last attempt I didn't have the opportunity – it was one of those qualifying sessions."
Guenther Steiner, Team Principal: "FP3 was a very standard FP3 for us, all went well. We did our laps and we got the experience. Qualifying was a bit more exciting for us, with the cars getting to the end of the lap and getting close to each other. In the end, we were trying to do the best we could, and it didn't work out. It is what it is – and tomorrow is the race."
Williams Racing
George Russell (11th, 1:10.332): "Unfortunately, I made a mistake on my final run. I was pushing to my maximum and I was on a really good lap but the rear tyres were right on the limit. I just attacked the final corner too hard and lost the rear of the car, as I knew it would be tight for getting into Q3. We picked up a little bit of damage on the rear suspension but thankfully the gearbox is fine, and it's nothing that the guys and girls won't be able to fix overnight. At that point, the lap would have been good enough to promote me into the top-10 so apologies to the team as that is not how I wanted to finish my qualifying session. It's a circuit that everyone is really going to struggle to overtake at and nobody knows how the tyres are going to react, so it will be interesting to see how the race pans out tomorrow."
Nicholas Latifi (14th, 1:11.161): "Having seen the replay of my incident in Q2, I think I slightly misjudged the turning point and caught the grass. It's such a high-speed corner that you can't really recover from that. We were compromised a bit with the first red flag, but even on used tyres I could see that I was improving my time and so I was pushing hard. It was a big impact, but these cars are very safe and I feel fine. There was a quite a lot of damage caused, so apologies to the guys and girls who will be working hard to fix that for tomorrow."
Dave Robson, Senior Race Engineer: "We have obviously sustained some damage to both cars following Q2 and we need to assess that tonight. George's car doesn't look too bad, but the damage on Nicholas's is more extensive. It is unfortunate that neither car was able to set a representative laptime in Q2 as we were building up good momentum, which started in FP3. The car was better today than it had been yesterday, and we chose run plans in qualifying that allowed the drivers to maximise the tyre preparation. Unfortunately, George made a very rare mistake near the end of a lap that was looking good enough for Q3. Nicholas too was performing very well, had an excellent Q1 and was pushing George very hard until he just lost the car when passing the Mercedes, which was on an out-lap. We have a bit of work to do tonight but should still start the race in a strong position. Given how tricky this circuit is and how penalising the smallest of mistakes can be, we are looking forward to a good race and will be looking for both drivers to make progress."