Dutch GP 2021
SEPTEMBER 6, 2021
Race Analysis - A Different League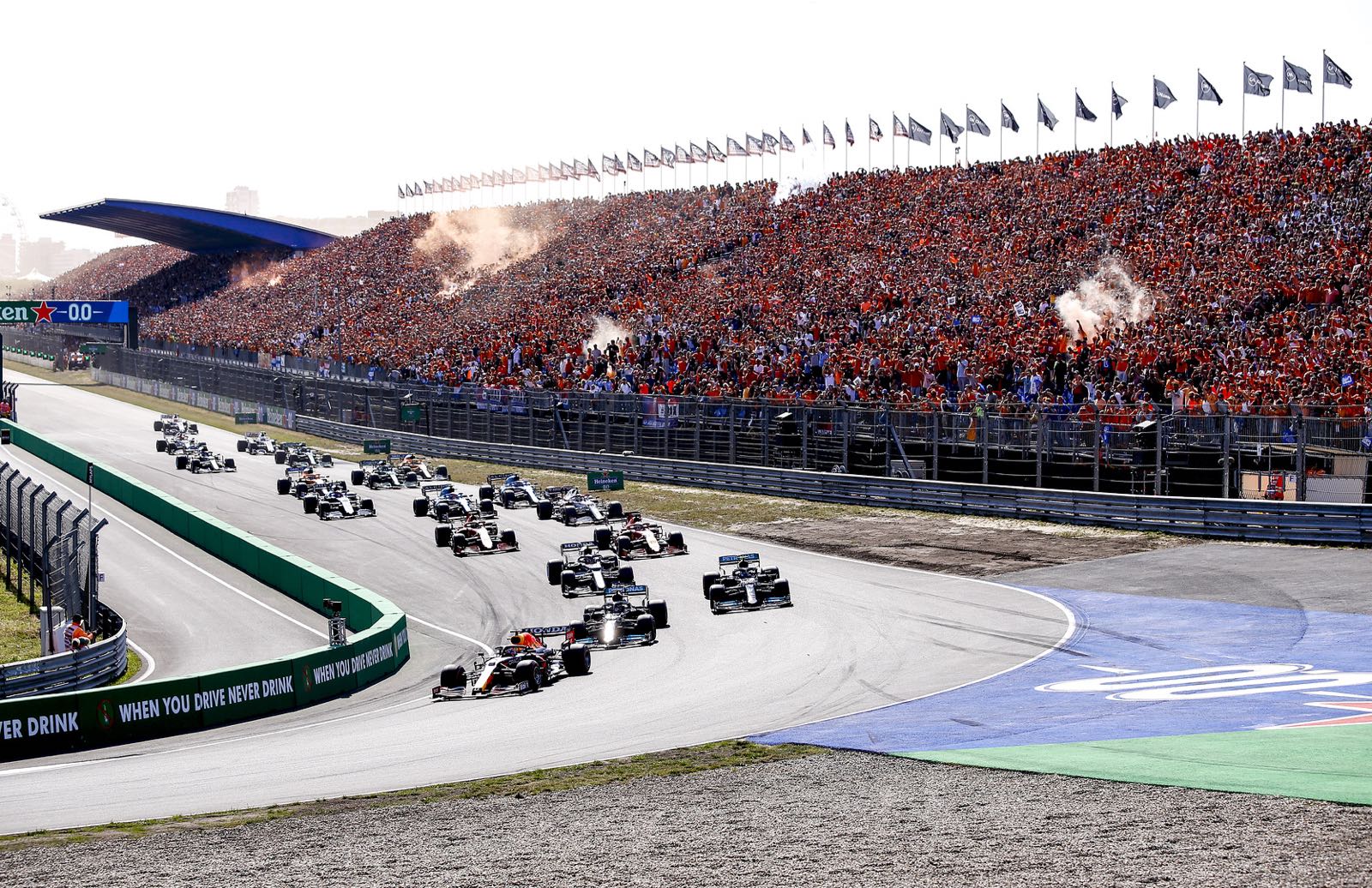 © Mercedes-Benz Grand Prix Ltd.
By Dan Knutson
Red Bull Honda driver Max Verstappen was in a different league to his competitors on his way to winning his home Dutch Grand Prix. This is how he did it.
NARROW
Even before the drivers took their first practice laps they predicted that overtaking would be difficult around the revamped and narrow 14-turn Zandvoort circuit.
QUALIFYING RACE
So the qualifying order would go a large way to determining the race finishing order.
WINNER
By winning the pole – his tenth – Verstappen made a major step towards winning the race.
PODIUM
Mercedes teammates Lewis Hamilton and Valtteri Bottas qualified second and third, and they finished the race in that order.
ROUNDED
Pierre Gasly (AlphaTauri), Charles Leclerc (Ferrari), Carlos Sainz (Ferrari), Antonio Giovinazzi (Alfa Romeo), Esteban Ocon (Alpine), Fernando Alonso (Alpine) and Daniel Ricciardo (McLaren) rounded out the top 10 on the grid.
72
But first the 72-lap Dutch Grand Prix had to be run.
ROCKET
"He was a rocket off the start," Hamilton said of Verstappen. "He was gone. Literally nothing we could do to answer that."
STOP
All 10 drivers at the front of the grid started the race on Pirelli's soft compound slicks. Most of them planned to stop just once for tire change.
SPLIT STRATEGY
Mercedes, however, planned a split strategy to see if one of its drivers could leapfrog Verstappen.
ONCE TWICE
The plan was that Bottas would pit once and Hamilton twice.
MEDIUMS
Hamilton came in at the end of lap 20 to switch to Pirelli's medium compound tires. Problems on the right front made it a slow stop.
COUNTERED
Red Bull countered by bringing Verstappen for the mediums one lap later.
NEW LEADER
Bottas, ahead of Verstappen and Hamilton, was the new leader of the Dutch Grand Prix.
AGING
Bottas, on aging tires, dropped to third. He pitted at the end of lap 31 for the medium compound tires.
SECOND COUNTER
Hamilton made his second stop at the end of lap 39, and Red Bull countered with Verstappen a lap later. Hamilton got the medium compound tires and Verstappen the hards.
RUSHED
"I don't know why you guys rushed it (with the early pit stop.) There was plenty of life in the tires," Hamilton radioed to his team.
NOT GOING TO MAKE IT
"I'm not going to make it to the end on these tires," Hamilton radioed a few laps later.
CLOSE
Hamilton could not close in on Verstappen.
SOFTS
Mercedes brought Bottas with five laps to go for the soft Pirellis. He had been reporting tire vibrations. He went out and set the fastest lap of the race.
END
At the end of lap 70 of 72 Hamilton pitted for the softs. He set the race's fastest lap on the final lap of the race and earned the bonus point.
TOO FAST
"They were just too fast," Hamilton said of Verstappen and Red Bull.
ELEMENTS
"I think even if we'd have got everything right today with the traffic, the pit stops and the strategy, it'd still have been tough to get by them," Hamilton said. "We didn't get those elements spot on."
PLAGUED
There were predictions that the race would be plagued by safety cars, virtual safety cars and even red flags – there were six red flags during practice and qualifying due to accidents. But there were no major incidents during the race.
UNDERSTATEMENT
To say that the 70,000 fans at the track enthusiastically supported Verstappen would be an understatement.
"As you can hear already it is just incredible," he said of the cheers and applause. "The expectations were very high going into the weekend and it's never easy to fulfil that but I am of course so happy to win here, to take the lead as well in the championship, it's just an amazing day with just the whole crowd here, it's incredible.
COOL
"Before the race, there was so much energy from the crowd, and it's a really cool track to drive," Bottas said after finishing third. "Very hard to overtake on, but good fun. I was pushing hard out there but we committed to the one-stop strategy quite early on, and that needed too much management really and proved tricky. It definitely wasn't as fast as the two-stop."
AMAZING
"P4 is an amazing result today," Gasly said. "I don't think we could really hope for much better and it's 12 important points for us. I really enjoyed all 72 laps here in Zandvoort, it's a fantastic track. I had fun today.
1985
Verstappen became the first F1 driver to win the Dutch Grand Prix since Niki Lauda won in 1985 driving a McLaren. It would end up being Lauda's 25th and final victory. He retired at the end of the season,