Dutch GP 2021
SEPTEMBER 3, 2021
Friday Report - All red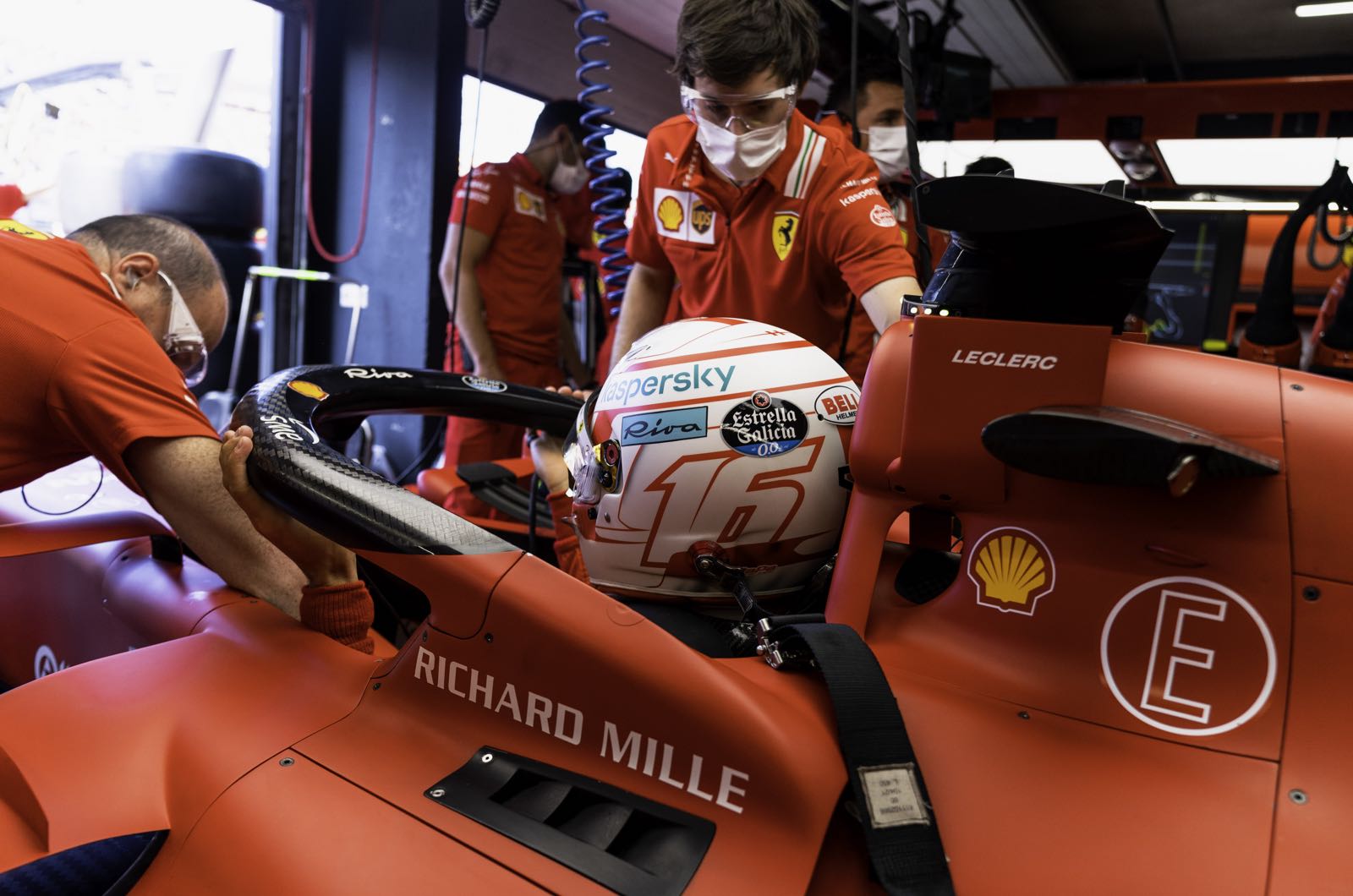 © Ferrari
By Dan Knutson
The grandstands at Zandvoort were packed with orange-clad fans, but out on the track it was all red as Ferrari teammates Charles Leclerc and Carlos Sainz posted the fastest lap times in Free Practice 2 for the Dutch Grand Prix.
The line-up for the weekend was: Mercedes – Lewis Hamilton and Valtteri Bottas; Red Bull Honda – Max Verstappen and Sergio Perez; McLaren Mercedes – Lando Norris and Daniel Ricciardo; Aston Martin Mercedes – Lance Stroll and Sebastian Vettel; Alpine Renault – Fernando Alonso and Esteban Ocon; Ferrari – Charles Leclerc and Carlos Sainz; AlphaTauri Honda – Yuki Tsunoda and Pierre Gasly; Alfa Romeo Ferrari – Kimi Raikkonen and Antonio Giovinazzi; Haas Ferrari – Nakita Mazepin and Mick Schumacher; Williams Mercedes – George Russell and Nicolas Latifi.
Hamilton was fastest in FP1 with a time of 1:11.500. There was a lengthy delay in FP1 when Vettel's engine failed and he parked at the edge of the track.
First out in FP2 was Raikkonen, who has announced that he will retire at the end of the season. First clock a fast lap was Bottas with a 1:11.664.
After just five minutes the FP2 session was red flagged when Hamilton's car lost power and he stopped on track. The marshals pushed the car behind the barriers, and the session was restarted after an eight minute delay.
Verstappen slotted into second with a 1:11.693.
Bottas was the first to head out the soft Pirelli slicks, and he set a 1:11.353. Hungarian Grand Prix winner Ocon tried the softs and clocked a 1:11.074 to take the lead.
Just prior to the midpoint of FP2 the order was: Ocon, Bottas, Gasly, Verstappen, Sainz and Leclerc. Then the session was red flagged when Mazepin spun into the gravel at Turn 11.
This time there was a six minute delay, so only 20 minutes remained when FP2 was restarted. Leclerc wasted no time taking the lead with his 1:10.902 while teammate Sainz took second at 1:11.056.
With the qualifying simulations over, the teams switched to race sims in the final 10 minutes.
The top 10 at the end of FP2 were: Leclerc, Sainz, Ocon, Bottas, Verstappen, Alonso, Gasly, Norris, Giovinazzi and Vettel.