Chinese GP 2019
APRIL 13, 2019
Qualifying Report - Finish the job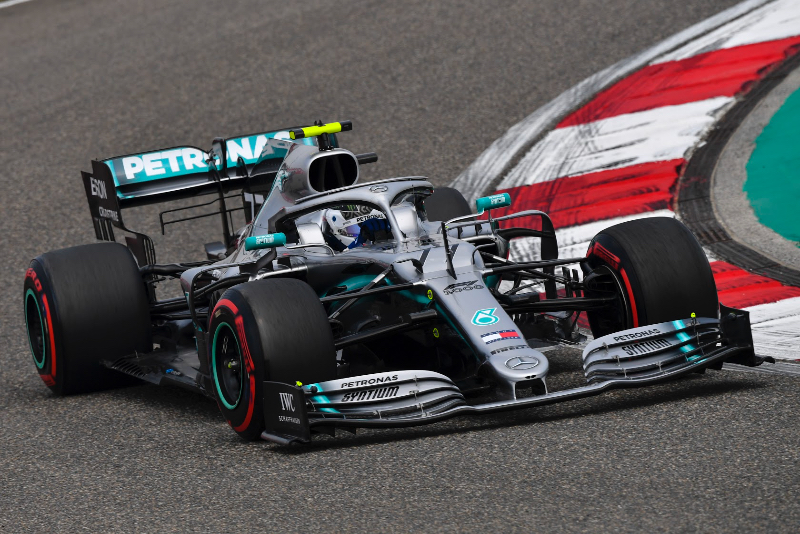 © RV Press
By Dan Knutson in Shanghai
"Let's make sure we finish the job tomorrow," radioed Valtteri Bottas' engineer after the Finn had earned the pole for the Chinese Grand Prix. A year ago in China it looked like Bottas had the race won, but a safety car came out and ruined his winning strategy. So this year the Mercedes driver needs to make sure he gets the job done and wins on Sunday.
The line-up for the weekend was: Mercedes – Lewis Hamilton and Bottas; Ferrari – Sebastian Vettel and Charles Leclerc; Red Bull TAG Heuer –Max Verstappen and Pierre Gasly; Renault – Daniel Ricciardo and Nico Hulkenberg; Haas Ferrari – Romain Grosjean and Kevin Magnussen; McLaren Renault – Carlos Sainz and Lando Norris; Racing Point Mercedes – Sergio Perez and Lance Stroll; Alfa Romeo Ferrari – Kimi Raikkonen and Antonio Giovinazzi; Toro Rosso Honda – Daniil Kvyat and Alexander Albon; Williams Mercedes – George Russell and Robert Kubica.
Bottas quickest in FP3 earlier in the day with his time of 1:32.830. That session was red flagged with seven minutes remaining when Albon crashed into the barriers on the pit straight. Albon was unhurt, but the Toro Rosso mechanics could not repair the car in time for qualifying which started two hours later.
QUALIFYING 1
The ambient temperature at the start of qualifying was 68 degrees Fahrenheit (20 degrees Centigrade) and the track temperature was 95 degrees Fahrenheit (35 degrees Centigrade).
Only the two Williams drivers went out when the 18-minute Q1 began.
Five minutes later the Ferrari duo took to the track. And Vettel's 1:33.557 was a half second quicker than Leclerc's time.
Along came the Mercedes duo and Bottas claimed the number one spot with a his 1:32.658 with Hamilton moving into second.
Verstappen then took third place, pushing Vettel to fourth ahead of Hulkenberg and Grosjean.
With six minutes to go, Raikkonen was on the bubble in 15th with Stroll 16th and Norris 14th.
The top five remained in the pits while the rest of the drivers save Giovinazzi went back out in the final two minutes. Leclerc popped up to second.
The five drivers who were eliminated at the end of Q1 were: Stroll, Russell, Kubica, Giovinazzi and Albon.
The fastest 15 drivers who moved on to Q2 were: Bottas, Leclerc, Hamilton, Verstappen, Vettel, Hulkenberg, Sainz, Ricciardo, Grosjean, Kvyat, Gasly, Perez, Magnussen, Raikkonen and Norris.
QUALIFYING 2
Nobody rushed out as the 15-minute Q2 began. Then, three minutes in, a number of drivers left their garages. A couple of minutes later all 15 drivers were circulating.
The Ferrari and Mercedes drivers used the medium tires, but the rest of the drivers could not take that gamble and therefore used the soft Pirelli slick compound.
Hamilton posed a 1:32.603, but Bottas slashed that to 1:31.728.
Vettel and Leclerc moved into second and third with their 1:32.232 and 1:32.324. Verstappen was fourth ahead of Hamilton, Gasly and Kvyat.
First runs done, Hulkenberg was tenth and on the cutline with Ricciardo ninth and Perez 11th.
With less than four minutes remaining in Q2 all 15 drivers were in the pits. But just about everybody except Leclerc and Gasly was out there in the final two minutes.
Hamilton, still on the mediums, grabbed first with a time of 1:31.637.
The fastest 10 drivers who moved on to Q3 were: Hamilton, Bottas, Vettel, Leclerc, Verstappen, Hamilton, Gasly, Hulkenberg, Magnussen, Grosjean and Ricciardo.
Those top four all used the medium compound Pirellis to set their best times in Q2, and therefore they would use those tires at the start of the race.
The five drivers who were eliminated at the end of Q2 were: Kvyat, Perez, Raikkonen, Sainz and Norris.
QUALIFYING 3
Q3 lasted 12 minutes. Ricciardo kicked things off.
Hamilton clocked a 1:31.570. Bottas beat that with a 1:31.563.
Vettel took third ahead of Verstappen, Leclerc, Gasly, Hulkenberg and Ricciardo. Magnussen and Grosjean did not go out for a first run.
All ten drivers were on track in the final two minutes of the final session.
Hamilton was the first to cut a lap time – 1:31.631. Bottas improved to a 1:31.547. Vettel claimed third place ahead of Leclerc and Verstappen.
Gasly, Ricciardo, Hulkenberg, Magnussen and Grosjean filled out the top ten.